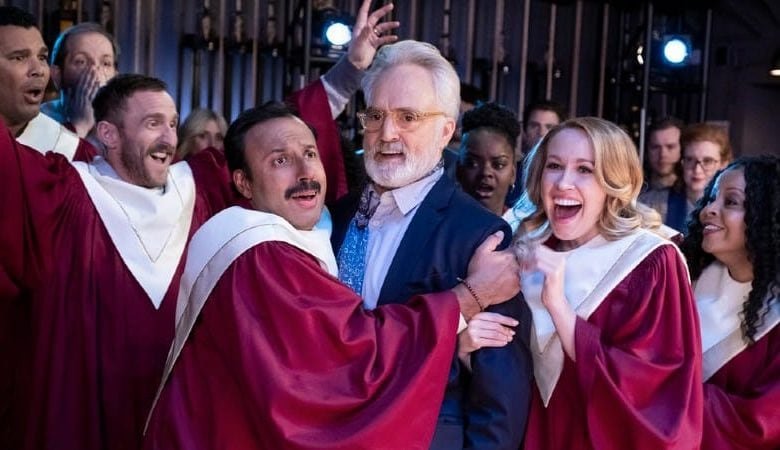 Think about these movies: The Fighting Temptations, Pitch Perfect, Sister Act, and Joyful Noise. What do these outstanding movies have in common? A redemption arc story, sensational cast members and an equally sensational musical soundtrack! If any of these movies are on your "Movies to Watch Repeatedly and Never Get Tired Of" list, then you're going to love NBC's upcoming musical comedy series, Perfect Harmony.
When we say comedy, we mean side-splittingly hilarious – and that's just basing off of the 2-minute trailer released in May of this year. It's light, funny, and really just two whole minutes of straight-up comedic pleasure. If the trailer is any indication of what the entire series will be like, then sign me up for the nearest watch party!
Who's behind it?
On this project, NBC will be backed by 20th Century Fox Television and Small Dog Picture Company as their production companies.
The brilliant minds behind the show are Lesley Wake Webster (Speechless, New Girl) as the show's writer and creator and Jason Winer (Modern Family, Life in Pieces) as the pilot episode director. While Bradley Whitford, Jon Radler, and Adam Anders (Glee) are joining the two as executive producers. With such creative people behind Perfect Harmony, you know that it's bound to be a fresh and funny production.
The storyline
You've probably guessed already what the general setting of the show is: a small-town church choir filled with varying personalities, all trying to harmonize and find their tune both as a group and as individuals forging their way through life.
The trailer tells the story of Arthur Cochran, a retired Princeton music professor who accidentally stumbles upon the rural town's church choir practice. It seems to be a lucky coincidence too because their out-of-tune singing certainly needs him. And he seems to need them just as much. As Arthur becomes the choir director, he helps them evolve into the greatest choir the town has ever seen while also finding his own redemption in their victory.
The sensational cast of Perfect Harmony
TV veteran Bradley Whitford (Brooklyn Nine-Nine, The Handmaid's Tale) will play the Ivy League music genius, Arthur Cochran. And we are so excited to see him in all his white-haired and distinguished professor look.
Fans of Pitch Perfect will be happy to see the Barden Bellas' leader Anna Camp back on their screens, too! In Perfect Harmony, Camp will play the choir's pianist and de facto director – until Cochran comes along, of course. Can't wait to hear her sing again!
Apart from these two, many others have been cast as well albeit not quite as well-known as Camp and Whitford. Camp's admirer and fellow choir member with the rich bass-tone voice will be portrayed by Geno Segers. Whose voice landed him the role of Mufasa in Disney Australia's stage production of Lion King. Camp's ex-husband will be played by Will Greenberg (Wrecked). While other choir members will include Tymberlee Hill (Grey's Anatomy, Drunk History) and Rizwan Manji (The Magicians, Outsourced).
When to catch it?
There are just so many brilliant people involved in the making and execution of this show that it's bound to be a hit! So grab your friends and get ready to sing along. Perfect Harmony is set to air on NBC at 8:30/7:30 central on Thursday nights starting Thursday, September 26.