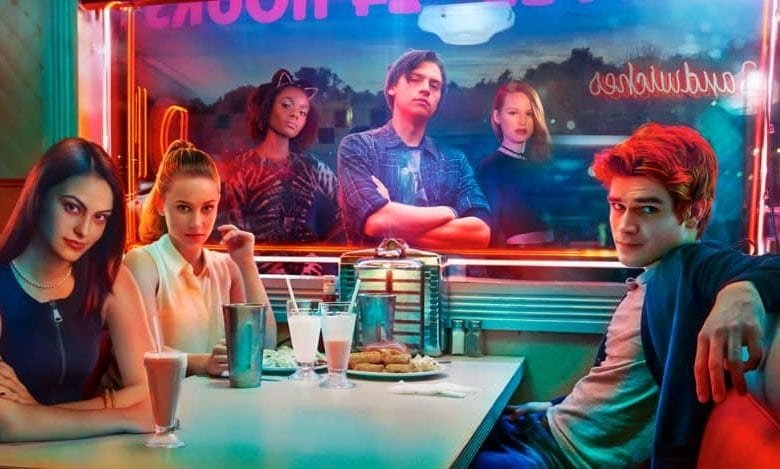 One canceled show. Five renewed shows. New promos for all four Arrow-verse shows. A new promo for Chicago P.D. season 5. And Riverdale as my weekly TV highlight. This is Week in Retrospect September 11 to 17.
TV News items
Freeform cancels Stitchers
After 3 season and 31 episodes, Freeform has decided to say goodbye to their sci-fi crime drama Stitchers. Already last year the show was on the verge of cancellation because by October there was still no news if Stitchers was renewed or canceled. However, this time around, Freeform didn't hesitate and, unfortunately, axed the show from its lineup. You won't be able to stitch into this one, Kirsten.
HBO, History, and TBS renews some of their shows
From bad to better news, this past week three different networks decided to renew altogether five shows.
First off, HBO gave their now Emmy-winning news series Last Week Tonight with John Oliver three more seasons. So it looks like we will be able to spend our Sunday evenings with John Oliver at least until 2020. Then, History Channel decided to give another season to their historical drama Vikings. And last but not least, TBS renewed not one, not two but three of their shows last week. The cabeler is giving another shot to The Guest Book, Wrecked as well as People of Earth.
Arrow-verse shows get new promos
This last week all of the Arrow-verse shows got new promos, that showed off what's to come in each respective show's new season.
First up Arrow itself (video below). In the short promo, we hear Slade telling Oliver that they can successfully separate their two identities only for so long. Which proceeds to show some action scenes and then we see Oliver comforting his son, who points the finger at him when Oliver asks who the bad man is. After which, we get to see the Green Arrow in action as well as get a glimpse at Black Siren wreaking havoc in Star City. So it seems that the darker tone of the show won't be changing in Arrow season 6.
Next, new The Flash promo (video below). In this short 30-second clip we see Barry returning from the Speed Force, however, he is not quite the same Barry they once knew, teasing that we might see a changed Scarlet Speedster on The Flash season 4. Cut that to some action scenes, featuring both heroes and villains of the show, and you got yourself a lightning-fast look at the new season of The Flash.
Then on the DC's Legends of Tomorrow season 3 promo (video below), we see The Legends trying to fix the huge mistake they made at the end of the last season. There is fighting, there is dinosaurs and Julius Caesar. And there, of course, is the promise of endless adventures. It looks like the new season of Legends of Tomorrow will be a mighty fun one.
And, finally, there was also a new extended promo for Supergirl season 3 (video below). Which indicates that this season we might be seeing a whole lot more of Supergirl and less of Kara Danvers since the teaser starts with Supergirl saying that she is not meant to be Kara. On top of that, the promo also shows the upcoming season's new villains – Bloodsport and Reign, and team Supergirl defending National City as best as they can.
NBC releases a new promo for Chicago P.D. season 5
Speaking of promos, last week The CW wasn't the only network to be generous with teasers for their shows. NBC also finally released a Chicago P.D. season 5 episode 1 promo (video below), and it didn't disappoint. It showed us what the season 5 premiere episode will entail as well as nicely set the tone for the whole upcoming season. Lindsey might be gone, but it looks like the Intelligence unit is here to stay.
Weekly TV highlight
Riverdale season 1
As my weekly highlight this week I have to mention Riverdale because that is one show that is definitely worth talking about.
When the show originally aired on The CW, and even before with all its retro promos full of angst, I was skeptical to watch the show. Hell, I actually didn't. But then, over the last week, I saw the promo for Riverdale season 2 (video below) as well as kept seeing the show's promotional photos and articles everywhere. So I decided to give it a shot. And bam, I could not stop until I watched all 13 episodes of Riverdale season 1.
Yes, the show is full of high-school drama, which isn't that appealing to me. But, luckily, Riverdale also has a whole other side to it. The murder mystery part, which totally drew me in. Add that to the fact that the show doesn't shy away from portraying different families and different people, who ultimately are able to work together to uncover the mystery. Sprinkle in the amazing visual style the show has. And you have yourself the makings of an amazing, binge-worthy TV show. Which I would recommend you to check out. I don't think you will be disappointed.