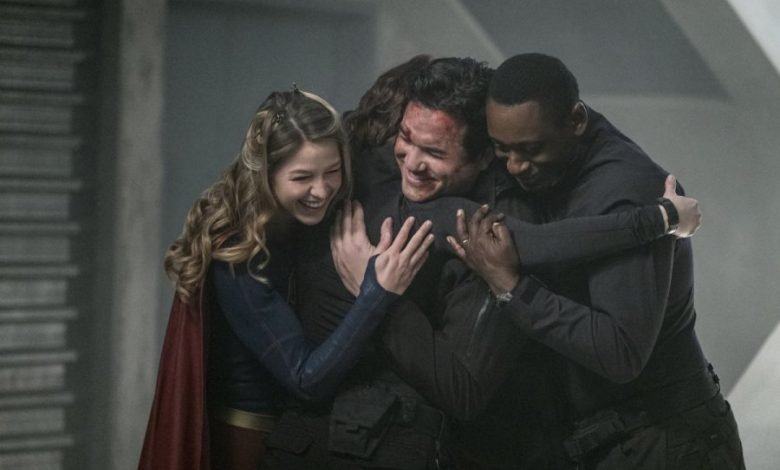 The newest Supergirl episode hit close to home, quite literally because on it we saw a home being made whole and then broken apart once again. If you want to know what happened on Supergirl season 2 episode 14 and what I am talking about, then just keep on reading this episode 14 recap.
Warning, spoilers ahead!
Baddie of the week
Similarly to last week's episode, on Supergirl season 2 episode 14 the villain wasn't just come random creature come to destroy National City for one reason or another. It actually turned to be the man who everyone was excited to see at the beginning of this episode. And since this new Supergirl episode was titled "Homecoming", you can guess that it had something to do with just that. So on Supergirl episode 14, we saw the homecoming of Jeremiah Danvers, played by ex-Superman himself Dean Cain.
After the DEO team was alerted that Cadmus was moving something out of their storage facility, Supergirl and J'onn J'onzz went to work, only to discover that in one of the trucks was none other than Jeremiah. So they brought him to the DEO and we saw a happy family reunion, not only with Alex and her father but also with Jeremiah and his DEO family. And everyone happily embraced this return, except Mon-El, who was suspicious of Cadmus letting go of their most valued prisoners. And for good reason.
While everyone was celebrating Jeremiah's return, he was actually playing double agent and working with Cadmus to steal Alien registry aka the list of all the aliens on Earth. An epic battle ensued between Jeremiah and the Danvers sisters, but Jeremiah along with Lilian Luthor and Cyborg Superman got away after Alex was unable to shoot her father to stop him.
Thanks to this episode Cadmus agenda is finally getting clearer to us. They want to eradicate all aliens, not only Supergirl and Superman. But what is still unclear is the deal Jeremiah made with Cadmus, which is also the reason he is still working with them. Is it to spare Kara? Or maybe to not harm Alex? Time will only tell.
Family affairs
With the return of Daddy Danvers came new family dynamics as well because on Supergirl season 2 episode 14 we saw the reunion of a family that was torn apart 14 years earlier. And I really liked how the show played all the family dynamic.
Although Alex and Kara welcomed Jeremiah back with open arms and were ready to pick up where they left off, their mother Eliza didn't share her daughters' sentiment. Of course, she was more than ecstatic that Jeremiah was back, however, early on she told Jeremiah that they couldn't just go back to how things were. She told him that they would have to start over because they didn't know each other anymore.
And that is something that isn't always mentioned whenever there is a big reunion of family members or lovers after longer time has passed. In reality, things change very quickly and people eventually move on, especially if they think that their loved one has died. And Eliza had done the same. So it is only fair to her, that she needed time to get to know Jeremiah again and figure out if being together was something she still wanted.
But of course, Jeremiah returned to Cadmus before any of that could happen. And we were left to wonder if by the end of Supergirl season 2 Jeremiah will return home for good. And if so, will this process of reintegrating Jeremiah back into the Danvers family be shown and explored?
Relationships of the episode
Besides the family bonds, Supergirl season 2 episode 14 also featured tidbits of other relationships of the show, ones that are on the more romantic spectrum of things.
First and foremost, we, of course, saw Kara and Mon-El finally being together and being a couple. But the honeymoon phase wasn't the only side of Karamel that we saw this episode. We also had the pleasure to see them fight as well as Mon-El comforting Kara, which was a welcome change from the usual portrayal of couples that had just gotten together. It just shows that this couple, although made up of two aliens, is very human and real.
Secondly, we also saw a little bit of Sanvers aka Alex and Maggie. Although the scenes with this couple were brief, they were very important. In the first one, we say Alex introducing Maggie to her dad and essentially coming out to her dad as well. It was an interesting exchange to see, and I am glad that Jeremiah took it so well. And secondly, we say Maggie comforting Alex after her and Jeremiah's showdown in the woods. It was emotional, it was painful and it was sweet. And it also showed how close Alex and Maggie have become, during the relatively short period of time that they are dating.
Thirdly, we also cannot forget Winn and Lyra, who are happily dating. We saw the beginnings of this couple in episode 13 and this episode just continued that playful yet sexually charged relationship of theirs. I love that Winn finally has a girlfriend, who is alien no less. And I also loved how Mon-El asked Winn for relationship advice because he saw how happy Winn was with Lyra. At least one couple on Supergirl is truly happy for now at least.
Last thoughts on Supergirl season 2 episode 14
Finally, I wanted to express my appreciation for the whole beginning sequence of the episode. The first five minutes of Supergirl season 2 episode 14 were so funny and cute, that I almost put the whole dialogue of them as my quote of the episode. From Mon-El waking up in Kara's loft to Kara giving him flowers and confessing that she has broken four noses, to Mon-El not being able to keep their relationship a secret at the DEO to finally J'onn and Alex informing them that they need to report to HR. It was brilliant and easily my favorite scenes from the episode.
And side note, can we give a round of applause to Chyler Leigh, because her acting in this episode was simply phenomenal. From her anger at Kara to the scene in the woods and then crying in Maggie's arms. I doubt that there was a dry eye by the time these scenes were over. I know mine weren't.
Episode highlights:
• the first five minutes of the episode
• Alex's reaction to Jeremiah's return
• the beginning of Jeremiah's return celebration dinner
• Winn and Lyra's relationship
• Mon-El asking Winn for advice about dating Kara
• Winn telling Mon-El to be good to Kara
• Supergirl saving the train
• Chyler Leigh during Alex and Jeremiah's emotional scene in the woods
• Mon-El slowly figuring out what Kara needs from him in regards to their relationship
• Kara soldiering on despite her devastation about Jeremiah being part of Cadmus
Episode let-downs:
• how Alex overreacted about Kara thinking that there is something fishy about Jeremiah's return
• that Jeremiah is working with Cadmus, although it seems like there is a good reason for it
Quote of the episode:
Kara: "Can we just pretend like that never happened?"
J'onn: "I'd like nothing more. But unfortunately, as your supervisor, I have to ask you to report to HR."
Kara: "Hah. You're serious?"
J'onn: "Kara, you're dating a co-worker."
Kara: "That's not.. Wait, we have an HR?"
J'onn: "Walk this puppy down to the second floor and fill out all the forms Pam gives you in triplicate. "
Alex: "Oh, and you're going to have to attend a mandatory sexual harassment seminar.
Kara: Seriously?"
Mon-El: "It's going to be a rough sparring session for me?"
Kara: "You think?"
Promo for Supergirl season 2 episode 15: