Ah yes, graduation season. It's undoubtedly the most exciting time of the year for students who are on the threshold of the next stage of their life.
A person's graduation ceremony, whether from middle school, high school, college, or even higher education, holds such significance in their life! It's the culmination of years of being buried in textbooks, working hard, and sacrificing what little social life you even had.
After all of this, graduation means you're finally taking the next step. The possibilities are endless, and it's your chance to set a path for yourself.
Of course, the experience of graduation has changed over the past year, and this year's ceremonies are likely to still be socially distanced, if not completely virtual.
So, for those recent and upcoming graduates who are craving the feeling of a graduation ceremony, you can experience it vicariously through these TV show episodes about graduation!
Grab your diploma, toga, and academic cap as you binge these episodes – and if you feel the need to walk down an aisle every time you hear Pomp and Circumstance, I say go for it!
Saved by the Bell, "Graduation" (Season 4, Episode 26)
Zack Morris, though charming and popular, was always a troublemaker. It came as no surprise, then, that his chance to graduate wasn't handed to him on a silver platter.
He's missing one credit and the only way to get it is to join the dance class and perform in the ballet. Luckily, he's able to just barely scrape by and graduate, even giving a moving speech at the ceremony in the place of Jessie, the valedictorian. Good thing too, because he eventually becomes the Governor of California!
Boy Meets World, "Graduation" (Season 5, Episode 24)
This graduation episode of the 90s classic Boy Meets World is iconic both for the tear-jerking farewell speech as well as the jaw-dropping plot twist from Topanga.
Cory is working hard to get his best friend Shawn excited about graduation, but Shawn just can't wait to leave. He's also trying to convince Topanga not to give up Yale. At the ceremony itself, Topanga gives up her chance to give her speech so Shawn can speak and as the program comes to a close… proposes to Cory!
Buffy the Vampire Slayer, "Graduation Day Part 1 & 2" (Season 3, Episodes 21 & 22)
This is a double whammy, a two-parter that makes up the show's third season finale.
The Sunnydale High School class of 1999 is preparing for their big day, but evil won't stop just because it's graduation day. When they find out that the Mayor has plans to complete his "Ascension" to become a demon at their ceremony, Buffy stops at nothing to make sure he is derailed in order to save the world – despite the distraction of Angel's looming death and the troubles caused by another Slayer.
Dawson's Creek, "The Graduate," (Season 4, Episode 22)
In any teen drama, there always seems to be one person from the gang who is at risk of not graduating. In this case, it's Pacey, who put it all on the line because of his temper. Though he is eventually offered a chance at redemption, he opts to skip the ceremony anyway and head to his new job.
Meanwhile, the rest of the gang – Dawson, Joey (with her speech about taking their memories with them), Jen, Jack, and even Andie – get ready to march across that stage.
Gilmore Girls, "Lorelai's Graduation Day" (Season 2, Episode 21)
Graduating from business school is a big deal, but it's hard to be excited when you still have final exams to get through. To help her mother, Rory hypes up her graduation and even plans a surprise to bring her grandparents to the ceremony.
When graduation day rolls around, Lorelai is pleasantly stunned to find her parents there but also worried when Rory isn't. She later finds out her daughter skipped school to spend the day in Manhattan with Jess, which is apparently a valid reason to skip your mother's graduation.
Gilmore Girls, "Those Are Strings, Pinocchio" (Season 3, Episode 22)
It's Rory's turn to graduate now, and she prepares to leave behind her high school life at Chilton with a summer backpacking trip across Europe with her mother.
Of course, this wouldn't be Gilmore Girls without a touch of drama, like Rory's discovery of Lorelai's sacrifice to scrape together tuition funds for Yale. However, Rory's tear-jerking yet beautiful speech as class valedictorian both pays tribute to her mother, who encouraged her to be who she wanted to be, and serves as inspiration for her peers to do the same.
The O.C., "The Graduation" (Season 3, Episode 25)
Seth, Ryan, Summer, and Marissa are finally graduating from Harbor High School and they've got their plans for life after high school. Seth will be heading to the Rhode Island School of Design for the spring semester, Summer is going to Brown, and Marissa is taking a gap year to spend with her father on his boat.
While their ceremony itself goes pretty smoothly, it wouldn't be a teen drama season finale if there was no major accident – and main character death (but no spoilers from us this time!).
Malcolm in the Middle, "Graduation" (Season 7, Episode 22)
This show has always been about the Wilkerson family dynamic and how Malcolm fits into it. A milestone like graduation, then, is bound to cause ripples of change throughout their family. After all, he's headed off to Harvard!
Despite a tough moment saying goodbye to his brothers in their bedroom, and an argument with his parents about their exceedingly high expectations for him, the episode brings a heartwarming close to the series. Malcolm's valedictory speech pays homage to family, and we see him thriving as a working student at Harvard.
One Tree Hill, "The Birth and Death of Day" (Season 4, Episode 20)
After rough beginnings, the Tree Hill gang is finally all back together again and ready to graduate from high school. Things are looking bleak for Nathan Scott on the basketball front, but at least his future with Haley is looking bright. After all, she's writing her valedictory speech from the hospital, as pregnant as ever.
Lucas battles with personal issues with both Dan and Karen, who is in the hospital, but attends the ceremony anyway. While Haley is giving her speech, however, she starts going into labor!
Gossip Girl, "The Goodbye Gossip Girl" (Season 2, Episode 25)
Now we all know there would be no Gossip Girl if there wasn't an infinite amount of drama on the Upper East Side to gossip about. Even graduation at Constance and St. Jude's was an event to remember, and not because we were seeing our faves head off into their last summer adventures before college.
Right as their ceremony begins, Gossip Girl sends out her own version of "Most Likely To", putting our faves on blast for the whole class to see. This sends Serena, Blair, Chuck, Jenny, and a few others on the warpath to bring her down.
Modern Family, "See You Next Fall" (Season 2, Episode 23)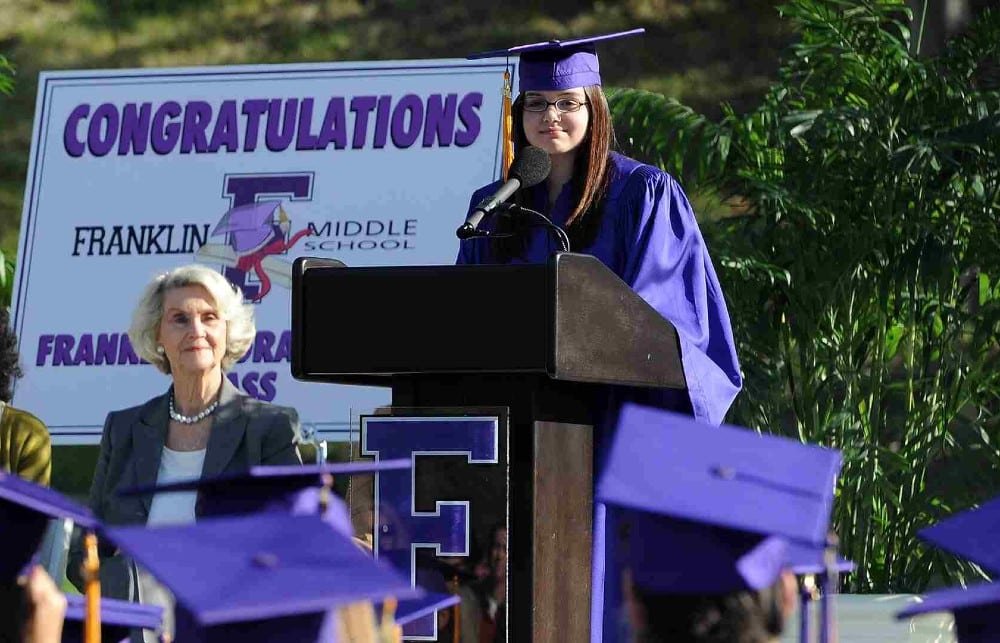 Despite not being the eldest Dunphy child, we all knew that Alex's academic journey would be the one to watch out for.
Early on in the show, Alex and the rest of the Dunphys are getting ready for her middle school graduation and Haley discovers that Alex's valedictorian speech is mostly an angry rant towards her peers for being unintelligent and for mistreating her. She tries to convince Alex to take a different approach and after an emotional standoff between the sisters, Alex takes her advice to change her speech and start her high school life fresh.
Suite Life on Deck, "Graduation on Deck" (Season 3, Episode 22)
The graduation episode of Suite Life on Deck was bittersweet – seeing them grown up and moving on to the next adventure, but it was also the series finale for the show.
They receive news that their ship, the SS Tipton, has been sold and is scheduled to be demolished so they have just one week to prepare for graduation. London scrambles to get that foreign language class credit, Zack comes to terms with the end of his relationship, and Cody must deal with a devastating rejection.
The Secret Life of the American Teenager, "And Circumstance" (Season 4, Episode 13)
Though the previous episode has whispers about their graduation, this is where we get to witness the occasion itself. And oh, what a grand event it is! Outside all of the drama on the romance front, at least there's one relationship that seems like it's headed towards a good place.
After whispers of a proposal were abound in the days leading up to their graduation, Ricky ends his farewell speech by inviting Amy up on stage with him and proposing! She accepts, of course, but this still doesn't stop the drama from coming during their graduation party.
Glee, "Goodbye" (Season 3, Episode 22)
Glee's graduation episode is less about the ceremony itself and more about the process of saying goodbye.
Eight of the New Directions are set to leave and as a final hurrah, Will assigns the seniors a project: to perform songs for each other to say goodbye. Some have already been accepted into their schools of choice while others are still waiting to see where their future will take them.
Through songs like Forever Young, You Get What You Give, Single Ladies, and Roots Before Branches, the upperclassmen say goodbye to each other, glee club, and McKinley High.
The Vampire Diaries, "Graduation" (Season 4, Episode 23)
Imagine a ghost takeover of your town reaching its peak when all you want to do is march across the stage and accept your diploma. This is what the gang at Mystic Halls had to deal with, just as they thought that things were going to go smoothly.
Amidst touching reunions with family members who had passed on, Caroline, Bonnie, Stefan, Matt, and Elena start their post-high school life fighting against the supernatural spirits who want revenge – and their human lives back.
Switched at Birth, "And Life Begins Right Away" (Season 3, Episode 21)
Daphne Vasquez and Bay Kennish have always led lives out of the ordinary after finding out the truth about their families, and their graduation is just another breed of drama for the two girls.
Daphne worries about her future and how it'll be affected by an upcoming hearing for her parole violation; an unnecessary worry, lucky for her, as things work out for her in the end. Bay, on the other hand, makes plans hinged on Emmett and moving to LA, much to her parents' dismay.
Girl Meets World, "Girl Meets Legacy" (Season 2, Episode 30)
So remember Cory and Topanga from Boy Meets World, way up there near the start of this list? Well, they had their happily ever after and even started a family – and now their daughter Riley is the star of this sequel series!
Riley is now just about to head into high school, but first, she's got her middle school graduation. As she and her friends prepare, they have one important question to face, too: what kind of legacy do they want to leave behind?
Riverdale, "Chapter Seventy-Nine: Graduation" (Season 5, Episode 3)
For four seasons we've been watching the Riverdale gang go through ups and downs, hunting killers and uncovering huge mysteries. And now it's time for Archie, Betty, Veronica, and Jughead to say goodbye to their high school days and hello to adulthood with what probably is one of the most emotional and grounded episodes in the history of the show.
But can they really move on and live healthy adult lives after having suffered so much during their time at Riverdale High? That's exactly what the characters ponder during the episode and that's also what makes it so impactful.
Atypical, "Ernest Shackleton's Rules for Survival" (Season 2, Episode 10)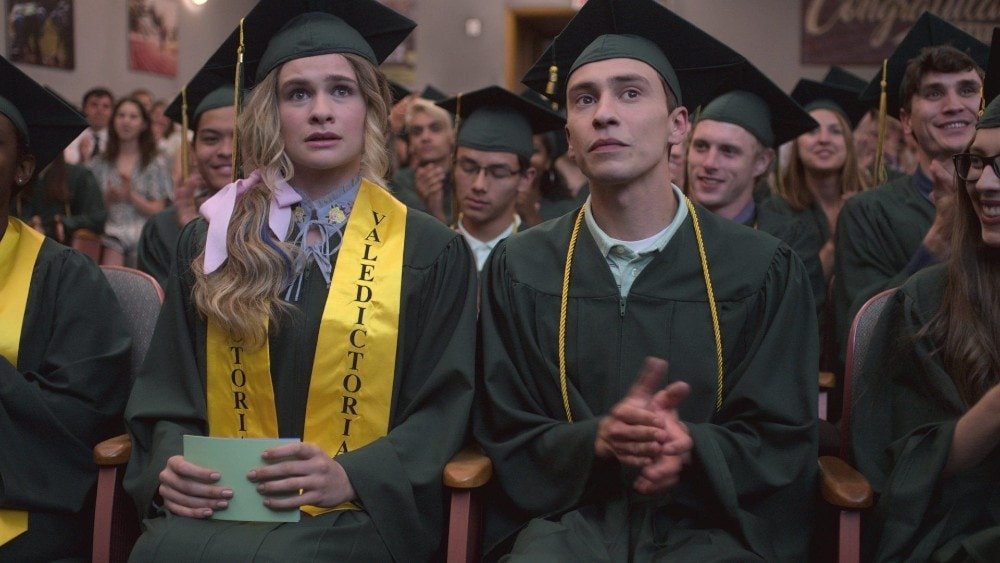 Sam's high school journey was rarely an easy one. But it finally ended at the very end of Atypical season 2 where we saw him and Page graduate. But it wasn't without its hiccups.
First Sam had to endure offensive yearbook comments which caused him to accidentally collapse the table where the yearbooks were being handed out and flee to the aquarium. And then on the day of the graduation Page loses her voice from defending Sam at school over the yearbook incident.
But all is well that ends well because Sam ends up delivering Page's valedictorian speech, they graduate and Sam even tells Page that the reason he was able to give Page's speech was because he thinks that he loves her. How is that for a graduation episode?