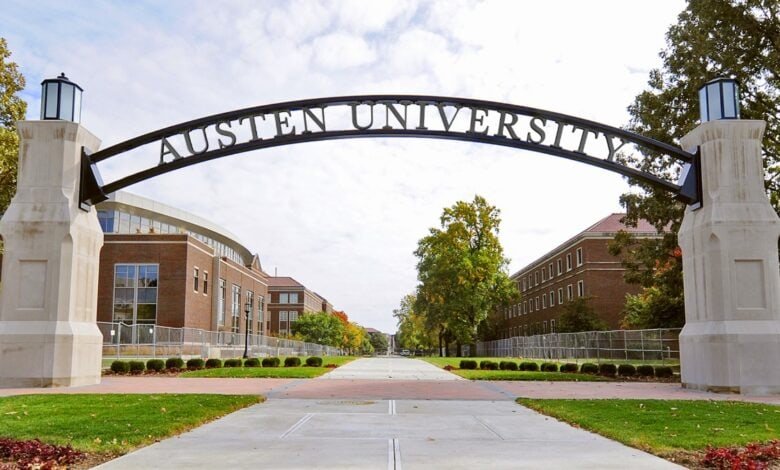 Ever wondered what would it be like to see all of Jane Austen's characters co-exist in one universe? Well, Austen University is your chance!
Austen University is a TV show where every single one of your favorite Jane Austen characters exist on a modern college campus, dealing with life, roommates, jobs, friendships, and, of course, romance.
This is a show written by women, for women. And YOU can help make it a reality!
How?
By donating to their project on Seed & Spark and helping them shoot the pilot episode so it can then get shopped around, and, hopefully, one of the many streamers and networks out there will be smart enough to pick up this series and give it the shot it deserves.
We had the pleasure of interviewing Austen University's three writers and creators – Bryn Randall, Kari Iroz and Chantel Magistro – to get the scoop on this project.
If you want to help support Austen University, head on over to austenu.com, check out their mission statement, and donate (we already did!).
Other than that, keep on reading our interview with the wonderful Bryn, Kari and Chantel, and, hopefully, it will convince you to help them make this dream project into an actual TV show that we can all enjoy!
---
Tvshowpilot: I LOVE the idea of a Jane Austen universe in the form of Austen University! How did you come up with the idea to create Austen U?
Bryn, Kari and Chantel: The three of us had a very similar meet-cute to our characters in Austen University. We met in college where we acted in the theater department together and shared classic college experiences.
Almost ten years ago Bryn, a die-hard Austen fan and a superhero universe enthusiast, first had the brilliant idea of creating a modern Austen universe.
She came to Kari and Chantel (also Austen addicts) with the idea and Kari and Bryn started on it right away. Chantel was able to join the team a few years later and we've been geeking out ever since!
Tvshowpilot: How has the process of getting Austen University made been like so far?
Bryn, Kari and Chantel: It's been awesome! We have so much fun writing together – sometimes too much fun!
We've been friends for so many years, and becoming writing partners has been a beautiful progression.
In the beginning, there were about a thousand drafts of scripts and many a Zoom call when we read through episodes and found ways to improve.
We draw so much from our shared sense of humor and the type of quirky banter that are so much a part of our normal interactions.
We'd worked professionally in playwriting and published novels but learning about TV writing was new for us. After getting season one fully fleshed out we hired a sitcom coach to improve the structure and make our scripts tighter.
We tried numerous ways of pitching to get this made in the traditional way, but it's hard to break into the business. Eventually, we wanted to put it in the hands of the Jane Austen fans.
This is the ultimate adaptation for all Austen lovers and now is the perfect time to bring this kind of classic universe to life. So now we're campaigning to raise the funds for filming the pilot episode.
It's already been incredible to see the response from the fans who want more Jane Austen in their life!
Tvshowpilot: In your mission statement, you mention that you want to create a show that can be watched by everyone. Why is it essential for you to create a clean, family-friendly show for all ages and genders?
Bryn, Kari and Chantel: We believe in the power of positive media.
Media is so ingrained in our lives now and we feel there aren't enough clean, family-friendly streaming options.
We're all moms. We collectively have 12 kids between the three of us, and there have been times when we were editing scripts together and every single one of us had a baby on our hip.
We want to create a show that we don't have to turn off when our kids come into the room! A show that can help shape the values we want them to have and the kind of men and women we want them to look up to.
We also want our show to be inclusive and relatable. We feature characters from diverse backgrounds so it's accessible to a broad range of viewers without excluding any communities.
While we bring Austen's characters into a modern setting, we still stay true to the social ideals of Austen's time. We know we can't represent every minority or community, but we hope everyone can appreciate our efforts to preserve the magic of escaping into an Austen world.
Tvshowpilot: What was the hardest part about putting the characters in a modern setting while also keeping them true to who they are in Austen's books?
Bryn, Kari and Chantel: The class systems and economic situations of the characters during Austen's era play a huge part in the plots of her stories. That was difficult to modernize in a way that was realistic to our time while still keeping the essence of what they struggled with.
The college setting really helps with that part because there are similar systems built into the collegiate world.
We spent thousands of hours analyzing what specific character traits would look like today and trying to adapt them in that way.
We did some modernizing of names and sorting out crossover names for characters as well. But mostly we've tried to be very mindful of what the characters each go through and evolve their individual issues in a modern way.
Tvshowpilot: What is the main message you want people to take away from watching the series when (hopefully!) it is picked up?
Bryn, Kari and Chantel: If you'd asked us ten years ago what the main message of our adaptation was, we would have talked primarily about the romance and sharing the timelessness of these love stories.
That's still true. And the coolest part about seeing all of the stories together is that there's a couple to represent all facets of romance: there's the enemies to lovers, there's unrequited love that never died, there's learning about genuine love versus infatuation. It's all the same things we deal with in romantic relationships today told through these beloved characters.
But in the process of writing this show we discovered a second gem we hadn't anticipated: we love these female friendships. Some of our very favorite scenes are where all the roommates and friends made up of Austen's leading heroines are together.
These incredible, witty, tender friendships bloomed where we never saw it coming (and don't count out the bromances, which are very much happening!).
This show is a love letter to every Jane Austen fan. But we hope it's also a tribute to her and the connections she never got to make; because her time was cut short, because she didn't have the resources female writers have today, because she didn't have the ability to tell these stories in a scope that only television gives us.
There is strength in friendship, family, and all forms of love. That's the message.
Tvshowpilot: The mission statement also said that season one has already been fully written. Can you tease anything about what we might see in season 1?
Bryn, Kari and Chantel: One of our characters has a Deaf brother we'll get to meet (an homage to one of Jane Austen's brothers).
Emma and Knightley will be directing a play (and fighting every step of the way) and we'll get to see some characters being forced together for rehearsals.
A Dirty-Dancing-esque sequence of enemies learning how to waltz might take place.
There will be a hundred little private jokes for hard-core Austen fans.
Also, there will be quite a few characters who are literally the worst.
Tvshowpilot: Since here at tvshowpilot we are all about TV shows, which Austen TV show adaptation is your favorite?
Bryn, Kari and Chantel: We collectively agree that the 1995 mini-series of Pride and Prejudice is our favorite!
With a special shout out to the e-series The Lizzie Bennet Diaries. There are not nearly enough TV adaptations out there!
Tvshowpilot: Lastly, how can people help support Austen University when it comes to money and otherwise?
Bryn, Kari and Chantel: Head to austenu.com!
We are trying to raise the funds to film part one of the pilot episode, if we raise enough we can film the pilot in its entirety. There is no contribution too big or too small, and helping to spread the word is huge!
We have a Venmo where you can contribute as well – @austenuniversity
Also, you can follow us on social media, we are @austenuniversity on TikTok, Instagram, YouTube, Facebook and Pinterest.
---
So, there you have it, our interview with Austen University's creators Bryn, Kari and Chantel where we not only got an insight into how this project came about but also a scoop on what we can expect to see on season 1 of Austen University, when, hopefully, this project gets funded and made for all of us to enjoy.
Make sure to check out Austen U's website and socials to support them on this project, donate if you can, and spread the word if you can't.
Because every little thing helps in turning all of our Jane Austen die-hard dreams into the beautiful reality that is Austen University.