Oftentimes, there are certain things we're born with that we take for granted without even giving it a second thought.
This could be the presence of family and friends, the home, food, education, and luxuries that we experience daily, and even the fully functional use of our bodies.
Think about it: when was the last time you were ever truly grateful that you could walk and run, listen to music, see in color, or even see anything at all?
In this list, we take a look at TV shows that feature deaf characters.
It's a welcome change to see deaf characters represented in popular media more often now, and even more so to witness that these characters are often not portrayed as disadvantaged.
In these TV shows, viewers will see what it may be like to live without the ability to hear (clearly or at all).
Switched at Birth, Freeform (2011 – 2017)
Imagine waking up one day to discover that the family you grew up with isn't, in fact, your biological family.
In Freeform's Switched at Birth, teenagers Bay and Daphne discover that the hospital they were born in accidentally mistook them for each other, leading them to live vastly different lives.
Bay grew up reasonably wealthy while Daphne was raised in a low-income neighborhood and lost her hearing after contracting meningitis at a young age.
At the discovery of the switch, their families decide to bring the girls together as they discover their new identities, overcome their differences, and form a new and bigger family.
This Close, Sundance TV (2018 – 2019)
Who better to create and write deaf characters than those who are deaf themselves?
This Close is a two-season dramedy series created by and starring Shoshannah Stern and Josh Feldman, both of whom are deaf and best friends in real life.
The series is based on a series of short films and tells the story of deaf best friends Kate and Michael (Stern and Feldman, respectively) as they try to navigate their lives as twenty-somethings in Los Angeles.
It's a look into the beauty of their friendship and the complexity of their romantic relationships, with Kate as newly engaged and Michael as recently separated from his fiancé.
The Silence, BBC One (2010)
BBC One's crime drama miniseries The Silence follows 18-year-old Amelia, who has recently received a cochlear implant and is trying to reintegrate into the hearing world.
To help her with the process, her uncle (a chief inspector) and his wife invite her to stay with them temporarily and she has a chance to experience normalcy with her cousins. However, she ends up witnessing the murder of a female police officer.
Her lip-reading skills allow her to uncover a link between this case and a gang execution case her uncle is investigating, which leads to further investigation into a tangled web of police corruption.
Sue Thomas: F.B.Eye, PAX TV (2002 – 2005)
Sue Thomas: F.B.Eye is another series on the list that features a deaf character that does not let this affect her life and the pursuit of her dreams.
The best part is, the series is loosely inspired by the life of the titular Sue Thomas, a deaf woman and former FBI agent who worked as an undercover specialist in lip-reading!
In the series, Sue's parents made sure that she was still always able to live life to the fullest.
This leads her to become an ambitious and independent woman; she applies for a position at the FBI and after first being relegated to a mundane job, she fights for the usefulness of her lip-reading skills to become a Special Investigative Analyst.
Reasonable Doubts, NBC (1991 – 1993)
NBC's two-season police procedural drama Reasonable Doubt focused primarily on two major protagonists and how their characters played out their professional (and later on, personal) relationship.
Assistant District Attorney Tess Kaufman is a champion for the rights of her accused clients, and she is also deaf.
On the other end is Detective Dicky Cobb, who is old-fashioned and always keen to catch the perpetrators regardless of method.
The two are assigned to work together because Cobb is proficient in sign language, and they are able to communicate using various methods (like repetition, and lip-reading).
They work well, although Cobb is often frustrated at what he thinks is Tess' over-sympathy for the suspects.
The West Wing, NBC (1999 – 2006)
The West Wing has been hailed by many reputable publications as one of the best TV shows of all time, making it well worth the watch throughout its seven seasons.
Running a country is no joke, and it truly takes the collective effort of the President, his advisers, and the many members of the presidential teams.
They navigate the ins and outs of the country's political realities, scandals, and political needs of the constituents while handling issues in their personal lives.
Political consultant Joey Lucas handles many of the democratic campaigns, with the help of her sign language interpreter.
Titans, DC Universe/HBO Max (2018 – present)
If you were a fan of the Teen Titans comics and animated series, the live-action adaptation Titans is definitely going to be up your alley.
The superhero genre gets a refreshing take following this group of young superheroes who had originally disbanded but come back together in order to join forces and fend off evil.
You might see a lot of familiar characters, like Dick Grayson (Batman's former vigilante partner), or new characters like Jericho, the mute superhero played by deaf actor, Chella Man.
Titans is set in various locations, as the diverse team goes wherever they are needed.
Hawkeye, Disney+ (2021)
Hawkeye is definitely one of the more well-known Marvel superheroes thanks to his practically front-and-center role in the Marvel Cinematic Universe and The Avengers.
MCU fans finally get to know him a little better in Disney+'s eponymous Hawkeye, which picks up a year after the events in Avengers: Endgame and dives into Hawkeye's time as his vigilante alter ego, Ronin.
In the series, Clint Barton is sporting a hearing aid due to having a condition known as noise-induced hearing loss.
Here, we also meet his mentee and protege, Kate Bishop.
In the series, the duo are on the tail of a New York-based criminal organization called the Tracksuit Mafia, who operates under their deaf commander Maya Lopez.
Echo, Disney+ (2023)
The MCU has continued to expand, as witnessed by individual TV series on key characters like Loki, WandaVision, The Falcon and the Winter Soldier, Hawkeye and so many more that we haven't even seen in the movies!
Yet another that will add to the lineup in 2023 is Echo, which is actually a direct spinoff of the aforementioned Hawkeye.
The commander of the Tracksuit Mafia, Maya Lopez, has now turned away from her villainous ways to return to her hometown of Oklahoma to do some soul-searching and reconnect with her Native American heritage and her family.
The Society, Netflix (2019)
Teen drama The Society comes from Netflix and is a one-season series filled with drama and mystery.
The series begins with a group of students from the local high school in West Ham, Connecticut returning to their hometown from a canceled field trip.
As soon as they get back, they discover that a strange forest has appeared around the town and everyone else has just disappeared without a trace.
Now, the teenagers must find a way to organize and rule themselves in order to survive being cut off from the outside world.
El Deafo, Apple TV+ (2022)
The first animated series on the list is El Deafo, which just premiered on Apple TV+ in 2022.
With just three episodes, El Deafo is a great watch for the kids and teaches lessons in resilience and embracing the "different" in all of us.
At the center of the series is Cece (based on the creator, Cece Bell) who suddenly loses her sense of hearing after an illness.
Having to wear her hearing aid makes her afraid of making friends! However, it also inspires her to create a superhero alter ego, El Deafo, who helps Cece learn to accept herself.
Gangsta, Tokyo MX/Funimation Channel (2015)
Gangsta is another animated series, although definitely not one that's targeted for children!
The Japanese anime is an adventure thriller based on the originally published manga of the same name.
It follows Worick and Nicolas, a duo that works for both the police and the local mob on jobs that neither organization can manage themselves involving the seedy criminal underground of their city, which positions them on completely neutral ground.
Nicolas has superhuman abilities brought about by a particular drug; though he is deaf, his vision is beyond normal capacity and thus, he also excels at lip-reading.
Ranking of Kings, Fuji TV (2021 – 2022)
The anime Ranking of Kings is another series based on an original manga, and was adapted over 23 episodes.
The series is set in a world wherein all of the human world's kings are given a ranking by a committee of spokespeople for the gods — hence the title!
Viewers follow the protagonist named Bojji, a young prince who harbors ambitions to become the greatest of all kings despite his youth, naivety, deafness, and criticism from his constituents.
His perennial companion, Kage, is a survivor from a wiped-out assassin clan who understands Bojji's every word.
A special feature episode is also set to premiere in April 2023, so stay tuned for that!
Deafplanet, TVO (2003 – 2005)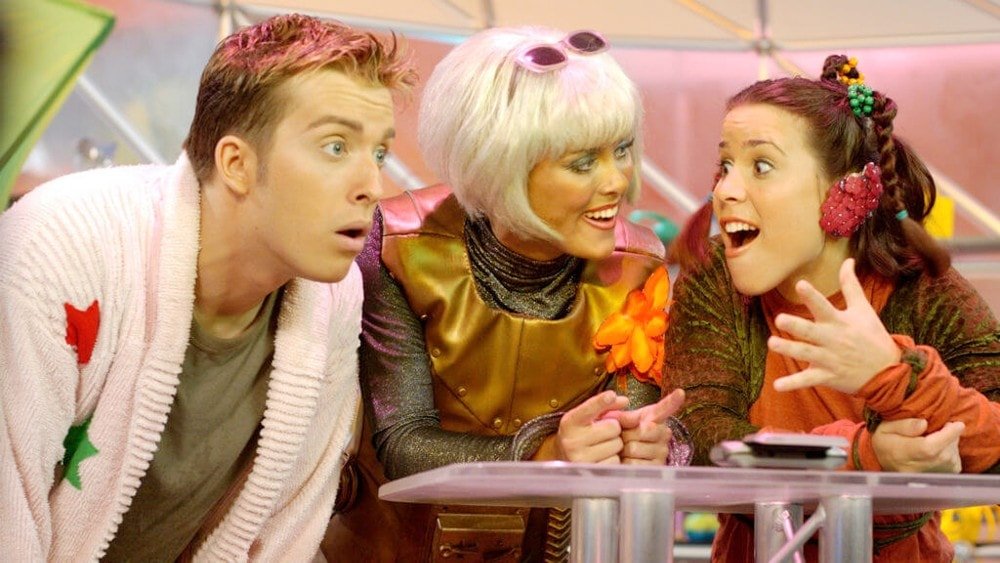 Deafplanet is a Canadian kids TV series specifically targeted for the deaf or hard-of-hearing audience, as it primarily uses American Sign Language.
A French version of the show was adapted using Quebec Sign Language as well!
It follows Max, a young boy who is accidentally launched into space when he tinkers too much with a museum's rocket display.
After landing on Deafplanet, he meets a deaf teenager named Kendra He is able to understand her with the help of a robot, and the two become fast friends as Kendra is determined to help Max get home.
Quantico, ABC (2015 – 2018)
If you're into action and drama in the espionage setting, Quantico is definitely a show that you want on your watchlist.
The ABC three-season conspiracy thriller series centers first on a team of new recruits at the FBI Academy, where viewers are taken back and forth between two timelines: the recruits' Academy training, and their involvement as graduated FBI agents in the events following a terrorist attack in New York City.
In the third season, Jocelyn Turner is introduced as a former agent famed to be one of the best until a bomb blew up near her and destroyed her sense of hearing.
Now, she's being brought back into an FBI special team.
Nancy Drew, The CW (2019 – present)
Nancy Drew is a household name in the mystery detective genre across generations, and The CW's Nancy Drew series is the third TV show adaptation from the series of novels.
Nancy Drew of course follows the titular female detective right as she's at the cusp of adulthood, having put off going to college for a year after the death of her mother.
When a local socialite is murdered, Nancy and her coworkers — one of whom has a deaf father — are embroiled in the case as suspects and they fight to prove their innocence.
Deaf U, Netflix (2020)
Last but definitely not least is Netflix's Deaf U, which is the only reality TV show on the list.
What is so beautiful about this eight-episode series is that it's a very raw, very real look into the lives of the deaf and hard of hearing.
As executive producer and deaf activist Nyle DiMarco said, the aim was to "show deaf people as humans, from all walks of life".
Hence, Deaf U tells the stories of students from Gallaudet University in Washington, D.C. which is a private university specifically for the deaf and hard of hearing.
Through the series, we witness how the cast has their own identities within this community and how that affects their lives inside and outside of the university.