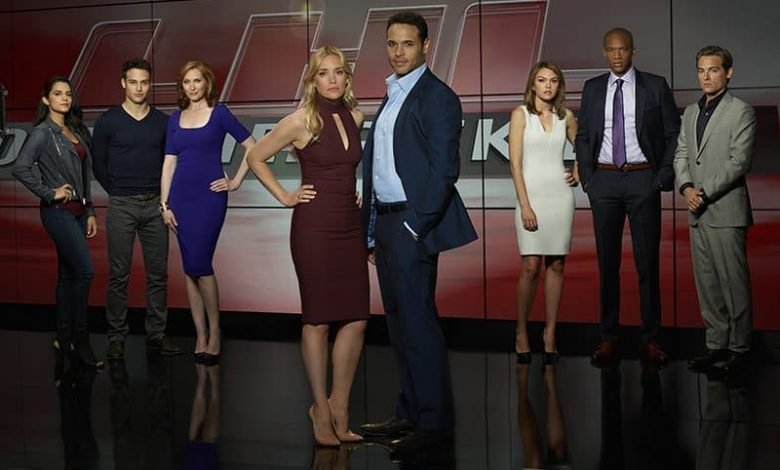 Although we have only seen five episodes from the new ABC's drama Notorious which highlights a friendship between a famous attorney and a hot-shot TV producer and how they work together to influence the news cycle, making America care about the news that they create, it seems like we might not get much more episodes than that, since The Wrap reports, that ABC just shortened their initial 13 episode order of the show's first season to only 10 episodes.
The reason behind this cut might be the ever so declining ratings of the show. Despite the Thursday night's prime time slot, Notorious is loosing more and more viewers with each episode that airs. But the fact that ABC went and cut down the episode order for Notorious first is the puzzling part of this whole ordeal, since Notorious isn't the lowest-rated show, sadly Conviction is. Could this mean that this TV drama will be the first victim to the ever so brutal TV show cancellation process that networks go through each season?
Luckily, we will be able to see all 10 episodes, even if  ABC decide to indeed cancel the show all together. Which means that we will be able to follow Jake, Julia, Ella, Ryan, Oscar and all the other characters for at least five more episodes and get some kind of closure before this freshman show ends its run on TV. But let's hope that this is not the case and we will be able to see Notorious last longer than only 10 episodes, because frankly, I am not quite sure why the show has such bad ratings, since each week that I am watching the show, it sucks me in more and more.
The show is based on real-life relationship between a famous defense attorney Mark Geragos and news producer for the "Lerry King Live" show Wendy Walker. It stars Graceland alum Daniel Sunjata as attorney Jake Gregorian, Piper Perabo as news producer Julia George, Friday Night Lights alum Aimee Teegarden as fresh-out-of-school lawyer Ella Benjamin, Ryan Guzman as Julia's boss's son and newest employee Ryan Mills, Kevin Zegers as Jake's client Oscar Keaton, Kate Jennings Grant as news host Louise Herrick, J. August Richards as Jake's brother Bradley Gregorian, Sepideh Moafi as Julia's right hand Megan Byrd among others.
Notorious was first presented as a new, provocative, sexy TV drama, that shows it's viewers how news are made and how easy it is to influence what we see and care about. And although, the show, like any other TV drama, has heightened drama and embellished story lines, for it to be more attractive to its viewers, fundamentally it actually covers a very important topic in modern society, media literacy and how you shouldn't believe everything that is being said in media , because at the end of the day, it is so easy to twist facts and air only the information that makes for "good TV".