Is there anyone more gallant than a knight?
A man (or woman – Brienne of Tarth we're looking at you), on a noble quest at the behest of his sovereign lord.
These gentlemen soldiers were often high-born or earned their titles through hard work and feats that created a fearsome reputation, and required years of training.
However, donning a knight's armor is a privileged position only a few were ever afforded, and the average swordsmen rarely outmatched their skills.
Decked out in plate armor, and swords while mounted on their horses, a knight was the dream job for every young medieval boy.
We decided to see what tales these valiant warriors have inspired by finding the best TV shows about knights.
So settle down, set down your swords, and tune in!
Knightfall, History (2017 – 2019)
If we want to talk about principled and noble knights, look no further than The Knights Templar, who upheld their religious values and nobly carried out their duties in the name of the church.
However, they did eventually meet their end and during their last days, we take a fictional look at the inner workings of this organization and their belief systems.
Veteran Knight Templar Landry de Lauzon assumes the role of the master of the Paris Temple, and while dealing with his crisis of faith and disillusionment with the Knights Templar, he makes a discovery that has the potential to reignite his own beliefs and the power of his organization.
Landy discovers that the Holy Grail may be in France, and this sets in motion a final crusade – and probably the best of one of his life.
Merlin, BBC One (2008 – 2012)
Who hasn't heard the tales of King Arthur and his round table of knights?
Based on history and a bit of mythology, the enduring legacy of the Arthurian stories still inspires writers and TV producers to this day.
In Merlin, we take a look at the early days of the relationship between Arthur and Merlin, with the story being told from the wise wizard's point of view.
In a world populated by knights and royalty, we meet Merlin as a young talented warlock who is new to the kingdom of Camelot – where magic has been outlawed under the rule of King Uther Pendragon.
As Merlin befriends his son, Arthur, the two set out on a journey to return magic to the kingdom and restore the nobility of knighthood to Arthur's cohorts.
The Letter for the King, Netflix (2020)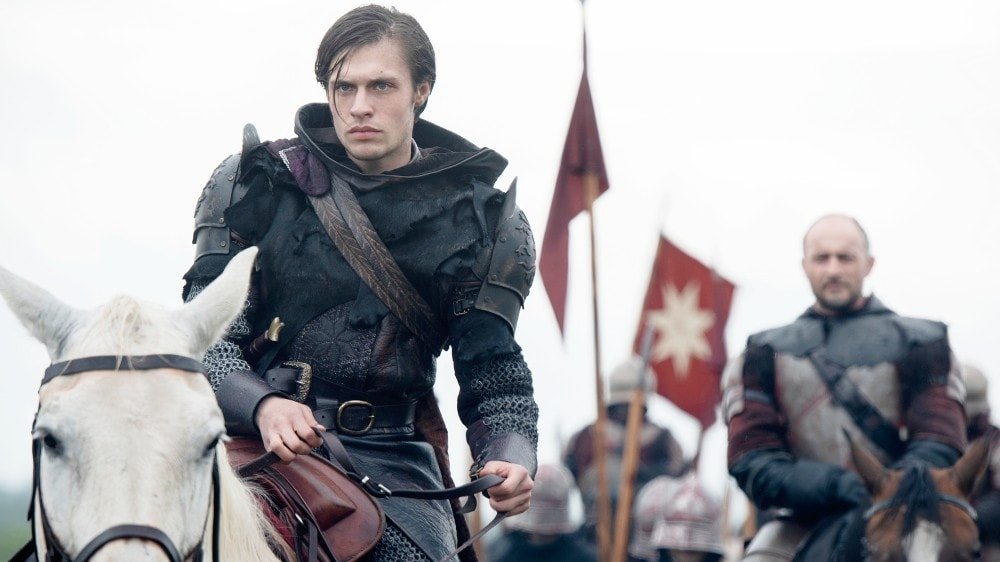 Young Knight in training Tiuri finds himself tested to his limits when he is sent on a mission to deliver a mysterious but important letter to the King.
Based on the 1962 novel l De brief voor de Koning by Tonke Dragt, the show is a sweeping fantasy adventure that illustrates the importance of the duties of the knight.
As he ventures across many landscapes, stretching through three Kingdoms, he finds kinship along the way as he realizes the letter may just be a smaller part of a bigger prophecy that he is destined for.
Is Tiuri meant for more, and will he finally become the Knight he wants to be through saving his home continent of Dagonaut? And does the King ever get his letter?
It is best to settle in and find out.
Galavant, ABC (2015 – 2016)
When describing the gritty world that TV shows about knights take place in, you wouldn't expect a musical number or 10 to tell the tale of galavanting around medieval times.
This unusual comedy follows the brave knight Galavant, and his quest to live happily ever after by slaying the evil king who took everything from him.
The show follows an ensemble of quirky characters in a story told through a series of musical numbers.
It is a wild and fun ride with many twists and turns, and a must-watch if you want something a bit more light-hearted than regular shows about knights.
The Hollow Crown, BBC Two (2012 – 2016)
The Hollow Crown is a remarkable TV series that brings Shakespeare's medieval world to life with a stellar cast and exceptional craftsmanship.
The series adapts his historical plays: Richard II, Henry IV: Parts 1 and 2, and Henry V, offering a captivating journey through the struggles of three kings vying for the throne.
With stunning visuals, enchanting sound design, and passionate performances, The Hollow Crown pays homage to Shakespeare's words while immersing viewers in a world of royal intrigue and political power.
Prepare to be captivated by this masterful adaptation that showcases the enduring brilliance of Shakespeare's storytelling.
And of course, it features a knighthood – but we cannot give away that plot detail, it is worth the intrigue to get there.
Camelot, Starz (2011)
Drawing more from the lore of the Arthurian legends, we take a look at 2011's Camelot.
In this take on the mythology, we follow as the great sorcerer Merlin unveils Arthur as the next king, following the death of his birth father, King Uther – despite no one knowing about Arthur until that point!
By birthright, he has a bigger claim to the throne than his sister, and he and his knights along with his mother settle into Castle Camelot with the goal to rebuild a more peaceful Britain.
His sister Morgana, who may be responsible for her father's death, has other plans though, and takes Castle Pendragon for herself, where she launches a series of attacks and schemes aimed at taking down the new king and his round table of knights.
The Legend of El Cid, Amazon Prime (2020 – 2021)
Before a man becomes a knight, he pays his dues as a page in the court of his regent.
Here we meet Rodrigo Díaz de Vivar, who tries his best to display great loyalty to the future King of León and Castile.
However, things take a turn when he suddenly finds himself in the middle of an insidious plot to overthrow the King.
This leads to him having a crisis of faith, as he wants to fulfill his duties, while also taking in all that he has learned through his discovery.
The show is immensely riveting, drawing in viewers and comparisons to Game of Thrones – with more knights and fewer dragons.
Maximilian, ORF (2017)
Set in 1477, Maxmilian follows the intrigues of succession – when Charles the Bolds, the Duke of Burgundy, passes away and leaves behind an unwed daughter – who is not allowed to rule without a husband.
This sets in motion a rivalry for her hand, which she in turn has no intention of handing over easily.
While King Louis of France would see her wed the Dauphin Charles, the Holy Roman Emperor Frederick III wants to see his own son, the titular Maximilian on the throne.
Buried beneath all this drama is an enduring story of love, as Mary ultimately makes up her mind, not only for the good of her commonwealth but her own heart too.
The Bastard Executioner, FX (2015)
Sometimes knighthood isn't for everyone and when our protagonist Wilkin Brattle finds that he is no longer thrilled by the idea of war and bloodshed, he hangs up his sword and sets out to find a new identity.
With this, he becomes a journey executioner, known as The Bastard Executioner, which may not fully align with his need for peace but the anonymity of the hood gives him some modicum of well-being.
However, his new identity comes with a price too, as his faceless nature puts him in the middle of awkward political situations – which may just awaken his sense of justice that drew him to be a knight in the first place.
Floris, NTS (1969)
Set in the early 16th century during the Guelders Wars, we meet the knight Floris van Roozemond and his companion the Indian Sindala who find that Floris's castle has been occupied by the insidious Maarten van Rossum during his absence traveling around the world.
This sways his neutrality to the side of Wolter van Oldenstein, who seeks to unseat Charles, Duke of Guelders, to who his castle's occupier has sworn fealty.
During this journey, he and Sindala uphold the values of knighthood while navigating sword fights, treacherous characters, and sieges in true medieval style.
Ivanhoe, ITV (1958 – 1959)
A true British classic, Ivanhoe takes place in the 12th century during the reign of King Richard the Lionheart – who leaves behind his kingdom to fight in the Crusades.
Seeing this power vacuum, his young brother, Prince John takes the throne and instills a draconic rule over the country and its people.
Enter the dashing knight Sir Wilfred Ivanhoe, a principled man who believes in freedom, with his companions Gurth and Bart – two men he freed from servitude.
Together the three of them set out to right the wrongs done by Prince John while upholding the virtuous values of knighthood.
The legend of Ivanhoe proves to continue to inspire, as there was also a 1997 miniseries based on the noble Knight of the same name.
The Adventures of Sir Lancelot, ITV (1956 – 1957)
Perhaps one of the best-known knights in folklore, Sir Lancelot is best known as a member of the famous Knights of the Round Table from the Arthurian legends.
In The Adventures of Sir Lancelot, we follow a very historically accurate retelling of his life, as provided by the History and Literature Departments of Oxford University.
The show invites viewers to learn more about his exploits as a member of King Arthur's court, as each episode takes on a new adventure or challenges to the knights of Camelot.
Often he finds his sense of chivalry tested but ultimately proves that it is the man that makes the knight and not the title.
Crossing Swords, Hulu (2020 – 2021)
Of course, knighthood isn't all dour battles and series quests, and in Crossing Swords we take a wonderfully naughty but whimsical look at it through the marvel of stop-motion animation – though this does not make it a child-friendly show, be warned!
Meet young Patrick, a peasant who dreams of life as a knight, and when he finally gets accepted to the job of a squire, he is quickly slapped in the face with a harsh dash of reality.
Instead of noble valor, he finds a castle overrun by crooks, charlatans, and a few too many sex scandals.
Not to mention his cutthroat criminal family who want to exploit his position for their own gain, poor Patrick finds that life behind the shield isn't all he had been dreaming about.
Game of Thrones, HBO (2011 – 2019)
Though not a show about only knights, we cannot complete this list without tipping our hat to one of the greatest fantasy shows of all time, Game of Thrones.
Many knights graced the screen during its prolific run, some good and some bad.
Though the show is centered on the battle for the Iron Throne, it would be terrible of us not to mention Jaime Lannister or Brienne of Tarth for their impressively knightly duties (morally questionable or not).