After a short break, Heartland was back with a new episode that saw a rehabilitation of a horse, a visit from an old mentor, and an exciting softball game.
Want to know what happened on this latest episode? Then keep on reading our recap of Heartland season 14 episode 5!
This article contains a lot of spoilers, so consider this your official spoiler warning!
Kicked out but bouncing back
The episode began with Amy visiting the herd of wild horses that are roaming around the ranch's property. And while looking at the herd she witnessed something disturbing.
Amy saw Caz, the wild colt she was trying to gentle for the new owner of Tim's Big River Ranch, Sam, in Heartland season 13 episode 2, brutally kick the previous leader out of the herd and almost hurt Amy in the process. Luckily, Spartan was there to protect Amy from Caz. However, the black stallion who got kicked out was left injured and alone. And being that he was an older horse, his survival chances were quickly declining.
So, Amy decided to go look for the horse the next morning. And she found him pretty quickly, however, the stallion was badly injured. Luckily, Amy managed to lead him back to Heartland and heal his wounds using an apple cider vinegar and saltwater mixture that her mom swore by.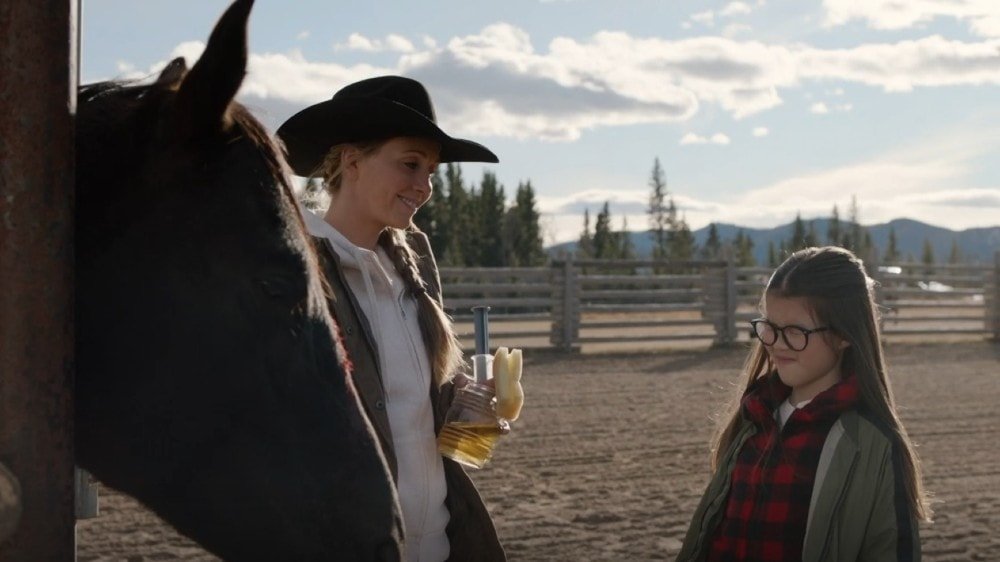 And that combined with some healing vibes from Parker, the stallion was on the mend. However, now that the horse was healthy again, another problem arose – it had nowhere to go since he was kicked out of his herd.
But all's well that ends well, because after the softball game (more on that later in this article), Sam, dropped by Heartland, and Amy jumped at the chance to ask Sam if the stallion could live on his property. And who can say no to Amy and her want to do right by a horse?
So the stallion found a new home on Sam's property. And Amy and Jack even had a moment to chat when they were leading the stallion to Big River.
When will I stop dreaming of Ty?
All through the episode, we saw Amy waking up earlier and earlier because she was dreaming about Ty. Parker even suggested that Amy go see her dad who's a sleep therapist.
However, it looks like all Amy needed was a good, long talk with her grandfather who had some great advice to share when Amy asked Jack when will she stop dreaming of Ty.
Amy, I can't promise that's gonna stop, but what I can tell you is, pretty soon these dreams and memories of Ty won't haunt you anymore, they'll bring you comfort. And whatever is keeping you up at night right now, that'll feel like a warm blanket.
Jack
Making amends
After the crazy situation Lou found herself in the last episode, this episode saw Lou deal with a different type of crisis. Jessica Cook, who was the one that got Lou fired from the firm she worked at in New York in season 1, was coming to stay at the dude ranch.
Understandably, Lou was furious that Jessica was coming to Hudson, and staying at Lou'd dude ranch no less, like nothing ever happened. So, with a little push from Tim, Lou decided to tell Jessica just how angry she still was. But the conversation didn't quite go how Lou had imagined it would.
After Lou went to the dude ranch and actually sat down with Jessica, Jessica not only praised Lou for what she has achieved with the Maggie's New York franchise and now being the mayor, but actually apologized to Lou about getting her fired.
As it turns out, Jessica had cancer so she decided to leave her cutthroat businesswoman days behind and focus on her passion – photography. But, the choices she made before her diagnosis still haunted her. So now that she was in remission, Jessica wanted to make amends. And that included apologizing for what she did to Lou.
Naturally, Jessica's confession and sudden openness surprised Lou, but in a good way. And after they talked about everything they actually were on good terms again. Lou even ended up asked Jessica for advice on something related to her mayoral duties (more on that in the next part of the article).
The two ended up becoming friends again. And, when Jessica confessed that her stay at the dude ranch was the most peaceful she's felt in a long time, Lou offered her to extend the stay.
So, it looks like Jessica is sticking around Hudson for now. And since in the season 14 extended trailer we saw a few moments between Tim and an unknown woman that I now realize is Jessica, we can expect her and Tim to get to know each other a bit better. We already saw some sparks between the two in this episode. And I think that this relationship will only continue to develop in the next few episodes.
Rodeo's back in Hudson, folks
Speaking of Sam and the softball game, in this episode we saw Tim embark on a mission of his own – to rebuild the rodeo grounds.
At the start of the episode, we saw Caleb walk in on the Bartlett-Fleming clan having breakfast in the kitchen and first showing everybody a photo of Tim during the wildfire on the cover of Hudson Times and then reading another article to them about how they might have to cancel the rodeo finals since they can't have any rodeos at the Hudson rodeo grounds until all the damage caused by the fire is fixed.
Tim, of course, wanted to get funding for the repairs from the town of Hudson. However, with all the extra money that they had to pay the big oil companies for helping fight the fires last episode, Lou realized that that just wasn't possible. Luckily, Jessica suggested that Lou encourage Tim to find another way to raise the money for the repairs.
Maybe empower your dad to find another solution? He seems to me like the kind of guy who likes a challenge, and the chance to come out looking like the hero.
Jessica
And after some brainstorming, Tim came up with the idea to throw a celebrity softball game.
Earlier, while Tim and Jack were checking the ranch's fence line, they saw Sam practicing batting at the baseball field he had built on his property. And with a little help from Parker, they dug up that Sam was a professional baseball player who got suspended for life for gambling. So Jack and Tim went to Sam and asked if they could use his ball diamond for the fundraiser.
Sam, being the private guy that he is, initially refused. It also looked like he was still haunted by his past life as a pro ballplayer. However, Tim didn't give up.
With a little encouragement from Jessica, he along with Jack and Caleb went back to Sam to explain how important rodeo is to Hudson. And after appealing to Sam's feelings about Tim's students, who are professional athletes just like Sam was, working hard to get to the rodeo finals only to be denied the chance to compete because the rodeo grounds weren't operational, Sam agreed to host the charity event and the softball game was a go.
Tim was leading Team Rodeo consisting of Caleb, Jack, Tim's rodeo students, and other rodeo stars. While Lou and Amy were on Team Celebrities along with an assortment of town officials, news anchors, and other media types. And although Team Rodeo put on a good fight, the celebrity team won with a little help from Sam and Jessica, who turns out, played on a National Championship Softball Team in college.
In the end, the game raised almost 13 thousand of the 20 thousand dollars needed for the rodeo ground repairs and Sam and Tim agreed to split the shortfall. So, the rodeo grounds were well on their way to get the repairs needed in time to host the rodeo finals.
And when Sam went to Heartland to give Tim the check for the shortfall, he even thanked Tim and Jack for giving Sam the chance to be recognized for something other than all the mistakes he made in his past.
So, now that the stallion lives on Sam's property, we might be seeing Sam around more. And although it is way too early for Amy to move on from Ty, there seemed to be some type of something between Sam and Amy. Or maybe (probably) I'm just reading WAY too much into things because I want Amy to be happy again.
---
---
What do you think? Let me know in the comments below if you saw the episode!
Last thoughts on Heartland season 14 episode 5
This was also the episode that saw Parker's dad and Jade's mom finally return from their honeymoon which meant that Parker was packing up her bags and leaving the ranch.
It was sad to see Parker go because over the last 4 episodes she really became part of the family. But fortunately, Parker told Amy that she's finally ready to take those riding lessons before she left. So, I don't think that this is the last time we see Parker on Heartland.
Promo for Heartland season 14 episode 6
And here's the promo for the next episode of Heartland, episode 1406 titled The New Normal that's airing on February 21st: