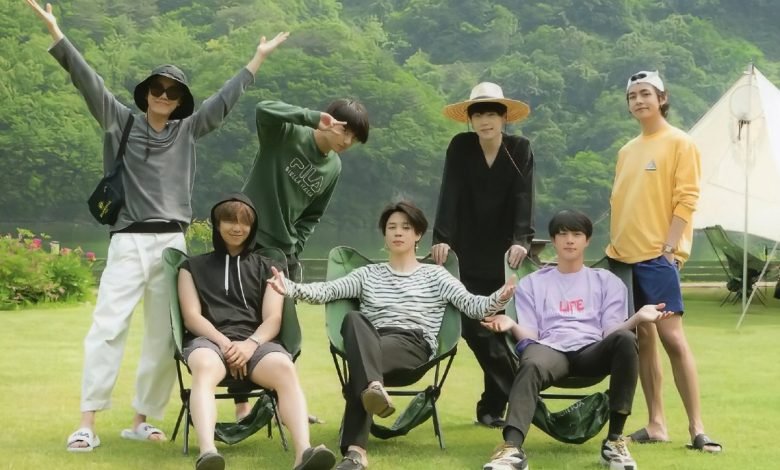 We've covered a few other reality shows featuring international K-pop superstars, BTS (i.e. Bangtan Sonyeondan or 방탄소년단). We talked about the funniest episodes from their variety show Run BTS (and there may be a follow-up on more recent episodes!). Recently, we also listed our favorite moments from each season of their travel series, Bon Voyage. Now, we're back with another: BTS In the Soop.
2020 was a tough year for everyone, and celebrities are no exception. BTS' world tour was canceled and restrictions brought about by COVID meant there would be no fifth season of Bon Voyage, either. In its place, however, came BTS In the Soop. In Korean, "soop" means forest and which explains the setting of the reality show.
For 7 days, BTS were given the chance to recharge with a vacation in a beautiful house with the forest on one side and a lake on the other. It was intended for them to do the things they've always planned to do but never had the time for. That meant no working (as at this time, they were working on a new album) – just fun and games.
In their in-show interviews, each member spoke fondly of how the experience was healing for them. However, it was just as comforting for us fans to watch as well; to witness them just having fun and taking the break they so deserved.
With that, here are the best, the funniest, and the most soul-soothing moments from BTS In the Soop!
Jin the sashimi king (Ep. 2)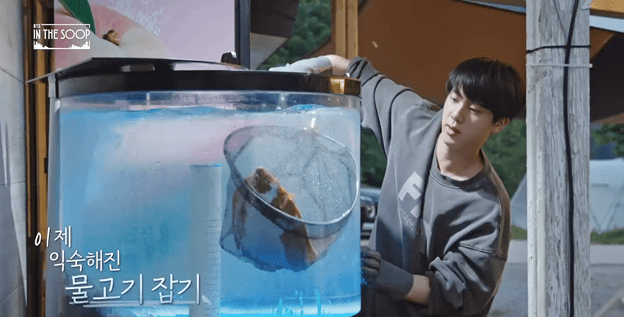 One of Jin's special requests, apart from fishing gear, was a tank with flatfish so he could try making sashimi – and their production crew delivered!
It was his first time to ever even attempt to make sashimi from scratch and there were many times when he almost gave up, saying "It'd be good if I could do it, and it's also fine if I can't."
With the support of Jungkook, SUGA, and J-Hope, however, he was able to achieve one thing he had always wanted to do: make sashimi for his members.
He was so happy that a few nights later, he and Jungkook filleted the rest of the flatfish to make sushi – which again, everyone absolutely loved!
Writing the show's theme song (Ep. 3)
Like true artists, when V started playing piano chords at random, Jimin and J-Hope immediately jumped in with harmonies while V and RM spouted lyrics right off the top of their heads. Soon after, they were joined in the room by Jungkook and SUGA, who ran off to grab his recording equipment, and Jin contributed while painting his masterpiece outside the room.
Pretty soon, SUGA had their beat, melody, harmonies recorded and mixed into a rough draft of what would eventually become the In the Soop theme song. They're professional musicians, indeed.
Prank on Jin (Ep. 4)
Remember in Bon Voyage 4 when Jin got the members to prank J-Hope by leaving him behind at a gas station? Well, J-Hope got his revenge!
The members are getting ready to head back to Seoul halfway through their vacation due to prior work commitments, but Jin goes back to the house to pack up the fishing rod he'd left cast. J-Hope jumps at the opportunity to pull his prank, too.
What's funny is that the members didn't even question it – they got on board immediately and SUGA even took it further by letting Jin open the car door, dangling a bit of hope, before driving off just before Jin got in the car.
Canoe trips (Ep. 5)
Okay, I cheated a little with this one because it's technically a two-in-one combo. Being out on an open lake has especially healing qualities, even vicariously through BTS, and that's why I couldn't decide between these two canoeing trips!
First, Jin, RM, and Jimin take the canoe out to relax and retrieve a ball they'd accidentally batted into the lake. It's endearing because, in true hyung (older brother) fashion, Jin takes the lead and reassures Jimin, who is evidently afraid while hanging onto him for dear life.
Soon after, V goes out on his own just to float aimlessly along the water. He brought some music with him and played the unofficial English version of his own song, "Blue & Grey". Of course, we now know he wrote this about his sadness and depression during the pandemic, and it was later rewritten in Korean to be included in their latest album, BE.
V and Jungkook's campfire talk (Ep. 6)
On their fifth night, V initiated a one-on-one conversation with Jungkook over drinks by their makeshift campfire. It seemed a little awkward at first, but the two youngest members eventually settled into the conversation.
During this heartfelt session, they talked about their days as trainees as well as how they have been feeling and dealing with the pandemic situation.
In his solo interview, Jungkook mentioned that he and V used to get in trouble a lot when they were younger but that their relationship has since changed, but how he was grateful that V approached him first as it fixed the patches in their friendship.
Drunk Jimin and the mosquito net (Ep. 7 Behind)
Jimin can be a troublemaker when he's sober, but even more so when he's intoxicated. In episode 7, he briefly explains that he got a minor injury the night before while spending time with Jungkook but that he had a lot of fun despite the bruise.
In the behind cut for that episode, we see exactly what happened: a slightly drunk Jimin and Jungkook were chasing each other in the garden before Jungkook retreated to his room. Jimin followed and dragged his mosquito net out of the room, effectively breaking it.
We can't see what happens next but there's a loud thud followed by Jungkook asking, "Are you okay?"
Fun with J-Hope and V (Ep. 6 and Ep. 8)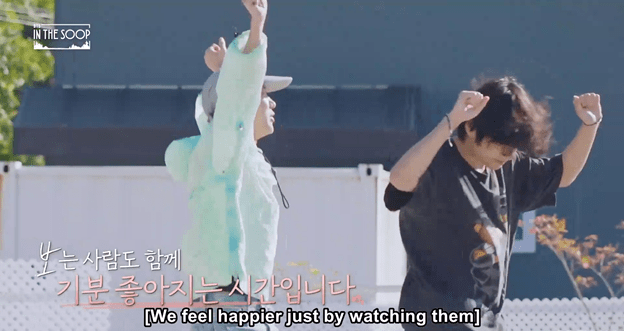 I couldn't decide, so I've included another double whammy with V and J-Hope!
In episode 6, they decided to go out for a drive to get hanwoo hamburgers to eat by the river, stopping to take pictures at a vast field along the way.
Once they got their burgers, they just sat in comfortable silence while enjoying the food and the riverside views. Before heading back home, they had a little impromptu dance session – and the pure joy on their faces is what heals our souls. That, and the fact that in their interviews, V said this drive with J-Hope "hit him in the heart" and J-Hope said it was a "precious" and "beautiful moment".
In the last episode, these two decided that their vacation's last hurrah before heading back to Seoul would be a water fight with guns and balloons.
There's no better serotonin boost than watching V and J-Hope chasing each other around the garden and hearing them laugh like children playing in a schoolyard.
"Eternal roommates" heart-to-heart (Ep. 8)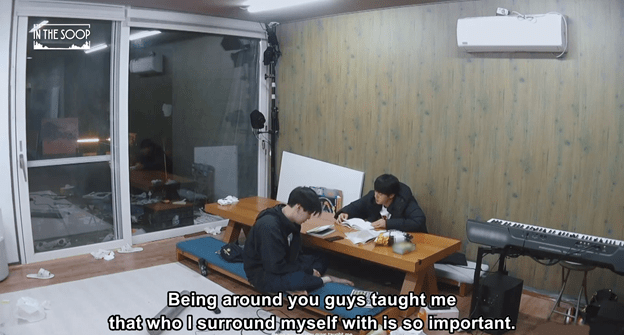 SUGA and Jin often refer to each other as eternal roommates to harken back to the early years of their group, when they shared a room.
Despite what seems to be very different personalities, they've also mentioned many times that they have the same wavelength and can only understand each other. It couldn't have been more than a few minutes, but this short but meaningful exchange between them is proof of that.
What started as a simple "What would I be doing if I didn't do music?" musing from SUGA turned into an introspection about their group dynamics and encouraging words from Jin to ensure SUGA that he has, indeed, accomplished many great things and should live with no regrets.
Playing Avalon (Ep. 8)
We always love seeing BTS playing games, whether physically or mentally challenging – that's part of the charm of Run BTS, after all! On their last night after dinner, the members decided to play a new game called Avalon overseen by gamemaster extraordinaire, Jin.
Slightly more complicated than their favorite "mafia" game, it requires brains, strategy, and the occasional trickery. It's not really anything different or particularly special, but seeing them have fun while working their brains and pinning the "villain" on each other will automatically put a smile on your face!
Post-show theme song recording (Ep. 8)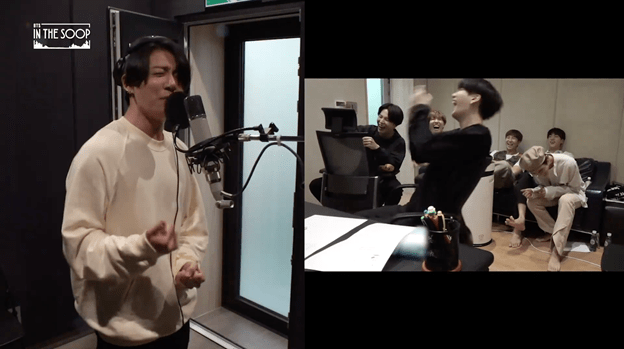 We rarely get a look into the group's song recording process so this was a true gift for us fans, even if it was just for the show's theme song.
All seven members were together in their recording studio with SUGA at the helm for directing and producing the song, and we love seeing Min PD (as SUGA's fans call him when referring to his skills as a music producer) at work.
Their collaborative efforts in improving the lyrics, synchronizing the harmonies, and encouraging freedom in ad-libs was a joy to watch, especially knowing that it gave us Jungkook's iconic ad-lib recording – which sent the members into fits of laughter, too!
It's impossible not to feel soothed while watching BTS In the Soop, and narrowing down my favorites moments was a monumental task. I also loved when they spent hours trying to cook fried chicken only to have it still come out very raw; the special bonding moment between RM and J-Hope both when drinking by the bonfire and hiking up the mountain; Jimin, Jin, and SUGA's gaming-turned-wood-carving session; their dinner comparing MBTI personality types; and literally any moment they spent in the kitchen cooking their own meals.
BTS In the Soop was soothing not just for the members but for fans as well, just knowing that they were getting the healing that they needed while going through the pandemic.
With the pandemic still ongoing, we're waiting with bated breaths to see if they'll be filming any new shows this year, too (even though we're already spoiled enough with their other content as it is!).