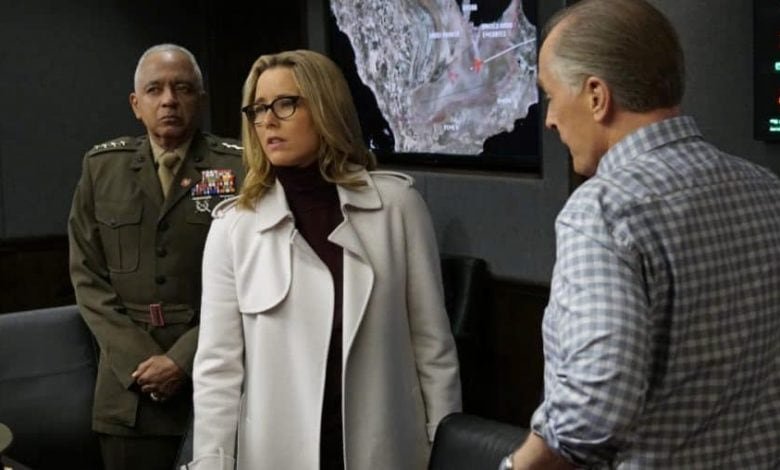 The queen of cliffhangers strikes again. Madam Secretary not only delivered an episode that was both excitingly terrifying and sweetly heartfelt, but the show also ended its newest episode in a major cliffhanger. And we have to wait until April 9 to see what happens next. But while we wait, I thought I recap what exactly happened on Madam Secretary season 3 episode 17.
Warning, spoilers ahead!
Case of the week
This week Elizabeth was dealing with two separate things. One with her team and the other working more closely with President Dalton and other high-ranking officials.
Elizabeth and her team's efforts on Madam Secretary season 3 episode 17 were dedicated to saving rhino's in Namibia. Once it was brought up that the rhino population in Namibia is close to extinction, Elizabeth put out a State Department-wide search for an unconventional way how to stop this from happening. And she found that in an idea from a State Department employee Gwen White.
Gwen suggested that, since rhino horn was so popular in Vietnamese traditional medicine, they should educate people on the fact that rhino horn isn't efficient as a cure for impotence or any other health problem. And after some initial setbacks and a couple of well-placed Viagra jokes, they were able to get this idea off the ground. The rhinos were saved and another crisis was averted.
The second thing Elizabeth dealt with in this episode was that she tried to find out who is the mole in State Department responsible for illegal arms dealing as well as killing the CIA agent. And by the end of the episode, this whole storyline took a very interesting turn. I knew that this mystery, that started in episode 14, will be one of my favorite story arcs of Madam Secretary season 3.
State Department mole
So Madam Secretary season 3 episode 17 started with Elizabeth getting a call in the middle of the night that the CIA had found another cargo flight carrying the smuggled weapons. And after Elizabeth convinced Dalton not to shoot down the plane, they were able to use it to find out who the mole in the State Department is.
It turned out it was a forensic accountant by the name of Barry Milken. At first, it seemed like he didn't know anything, but when Elizabeth went to question him, he almost cracked. However, their conversation was interrupted by a high-powered lawyer Jim Fox (played by none other than Enrico Colantoni) swooping in and ending Elizabeth's interrogation. And that set into motion the theory that Barry is only one small piece of a bigger puzzle. Which was confirmed after Fox got Barry out of jail only to see Barry get shot and killed.
Although this twist of the smuggling ring being something bigger than just one person in the State Department was expected, I didn't quite expect that Elizabeth and Henry's operations will collide. It turned out that they were looking for the same weapons supplier. And by the end of the episode, it was clear that someone of great power was behind all of it scaring not only those involved in both instigations but even the lawyer, who came to Elizabeth with a proposal to work together towards their common enemy. Now if only we knew who this enemy is.
Oh no, Henry
While Elizabeth was dealing with her challenges, Henry had some of his own on Madam Secretary season 3 episode 17. He not only suspected that Ian was being drugged, which could compromise their whole operation, but he also got shot on his way to getting Ian out of the doomsday cult.
So after his first meeting with Ian, Henry saw signs that indicated that Ian was unknowingly being drugged. And tests confirmed it, so Henry decided to pull Ian out. It, of course, meant that they will need to end their operation prematurely, however, Henry was more worried about Ian's safety, not the operation after what happened to Dimitri. So he went to their usual meeting spot to deliver the news to Ian only to be surprised by the members of the cult shooting at him and injuring his legs.
And this turn of events meant one of two things. Either Ian cracked under the influence and told the cult everything or he is dead. But more importantly, Henry's work also became an integral part of Elizabeth's smuggling ring investigation. Which means that we can expect the two of them working together in the future episodes to uncover this conspiracy.
Last thoughts on Madam Secretary season 3 episode 17
How cute were the scenes between Henry and Jason, where they worked on the engine together? It not only showed the bond between father and the son but also made for a good workaround for Tim Daly's injury, giving him a reason to be sitting in all the scenes. I was wondering if the show will write Tim's two broken legs into the scenes. And it appears they decided to do so, efficiently elevating the stakes and moving the whole doomsday cult story line along.
Episode highlights:
• Captain Baker figuring out how to catch the mole
• Henry being excited for the visible B8 engine that his dad left him
• hungry Elizabeth
• Henry spotting that Ian is being drugged
• Elizabeth interrogating Barry
• Enrico Colantoni guest staring
• Gwen White and her idea how to stop the rhino poaching
• Henry being able to bond with Jason over the V8 engine
• Elizabeth figuring out how to get their rhino-saving plan off the ground
• the conspiracy getting bigger and bigger
• Elizabeth giving Gwen advice
• Jim Fox offering to work together with Elizabeth
Episode low points:
• Henry getting shot
• US Secretary of Defense yelling at Elizabeth for her going over his head
Quote of the episode:
Elizabeth: "Okay, I want a name. Who took the last donut?"
Nadine: "It was me, ma'am."
Elizabeth: "Noble gesture, Nadine. I didn't spend the last 20 years in the CIA profiling dissemblers and liars for nothing. Got anything to say, Matt?"
Matt: "Is that a new jacket?"
Elizabeth: "It was a cruller wasn't it?"
Matt: "It was a bear claw, ma'am."
Promo for Madam Secretary season 3 episode 18: