Christmas is finally here. So it's the perfect time to relax and watch some TV shows to get you into the holiday spirit. And to help you do just that, here is this year's Christmas episode master list. A list full of Christmas-themed episodes of all of your favorite shows. From dramas to comedies, we have it all. So sit back, chose a show and soak up that Christmas spirit alongside your favorite characters.
The Chilling Adventures of Sabrina special "A Midwinter's Tale"
And we will start this Christmas episode master list 2018 with Netflix's Chilling Adventures of Sabrina, more specifically the breakout show's Christmas Special.
During this chilling Christmas adventure with Sabrina, which is set against the backdrop of the Church of Night's celebration of the winter solstice, Sabrina and her band of family and friends will be visited by many different guests. Some more welcome than others. And since it's the longest night of the year, anything can happen.
Timeless season 2 episode 11 "The Miracle of Christmas, Part I" and episode 12 "The Miracle of Christmas, Part II"
Speaking of Christmas specials, this year NBC's Timeless is also doing a holiday special of sorts. Because the show is ending its two-season run with a two-part series finale.
What to expect from this long-awaited Timeless finale event? Well since it takes place during Christmas, you can count on some holiday cheer and an epic adventure. Because after receiving a visit from the future versions of themselves the Time Team will go on a quest through 1848 California and 1950 Korea to save Rufus and put a stop to Rittenhouse once and for all.
The Good Doctor season 2 episode 10 "Quarantine"
Now let's get into a bit more traditional Christmas TV show episodes. And we will start with ABC's Good Doctor.
During the 10th episode of the show's 2nd season, appropriately titled "Quarantine", Shaun and Alex treat two people who collapsed at a nearby airport. However, soon the doctors realize that these two might have an infection that can spread to the rest of the patients. So the staff of San Jose St. Bonaventure Hospital has no choice but to quarantine the hospital's ER even if it's the holidays.
Single Parents season 1 episode 10 "The Magic Box"
Next up we have Single Parents with the freshman show's 10th episode titled "The Magic Box".
In the episode, Angie is dealing with trying to find a last-minute Chrismas gift for Owen, Grahm questioning Santa's existence and Will's bad gift-giving skills. Meanwhile Poppy's experiencing her first Christmas without Rory which leads to Douglas inviting her to participate in the Fogerty family Christmas competition. And the whole group is concerned that Miggy might just still believe in Santa Claus.
Lethal Weapon season 3 episode 9 "Bad Santa"
Then there is Lethal Weapon with their episode "Bad Santa" episode which shows the darker side of the season of cheer.
Both Murtaugh and Cole are dealing with personal stuff in this episode. Murthag trying to convince his son to come home for the holidays. While it's Cole's first Christmas with his daughter Maya. All the while the two detectives are tasked with solving a not-so-simple home invasion case.
9-1-1 season 2 episode 10 "Merry Ex-Mas"
Fox's hit show 9-1-1 also did a completely holiday-themed episode as their season 2 fall finale.
In the episode titled "Merry Ex-Mas" the members of Station 118 deal with a variety of different catastrophes that can occur only during the Christmas season. While in their personal lives our characters also face different challenges from Bobby and Athena taking the next step in their relationship to Eddie deciding to let Shannon back in Christopher's life.
Modern Family season 10 episode 10 "Stuck in a Moment"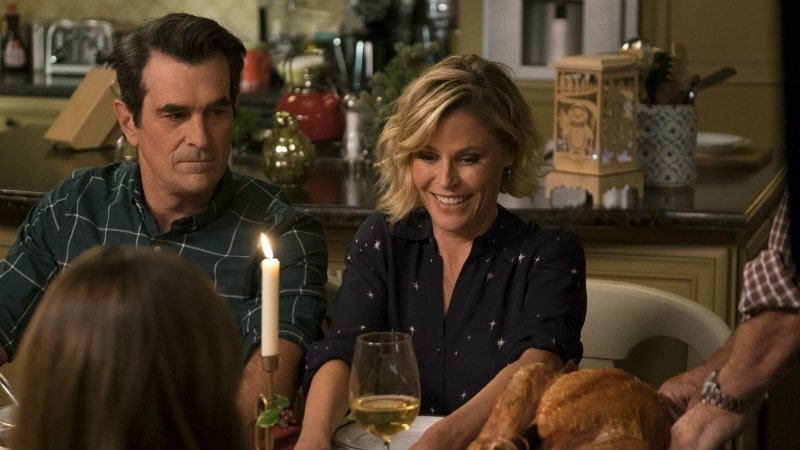 ABC's staple comedy Modern Family is no stranger to great Christmas episodes. And this year is no exception bringing us "Stuck in a Moment".
The episode revolves around the Pritchett-Dunphy-Tucker clan and their holiday celebration. And during it Gloria, Joe and Jay have to deal with unwelcome guests. Phil barrows the family Christmas tree for a showing of which Claire is not too pleased about. And Hayley is gearing up to break the family some unexpected news.
S.W.A.T. season 2 episode 10 "1000 Joules"
Another show that has made Christmas episodes an annual occurrence is CBS's S.W.A.T., with this year's episode hitting especially close to home for one of the show's characters.
The episode depicted the SWAT team trying to catch those responsible for stealing DNA evidence kits from the city's crime lab and wounding Commander Hicks' dear friend. And banding together to host SWAT's yearly holiday toy drive. While Luca gave Deacon an early Christmas gift by helping his family out with their financial troubles.
Charmed season 1 episode 9 "Jingle Hell"
The Charmed reboot might be only halfway through their freshman season, but that didn't stop the show from making their mid-season finale Christmas-themed.
This Charmed episode show's Maggie trying to keep her late mother's holiday traditions alive. While Macy is dealing with Galvin showing up at the house. And Mel is starting to question some things about the magical world and turns to Harry for answers.
Wynonna Earp season 3 episode 6 "If We Make It Through December"
Although this particular Xmas episode aired way before Christmas, it's still filled with holiday cheer and some Earp badassery.
During the episode mama Earp is home and the three Earp women are celebrating Christmas. But before they can sit down for a family dinner Wynonna has to find a missing kid. While Waverly gets a chance to finally learn more about her real father.
American Housewife season 3 episode 10 "Saving Christmas"
Next up we have American Housewife with their holiday-themed episode very appropriately titled "Saving Christmas".
Like the episode title suggests, on this episode, Katie has to save Christmas by keeping her divorced parents as far from each other as possible. Meanwhile, the Otto family's youngest sets out to help Taylor's ex-boyfriend Trip win her back but has to deal with Taylor's latest suitor Pierce. And Oliver unexpectedly becomes the star of his school's play.
A Million Little Things season 1 episode 10 "Christmas Wishlist"
Another freshman series with a Christmas episode filled with holiday hijinks is ABC' s A Million Little Things.
On this episode, the Dixon's are having a hard time, what with having to celebrate the first Christmas without Jon. Luckily, there are friends to help Delilah out with getting Danny and Sophie in the holiday spirit. However, that doesn't make Delilah's decision of when to tell her kids about her pregnancy any easier.
NCIS season 16 episode 10 "What Child Is This?"
A veteran show that has done a lot of Christmasy episodes over the years and is doing one this year as well is NCIS.
This season's holiday episode shows Gibbs' team investigating the murder of a Navy veteran. However, a routine case quickly turns unique when they find a newborn at the suspected killer's house. So it's up to the team to find who the baby belongs to before they all can resume with what each of them had planned for the holidays.
NCIS: Los Angeles season 10 episode 11 "Joyride"
And the aforementioned show' s spin-off NCIS: Los Angeles also did a Christmas episode this season.
What was this episode about? It depicted the NCIS LA team and Special Agent DeChamps searching for Marine reservist with PTSD who has gone MIA.
Last Man Standing season 7 episode 10 "The Gift of the Mike Guy"
On a lighter note, the Last Man Standing revival also had a holiday episode planned for the show's 7th season.
And during this episode, Mike is struggling with finding the perfect gift for his former business partner and friend Ed. Meanwhile, Vanessa is trying to keep the Baxter family traditions alive. And the Baxter's youngest daughter Eve comes home for Christmas.
Murphy Brown season 11 episode 13 "Happy New Year"
A recently revived show that decided that their season finale episode should be holiday-themed is Murphy Brown. But while most of the episodes on this list were about Christmas, this one's more about celebrating New Year's Eve.
On this episode, Murphy worries about her son Avery while he's on assignment in Afghanistan. So her friends try to cheer her up by bringing her along to the New Year's Eve party at Phil's Bar.
Mom season 6 episode 11 "Foot Powder and Five Feet of Vodka"
Then on this Christmas episode master list 2018 we have Mom with episode cleverly titled "Foot Powder and Five Feet of Vodka".
During this episode Christy's searching for the ideal secret Santa present, which leads her to discover something about Adam that he has been hiding from his fiancée. While Bonnie's friend Tammy is searching for a job so she doesn't get sent back to prison.
Dynasty season 2 episode 9 "Crazy Lady"
Next up we have Dynasty with the 9th episode of their sophomore season titled "Crazy Lady".
Some families spend their Christmas Eve watching Christmas movies. Some snuggled up by the fire. But the Carringtons spend this day trying to find a dangerous enemy of theirs. And Blake and Fallon have varying opinions on just how to do that. All the while Cristal has a hunch that Alexis isn't telling everything to the authorities.
The Kids Are Alright season 1 episode 8 "Christmas 1972"
And as the final entry to this year's Christmas episode master list, we have newbie show The Kids Are Alright with their holiday episode.
Mike isn't too happy when Peggy's more successful brother Tom comes for a Christmas visit and gifts an expensive present to the Cleary family. So he strikes up a competition with Tom. But sadly for Mike, it's completely one-sided. Eddie forgets too get a gift for his girlfriend and panics. And Timmy accidentally gets hundred dollars from his great-aunt and trys to figure out what to do about it.