The South Korean k-pop idol group Bangtan Sonyeondan – better known around the world as BTS – has taken over the international music scene by storm.
Every year, they rake in multiple awards from both Asian and Western awards shows, and at this point, the only thing missing from their crown is a win from the Grammys.
It's not just their vocal prowess, insanely difficult choreographies, jaw-dropping performance productions, or devastating good looks that their fans – collectively known as ARMY – love about them, though. They're not the four-time Billboard Music Awards Top Social Artist winner for nothing, after all.
They periodically release their own reality shows: behind-the-scenes at concerts/photoshoots, the Bon Voyage series that documents their holidays, the recent In the Soop series, and my personal favorite: the Run BTS variety show!
Watching their shows reminds ARMY that they're regular people too, and takes them from "worldwide superstars" to "normal, relatable 20-something-year-olds". It certainly helps that they are just so chaotic when they're together – in the best possible way!
Their variety show Run BTS has more than 100 episodes as of writing, and there are some truly hilarious ones in there!
So we put together a quick list of the best and funniest Run BTS episode sets (as most consecutive episodes are connected to each other) that are guaranteed to have you falling out of your chair – and falling in love with each member of BTS.
A quick warning – small spoilers ahead!
Episode 24
Why we love it: BTS thought they were being treated to a trip to a night safari, only to be scared out of their seats with a "zombie" invasion.
After being divided into teams, they had to complete missions to win free tickets to the amusement park.
Several of the members get scared easily (Jin, Suga, J-Hope – I'm looking at you), and having zombies jump out at them out of nowhere is always a barrel of laughs.
BTS chaotic energy moment: J-Hope being dragged off the bus to help lift the barrier in front of the bus, only to lose his shoe while running away and screaming for his life.
Episode 33 – 34
Why we love it: We love secret missions! Each member randomly picked a "manito" – someone to receive their pre-prepared gift and also the target of their secret mission for the day.
At the end, they also had to guess who had picked them!
Not only were the games hilarious, but watching them crack up at everything was enough to have us falling out of our seats as well.
BTS chaotic energy moment: Jin and Suga failing miserably at the "Freeze Frame" game, everyone shamelessly cheating off each other in "Find the Difference", and V offering to sell Suga's gift to him to ARMY online.
Episode 39 and 41 (ep. 40 is an unrelated New Year special!)
Why we love it: Jin is an MC extraordinaire, and I'd argue that about 95% of the hilarity came from his skills and energy as the gamemaster.
Even with the slight language barrier in the game using Korean puns and wordplay, international viewers will still bust out laughing thanks to Jin.
We also get a rare view of Suga coming out of his shell and dancing maniacally.
BTS chaotic energy moment: Episode 41 is where Jimin's absolutely iconic "lajibolala" line came from, and that's all we have to say about that.
Episode 53 – 56
Why we love it: BTS went on a little road trip to spend some time in another house, and their shenanigans were filmed over four whole episodes of Run BTS!
From the bus ride out and grocery shopping for food to their personal downtime, the games and fun never stopped.
The best part, though, was the very end of episode 56: they gathered around a campfire and read poems they personally wrote for the other members. It really tugs at the heartstrings!
BTS chaotic energy moment: J-Hope, Jungkook, V, and Jimin slapping each others' butts as hard as they can as punishment for laughing first – and then Jin sneaking into the background to watch them.
Episode 63 – 65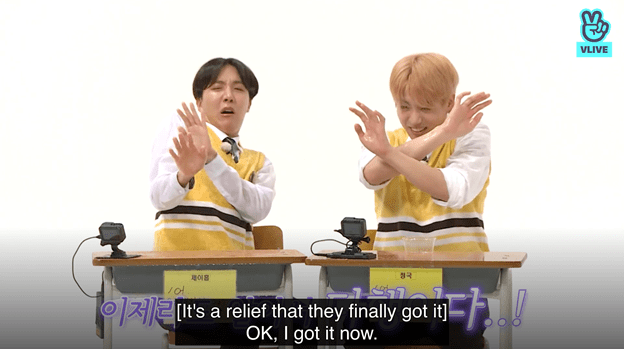 Why we love it: It just doesn't get any funnier than watching ultra-talented, superstar musicians struggle to read notes and play a classical piece using bells.
Their last game in episode 65 is one of the best even to this day! Each of them is given two unknown "forbidden" words assigned by the other members – every time they say the words, they get sprayed with water and the results are hysterical.
BTS chaotic energy moment: J-Hope getting sprayed with water almost every time he opens his mouth because one of his forbidden words is "hahaha" – and he's known for laughing at pretty much everything!
Episode 81 – 82
Why we love it: BTS has done a couple of arcade/gaming episodes on Run BTS, but this was their first using a virtual reality set-up.
It's no surprise that the competitive golden maknae Jungkook dominated in every game, nor was it a surprise that J-Hope was terrified on the VR rollercoaster!
The horror game at the end even had V and Jin having minor meltdowns.
BTS chaotic energy moment: During J-Hope's turn to walk on a plank over the edge of the building (VR, of course) and Jin pushed him over as a prank, and J-Hope fell to his knees screaming and swearing at the top of his lungs.
Episode 83 – 85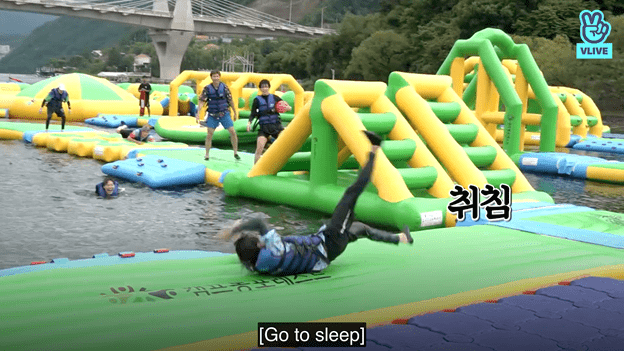 Why we love it: The question is, why wouldn't we be absolutely in love with these episodes? The BTS boys are at a water park and they've got every inflatable imaginable: giant slides, rings pulled by a speedboat, and even an obstacle course!
Each challenge was a competition amongst themselves, of course, with V's "BT —- ever" on the giant slide becoming one of the most iconic moments of these episodes!
BTS chaotic energy moment: Honestly, the entire obstacle course challenge with everyone slipping, sliding, and falling flat on their backs trying to get to the rubber ball first. Especially when everyone teamed up against Jungkook and he still won!
Episode 89 – 90
Why we love it: Because the BTS telepathy is so real here, plus it's so soothing to see how well they really know their own songs.
After dividing into two teams, their challenges in these episodes involved guessing their song titles and/or lyrics based on the other members' drawings, charades, and audio tracks played backwards!
And let me tell you – they're pretty good at it!
BTS chaotic energy moment: It's a toss-up between Suga's goofy dancing to avoid the penalty and V just staring open-mouthed at him, and Jimin falling out of his chair (again) and Jungkook coming over to help him up only to trip over Jimin's feet and fall over himself.
Episode 102 – 103
Why we love it: J-Hope being both MC and judge, first of all, was absolute sunshine.
On top of that, the challenge was to cook the chosen dishes in two teams of three members, led by the BTS resident chefs Suga and Jin.
The thing is, the leaders can only observe from another room and instruct their two team members through a walkie-talkie – one cooking while the other passing on instructions. Cue *chaos*.
BTS chaotic energy moment: When an impatient Jin turned into a rapper when telling V to slide the chicken onto the pan and to use a spatula instead of his hands, followed by both Jin and Jungkook shouting when V picked up a ladle instead. Protect V at all costs!
Episode 112 – 113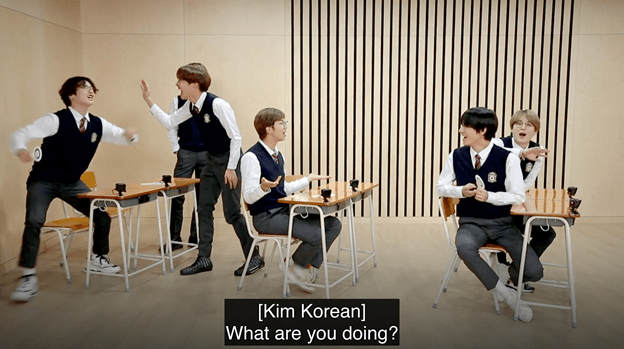 Why we love it: Jin is the "teacher" here, and BTS is back in "school"; the members are paired up as teams and each challenge is disguised as a school subject.
Music was playing a recorder and melodica; Korean was a grammar quiz; Art was finding the difference; Chinese was secretly eating behind Jin's back; and P.E. was team limbo!
Personally, I loved this because I stan TaeGi (V and Suga's friendship nickname) and they had so many hilarious moments!
BTS chaotic energy moment: Jungkook blatantly cheating off of RM and then having a tantrum when they got the answer wrong! Also, Suga arguing with V about taking another turn at limbo, only to crack and give in to whatever V wants.
I'm not going to lie – narrowing this down was tough!
RunIn conclusion, folks, you should definitely jump onto VLive right now and stream every single episode of Run BTS from start to finish. New episodes come out every week. Trust me – you won't regret it!