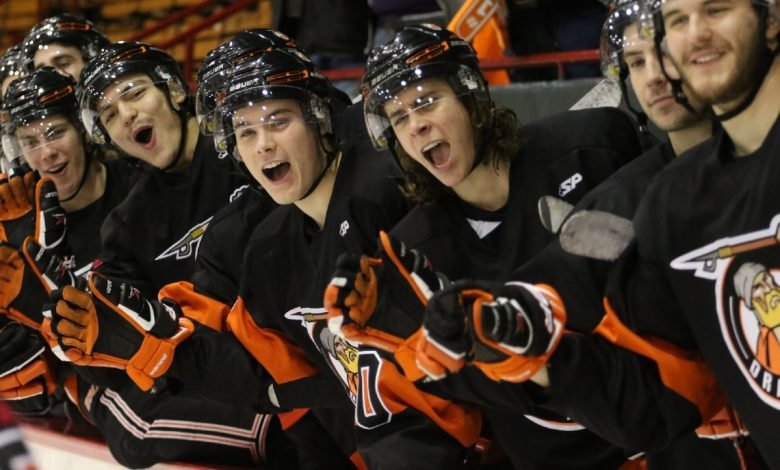 We all probably know a little bit about the basics of hockey, right? It's a team sport and like any other team sport, the goal is to score more points than the opposing team.
However unlike basketball where they use hands or soccer where they use feet (and American football where they use both), hockey uses a tool specifically for the sport: a hockey stick.
Depending on where you are in the world, the sport of hockey might immediately summon a different picture into your head.
For most places, you'll likely think of field hockey, which is played on grass or on an indoor court. In others like Canada, the United States, and some places in Europe, it's ice hockey you're thinking about.
As for me, I immediately think about the main character Riley from the 2015 Disney-Pixar animated film Inside Out, who was a promising ice hockey player who had to leave Minnesota for the sunny San Francisco (and if you haven't seen that movie yet, get on it immediately – after you read this list, of course – because it's an absolute gem of a film, even for Pixar).
In any case, we're here to bring you a master list of the best scripted and reality TV shows about hockey!
The best part is, we've got shows from all over the world. So sit back (and maybe turn your subtitles on for some), relax, and enjoy these shows!
THE BEST SCRIPTED TV SHOWS ABOUT HOCKEY
The Mighty Ducks: Game Changers, Disney+ (2021 – 2022)
We're starting things off with a series that premiered on Disney+ this March.
If you were a kid growing up in the 90s, you might recognize the Mighty Ducks as one of the first fictional sports teams you came across (alongside the fellas from Space Jam, maybe?). Well, this infamous ice hockey team is coming back to center stage with this upcoming Disney+ series that serves as a continuation of the early 90s film franchise of the same name.
In this sequel of sorts, the Mighty Ducks are no longer the underdog team that we knew back then. Now set in present times, the Mighty Ducks are the top team in the junior division and they don't just let anybody on the team.
12-year-old Evan was one of those who unfortunately didn't make the cut and in true underdog fashion, is encouraged to make a team of his own! The best part? He does so with the help of Gordon Bombay – the original coach of the Mighty Ducks!
Zero Chill, Netflix (2021)
Another streaming giant, Netflix, had their own hockey series come out this year – a British teen drama called Zero Chill.
The show follows the MacBentley family who moves to England from Canada so the son, Mac, can play for the Hammers, a prestigious hockey team in England.
Mac's twin sister Kayla isn't exactly thrilled about moving because it means leaving behind her figure skating partner, Jacob. But after meeting a mysterious person in a hockey uniform who later turns out to be a former ice skater Sky Tyler, Kayla slowly starts to change her mind about the move.
Although much of the series revolves around figure skating, hockey is also a big part of the show. Besides, much of this show takes place at one ice rink or another. So, really, Zero Chill will have something for everyone.
Benders, IFC (2015)
In 2015, American cable channel IFC aired the comedy series Benders for one season consisting of eight episodes.
Though the series was canceled after its first season, they were still able to provide it with a proper ending, albeit actually a kind of sad one.
The show centers on a small group of male friends and their love for hockey – a love so strong that, well, you might even go so far as to call it an obsession.
They live for the speed, toughness, and adrenaline of the game despite not exactly having the top-tier skills to execute the hockey skills themselves. Still, this doesn't stop them from forming their own team, The Chubbys, to allow them to compete in their local amateur hockey league.
This endeavor causes them to get into all sorts of troublesome mishaps, including an attempt at alcohol cold-turkey sobriety, obtaining a funeral parlor as a sponsor, and a business investment that goes horribly awry.
Rent-a-Goalie, Showcase (2006 – 2008)
We've got another comedy series on our list with Showcase's Rent-a-Goalie, which aired for three seasons beginning back in 2006!
The show focuses on a man with an almost out-of-control love for hockey. His name is Cake (yes, you read that right), and he's from Toronto's own Little Italy.
Most of the time, he's at his family's cafe named Cafe Primo – out of where he also operates a tiny, rent-a-goalie business.
Between the pastries and the surprising demand for hockey goalies, Cake never seems to have a moment's rest. If it's not personal obstacles he's dealing with, then it's a hockey strike or charity event that affects his business. Needless to say, he often finds himself in crazy situations that he never bargained for.
Rent-a-Goalie was nominated for multiple awards across various organizations during its run and also amassed quite a cult following, as the idea of renting a goalie is now quite popular across Canada!
Shoresy, Crave (2022 – present)
Among the newer shows in this article, we have the Canadian sitcom Shoresy, which premiered in 2022.
Serving as a spin-off of the hit Canadian comedy series Letterkenny, Shoresy follows Shoresy Shore as he moves from Letterkenny to Sudbury to run the Sudbury Bulldogs, a Triple A-level Northern Ontario Senior Hockey Organization team that's on the verge of shut down after a 20 game losing streak.
So, with the help of the Bulldogs's new coach, Sanguinet, and a whole host of new players, Shoresy will do everything he can to prove that the Bulldogs deserve to be a team.
Power Play, CTV (1998 – 2000)
Canadian TV series Power Play aired for two seasons and takes us all the way back to the late 90s!
It aired as well in the United States but unfortunately, it was pulled after just two episodes and didn't perform quite as well as it did in Canada.
Power Play primarily follows Brett Parker, a former sports agent from New York who becomes the general manager of the fictional Hamilton Steelheads, a team in the National Hockey League.
One of his first actions as manager was to attempt to move the team from Canada to Houston! However, Brett soon finds himself more attached to the team and the players than he had ever expected.
Viewers get to witness his developing relationship with the team – both in terms of respect for the sport itself and with the corporate side of sports management in the team's president, Colleen Blessed.
He Shoots, He Scores, Radio-Canada/CBC Television (1986-1989)
He Shoots, He Scores (also known by its French title Lance et compte) is a Canadian drama series centered around a fictional NHL team from Quebec City, and is the first series to simultaneously air its English and French versions across two networks in Canada. Though the English one was only filmed for one season.
The series was revived in 2001 and aired its final season in 2015, and it also has several TV movies within the franchise.
The original He Shoots, He Scores, however, had three seasons that aired in the late 1980s. Each one chronicled the journey of protagonist Pierre Lambert as his career developed within the NHL.
It starts off with his being drafted for the Quebec team Le National and his training process for the team. The second season showed Pierre playing for the Canadian national team and finally, rounded off with his persistence against the struggles within Le National.
MVP: The Secret Lives of Hockey Wives, CBC Television (2008)
At first glance, you might think that MVP: The Secret Lives of Hockey Wives was a reality show along the grain of The Real Housewives, but don't be fooled – it's completely scripted!
The premise is pretty similar to that though: the show follows the personal and professional lives of hockey players and their lives and shows how the boundaries between these two are often blurred.
The team at the center of the show is the Mustangs, who we meet right after the death of their captain and star. In the wake of such a tragedy, the players are met with many changes that don't always go over well – especially when a rookie is suddenly brought on board.
Sadly, MVP: The Secret Lives of Hockey Wives was canceled after just one season due to high production costs and ratings just not reaching what they wanted.
Keep Your Head Up, Kid: The Don Cherry Story, CBC Television (2010)
Don Cherry is a very recognizable name in the Canadian hockey circles because of his long and expansive career in the industry.
In 2010, a two-part miniseries titled Keep Your Head Up, Kid: The Don Cherry Story was aired on CBC Television that chronicled Cherry's career. Written by Cherry's son Tim Cherry, it actually took six years for Tim to obtain permission from his father to create the film!
Keep Your Head Up, Kid told Cherry's story from his beginnings as a minor league hockey player to his time as a coach for the Boston Bruins.
Though it may seem like a biographical documentary, it's actually a scripted series with Jared Keeso (Elysium, The Death & Life of John F. Donovan) in the titular role.
A two-part sequel titled Wrath of Grapes: The Don Cherry Story II was released in 2012, which continues his story through to his time as a co-host on Hockey Night in Canada.
The Tournament, CBC Television (2005 – 2006)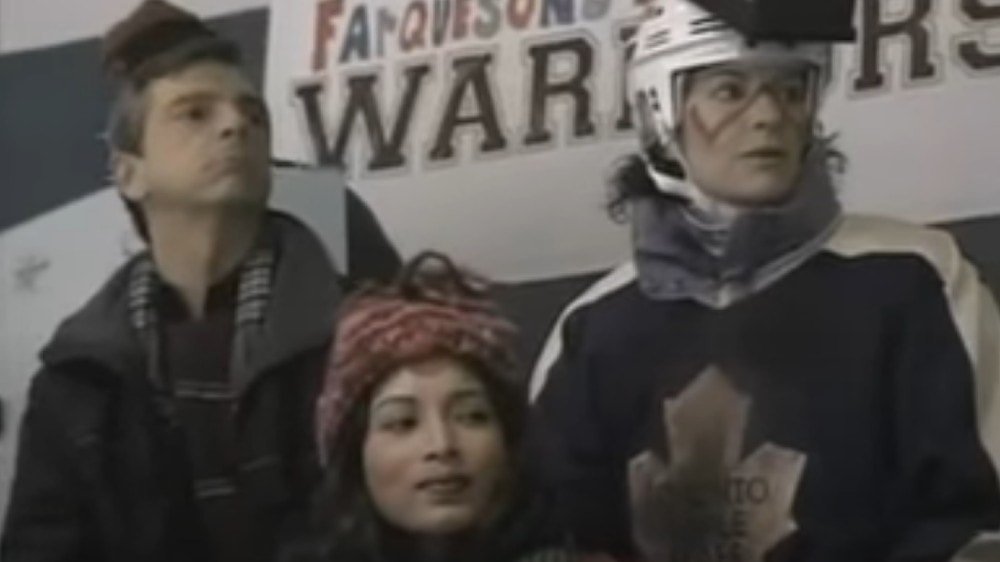 The documentary format seems to be quite popular with TV shows that center on sports, as we've seen with the previous two shows on our list.
Of course, sometimes it's not just the thrill of the sport we want to watch (otherwise we'd just watch game broadcasts!). Occasionally, we're there for the behind-the-scenes drama, too – whether it's for smaller teams or the big leagues!
The Canadian show The Tournament is a mockumentary series that follows a group of young, amateur hockey players guided by their hockey-crazed parents.
Their goal is to secure a spot in the annual youth hockey championship tournament but as is expected from community teams such as this one – not everyone is going to be on the same page.
The Tournament shows the "real life", behind the scenes interactions between the players, their parents, the team coaches, and the community as a whole.
Les Bleus de Ramville, TFO (2012 – 2013)
We are shifting gears a little bit with Les Bleus de Ramville, a Canadian TV show that aired for two seasons on TFO, a French-language channel for Ontario. That means, yes, both seasons are aired in French!
I say this show is a change in pace from the previous ones on our list because instead of focusing on the teams, the players, or those closely associated with them, Les Bleus de Ramville instead focuses on members of a fan club.
Les Bleus de Ramville is set in a fictional Ontarian town called Ramville and it has its own senior hockey team called the Radiateurs Dufresne. Every team whether big or small has a fan club of its own, but these four members take it to a whole other level.
Watch Gordie, Julie, Maureen and Christian as their personal lives get entangled in their hockey-crazed fan club lives as well – something I'm sure we can all relate to in one way or another.
Demain Des Hommes, ICI TOU.TV (2018)
This next show on the list keeps us in the French-speaking regions of Canada with Demain Des Hommes, a Canadian series produced out of Quebec and aired for one season on ICI TOU.TV, a French video-on-demand service.
Where North America has the NHL, Canada alone has the Canadian Hockey League (CHL), and one of the junior leagues under that is the Quebec Major Junior Hockey League.
Demain Des Hommes tells the story of a team from the fictional Quebec town named Montferrand, the Les Draveurs, as they work hard and aspire to eventually become career professionals in the sport.
Sadly, low ratings and budgetary constraints forced the network to cancel after one season.
A second was proposed for another network, Crave, but had to be benched due to the sudden onset of the COVID pandemic. Even an English adaptation was slated for CBC but was ultimately cut due to budget limitations.
The Hockey Girls, TV3 (2019 – 2020)
The Hockey Girls (or Les de l'hoquei in the original Catalan) is the first show on our list that's not about ice hockey, and that's outside of North America!
Broadcasted in the Catalan language, The Hockey Girls began as a final university project for four young women but after it was presented, it caught the attention of various production companies and was eventually fully realized into a two-season TV series.
The Hockey Girls is the story of a group of high school girls and their roller hockey team – a team that's about to be scrapped completely from their Club Pati Minerva organization.
After their former coach left them for another, "better" team, the club president decides to remove their club completely and support only the men's team.
Thankfully, one of the girl's sisters returns to their hometown after a professional hockey career abroad and decides to coach them – as well as help fight for their right to equal treatment in the roller hockey industry.
The Junior Team, STS (2013 – 2017)
We're moving now to Russia with STS' The Junior Team (or Молодёжка, originally), which aired for four seasons before releasing a 40-webisode fifth season in 2017.
The show was very successful and received high praises, with the Russian government newspaper Rossiyskaya Gazeta even ranking it the fourth-best series in 2013!
The Junior Team follows a junior hockey club named The Bears, based out of the fictional town called Podolsk.
The teenaged players want to get their team into the Junior Hockey League, but this proves to be a daunting task when they can hardly even get along with each other enough to work together as a team.
On top of that, they've got a new coach in former NHL star Sergei Makeyev, who would also like to see their team succeed – yet The Bears don't exactly make that easy for him, either.
Pride, Fuji TV (2004)
Japan makes it on this hockey list too with Pride (プライド in Japanese), an 11-episode drama series that aired back in 2004 on Fuji TV.
Pride mainly follows Haru Satonaka, the captain of a corporate ice hockey team named the Blue Scorpions. We learn right away that he has a strong bond with their coach and mentor, who sadly dies in the first episode.
Trouble for Haru starts when the new coach steps in because this man not only openly criticizes the former coach but also completely upends the training methods the team was used to.
This immediately causes tension between coach and captain, which is a consistent theme for the show's entirety.
However, Pride also ventures outside of the hockey world as it explores a secondary love story plotline between Haru and a heartbroken woman who works in their corporate office – alongside the ups and downs of the romances of his friends and teammates.
PuraOre: Pride of Orange, TochigiTV (2021)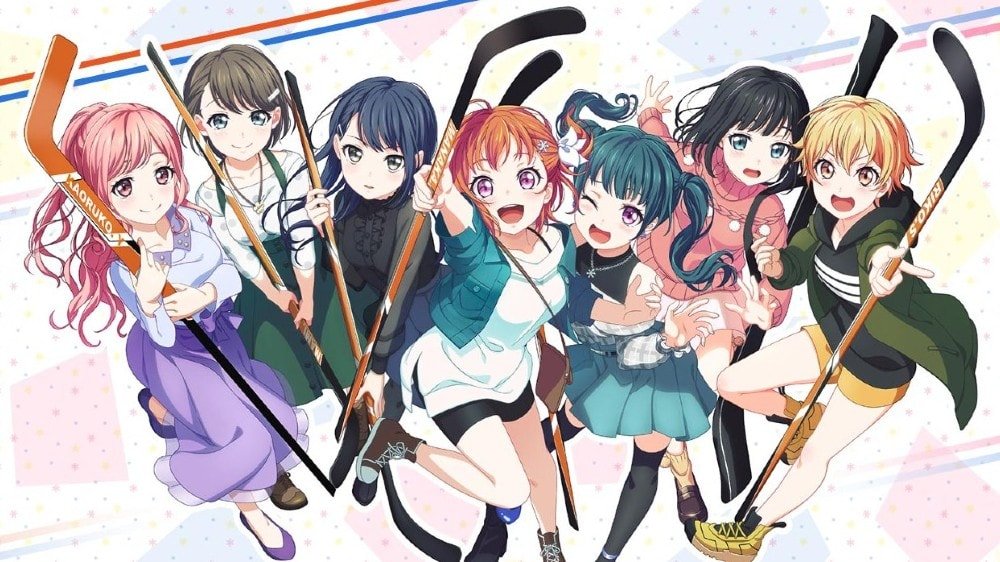 PuraOre: Pride of Orange also hails from Japan and is definitely an interesting and unique one – perhaps even the only one of its kind that we've ever talked about!
Although it's being hailed as a "mixed-media" production (due to there being a mobile game to be released in 2021), we're focusing on the television series slated for airing in October 2021 – it's an anime!
That's right, PuraOre: Pride of Orange is an animated series being produced by CAAnimation and C2C.
The anime will follow a group of junior high school girls who fall in love with the game of ice hockey and make their way onto the Nikko-based team, the Dream Monkeys.
Meanwhile, the girls get an unexpected new teammate in Yu Kiyose, who has returned to Nikko from a professional career with the Kushiro Snow White and has found her place with the new team despite having sworn never to return to the ice rink again.
Béliveau, Historia (2017)
Béliveau was a French-language, five-episode miniseries that aired in 2017. It was borne out of executive producer Charles Lafortune's piqued interest in famed ice hockey legend Jean Béliveau after he was honored at the Artis Awards.
Béliveau had a decorated career in the sport that spanned roughly 20 years as a player – spent entirely with the Montreal Canadiens – and continued as an executive for the team after his retirement in 1971. His long-time commitment to the sport earned him 10 Stanley Cup championships as a player and another 7 as an executive.
Though many Canadians now know him mostly for his exploits after retiring from the sport, the scripted biographical series Béliveau is set to change that as it covers his career as a center for the Montreal Canadiens.
From his humble beginnings to all the ups and downs over the two decades, Béliveau will unmask one of the greatest hockey players of all time.
Puck!, SBS (2016)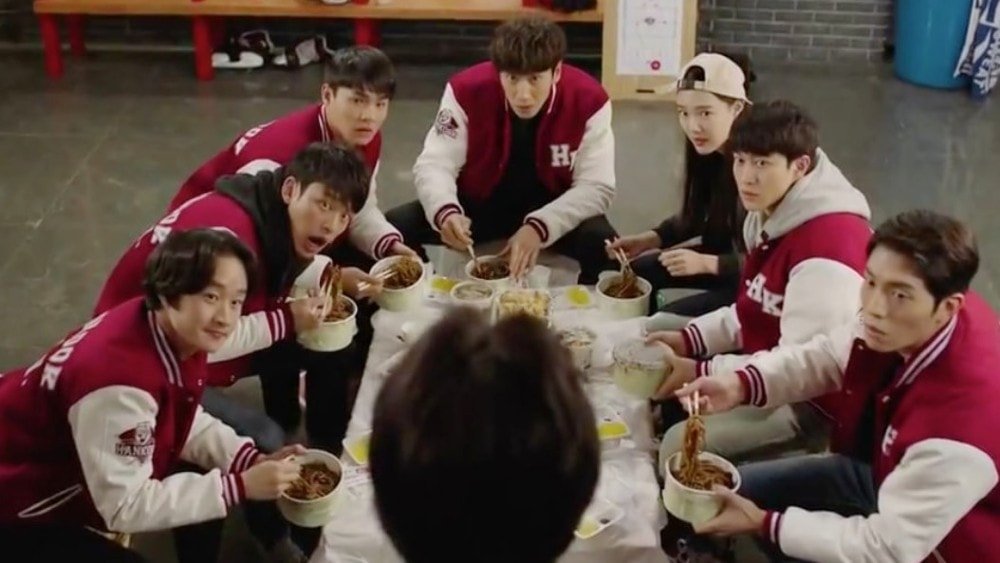 Puck! (also 퍽! In the original Hangeul) is a South Korean miniseries that aired two episodes on the SBS network in 2016.
Hailed as an homage to the iconic film Rocky, Puck! tells of a man's journey of redemption through ice hockey.
Joon-Man, the show's protagonist, is a tough young man who has managed to scrape a living being a debt collector. However, the tables are turned when his ex-wife racks up a huge debt, forcing Joon-Man to work as a loan shark for a local crime boss.
One of his 'clients' is a university ice hockey coach who has so far failed to repay his debts. In order to collect the payment, Joon-Man joins the school's ice hockey team.
What begins as a simple job for him turns into a whole redemption arc as the discipline and community of the sport inspire him to eventually get his life together.
Les Boys: La série, Télévision de Radio-Canada (2007 – 2012)
Les Boys: La série has its roots in the original 1997 comedy film simply titled Les Boys, as well its three subsequent sequel films.
While the films followed the Les Boys' journey from an amateur league to something, well, not quite so amateur but not quite professional.
At the onset of the series, their leader Stan has ambitions to enter their team into a Million Dollar Tournament in Las Vegas. Without a proper sponsor, however, this means that each player will have to put up $10,000 of his own money to enter.
Will they ever be able to scrape up the cash to join, or is their million-dollar journey over before it even begins?
THE BEST REALITY SHOWS ABOUT HOCKEY
Making the Cut: Last Man Standing, CBC Television/Global (2004 – 2006)
If you've ever wondered what it would be like to train for a spot as a professional hockey player, then this show is for you.
Originally just titled Making the Cut during its first season, it was eventually expanded to include Last Man Standing after it moved to Global for its second season.
Making the Cut: Last Man Standing is a competitive reality series for amateur ice hockey players.
The show starts with 68 contestants and in each episode, the players go through a series of rigorous training exercises not just to further hone their skills but also to weed out those who are strong and skilled enough to make it through.
In the first season, there were six winners (one for each Canadian team in the NHL) who each received an invitation to the team's NHL training camp. In the second season, there was only one who bagged the $250,000 endorsement contract and NHL agent representation.
Hockey Wives, W Network (2015 – 2017)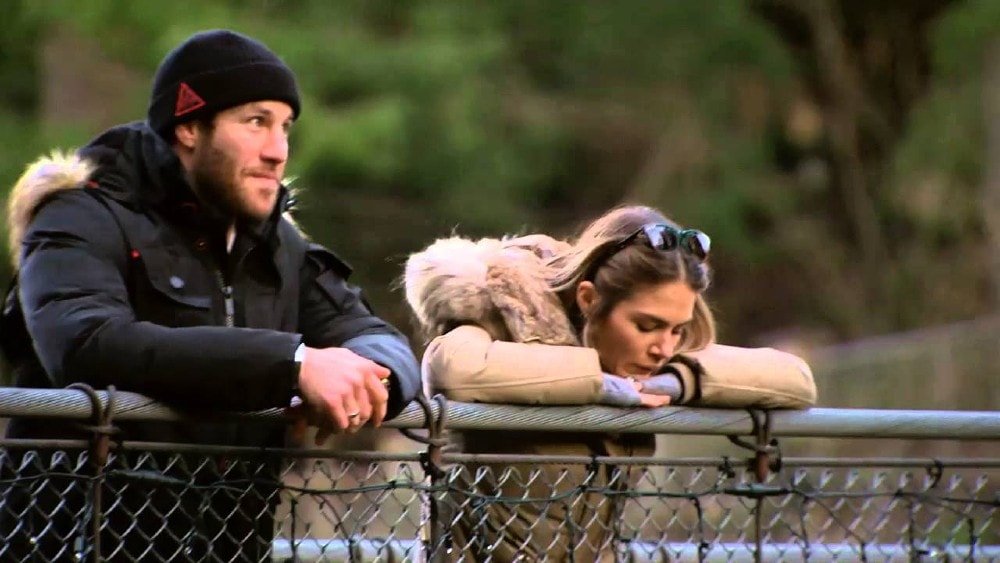 Sports fans often know plenty about the professional lives of their favorite athletes while personal lives are mostly kept out of the limelight – and that's perfectly alright as they are people too and deserve their privacy! That's why gems like Hockey Wives are such a hit – like Baller Wives, Baseball Wives, Racing Wives, and yes, even Prison Wives Club!
Despite being from the perspective of their wives instead of themselves per se, we still love the lens that these shows provide into the lives of athletes – and gives us a deeper appreciation for the tough times their wives and families have to endure, too!
Hockey Wives follows six wives of professional hockey players from different countries – three from the United States, and one each from Russia, Germany, and Austria.
Despite their being in different countries and cities, their paths cross through their husbands' careers and they form special bonds to help each other through difficulties that only they can truly understand.
24CH The Valet, TV1 (2015 – 2020)
24CH The Valet is a mixed French and English reality show that aired between 2015 and 2020 with host Maxim Martin.
In a format that's neither documentary nor reality, 24CH The Valet is a type of variety show wherein the host himself is the valet (more like a chauffeur, really) to various ice hockey players specifically from the Montréal Canadiens team.
Each episode features players and members of the organization being driven from one place to another by Maxim, promising a "special experience" with each ride. This means that it's not just your average car ride – Maxim goes out of his way to provide viewers with a more personal view into the guests' lives through questions, conversations, and impromptu challenges and games!
The show itself is hosted originally in French but of course, switches to English for non-Francophone guests.
Hockey: A People's History, CBC Television (2006)
Our last show on the list is one for all of the history buffs out there – who are also ice hockey fans, of course.
Hockey: A People's History was a 10-episode documentary series that aired as part of CBC's documentary unit. Throughout its run, the series covered not just the history of hockey and how it came to be Canada's most believed sport, but also how it has affected the country's culture up to the present.
To add a more personal touch to it, it features interviews from notable individuals in the industry as well as regular people as they speak about the impact of hockey in their lives as well.