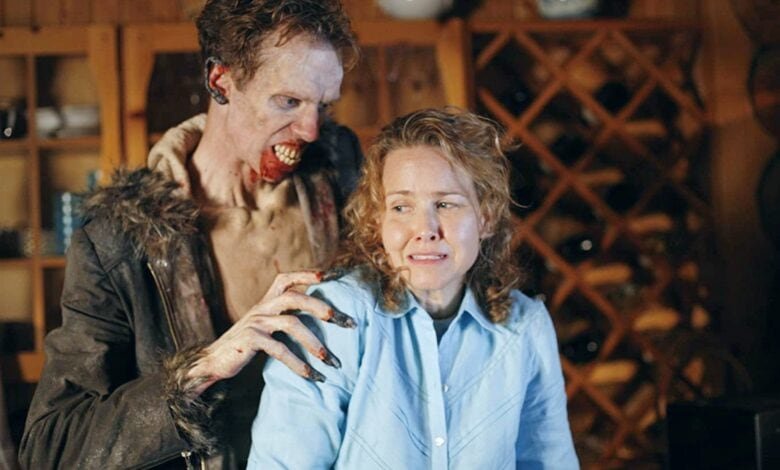 Spooky season is once again right around the corner! You know what they say these days when September comes around: "hot girl summer is over, spooky witch autumn is here" and well, it really is here!
If you're anything like me, your resident spooky witch, you might already have a slate of horror movies to watch every day leading up to Halloween.
We're here to provide an alternative if, also like me, you're almost out of good horror movies to watch!
If that's the case, take your pick amongst these best horror anthology series, new or old, instead!
The shows on this list are bound to get you in the autumn spooky mood. So turn the lights down low and let's get started!
Best new horror anthology series
Black Mirror, Channel 4/Netflix (2011 – present)
British series Black Mirror presents horror in more of a dystopian science fiction manner; it's the kind of creepy that leaves you feeling a tad uncomfortable for a few hours after watching.
Oftentimes, the episodes feature some kind of futuristic technology, which in turn serves as a type of social commentary.
Each episode is a standalone story so really you can start watching anywhere – though I would personally recommend Black Museum and the 2014 special episode, White Christmas.
You might also want to check out the interactive film on Netflix, Bandersnatch.
American Horror Story, FX (2011 – present)
American Horror Story is probably one of the more well-known horror anthology series out there – and deservedly so!
AHS is now on its tenth season with the eleventh under production, and fans can expect more as it's already been renewed up to the thirteenth.
You may see many of the same faces in every season, but it takes on a new theme with an overarching storyline and they incorporate all kinds of horror tropes from ghosts, haunted houses (Murder House), and the supernatural (Coven), to, well, people (Cult, Asylum, 1984, Freak Show).
American Horror Stories, FX on Hulu (2021 – present)
As with all good shows, there's always room to expand it just a little bit more with spin-offs.
American Horror Stories is the sort of companion piece to the abovementioned series and is the third installment of the entire American Story media franchise.
Unlike its predecessor, however, American Horror Stories tells a brand new story with each episode!
Though there is no central plot running through each season, some of the episodes do connect to previous AHS seasons, and you might even see a few familiar faces either reprising or taking on new roles.
The Haunting, Netflix (2018 – 2020)
The Haunting anthology series is an actual tour de force in the field of horror, and it's sad that there are only two seasons.
The Haunting of Hill House follows the five Crain siblings and their parents as they experience haunting paranormal events, with the story unfolding between past and present timelines to culminate in one devastating night.
The second season, The Haunting of Bly Manor, follows an American au pair who moves to the title manor to care for two children but ghosts from her past mix with the ghosts of the manor, and reality begins to blur.
Channel Zero, Syfy (2016 – 2018)
Creepypastas are a core part of internet horror and an endless pit of inspiration for other media; hence, Syfy's Channel Zero.
There were only four short seasons and each centered on one popular creepypasta.
First was Candle Cove about a child psychologist and his fascination with a 1980 children's TV show; then No-End House, where a horror house might just be something more; Butcher's Block is about a young woman and he schizophrenic sister's involvement in their city's string of disappearances; and lastly, The Dream Door centers on a basement door hiding a newlywed couple's secrets.
Two Sentence Horror Stories, The CW (2019 – present)
Sometimes, less is more.
Two Sentence Horror Stories began as a series of short films before The CW decided to adapt them into a full series, where each episode has its own characters and story that explores "primal and social fears", based on viral fan-written stories that are, in fact, summarized with just two sentences.
The episodes are only around 20 minutes each but still manage to spin unforgettable tales of terror, some of which include stories of serial killers, abusive ghosts, demons, stalkers, and unidentified creatures.
Into the Dark, Hulu (2018 – 2021)
Hulu's Into the Dark may be an anthology series but each episode is practically a movie on its own, given its length.
Much like many of the shows on this list, Into the Dark tells a new story in each episode, with a brand new ensemble cast with the likes of Tom Bateman, Suki Waterhouse, Stephanie Beatriz, and much more.
The stories deal with serial killers, possessions, supernatural forces, and even cult practices – with each one centered around a popular holiday in the month the episode is released.
Lore, Amazon Prime Video (2017 – 2018)
From Amazon Prime Video comes Aaron Mahnke's Lore, based on his award-winning podcast of the same name (which, by the way, is also a gem and definitely recommended if you're an auditory person).
Like the podcast, Lore tells a new story with each episode through documentary footage and creative license and focuses on specific stories spread across the horror genre, from werewolves to legends behind the Black Plague, a dive into noblewoman and serial killer Elizabeth Bathory, and the ghost stories of Robert the Doll.
Them, Amazon Prime Video (2021 – present)
Them is a horror drama anthology in the same format as American Horror Story: a new theme, story, and characters with each season.
The first is subtitled Covenant and executive producer Lena Waithe describes it as "provocative and terrifying" as it "examine[s] the cultural divides among all of us and explore[s] us vs them in a way we've never seen before.
Them: Covenant is set in 1953 and follows a black family that has just moved to Los Angeles, and the forces that seek to destroy them – whether they're supernatural or human.
Creepshow, Shudder (2019 – present)
Creepshow began as an anthology film in 1982 and this series serves as its continuation with a fourth season soon to come.
Helmed by a character called The Creep, the audience is shown 'darkly grim horror stories' from the Creepshow comic book.
This comic-style theme continues throughout the episode, complete even with advertisements of horror products!
Many popular short stories served as the basis for episodes, though originals were written for it as well.
Electric Dreams, Channel 4 (2017 – 2018)
Electric Dreams leans more towards the science fiction aspect of horror than the traditional spooks and spirits, but sci-fi can oftentimes be even more horrifying (if Black Mirror has taught us anything).
This 10-episode anthology series is based on the work and short stories of sci-fi writer Philip K. Dick.
The science fiction elements throughout the series include synthetic humanoids, intergalactic travel, post-apocalyptic worlds, and dystopian history, with each episode centered on a different story and ensemble cast like Janelle Monáe, Greg Kinnear, and Steve Buscemi.
Folklore, HBO Asia (2018 – present)
As an Asian, HBO Asia's Folklore holds a special place in my heart.
Asian legends really don't get enough attention, which is a shame because we're rich with supernatural tales and lore!
Thankfully, a series like Folklore can shed some light on them, even if it's just over 12 episodes.
The series comes from Singaporean director Eric Khoo; each episode covers superstitions and myths like the Wewe Gombel, shamans and amulets, and ghosts – all directed by someone from the country of origin!
Creeped Out, CBBC/Family Channel/Netflix (2017 – 2019)
Netflix classifies Creeped Out as appropriate for children aged 8 and above; I'm inclined to agree as the horror themes of the episodes aren't too heavy, although even as an adult there are some that'll still send a slight chill down your arms.
Each episode is a story on its own, though if you look closely enough, some details cross over between some.
There's also the presence of the Collector, a mysterious figure who seems to be "collecting" these stories and appears at the start and end of each.
Scream, MTV/VH1 (2015 – 2019)
Everyone knows the Scream slasher movie franchise, right?
Well, the universe expanded even further with the anthology series of the same name!
Scream introduces a brand new setting (the fictional town of Lakewood) and characters, all of whom are slowly getting picked off one by one by Ghostface.
The first two seasons follow one arc whose protagonist Emma Duval has dark ties to the town's past; the third season features yet another set of victims of Ghostface in another town.
Bloodride, Netflix (2020 – present)
The first foreign language series on the list is Bloodride, a Norwegian horror series.
Sadly, it has just six episodes and so far there's no news yet of a continuation.
The title is a reference to the core setting, which is where each episode starts and ends: on a bus, with the driver and his few passengers, driving through the rain in the middle of the night.
The episodes then proceed to show one passenger exiting the bus and then becoming the center of the story.
Slasher, Chiller/Netflix/Shudder (2016 – present)
Slasher features season-long arcs that run on the theme of a serial killer.
The first season focuses on the Executioner, who terrorizes a town and a couple he has a history with.
The second season takes place in a former summer camp, where former counselors return to cover up a crime before getting killed one by one.
The third season's victims are targeted for not preventing a murder.
And finally, the fourth season follows a wealthy family forced to play twisted games to get the late patriarch's inheritance.
Monsterland, Hulu (2020)
Hulu's Monsterland is based on Nathan Ballingrud's collection of short stories titled "North American Lake Monsters: Stories" – which should give you an idea of what the series is about!
That's right, Monsterland covers all sorts of strange and supernatural creatures, though not limited to lake monsters like the book would suggest.
Instead, you might meet some mermaids, shadow creatures, and fallen angels, and each episode's title will tell you which part of the country it originates from!
The Terror, AMC (2018 – 2019)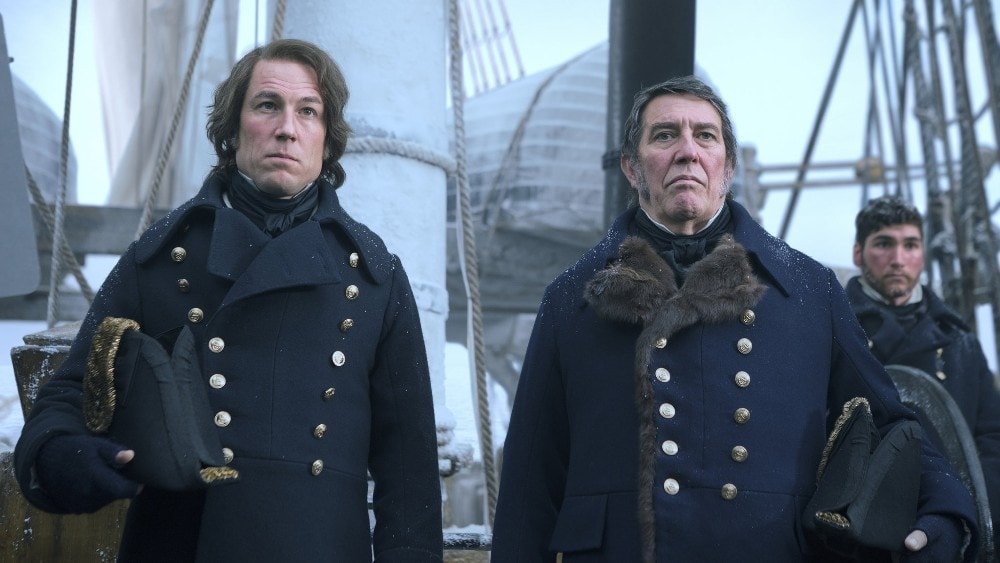 Here's another series based on a book: AMC's The Terror, a psychological thriller, the first season of which is based on Dan Simmons' novel of the same name from 2007.
In this season, viewers follow the story of the 1845-1848 lost expedition to the Arctic, helmed by Captain Sir John Franklin (albeit a fictionalized retelling).
The second season is subtitled Infamy and takes place during the Second World War, at an American-run Japanese internment camp.
Fear Itself, NBC (2008)

Inspired by Franklin D. Roosevelt's quote "The only thing we have to fear is fear itself", Fear Itself is a horror-suspense series with self-contained episodes featuring talent like Briana Evigan, Cory Monteith, and Anna Kendrick, directed by some of the biggest horror directors in the industry.
The stories included many revolving around a serial killer, as well as some on zombies, ghosts, werewolves, and even an evil doppelganger.
Masters of Horror, Showtime (2005 – 2007)
Masters of Horror was, essentially, the precursor to Fear Itself, as the latter did hold many of the same elements.
The title is a reference to a real-life group of creator and director Mike Garris' fellow director friends, whom he had invited to dinner one night.
These dinners became a regular occurrence between creators in the horror genre and thus, several one-hour episodes were written and directed by those who were in attendance to make Masters of Horror!
Nightmares & Dreamscapes: From the Stories of Stephen King, TNT (2006)
You can't have a collection of horror media without mentioning Stephen King, of course! Nightmares & Dreamscapes episodes are mostly based on King's collection of short stories of the same name, though there are some episodes from outside as well.
Themes covered in the standalone episodes include experiments gone wrong, evil toy soldiers, free-roaming ghosts, a painting with a life of its own, and even a man witnessing his own autopsy.
The Haunting Hour: The Series, Hub Network/Discovery Family (2010 – 2014)
You may know author R.L. Stine from his children's horror book series (and subsequent TV series), Goosebumps, but The Haunting Hour: The Series is another great work that has been acclaimed as the best children's horror series of all time.
Like the previous, each episode tells a new scary story with new characters but unlike the previous, the themes they deal with are much darker in terms of morality and don't always end happily.
Room 104, HBO (2017 – 2020)
HBO's Room 104 is a mixture of horror, drama, and the occasional comedy – but always with an undertone of just plain ol' creepy.
The title is a reference to the show's main setting: Room 104 of a typical American roadside motel, though the aesthetic changes each time.
All the episodes are a new story of the eccentric characters that stay in the room, including a plane crash survivor, two Mormons, a woman hearing ghostly voices, time-traveling warriors, and so many more.
Best old horror anthology series
Tales from the Crypt, HBO (1989 – 1996)
Tales from the Crypt comes from HBO and is quite a classic, having been inspired by the 1950s comic series of the same name.
The story in each episode was introduced by the Cryptkeeper, an animated corpse, as he sits up from his coffin, and his tales dealt with mature subjects and never shied away from gore and violence, nudity, sexual activity, and profanities.
The spin-off Tales from the Cryptkeeper was similar in format but toned down to make it much safer for a younger audience.
The Twilight Zone, CBS/UPN/CBS All Access (1959 – 1964; 1985 – 1989; 2002 – 2003; 2019 – 2020)
There are many iterations of The Twilight Zone that have occurred over the 6 decades since it first aired.
At the beginning, each episode featured strange occurrences laced with horror, supernatural elements, and science fiction – an experience that became known as entering the Twilight Zone.
The second installment was the same but mostly featured multiple stories per episode; the third dealt with more modern issues like terrorism and sexuality, with some remakes of original episodes too!
Lastly, the 2019 remixes new and old episodes, but still while delving into the strange and paranormal.
Are You Afraid of the Dark?, Nickelodeon (1990 – 1996, 1999 – 2000, 2019 – present)
Are You Afraid of the Dark? was a staple for horror-loving kids who grew up throughout the 90s – myself included.
This scary kids' show centers on The Midnight Society, a group of teenagers who meet up in a secret location in the woods to take turns telling each other a scary story.
The episodes would show them gathered in a circle, then dramatize the storytelling, before going back to show them part ways at the end of the story after pouring water onto the bonfire at their center.
The recent revival has just wrapped up its third season!
The Veil (1958)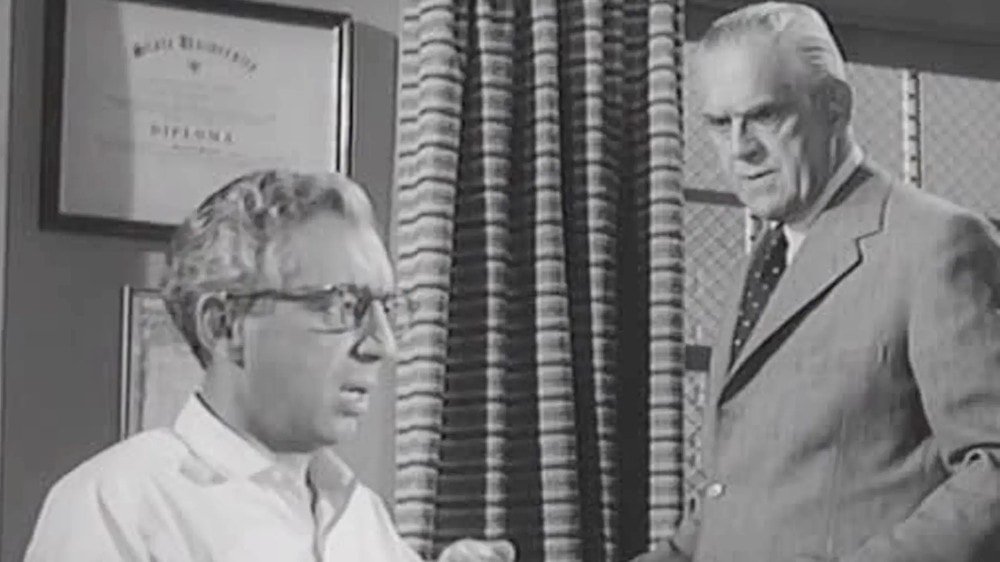 Though never broadcast or shown in syndication, The Veil can be found on DVD for those into old-school horror!
Every episode begins with the host inviting his viewers to take a peek into what's 'behind the veil', alluding to something mysterious and spooky.
Though there were only 12 episodes, each one comes with a hint of reality as they're allegedly based on reports of real-life supernatural occurrences!
Tales from the Darkside, syndicated (1983 – 1988)
Tales from the Darkside uses a mixture of fantasy, science fiction, and horror in its storytelling, using both dark and light themes throughout as well.
We mentioned Creepshow earlier, and this was originally meant to be the first series adaptation.
While they retained the premise of being taken from a comic book, the aesthetics of it was not adopted when adapting the works of many famous authors for the episodes.
Monsters, syndicated (1988 – 1991)
Monsters and Tales from the Darkside came from the same producer, but the former focuses more on the horror genre – albeit primarily in the creatures sub-genre, as referenced by the title.
Monsters featured standalone episodes across its 3 seasons and held no connection to each other.
However, viewers were assured to learn a thing or two about monsters like animatronic puppets, witches, and carnivorous plants.
Freddy's Nightmares, syndication (1988 – 1990)
Yes, Freddy's Nightmares is, indeed, a spin-off of the horror film classic, A Nightmare on Elm Street!
The episodes feature two stories, often with the second building on a minor character from the first and the occasional callback to a previous story.
The infamous killer Freddy Krueger himself introduces each episode but is the antagonist in only a handful of them, instead often referenced as being the reason behind the eerie happenings.
Hammer House of Horror, ITV (1980)
The British anthology series Hammer House of Horror had just one season, with each of its thirteen episodes highlighting a different brand of horror.
One episode in particular, The House That Bled to Death, has even been featured in Channel 4's 100 Scariest Moments!
The horror themes present throughout the show not only include supernatural entities like witches, ghosts, and demons, but also something scarier – human evil.
Ghost Stories, The Family Channel (1997 – 1998)
"Come with me into the very cradle of darkness, where those who dwell, dwell alone."
This is a small part of the introduction given by narrator Rip Torn at the beginning of every episode of Ghost Stories.
It is set up similarly to most, in that each episode is a brand new chilling tale and often has a plot twist at the end, which is accompanied by a commentary from the narrator on the morality of the tale.
The Hunger, Sci Fi Channel/The Movie Network/Showtime (1997 – 2000)
Sometimes, the excessive hunger for something can lead to some pretty scary consequences, too.
That's the theme that permeates the standalone episodes of the British/Canadian series, The Hunger: the desire and obsession with something that could ultimately lead to one's own destruction.
They were narrated first by British actor Terence Stamp and then in the second season, by David Bowie.
Night Gallery, NBC (1969 – 1973)
Rod Serling (creator of the aforementioned The Twilight Zone) returns as writer and narrator for Night Gallery.
In each episode he invites viewers to view three paintings that showed something of the macabre tall it would be telling, and "…each captures on a canvas, suspended in time and space, a frozen moment of a nightmare."
Many famous horror short stories were adapted for the show, as well as many stories were written by Serling himself.