Las Vegas is known for its many nicknames, but one will always stand out amongst the rest: Sin City.
With its bright, neon flashing lights, perpetually active nightlife, and sprawling casinos, it's no surprise that this is the nickname that has stuck.
Las Vegas is home to gambling, drinking, and all forms of entertainment, so you really never know what you're going to get when you go to pay a visit.
With a city so full of life, there's plenty of material to use as inspiration for various forms of media.
Take movies like the Ocean's franchise and 21, and books like Donna Tartt's The Goldfinch, for example. Now, we're also bringing a list of TV shows set in Las Vegas!
Get a glimpse of the city from all sides, whether from the view of the fun and lights or its criminal underbelly.
Let's get started!
Las Vegas, NBC (2003 – 2008)
We're kicking things off with a comedy-drama series that aired for five seasons, set in a fictional hotel and casino called Montecito, located right on the Las Vegas Strip.
The series centers on Ed Deline, the head of security, and his young protege Danny McCoy, fleshing out their personal and professional relationship with each other.
On top of that, it also shows the various areas of operations, primarily with security, within the casino and how the many employees handle issues such as card counters and other forms of cheating, restaurant management, and competition with rival casinos.
CSI: Crime Scene Investigation, CBS (2000 – 2015)
The CSI series franchise has expanded into several series set in many major cities across the United States, but CSI: Crime Scene Investigation is where it all began in 2000.
The team of crime scene investigators at the center of the show work with the Las Vegas Police Department in analyzing the physical evidence collected at the gruesome crime scenes in order to solve the case.
These include blood spatter analysts, forensic entomologists, materials and elements analysts, audio-video analysts, and many more that provide a really fascinating look into the world of forensics.
CSI: Vegas, CBS (2021 – present)
Six years after the parent series CSI: Crime Scene Investigation ended, its sequel was released with many of the original cast members turning to reprise their roles alongside brand new characters as well!
CSI: Vegas is now the fifth series in the franchise and was originally set to be an epilogue miniseries, but has since already premiered its second season.
This sequel series starts off with the new team of investigators launching headfirst into a case that threatens the entire law enforcement system and could lead to thousands of killers being released onto the streets and innocent residents of Las Vegas.
The Cleaning Lady, Fox (2022 – present)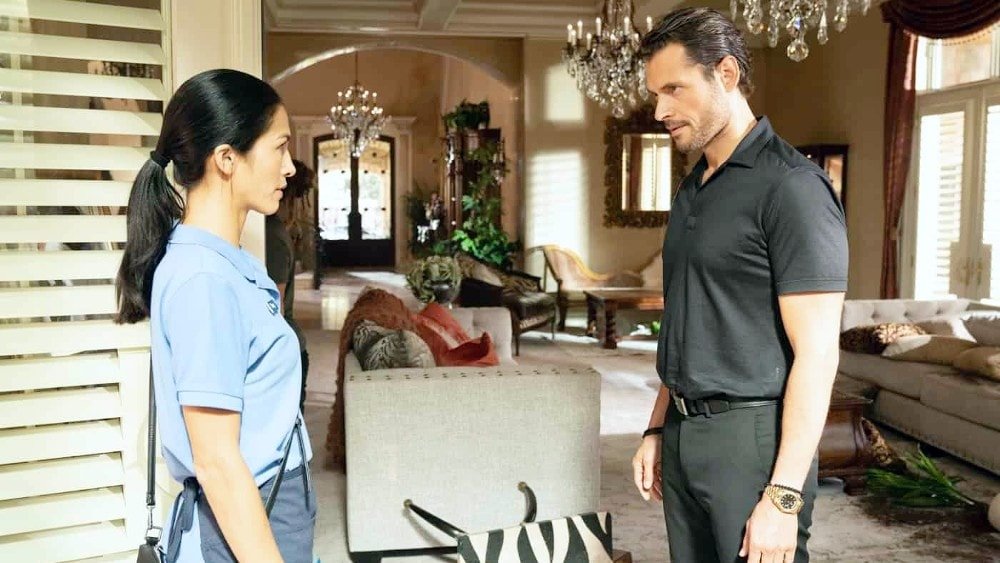 One of Fox's newest shows that premiered this 2022 is the crime drama The Cleaning Lady.
It tells the story that may ring familiar for many immigrants: working as a professional in fields like medicine or law in their country, to become an extremely overqualified blue-collar worker after moving to America.
Such is the case of Thony De La Rosa, a Cambodian-Filipino surgeon who moved from Manila to Las Vegas for a life-saving procedure for her young son.
However, she soon finds herself hiding from the law on an expired visa and ends up providing for her family by becoming a cleaning lady for a criminal organization.
Hacks, HBO Max (2021 – present)
We spoke of Las Vegas having various forms of entertainment shows, and one of them is stand-up comedy!
HBO Max's Hacks is a comedy-drama series about a legendary stand-up comedian diva named Deborah Vance.
However, as is common in the entertainment industry, there's always the threat of being replaced so Deborah soon grows desperate to introduce changes to her act in order to avoid being dropped by the Palmetto Casino.
In comes Ava Daniels, a comedy writer with a not-so-stellar reputation who is hired to become Deborah's new head writer.
The Defenders, CBS (2010 – 2011)
No, we're not talking about The Defenders, the recent superhero series that's part of the Marvel Cinematic Universe (that one is set in New York City).
Instead, we're talking about CBS' legal drama The Defenders, though unrelated to the network's 1960 series of the same name.
Here, viewers meet two Las Vegas-based hotshot defense lawyers named Pete Kaczmarek and Nick Morelli.
They go to all lengths to defend their clients and keep their lives in order with the help of a new associate named Lisa and their assistant Zoey while trying to do the same thing for their own lives.
Nikki, The WB (2000 – 2002)
The WB's Nikki gives viewers a glimpse into what life could possibly be like for locals who live and breathe the entertainment industry in Las Vegas.
The titular character is Nikki White, a Vegas showgirl who lives in the city with her husband Dwight, a professional wrestler.
Each episode (at least in the first season) begins with a song and dance number featuring Nikki in her showgirl character.
While the main plotline shows how the working-class couple makes ends meet while on the path to pursue their dreams and passions alongside friends, colleagues, and family.
The Game, Paramount+ (2021 – present)
Speaking of sports, next up we have Paramount+'s The Game revival.
While the original series, which aired first on The CW and then on BET, followed the players and their families of San Diego Sabers, a fictional football team based out of San Diego, the Paramount+ revival relocates the show to Las Vegas.
So, 2021's The Game picks up 6 years after the original concluded and follows the players of Las Vegas Fighting Fury, as well as their loved ones.
Fan-favorites Tasha Mack (played by Wendy Raquel Robinson) and Malik Wright (played by Hosea Chanchez) return along with a slew of new characters that help the show look at modern-day Black culture through the prism of pro football.
Vegas, CBS (2012 – 2013)
The CBS period drama Vegas takes us back to Las Vegas in the 1960s, an era when the mob was ruling major cities across the country.
In this case, they've got their eyes set on controlling and taking over the entire gambling industry, and Chicago mobster Vincent Savino is at the helm of these operations in Vegas.
The series centers on Savino and his run-ins with Ralph Lamb, a local rancher with experience with the military police, as he is forced to take on the mantle of Sheriff in order to keep Savino and his associates at bay.
LA to Vegas, Fox (2018)
Fox brings the first comedy to our list with LA to Vegas, though it was sadly canceled after just one season.
The series is a workplace comedy that features the crew of a discount airline and the passengers that they interact with.
Jackpot Airlines was a small budget airline that shuttled between Los Angeles and Las Vegas every Friday to Sunday, carrying passengers who were either moving to pursue their dreams or visiting to have a good time.
Ronnie is the crew's flight attendant who had to deal with an assortment of people you'd sometimes never expect to meet.
Lucky, FX Network (2003)
With a title like Lucky, you can probably take a stab at guessing what FX Network's dark comedy series is about.
That's right, the show centers on Las Vegas' gambling industry and the title is a reference to the main protagonist, Michael "Lucky" Linkletter!
Lucky is a gambling addict who made a career out of it as he became a professional poker player.
After winning big at a poker tournament, his life hits a snag and he's left to reevaluate his life by giving up gambling – though the results aren't quite as expected.
GLOW Season 3, Netflix (2017 – 2019)
Netflix's GLOW centers on the Gorgeous Ladies of Wrestling, a fictionalization of the real-life women's professional wrestling promotion of the same name.
It follows a group of strong women, most of whom moved to Los Angeles to become actresses, who are hoping to start their acting careers in this unconventional industry.
Acting styles and work ethics crash as they fight their way to the top!
In Season 3, the show moves from LA to Las Vegas, where the rivalries are further amped up in a bid to be the symbol of the organization.
The Player, NBC (2015)
The Player takes a different spin on Las Vegas' gambling industry and its criminal organizations.
The head honchos are named Pit Boss and the Dealer and they organize underground betting not on casino games but on crimes, pitting a Player against criminals.
It's in this dark underworld that we meet Alex Kane, a security expert, and former military operative.
He enters the arena as a Player but unbeknownst to those running the game, he's there to bring their organization down as revenge for the death of his wife.
Tilt, ESPN (2005)
It's not common knowledge that sports channel ESPN has its own original scripted series, and Tilt was only its second thus far!
The title is a reference to the poker term "on tilt", which is when a player has allowed their frustrations to affect their strategy and play.
This comes into play in the series, which is centered around the fictional World Championship of Poker in Las Vegas.
Viewers follow a group of professional poker players who have joined forces to take down Don "The Matador" Everest, a legendary poker champion, for varied personal reasons.
Dr. Vegas, CBS (2004 – 2006)
Dr. Vegas brings in a mix of the gambling and medical industry to the list as it follows
Dr. Billy Grant, a Harvard-educated doctor now living in Las Vegas.
However, granted that he graduated at the bottom of his class, he finds himself working instead at an old-school, Vegas hotel-casino as their in-house physician.
This doesn't stop him from doing his job to the best of his ability with the help of a nurse practitioner, however, and this often has him butting heads with Tommy, the hotel manager, who is a hypochondriac!
The Strip, UPN (1999 – 2000)
The Strip is a one-season action drama series that aired on UPN and was set primarily in, you guessed it, the Las Vegas Strip.
It followed two former Las Vegas Metropolitan Police Department detectives: Elvis Ford, who now lives on his sailboat, and his partner Jesse Weir.
Though out of the law enforcement business, they've since been hired by the owner of the renowned casino Caesar's Palace, Cameron Greene, to protect him and his gambling establishment against the troublemakers looking to tarnish his business.
The Watcher, UPN (1995)
UPN brings another to the list with The Watcher, a drama anthology series that one might say was similar in concept to the reality series Big Brother – but on a much larger scale.
The title of the show is also the name of the show's mysterious omniscient narrator.
He sits in his suite atop the Riviera Hotel, surrounded by monitors that show him footage from every single camera in the city. From there, he is able to live up to his name and watch everything that happens in Las Vegas, the stories of which play out in each episode.
Nasty Boys, NBC (1990)
Nasty Boys is an action drama series that serves as a follow-up to the 1989 film of the same name!
It comes from renowned producer Dick Wolf, who is now well-known for his crime procedural series and is actually based on the real-life lives of the North Las Vegas Police Department's narcotics officers.
The team was given the nickname "the Nasty Boys" and the series follows the undercover cops, dressed in their all-black, hooded uniforms, as they carry out drug busts around the neighborhood.
Vega$, ABC (1978 – 1981)
Vega$, or simply Vegas, is a crime drama that aired over 4 decades ago on ABC!
It follows Dan Tanna, a high-end private detective based out of Las Vegas, who is known to drive around between his cases in a red, 1957 model Ford Thunderbird convertible.
His reputation for being a high-risk problem solver puts him into contact with many different cases both for rich and famous individuals as well as swanky corporations, like the casinos and their owners.
He assists with solving more dangerous crimes around Las Vegas centered on kidnappings, casino frauds, and money scams.
The Tortellis, NBC (1987)
NBC's The Tortellis is another that's from quite a few decades ago, but is one of the rare sitcoms on the list.
It's the first spin-off from the sitcom Cheers and follows the story of Nick and Loretta Tortelli, who appeared on the parent series several times, their teenage son Anthony, and Anthony's young bride Annie.
In their story, Loretta has moved to Las Vegas to leave Nick and live with her sister Charlotte; meanwhile, Nick follows her in an attempt to rehabilitate his life and reconcile.
Blansky's Beauties, ABC (1977)
Like The Tortellis, Blansky's Beauties is a spin-off of a previous sitcom, though this time it's from Happy Days!
Though the parent series was set in the 1960s, Blansky's Beauties takes Nancy Blanksy, who was introduced as a Happy Days character's visiting cousin and brings her to the then-present year of 1977.
Now, Nancy is a type of den mother in an apartment complex that houses a large group of Las Vegas showgirls.
Having been a veteran of the industry herself, Nancy guides the young women on their path to stardom as well.
Who's Watching the Kids?, NBC (1978)
In keeping with Blansky's Beauties and the theme of Las Vegas showgirls, NBC's Who's Watching the Kids? is also a sitcom centered on Sin City's entertainment industry!
More specifically, two young women who work as showgirls, Stacy and Angie, and their life together as best friends, colleagues, and roommates!
This involved taking care of Angie's 15-year-old brother Frankie and Stacy's 9-year-old sister Melissa, who lived with them and were determined to cause all kinds of trouble!
Crime Story, NBC (1986 – 1988)
NBC's crime drama series Crime Story aired for two seasons in the late 1980s and takes us back to the law enforcement scene in Las Vegas.
It showcases the intense rivalry between Lt. Mike Torello of the Chicago Police Department and mobster Ray Luca, who also had his origins in organized crime in Chicago.
As episodes unfold, it shows the pursuit from Chicago to Las Vegas as Luca is sent to Sin City to take charge of the Chicago Outfit's operations at the casinos there.
Hearts Are Wild, CBS (1992)
Hearts Are Wild is a CBS drama series that aired over just one season in the early 1990s.
If you ever wanted a glimpse into the ritzy Las Vegas lifestyle of this decade, then this is definitely the series for you.
Throughout its seven episodes, Hearts Are Wild shows all the glitz and glamor of the gambling industry while telling the stories of both the employees and the guests of one of the Strip's most popular hotel casinos: Caesars Palace.
These include the head of guest relations, hotel manager, and even its owner!
Father of the Pride, NBC (2004 – 2005)
Last but not least is an animated series from NBC titled Father of the Pride!
Those familiar with famous Las Vegas acts may know magician/entertainer duo Siegfried & Roy, who were well-known for making appearances with white lions and tigers.
Well, Father of the Pride ties into this as the series follows a family of white lions, the patriarch of which is the star of Siegfriend and Roy's show!
Their gopher friends join them on occasion, as the series tells of their life as animal entertainers.