Memphis is known for many things that make it such an attractive place for tourists to visit.
The city is known by many names, such as Bluff City and The River City (because of its location along the Mississippi River), Grind City (attributed to the Grizzlies' motto "Grit and Grind"), Home of the Blues, and the Birthplace of Rock 'n' Roll.
Not only is it home to some major sports teams (like the NBA's Grizzlies and the MLB's Redbirds), but it also has one food specialty that people from all over the country will flock to: pork barbecue. You might grab a plate while taking a night stroll down Beale Street, or before heading to the National Civil Rights Museum.
Music lovers might want to visit the Rock 'n' Soul Museum, Lafayette's Music Room, Sun Studios, or even Elvis Presley's famous home, Graceland.
If you're more of an outdoorsy tourist, you could always visit the Memphis Zoo, the Botanic Garden, or Shelby Farms Park! Memphis truly has something for everyone.
With such a city so full of life and soul, any film or movie based around it is bound to be chock full of beautiful scenes and activities.
There's just no telling what aspect of Memphis it could focus on – the music, the nature, the food, or all of the above?
With that, let's take a look at some of the best TV shows set in Memphis! Maybe after watching some – or all – of these shows, Memphis will already be at the top of your "to visit" list!
Bluff City Law, NBC (2019)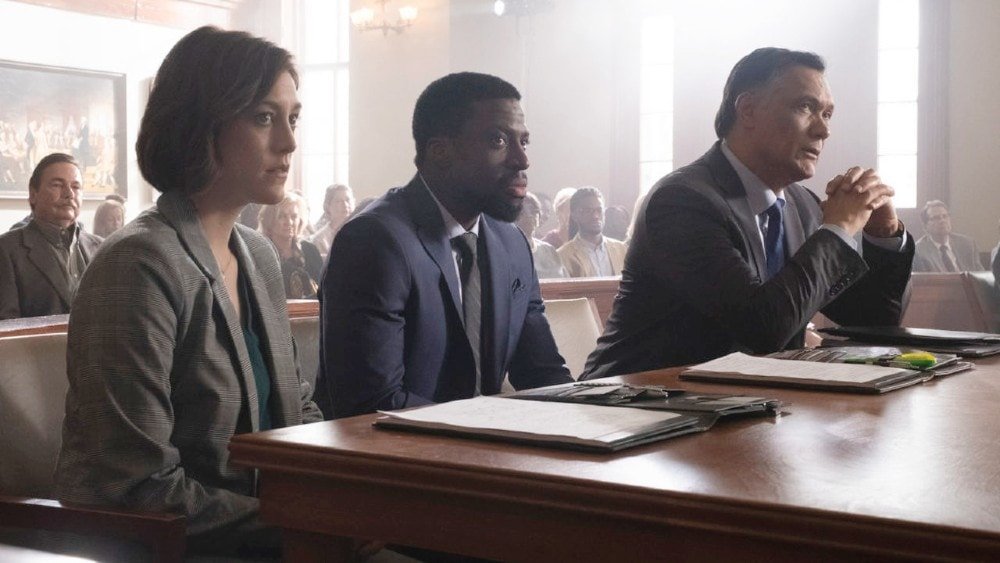 We're kicking off our list with a legal drama from NBC, titled after one of the city's nicknames that reference the Mississippi River.
Bluff City Law throws in a bit of family drama as well, as the series focuses a lot on the dynamic between Elijah Strait (Jimmy Smits from L. A. Law and Outlaw) and his estranged daughter, Sydney (Caitlin McGee from Home Economics).
Sydney used to work at her father's celebrated law firm in Memphis but three years prior to the start of the series, she left to work as a corporate lawyer because of their strained relationship. However, after Sydney's mother suddenly passes away, she's asked to come back to the fold and rejoin the law firm.
Though she initially declines, Sydney realizes that if she truly wants to make a difference, leaving corporate law and working on civil rights cases with her father is the best way to do it.
Memphis Beat, TNT (2010 – 2011)
TNT's Memphis Beat is a mix of comedy-drama as well as crime procedural, and one thing's for sure: it's definitely a feel-good watch for any day. The title is a great nod to the musical theme intertwined, too!
Though the series only aired for two seasons of 20 episodes, it's a great way to get acquainted with the Memphis locals' love for music.
Memphis Beat follows police detective Dwight Hendricks of the Memphis Police Department's General Assignment Division.
There are a few things that define Dwight's personality: his unparalleled talent as a detective, his loving relationship with his mother, and the undying love he has for Elvis Presley, Memphis, and its music scene.
His new boss, Lieutenant Tanya Rice, admires his instincts but is constantly frustrated that his passion for the city is directly offset by the overly relaxed manner in which he approaches his duties.
Quarry, Cinemax (2016)
War veterans go through so much in the course of their deployments; there's just no way for those of us not in the service to understand the stress and trauma they experience.
When a vet returns from a war, they're going to need all the support they can get from friends and family. Sadly, that wasn't the case in the Cinemax crime drama Quarry.
Mac Conway Jr. returns to his hometown in Memphis in 1972 after serving as a Marine for two tours in the Vietnam War.
What he receives is a less than warm welcome, however, when he finds himself shunned by his family and constantly criticized by the public. Struggling to cope with his trauma and his current situation, Mac finds himself dragged into an almost equally dangerous world of death and corruption "that spans the length of the Mississippi River".
Greenleaf, Oprah Winfrey Network (2016 – 2020)
Hailing from the queen of American talk shows, Oprah Winfrey, and her cable network OWN, Greenleaf is a family drama with a touch of mystery.
The series aired for four seasons and is even in the process of producing its first spinoff that focuses on its primary female character.
Greenleaf follows the eponymous family and the world they live in that's full of wealth, secrets, scandals, and lies.
From an outsider's perspective, however, that's not what it looks like. In fact, they have the image of a picture-perfect clan: living comfortably in a palatial home and at the helm of Memphis' Calvary Fellowship World Ministries, a megachurch with mostly African-American patrons.
However, when the Bishop and First Lady Greenleaf's estranged daughter Grace returns after 20 years, their relationships and family ties are tested when their deeply buried secrets begin to rise to the surface.
Through it all, they fight to keep the strength of their family together.
Buried by the Bernards, Netflix (2021 – present)
In times like these, it's difficult to find lighthearted comedy in topics like death and funerals. However, it's comedy shows like Netflix's Buried by the Bernards that may be exactly what we need to take our minds off of the bleak reality.
It certainly helps that it's a reality series – a timely reminder that it's okay to laugh amidst it all!
Back in 2017, the Bernard family opened R. Bernard Funeral Services in Memphis and quickly gained fame due to their viral marketing campaigns.
With offerings like virtual funeral services and drive-thru viewings, it's no surprise that they caught the attention of producers wanting to know more about their day-to-day lives!
The series began filming in early 2020 before pandemic restrictions and shows viewers the dynamic of running a funeral home – led by family matriarch Debbie and her son Ryan, as well as Ryan's uncle Kevin and his daughters Reagan and Deja.
Hellcats, The CW (2010 – 2011)
The world of cheerleading is always a tough one to navigate, whether you're in high school or college.
Though this might not always be the case in reality, most movies and TV shows portray cheerleaders as tough, cliquish, and, well, the popular queen bees of the school.
On the flip side of that, they're also seen as fiercely loyal – to their alma mater and to each other.
That kind of competitive environment is seen in The CW's comedy teen drama Hellcats, which is the name of the cheerleading squad at the center of the show.
The series stars Marti Perkins, a pre-law student at Memphis' Lancer University. When the school cuts funding for scholarships and she loses hers, Marti realizes she's going to have to reawaken her gymnastics skills and audition for the Hellcats so she can continue studying.
Though poised and ready to take on the world of sports and cheerleading, Marti wasn't prepared for the internal drama that came with it, too.
Sun Records, CMT (2017)
CMT's miniseries Sun Records really shines the spotlight on the rich music scene in Memphis, making it perfect for all lovers of the blues and rock 'n' roll genres.
We mentioned Sun Studios earlier, which is the setting for this series that is based on the Million Dollar Quartet musical.
Thanks to Sam Philips and Sun Studios, the city's music industry was really able to take off during the early days of the civil rights movement.
It was Philips and the studio that guided the careers of musical legends like Jerry Lee Lewis, Johnny Cash, Carl Perkins, and Elvis Presly (featuring the workings of Presley's manager, Colonel Tom Parker).
Sun Records chronicles this stunning story and shows fans how these young and talented artists were shot into superstardom despite the struggles of ongoing social and political change.
Filthy Rich, CBS (1982 – 1983)
We're ending our list with a nice big throwback to the 1980s!
Filthy Rich is a sitcom that contains all the family drama you're looking for but twists it into a way that satirizes the other popular soap operas of the time.
We follow the Beck family in their fictional mansion called Toad Hall, where the family patriarch Big Guy Beck has just passed away.
Before being cryogenically frozen, he made sure to videotape his will – the document that formed the backbone of the series. With small parts of it revealed weekly, the most significant stipulation was that the wealthy family wouldn't be able to collect their inheritance until they accept his illegitimate son Wild Bill Westchester and his wife Bootsie into the family.
Much of the show's humor came from the Becks pulling out all the stops to dispute the terms of the will, though none are successful.