This article contains affiliate links. We may earn a small commission from qualifying purchases.
Creative minds can make reality shows out of pretty much anything: there's always enough interest to gain a significant following. Whatever tickles your fancy, there's probably already a reality show about it. Finding "true love"? Check. Home and garden renovations? Check. Discovering the next top chef, baker, fashion designer or model? Check. Mining? Double-check!
Yes, there even are a set gold mining and gem hunting shows! It's been barely a decade since the first major reality mining show was produced and released but already, so many others have popped up after it! With that, let's take a look at the 7 best reality mining TV shows!
Gold Rush, Discovery Channel (2010 – present)
Gold Rush was the forefather of reality gold mining shows. Premiering in 2010 and currently holding 12 seasons under its belt! Originally titled Gold Rush: Alaska, it was later shortened to the current Gold Rush in season 2 as the crew members travel to mining sites outside of the Alaskan state.
Gold Rush follows various family-run mining businesses in their placer gold mining efforts. These crews primarily consisted of the Parker Schnabel crew, the Hoffman crew – who officially left after season 8, Dakota Fred crew, Dave Turin crew, and the Rick Ness crew – the newest to join in season 9 after separating from Schnabel in the previous season.
Throughout its 12 seasons, the various Gold Rush crews have been filmed in several of their claims across the Alaskan Panhandle, The Klondike in Yukon, Canada, the Guyana jungles in South America, Baker Country in Oregon, and Park County in Colorado.
Where to watch Gold Rush:
Turquoise Fever, INSP ( 2019)
Teased with the tagline, "All that glitters isn't gold", Turquoise Fever is a new show that takes reality TV shows about mining gems to a whole other level.
In Turquoise Fever, we'll be following the Otteson family as they battle through the challenges of the Great Basin Desert in Nevada in order to unearth beautiful – and extremely valuable – turquoise, a mineral unique to the American West.
Not only will we catch a glimpse of what it takes to travel through the inhospitable desert. But we'll also see the dangers of mining and what makes turquoise so sough-after in the first place.
Where to watch Turquoise Fever:
Prospectors, The Weather Channel (2013 – 2016)
Prospectors premiered on March 2013 on The Weather Channel. And lasted for 4 seasons – including a short season 2 specials – until 2016.
The show followed a group of miners in their respective claims and mining sites as they went through the daily operations of mining for precious metals and gems. The miners featured included Amanda Adkins, Dwayne Hall, Rich Fretterd, the Busse family, the Dorris family, and the Cardwell family.
Prospectors provides a unique insight into the different processes involved in mining various types of gems and minerals, depending as well on where you're mining them from!
Yukon Gold, History Television (2013 – 2017)
2013 was a good year for mining reality shows, with Yukon Gold being one of gold mining TV shows premiering that year. It had its origins in Canada where it aired on History Television. And it was simultaneously acquired by the National Geographic Channel to air in the US. The gold mining show continued on for 5 seasons and sadly, announced its end via Twitter on June 2017.
The show followed a number of mining crews each season as they continued their pursuit for gold over the four-month period comprising the Yukon mining season. Over the span of 5 seasons, viewers had the pleasure of seeing a variety of crews. Some over multiple consecutive seasons while some would leave and then return in a later season.
Yukon Gold is a gem to watch. And will be loved by anyone who's looking for more TV shows like Gold Rush. Mainly thanks to the number of new and old faces its viewers will encounter and grow to love. As well as the broad range of claims that the crews would mine over the seasons.
Where to watch Yukon Gold:
Outback Opal Hunters, Discovery Channel (2018 – present)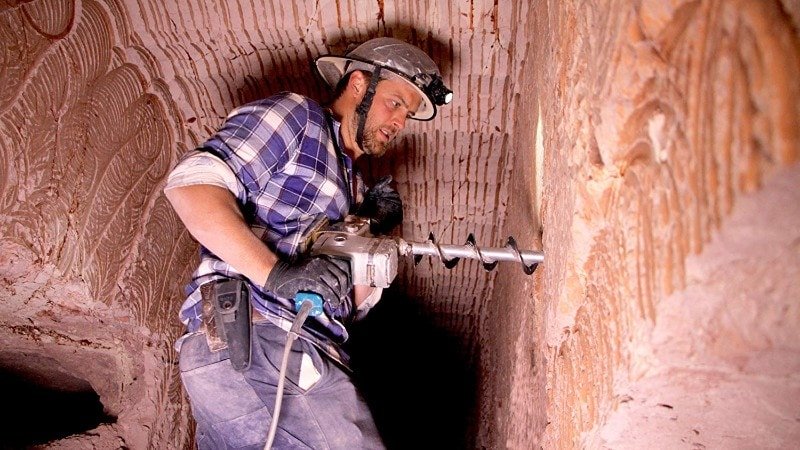 Outback Opal Hunters is one of the newer shows about mining on our list and we love it because it's a standout amongst the rest.
Like the aforementioned Turquoise Fever, the crews in this show aren't going for gold. Instead, their mission is to unearth opal in the Australian outback.
It's a breath of fresh air in a sea of American gold mining shows, and we're all here for it!
You know it's worth a watch thanks to its nominations for Best Documentary Series at the Screen Producers Australia Awards.
Where to watch Outback Opal Hunters:
Jungle Gold, Discovery Channel (2012 – 2013)
Staying international, Jungle Gold sets itself apart by following just one crew, Scott Lomu and George Wright, as they take to the African gold mining industry in an attempt to recover from the 2008 American financial crisis.
It was the second season of Jungle Gold set in Ghana that the fans of TV shows about gold prospecting are still talking about to this day. While filming, a nearby site was attacked and a mining partner was injured. Leading the cast and crew to evacuate the area immediately. And while in hiding they discovered that Lomu and Wright were wanted by the Ghanaian Minister of Lands and Natural Resources for broadcasting their exploits in the first season.
According to the Ghanaian nationals and officials, they were participating in illegal mining activity. The pair have always claimed to have been acting according to Ghanaian law. And even took a different approach in the second season, ensuring to pay fairly and show more respect for safety standards. However, they still returned to America, subsequently canceling the show and pursuing other business ventures.
Curious fans can relive the evacuation and drama in the final episode of season 2 of this gold mining TV series!
Where to watch Jungle Gold:
Jade Fever, Discovery Canada (2015 – 2021)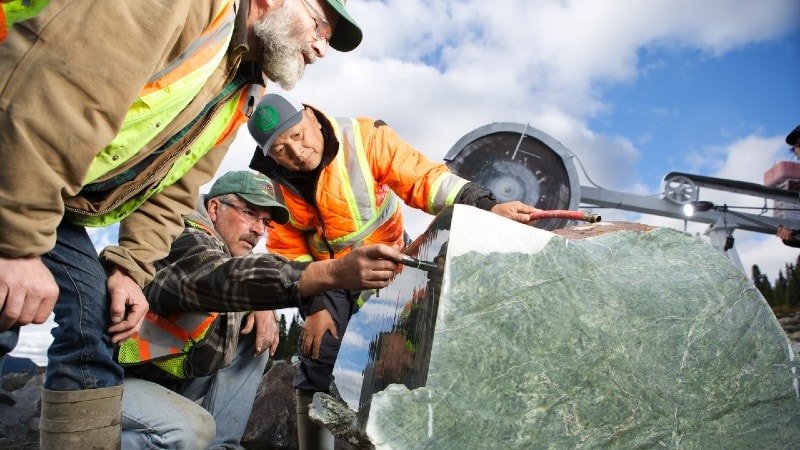 Last on our list of the best reality mining TV shows is also one of the newer ones, with its premiere in 2015 and having wrapped its last season in 2021.
Jade Fever is a search for the nephrite jade gemstone in Canada. Primarily in the Jade City, Cassiar Mountains region. And Turnagain River basin in British Columbia.
This show is another great alternative for fans of gold hunting TV shows as viewers will be able to watch various crews perform glacial deposit, placer, and hard rock mining efforts.
Season 4 adds a bit more of a personal touch as the Bunce family continues their family-run mining efforts in Jade City but this time, and for the first time ever, without financial assistance from investors.
Where to watch Jade Fever:
Whether you're a mining professional, are a metal detecting enthusiast, have a recreational interest in the industry or just love TV shows about gem and gold mining, these shows will be perfect for you.
Through them, you'll be able to learn exactly what it takes to be a miner – the hard work, sacrifice, and ultimately, the payout. And, of course, these reality mining TV shows will also entertain you to no end.