Have you ever seen someone walking around, perhaps at a park or along the beach, holding out and waving around what looks to be a stick with a metal plate at the end of it? Maybe every once in a while the device will ping and they'll stoop over to dig a little or pick something up.
Well, that person may just be metal detecting!
Metal detecting is the use of a tool, usually, a type of sensor probe as described earlier, to sweep across the ground or other objects in the search of valuable (metal) items. In a way, it's sort of like a treasure hunt!
Metal detecting can be done as a hobby, which is why you might see some regular folks in public areas with their sensors on the hunt for jewelry or other odds and ends. However, it's also a huge and lucrative industry when in the large-scale search for more precious metals like gold or silver. Other fields, like archaeology, use metal detecting too!
It certainly is a fascinating and unique trade and one that most people simply don't know that much about.
So we've put together a list of TV shows about metal detecting – most of which show it in its natural setting through documentaries and reality shows!
Best scripted metal detecting TV shows
Detectorists, BBC Four (2014 – present)
Detectorists is the first and only scripted show on our list!
The comedy series is set in the fictional Danebury, a small town in northern Essex, and follows the lives of two members of the Danebury Metal Detecting Club.
Andy Stone, an agency worker, an archaeologist, and his best friend Lance Stater, a forklift operator and musician, share a passion for metal detecting.
They have but one dream: for their metal detecting adventures to one day uncover a priceless collection that will land them in the history books.
Detectorists aired over three seasons and has recently announced a return to the screen for a one-off special.
Best documentary and reality metal detecting TV series
Diggers, National Geographic (2013 – 2015)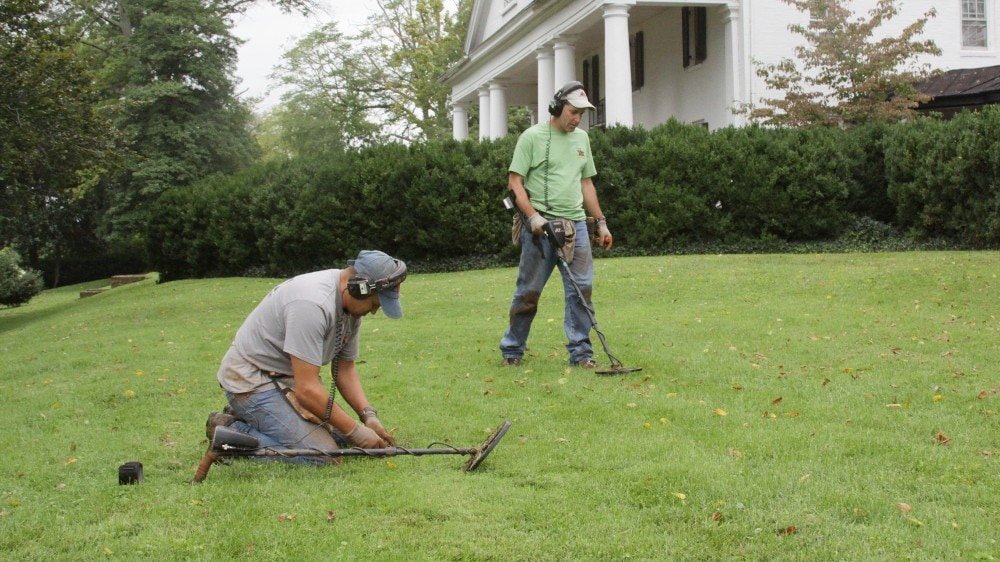 The first reality show on our list is National Geographic's Diggers, which aired over four seasons.
It follows two metal detecting hobbyists "King George" Wyant, whose hobbies are all outdoorsy in nature, and his friend Tim "The Ringmaster" Saylor, whose nickname comes from his uncanny luck in finding rings.
Together, they travel across the United States – sometimes at the invitation of landowners, archaeologists, and historians – to look for historical artifacts that may have been neglected on their land.
When Diggers came to an end, KG and Ringy started their own web series and even expanded their operations internationally!
Dig Wars, Travel Channel (2013)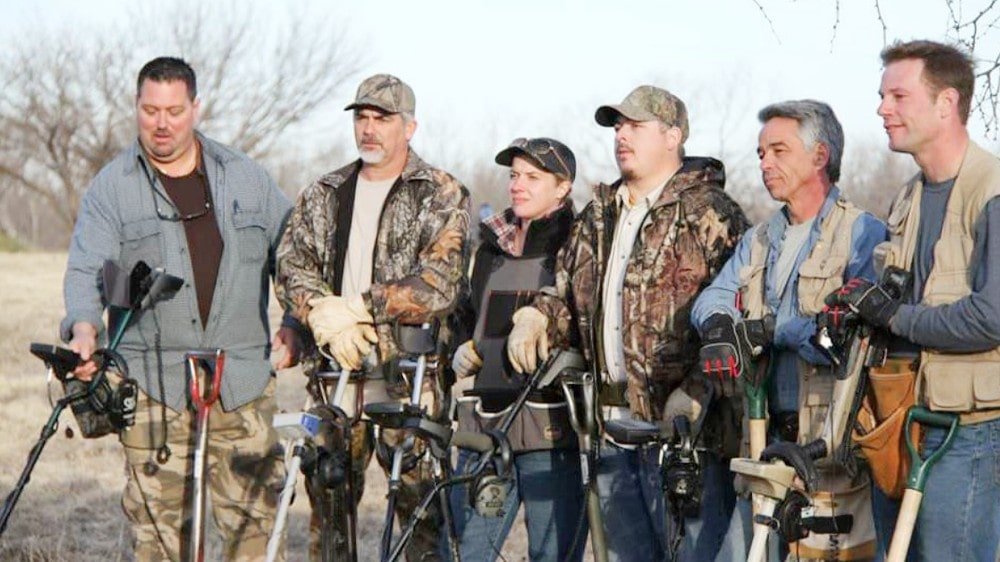 With a title like Dig Wars, it's pretty easy to guess what the show aims to show its viewers.
It aired over just six episodes in one season and featured three teams of two enthusiastic metal detecting hobbyists as they traveled to different historical locations around the country.
Their goal? To search for as many relics and artifacts as they can from sunrise to sunset and, after a professional evaluates their finds, be the team with the most valuable haul!
Of course, their hunting isn't as straightforward as they'd like, as there are often locals who believe what they do should be left to professionals.
Digfellas, Travel Channel (2013)
2013 seems to have been a big year for metal detecting on the Travel Channel as apart from Dig Wars, they also premiered Digfellas!
The premise of this reality show is quite similar: it follows metal detecting hobbyists as they travel across notable historical sites across America in search of 'treasure'.
However, the relic hunters in question, Bill Ladd and Howard Hewitt, are in no competition – they're more interested in learning about the history behind the things they find as they consult with the experts to authenticate and explain the uncovered relics.
American Digger, Discovery Networks (2012 – 2013)
Ric Savage is a former professional wrestler, but his real passion lay in learning more about American history through finding and collecting artifacts.
After his retirement from the sport, he established the company American Savage, which took him and his team across the country to search for historical relics to add to his collection.
American Digger (later retitled as Savage Family Diggers when his wife and son join him) documents these digs not just to historical sites but also to the backyards of regular citizens, who they have to negotiate with for permission to dig and split profits in case they find anything valuable.
Hoard Hunters, ITV Studios (2013)
We move now to the UK where Hoard Hunters brings together the nation's two best metal detector experts!
Between Gordon Heritage and Gary Brun, they have an excellent track record, and putting them together just ups their potential for valuable finds.
Teaming up further with archaeologist Mike Webber, the trio travel back to sites that have already been explored to dive into the history of what has already been found and maybe, considering their successful track record, state-of-the-art equipment, and sheer luck, even find more treasures.
Treasure Quest, Discovery Channel (2009)
Discovery Channel's Treasure Quest is a reality TV show that really takes it up a notch when it comes to metal detecting!
The series swaps out hobbyists and their sensor probes for a whole team of professionals and experts of Odyssey Marine Exploration, a company that sends remotely-operated vehicles on deep-sea missions to discover and explore treasures to be found on shipwrecks!
Indeed throughout its 12 episodes, Treasure Quest was able to successfully discover five shipwrecks, including a ship from the British Royal Navy dating back to the 18th century!
Gold Rush, Discovery Channel (2010 – present)
Discovery Channel brings another show to the list that focuses more on metal detecting done by professionals rather than your average hobbyists – and in the context of a much larger industry, at that!
Gold Rush focuses on the placer gold mining efforts of various mining companies (most of which are family-owned, which really packs on the drama for this reality mining series).
While the series began primarily in the Klondike region in Canada and in Alaska, their operations soon expanded into other parts of North and South America.
The show is still going strong with 12 seasons and almost as many spin-offs and specials.
Aussie Gold Hunters, Discovery Channel (2016 – present)
Aussie Gold Hunters is a highly successful reality TV show from Australia that just recently premiered its seventh season and continues to air in over 100 countries around the world.
While the show places gold mining at its center, it's still crucial to include it in this list because metal detecting is one of the methods that the prospectors use to mine the gold.
Aussie Gold Hunters is a great watch because viewers get to view various teams travel across Western Australia, Queensland, and Victoria, doing whatever it takes and using whatever means necessary to reach their season target of gold ounces discovered.
The Curse of Oak Island, History Canada (2014 – present)
The goal of History Canada's The Curse of Oak Island seems fictional, but many treasure hunters will swear by the authenticity behind the legend of the islands.
It's said to hide a large treasure trove but many hunters have died trying to find it.
Brothers Marty and Rick Lagina have bought the rights to explore the island and, with the help of the island's permanent residents Dan and Dave Blankenship, continue to do exactly that.
Not only do they search for the treasure (occasionally using, of course, metal detecting) but also go into the island's lore and history!
Henry Cole's Great British Treasure Hunt, ITV4 (2020 – present)
Henry Cole is a renowned motorcycle and vintage enthusiast, as well as a successful and celebrated TV presenter.
One of his works includes Henry Cole's Great British Treasure Hunt, which puts metal detecting at the front and center.
Five teams of metal detectorists are commissioned to explore the famed Sudeley Castle in Gloucestershire, which is rumored to be hiding a trove of Saxon coins.
However, the teams are only given 48 hours to find as much as they can, as the team with the most valuable find wins an award, too!
Metal Detecting Down To Earth with Mike Pegg, Amazon Prime Video (2016)
If you're a novice to the metal detecting world and are just looking for a resource to learn more about it, then Metal Detecting Down to Earth with Mike Pegg is probably the best show for you!
Mike Pegg takes viewers across the UK, discussing how they can discover the significance of the treasure beneath the surface of what they find.
On top of that, the series features interviews with fellow detectorists and field experts as they discuss their experiences and things they've learned through the sites they've visited.
The Hunt for Amazing Treasures (1995, 2003 – 2004)
Like many of the treasure hunting shows on the list, The Hunt for Amazing Treasures focuses more on the general idea of hunting for valuable artifacts across various historical locations.
In this particular series, which aired in the 90s and then picked up again (with a new host) in the early 2000s, we travel around the world with the hosts to uncover rare and beautiful finds – some from metal detecting, some not!
Historians, archaeologists, and other experts are consulted to reveal information about each item, provide insight on their value, and even how they were found and preserved.