Chefs deserve all the respect and appreciation in the world, to be perfectly honest.
Behind everything we eat, there's a chef behind its creation to make sure that all the flavor profiles make sense – whether that's your favorite fast food meal or the five-course feast you treat yourself to once in a blue moon.
Now, chefs experience a myriad of things both during their training and while working behind the scenes, but that's not something that we're usually made aware of when we're having our meals.
---
For a quick version of this article, check out our YouTube video on the top 10 TV shows about chefs:
---
With this list below of the best TV shows about chefs, we get a glimpse of these experiences (albeit in scripted shows) and perhaps, have us appreciate the hard work of chefs the next time we're eating out!
Chefs, France 2 (2015 – 2016)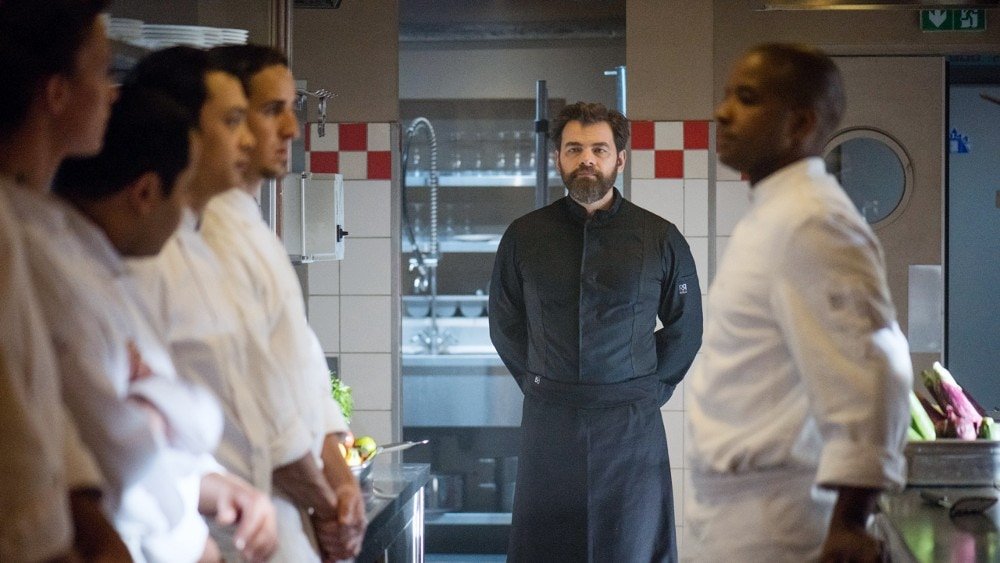 First on our list comes from France, which is unsurprisingly considering France is one of the world's culinary giants.
The two-season drama unfolds at a restaurant called Le Paris, which is owned and managed by Le Chef ("The Chef" in English), a renowned figure in the French culinary world.
Every year, one young offender under probation is taken under his wing to learn the craft of culinary arts.
His most recent is Romain, who struggles to settle into the new world at first before finally blooming and showing his true talent.
The Bear, FX on Hulu (2022 – present)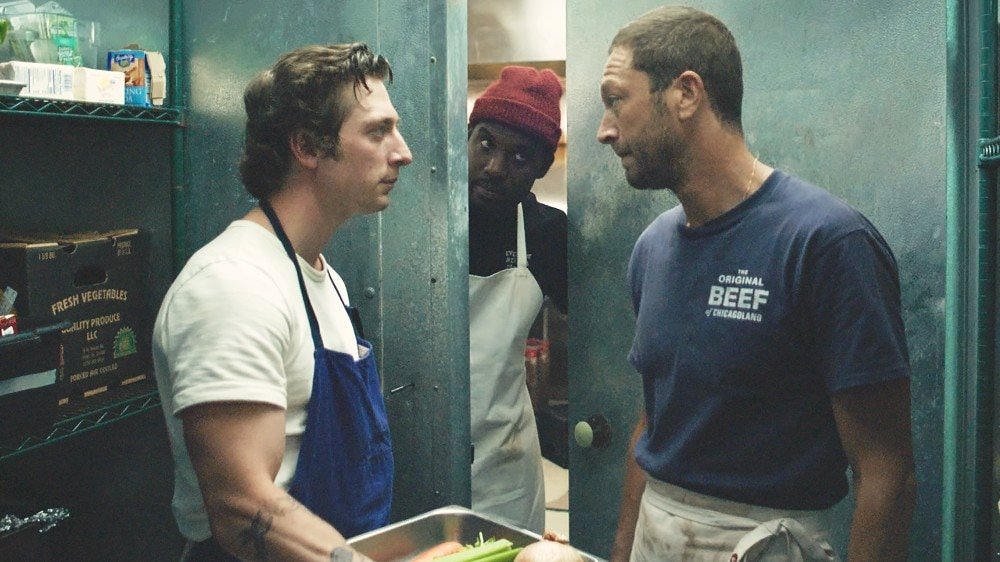 The Bear is a dramedy series that just premiered this June 2022.
It was very well-received amongst viewers and critics alike and thus, was quickly renewed for a second season!
It follows Carmen "Carmy" Berzatto, an award-winning chef de cuisine who has built a career in the fine dining industry of New York City.
Sadly, a sudden and tragic death in his family has Carmy moving back to his hometown of Chicago to run the family-owned Italian beef sandwich restaurant – alongside its debt, broken-down kitchen, and untrained staff – that his brother Michael left behind.
Chef!, BBC One (1993 – 1996)
BBC One's Chef! is a three-season sitcom series that aired in the early to mid-1990s.
The show is primarily set in a gourmet restaurant called Le Château Anglais located in the English countryside.
The restaurant serves amazing traditional French dishes with a fusion of eclectic flavors, and even has a two-star Michelin rating!
However, it remains almost permanently on the brink of financial bankruptcy, and that's because of the man who runs it.
Chef Gareth Blackstock may be a talented chef, but his angry and tyrannical attitude towards both staff and customers doesn't bode well for the company!
Whites, BBC Two (2010)
Next is another British sitcom, albeit this one having aired for just one season of six episodes.
Whites is set at the White House Hotel, a beautiful and quaint English country house hotel, and follows Chef Roland White.
Roland had a promising start to his career and is now the executive chef at the White House Hotel's restaurant. However, the prestigious position comes with its fair share of difficulties!
Alongside his best friend and sous chef Bib and the restaurant's manager Caroline, they keep the restaurant running and a watchful eye on their staff.
Mammals, Amazon Prime Video (2022)
When you've got a series starring James Corden, you can be sure that there will be a touch of comedy, and Mammals promises to be a dark comedy-drama about Jamie (played by Corden), a talented, Michelin-star chef whose life takes a turn when he discovers big secrets about his pregnant wife.
He enlists the help of his brother-in-law, Jeff, to find the truth but only uncovers more secrets about Jeff's own marriage.
Julia, HBO Max (2022)
HBO Max also brings a new series to the list with Julia, which just premiered in March 2022 and was renewed for a second season in the months following.
The simple name as a title may seem casual to some, but those in the food industry will recognize it right away.
Indeed, Julia is a biographical drama series about the famed chef and author Julia Child, who is known for introducing French food to the American audience.
The series will cover her fame and work, particularly on how her shows changed the genre of cooking on TV!
Kitchen Confidential, Fox (2005)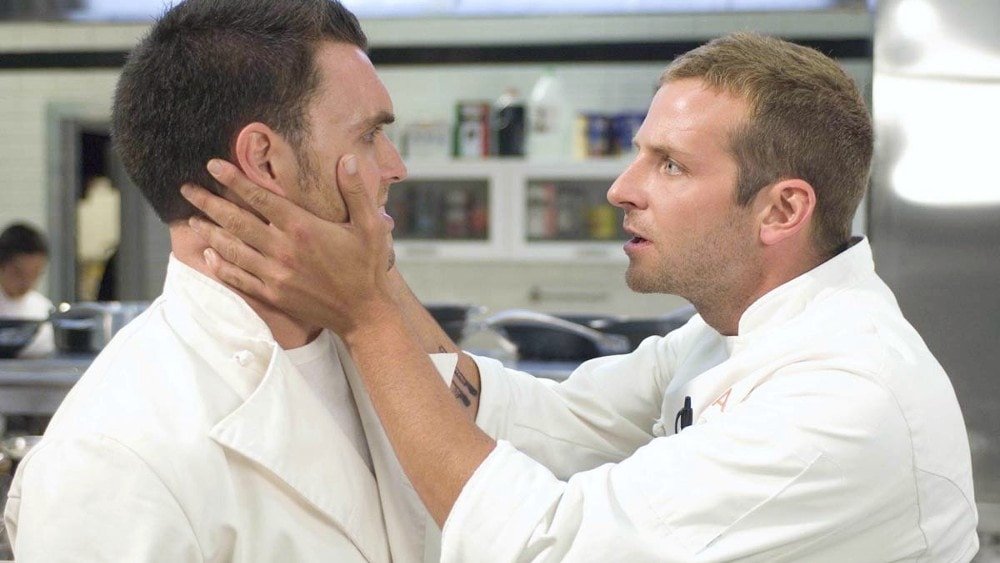 Kitchen Confidential is a sitcom from Fox that was based on Anthony Bourdain's New York Times bestselling book of the same name.
The main character, Jack Bourdain (played by Bradley Cooper), is based on Anthony himself!
Jack is a talented chef who had a great start to his career, but that success eventually led him down a bad path ending with him working at a tacky restaurant.
He gets a chance at redemption at a top restaurant in New York City, but it's conditional on him finding the staff and successfully hosting a 300-person event in 48 hours, so he scrambles to put together a crew of past colleagues.
Young & Hungry, Freeform (2014 – 2018)
Young & Hungry brings a bit of a different dynamic to the idea of a chef!
Where most of these shows show the chef working in a restaurant, Young & Hungry instead follow the story of a personal chef.
Josh Kaminski is a self-made tech guru and millionaire who hires Gabi Diamond, a young chef, to be his personal chef.
However, her failed trial dinner turns into a one-night stand, and the two attempt to navigate their continuing personal relationship both inside and outside of the kitchen.
Midnight Diner, MBS/Netflix (2009 – 2019)
The second foreign language series on the list is Midnight Diner, a Japanese anthology series centered around a small izakaya, similar to an after-work pub or bar, which is only open from midnight until 7 am, but is popular thanks to its food and the man serving it.
The chef is known only by the name of Master, and his menu offers very limited options.
To compensate, however, he offers his customers the option to order any dish they want and he will make it if he has the ingredients.
Midnight Diner tells the stories of his very varied customer base.
Oh My Ghost, tvN (2015)
South Korean rom-com drama series Oh My Ghost brings a small touch of the supernatural!
It follows Bongsun, a timid assistant chef who mostly keeps to herself while working at Sun Restaurant – despite her ability to see ghosts.
One day, one of these ghosts, Soonae, takes over her body as she believes only by losing her virginity will she be able to move on to the afterlife.
Bongsun becomes her vessel and her personality instantly changes as she gains Soonae's confidence, which catches the eye of her boss, star chef Sunwoo.
Godiva's, Bravo!/Citytv (2005 – 2006)
From Canada comes Godiva's, a comedy-drama that has been hailed as wildly successful amongst critics and praised for how well it depicted youth in the culinary industry.
The series title is also the name of the primary setting: a fictional modern and hip bistro located in the Yaletown district of Vancouver.
Over the show's two seasons, viewers witness the lives of ten of Godiva's employees, their personal lives, and how they balance this against their personal and professional relationships in the workplace.
Pie in the Sky, BBC1 (1994 – 1997)
Pie in the Sky is a British dramedy mixed with the police procedural genre, as the protagonist Detective Inspector Henry Crabbe is both a decorated member of the police force and an aspiring chef!
After working for the Westershire force for over two decades, Henry just wants to retire and put up his own restaurant.
However, twisted circumstances have him still working on cases from time to time while he runs his new Pie in the Sky restaurant with his wife Margaret.
Each episode shows Henry both as a detective and a chef!
Love Cuisine, SETTV/ETTV (2015 – 2016)
Yet another foreign language series is the Taiwanese rom-com drama entitled Love Cuisine!
It follows the personal relationships between two chefs who work at Si Ping High School as teachers.
In particular, Love Cuisine tells the story of Han Jie, a celebrity chef who owns a restaurant in Europe but returns home to fulfill a promise he once made to his late mentor.
There, he meets his mentor's daughter Xiao Rou who is also a culinary teacher.
The pair often go head to head and disagree on methods but soon discover that love may be the missing ingredient after all.
Rolling Love, China Television (2008)
Rolling Love is another Taiwanese rom-com series, even described as "outrageously funny"!
The series tells the story of a love triangle fueled by food and the feelings one simple dish can evoke from people.
Mi Qi Lin is a chef famed for one dish: a simple but flavorful egg fried rice, while Leng Lie is a culinary expert and executive chef of high caliber.
One woman named Xiao Shu crosses both of their paths, in Leng Lie's as his childhood sweetheart and in Mi Qi Lin's as a newcomer to his restaurant, where feelings begin to grow as well.
Feast of the Gods, MBC (2012)
South Korean rom-com drama Feast of the Gods follows the path of two talented female chefs making a name for themselves in the high society of royal Korean cuisine.
At its center is Arirang, the restaurant where it all takes place, and is known for employing only the best and most gifted chefs.
Enter Joonyoung, an unlikely candidate for the restaurant's successor, and her rival Injoo, the daughter of the current successor.
A twist of fate has the women switching identities and discovering just how entangled their pasts are and what they must do to reach the top.
Pasta, MBC (2010)
Pasta is another South Korean romantic comedy that plays host to several romantic relationships that get entangled in the kitchen.
Here we meet Yookyung, the last remaining female chef working at the Le Sfera restaurant, under the strict and watchful eye of Chef Choi Hyunwook.
The restaurant's president, Kim San, hires Saeyoung to co-head the kitchen with Hyunwook, but the competition between the two heads is personal as they are also exes!
Things turn more complicated when Yookyung develops feelings for Hyunwook while San has his sights set on her.
Wok Of Love, SBS TV (2018)
While the third South Korean series on this list of the best TV shows about chefs is SBS TV's Wok Of Love.
The series follows Soo Poong, a former star chef who now works at a small Chinese restaurant called Hungry Wok.
Hungry Wok isn't just a simple restaurant, it's owned by a former gangster Doo Chil-sung who opened it to give work to other former gang members.
So, when Seo Poong's wife cheats on him with the CEO of the hotel he used to work for, Seo Poong asks Doo Chil-sung for a job as a chef. After all, Hungry Wok sits across from said hotel, so Seo Poong hopes to exact his revenge by luring all of the hotel's customers to Hungry Wok with his mouth-watering meals.
The Knife and the Sword, TV Asahi (2013)
We're moving now to Japan with the nine-episode series The Knife and the Sword, which mixes in a bit of science fiction with drama!
A young chef named Ken who is trained in the French culinary arts wakes up one day having traveled back in time to the Sengoku period.
He has no memory of his previous life, but one thing remains – his memory of how to cook.
This leads him to become renowned in the region and a personal chef to royalty, as his dishes have never been heard of before.
Bob's Burgers, Fox (2011 – present)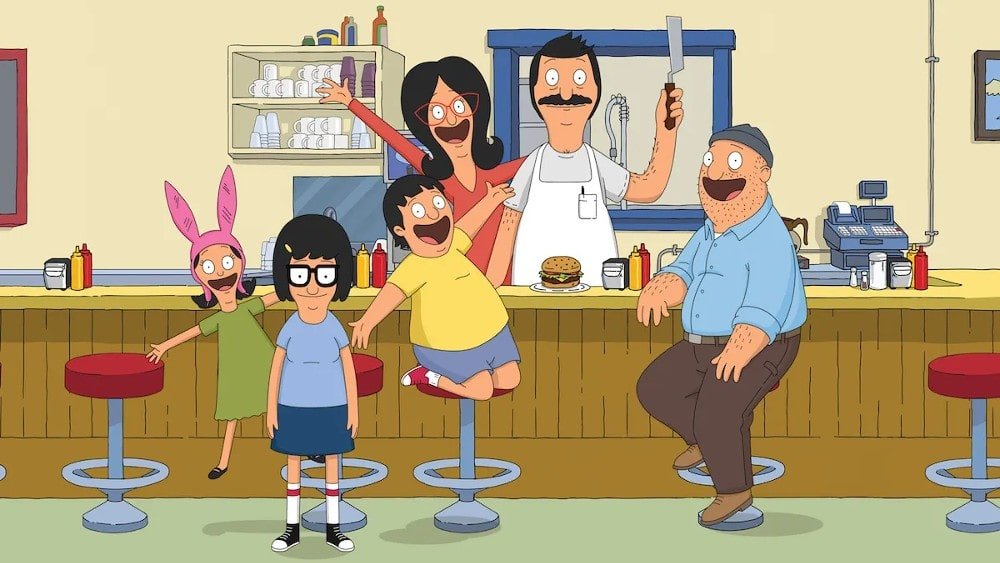 Bob's Burgers is one of the longest-running shows on our list, as it's currently on its 13th season!
This animated series follows burger joint owner Bob Belcher as he works hard to keep his restaurant up, running, and most importantly, thriving.
His creations are unique and delicious, but his wife Linda is still worried about them as they're still constantly on the brink of going out of business.
However, Bob is determined to beat the competition across the road and keep serving his amazing burgers.
Food Wars!: Shokugeki no Soma, TBS/Adult Swim (2015 – 2020)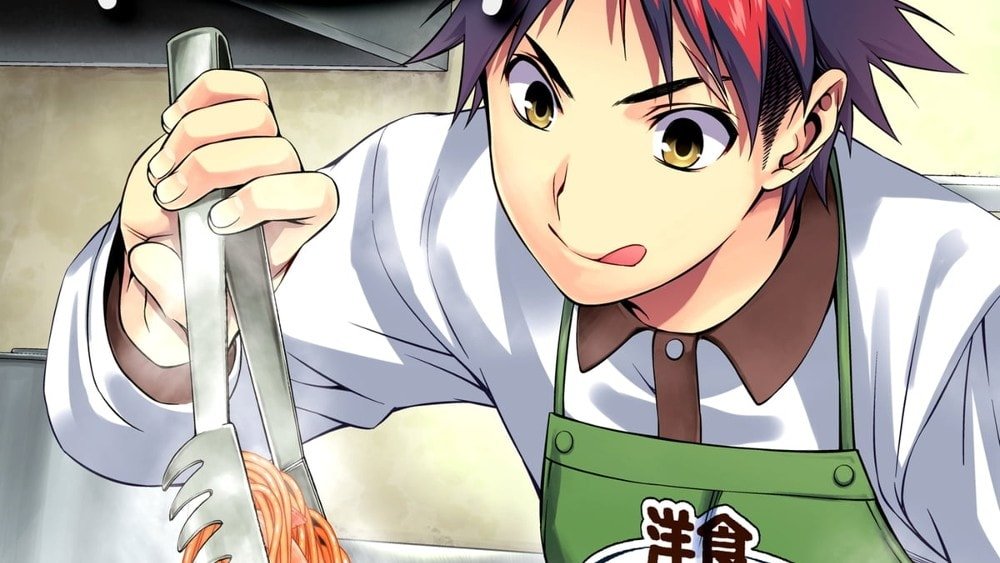 Another animated series is Food Wars!: Shokugeki no Soma, a Japanese anime based on the manga of the same name!
The primary setting is the Totsuki Culinary Academy, an elite school in Tokyo where only a few students graduate and move on to become the best chefs in the country.
At this school, the student council is authorized to hold a shokugeki, or food war, where the cook-off prizes can be anything from cooking utensils to leaving the school.
Enter Soma Yukihira, who enters the academy in order to prove himself and surpass his father's culinary skills.
Chowder, Cartoon Network (2007 – 2010)
The last on our list is Chowder, an animated series geared toward a younger audience.
The titular character, Chowder, is a young boy who aspires to become a chef and thus, apprentices for Chef Mung Daal's catering company.
His mentors Mung and Truffles Daal, and fellow employee Schnitzel, try to help Chowder hone his skills and become a chef. Still, his carefree antics and sometimes uncontrollable hunger often lead to disastrous results in the kitchen.