Thanksgiving is all about counting your blessings and giving thanks. So in this article, we are thanking the TV shows that gave us the most epic thanksgiving episodes by counting down the absolute best Thanksgiving TV episodes.
There will be old shows and newer ones. So on this list, you are almost guaranteed to find a Thanksgiving TV special to suit your mood and preference. Okay, now that that's out of the way, let's get into this!
Friends season 5 episode 8 "The One With All the Thanksgivings"
And we're starting this list off with the mother of all Thanksgiving episodes – Friends season 5 episode 8 titled "The One With All the Thanksgivings" also known as The Flashback episode.
Although Friends Thanksgiving episodes are notorious for being one of the most entertaining episodes of the season and therefore the show did 10 Thanksgiving specials over its ten-season run, we can't list all of them. That's a whole different article entirely. So we decided to single out the most popular and loved one of Friends Thanksgiving episodes – episode 508.
It not only gave us some funny Thanksgiving goodness like Joey and Monica with turkeys stuck on their heads. But also provided a ton of backstory of the Friends characters.
For example, the episode finally sheds some light on why Chandler hates Thanksgiving so much. This means that no matter if you are a hard-core Friends fan or just want to watch a funny and heartfelt Thanksgiving TV show episode, give this one a try! And who knows, it might even turn into a best Friends Thanksgiving episode marathon.
Cheers season 5 episode 9 "Thanksgiving Orphans"
Next up we have one of the two Cheers Thanksgiving episodes – season 5 episode 9 titled "Thanksgiving Orphans". An episode that has one of the most iconic TV scenes in TV history.
I'm talking about the epic food fight that occurred at the end of the episode, of course. I mean, what can be more rememberable than seven adults throwing Thanksgiving food all over the place? But the episode is more than just a food fight.
It's about friends coming together in a setting that's totally unfamiliar and in many ways uncomfortable to them but still managing to form a sort of a found family. Dysfunctional? Maybe. Messy? Definitely. But it's still a group of people that will have your back even if you didn't serve the perfect Thanksgiving dinner or you don't agree with them on most things. And that's what Cheers highlights in their Thanksgiving episode.
They show you that Thanksgiving doesn't have to be the perfect family affair that many paint it to be. It's about the people around you, not the implications of the holiday.
The Office season 7 episode 9 "WUPHF.com"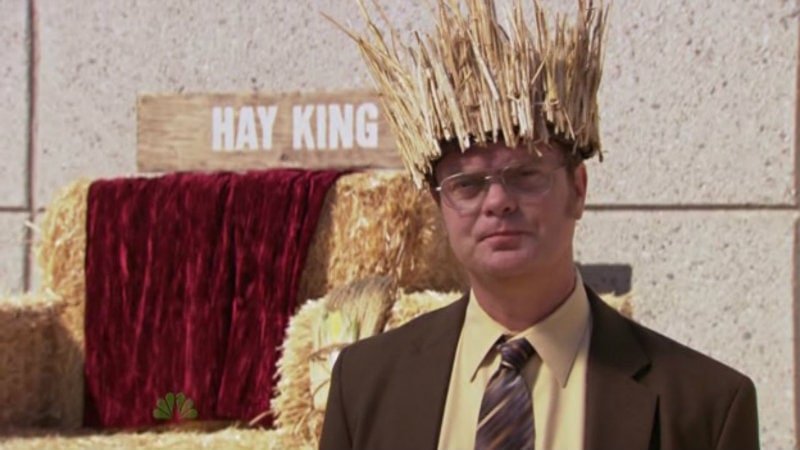 Then we have The Office Thanksgiving episode aka season 7 episode 9 titled "WUPHF.com". An episode that although takes place in and around an office is still surprisingly festive.
Albeit the name of the episode doesn't sound holiday-related, rather is named after Ryan's new internet venture, the episode actually features a ton of Thanksgiving or at least fall-themed shenanigans. Including a Hay Festival orchestrated by Dwight in the Dunder Mifflin's parking lot to fulfill his childhood dream of becoming a Hay King.
And there is nothing better to get you into the holiday spirit than a fall festival and a good hay maze to get lost in.
How I Met Your Mother season 3 episode 9 "Slapsgiving"
How I Met Your Mother is another comedy that is filled with inside jokes and slapsgiving is one of the most iconic ones. And that's what the show's season 3 episode 9 titled "Slapsgiving" is all about.
The episode tugged on a couple of different heartstrings. One was the ones of Robin and Ted who recently broke up and are attempting to be friends again. And the other – the first Thanksgiving hosting gig for the newly married couple Lily and Marshall.
However, the whole ordeal of Marshall executing the third slap of his and Barney's "slap bet" really took the proverbial cake of the episode. As well as birth the episode's title Slapsgiving along with a catchy tune to go with it known as The Slapsgiving Song. And who doesn't love a good slap song?
On top of that, if you enjoyed this episode, make sure to watch season 9 episode 14 as well because this episode, titled "Slapsgiving 2: Revenge of the Slap", is basically a Slapsgiving sequel.
Gilmore Girls season 3 episode 9 "A Deep-Fried Korean Thanksgiving"
We couldn't do a best Thanksgiving TV episodes list without mentioning the epic Gilmore Girls season 3 episode 9 titled "A Deep-Fried Korean Thanksgiving" which features a mother, a daughter, and four very different Thanksgiving dinners.
If you know Gilmore Girls then you know that Lorelai and Rory often will do anything to please those around them. Even if it means eating four turkeys in one evening. And that's exactly what the Gilmore duo does in this iconic Thanksgiving episode.
They juggle attending Emily and Richard's, Mrs. Kim's, Luke's as well as Sookie's Thanksgiving feasts. And manages to throw in some good old mother-daughter banter in the mix.
And really, is there anything better than to watch two fast-talking, fun-loving women traveling from one loved one's house to the next, eating turkey (or tofurkey in some instances), and having a good time?
New Girl season 2 episode 8 "Parents"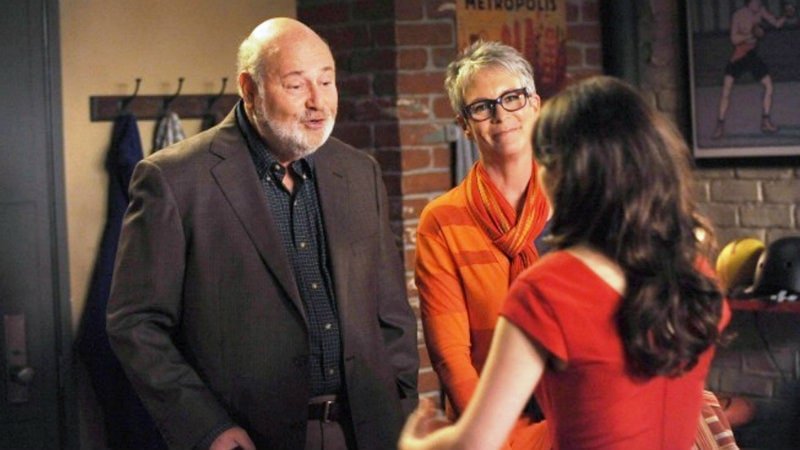 On to a slightly newer series, because New Girl is another show that just does Thanksgiving episodes right. Case and point – New Girl season 2 episode 8 titled "Parents".
Thanksgiving is a family affair through and through. But when your parents are divorced it's a different (and more awkward) story entirely.
The solution? Get your divorced parents back together. And that's precisely what Jess tries to accomplish during this New Girl Thanksgiving episode.
Although a Parent Trap-like plot isn't anything new it's still spectacular to watch when it works. And I'm not just talking about getting the parentals back together. But also the fact that Jess's parents were played by two magnificent actors Jamie Lee Curtis and Rob Reiner. Which made the whole ordeal that much more hilarious to watch. A true Thanksgiving miracle indeed.
Gossip Girl season 1 episode 9 "Blair Waldorf Must Pie"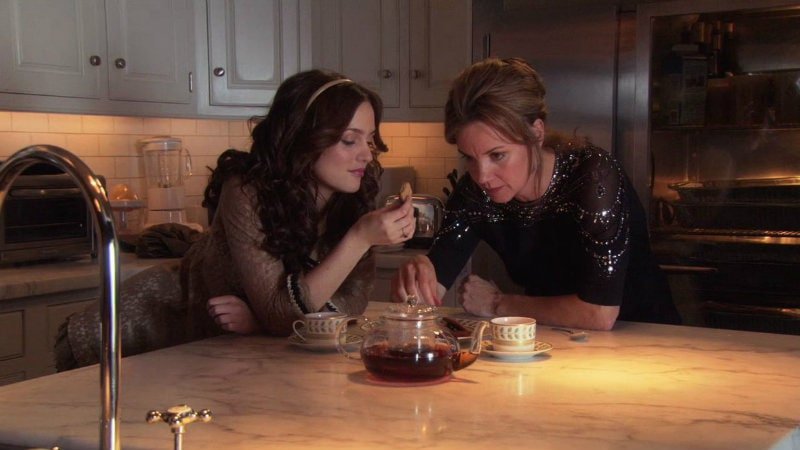 Another one of the staple Thanksgiving TV specials is Gossip Girl season 1 episode 9 titled "Blair Waldorf Must Pie". And true to the show's nature, this episode has drama, drama, drama.
What drama? Well, a fight between two of the show's main characters Blair Waldorf and Serena Van Der Woodsen of course. About Blair dating Chuck no less.
But the drama wasn't the only thing featured on this cleverly titled episode. It also featured some important flashbacks that gave us background on several characters.
This Gossip Girl Thanksgiving episode flashed back to a past Thanksgiving that showed us drunk Serena saved from getting hit by a taxi by Lonely Boy himself. As well as aired out the complicated history between Lily and Rufus. And it all ended with the Van Der Woodsens and the Humphrys spending the holiday together eating pie and reminiscing. As they say, all's well that ends well, or if you're living in the Gossip Girl world, at least the day ended on a somewhat positive note.
Modern Family season 6 episode 8 "Three Turkeys"
Next up, let's talk about another Thanksgiving classic in the form of Modern Family season 6 episode 8 titled "Three Turkeys". An episode about everyone avoiding Thanksgiving that somehow still feels very Thanksgiving-esque.
It's true, this episode was all about avoiding Thanksgiving dinner. And let's face it, we all have had that one holiday when we wanted nothing more than to avoid the holidays entirely. So I'm sure you will be able to relate to Gloria and Jay hiding in the bathroom of their home so they wouldn't have to participate in the Thanksgiving prep and the dinner that follows it after their trip gets canceled.
But if not, maybe you will get on board with Claire and Phil's frantic Thanksgiving cooking or Phil and Luke's turkey cooking fail. Whichever it might be, this Modern Family Thanksgiving episode is one for the books and will definitely brighten your day or night, whenever you decide to watch it.
This is Us season 1 episode 8 "Pilgrim Rick"
And finally, this list of the best Thanksgiving episodes of TV shows wouldn't be complete without a This is Us episode. Because we all know that This is Us is the ultimate in-the-feels show. So that's why we are including This is Us season 1 episode 8 titled "Pilgrim Rick".
Virtually every This is Us episode is full of tearjerker moments. But pair that with Thanksgiving traditions and you have yourself one of the greatest Thanksgiving television specials.
True to the nature of the Pearson family, their Thanksgiving traditions aren't your run-of-the-mill Thanksgiving feast. Pearson's Thanksgiving includes hot dogs and watching Police Academy 3. Weird? Maybe! But usually, the weirdest traditions are the ones that are cherished the most. Especially if they were born out of crazy situations like having to spend their Thanksgiving in a motel with nothing but hot dogs to eat.