If you're ever in the New England area of the United States, Maine isn't always high on the places to visit but there's actually plenty of places to visit and things to do.
This is especially if you're a bit of a foodie as it's known for its dishes with lowbush blueberries and seafood!
Considering its geography, Maine has vast coastlines and beautiful mountains.
Many tourists visit the state's parks, beaches, and harbors, where there are fascinating lighthouses and even some art museums further inland.
Maine is often described as "picturesque" because it's surrounded by beautiful scenery, so nature-lovers are bound to feel right at home.
In this list of the best TV shows set in Maine, hopefully, we'll be able to catch even a glimpse of this scenery, or a hint of the mouthwatering seafood cuisine they're known for!
Murder, She Wrote, CBS (1984 – 1996)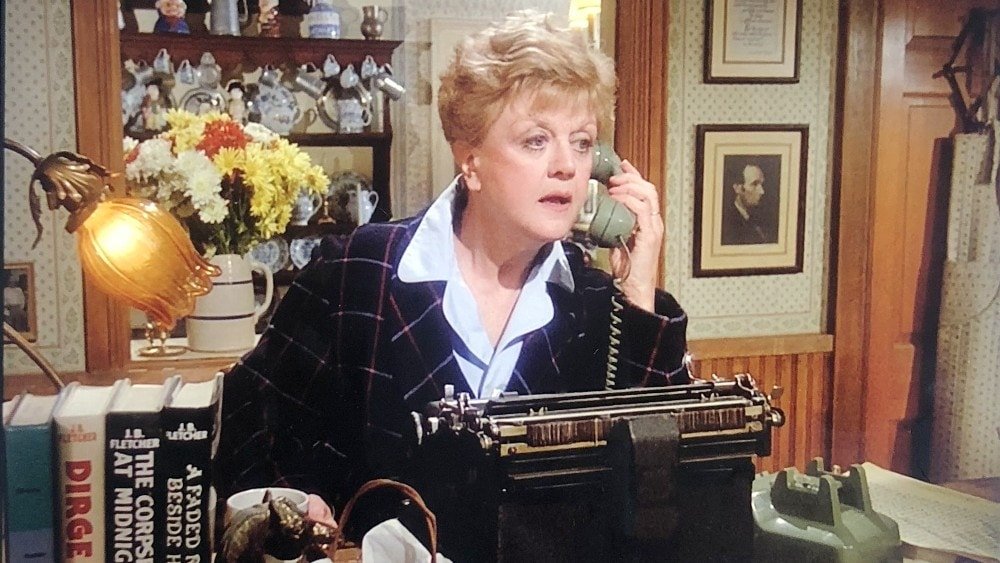 Murder, She Wrote is female detective-centric crime drama series that aired for 12 seasons, starring Angela Lansbury in the lead role of Jessica Fletcher.
Fletcher is a widow and retired English teacher who has built a successful second career for herself as a crime writer.
Despite the fame, she decides to remain living in the small coastal town of Cabot Cove in Maine.
Her experience as a writer and natural intuition allows her to provide crucial input into the investigations of local crimes, and law enforcement is usually (though not always) happy to have her assist on their cases.
Once Upon a Time, ABC (2011 – 2018)
ABC's Once Upon A Time is a fantasy drama series straight out of a fairy tale – literally.
Over its seven seasons, viewers meet various characters that they probably grew up with: Snow White, Rumplestiltskin, notorious pirate Captain Hook, Red Riding Hood, Merida, Elsa and Anna, the Evil Queen, Cinderella, and so much more!
The series takes place in the fictional seaside town of Storybrooke, Maine, and these fictional characters have been sent into the real world with their memories wiped by the Evil Queen.
It's up to a local, Emma Swan, and her son Henry, to break the curse and return everyone's memories.
Nancy Drew, The CW (2019 – present)
Across many generations, Nancy Drew has become a household name when it comes to the detective mystery genre!
There have been many adaptations of the famous eponymous series of novels, but the latest comes from The CW.
Nancy Drew is set in Horseshoe Bay, Maine, and has the titular character initially swearing off detective work after the loss of her mother and putting off college as a result.
However, when Nancy and her colleagues at the Claw, the restaurant where she now works, are caught up in an investigation involving the town socialite's murder, Nancy must put her detective cap back on to get them out of trouble.
The Family, ABC (2016)
We move from crime dramas to a thriller family drama with ABC's The Family, which places a political family from Maine at its front and center.
It primarily follows the Warrens, who experience something both miraculous and deeply suspicious: the return of their son Adam, who was kidnapped 10 years ago and presumed to be dead.
Family matriarch Claire Warren is also the "ambitious and manipulative" mayor of Red Pines, Maine, who uses Adam's return to fuel her campaign as she announces her candidacy for governor.
Claire is determined to maintain an image for her family, but secrets and dark truths about Adam's disappearance begin to rise to the surface.
Olive Kitteridge, HBO (2014)
Olive Kitteridge is a four-episode miniseries starring Frances McDormand in the titular role, and is based on the same-titled 2008 novel written by Elizabeth Strout.
The eponymous character is a retired teacher from the fictional town of Crosby, Maine; she's characterized as misanthropic, harsh, and critical.
Each episode covers a certain point in time over the span of 25 years and shows Olive's problems with mental illness and the effects that this has had on her and those around her: her kind husband Henry and their son, Christopher.
Bunk'd, Disney Channel (2015 – present)
As a spin-off of the Disney Channel series Jessie, Bunk'd features the same Ross children who were first introduced in the parent series but this time, they're campers and counselors at summer camp!
They've left their swanky New York City apartment to spend the summer at Camp Kikiwaka in Moose Rump, Maine, and it certainly takes some getting used to.
However, it's the camp where their parents met, and when tragedy strikes that could lead to its closure, the siblings convince their parents to purchase it and leave them in charge.
Dark Shadows, ABC (1966 – 1971)
You may be familiar with the 2012 Tim Burton reboot starring Johnny Depp, but Dark Shadows was originally a gothic soap opera that clocked over 1,200 episodes over its 6-year run!
The series follows the wealthy Collins family who live in Collinsport, Maine; all seems fairly normal until the appearance of Barnabas Collins, a vampire who has just escaped his 200-year imprisonment in a coffin and has decided to return to his family's mansion.
Now, supernatural creatures are regular visitors to their home, and the show follows their trials as Barnabas adjusts to "modern" life.
The Ghost & Mrs. Muir, NBC/ABC (1968 – 1970)
Based on the movie of the same name, in turn, based on the novel of the same name, The Ghost & Mrs. Muir is an American sitcom that follows the life of Carolyn Muir, a widow and writer, and, of course, the ghost that she can see.
More specifically, the ghost in question is Daniel Gregg, a sea captain who died in 1869 and who now haunts Gull Cottage in the fictional fishing village of Schooner Bay, Maine, the home that Carolyn rents along with her two children and housekeeper.
Wet Hot American Summer: First Day of Camp, Netflix (2015)
We love a good parody series, and the Wet Home American Summer franchise is no exception.
Netflix's First Day of Camp is the second installment following the titular film in 2001, though technically it serves as the prequel to the events in the movie.
The year is 1981, and campers and counselors alike are gearing up for what's meant to be the best summer of their lives at Camp Firewood in Maine.
What ensues is a parody of teen sex comedy filled with shenanigans behind the scenes of summer camp!
Wet Hot American Summer: Ten Years Later, Netflix (2017)
You guessed it, Wet Hot American Summer: Ten Years Later is the third installment in the aforementioned franchise and is set 10 years after the events in the movie!
A decade has passed since that eventful summer at Camp Firewood, and it's time for a reunion on the grounds where they all first met to catch up on how different their lives have become since then.
However, they receive the distressing news that the camp is about to be sold and together, they do everything they can to save it.
Maine-set TV series based on Stephen King's novels
Many of horror novelist Stephen King's works are based in and around Maine, so it's no surprise that several of the TV adaptations of his books have made it onto this list!
The Mist, Spike (2017)
The Mist is set in the town of Bridgeville, Maine, and the town's residents weren't in the least bit prepared for what was to come.
A mysterious mist slowly begins to settle over the town, reducing visibility drastically to just a few meters.
While they're trying to figure out where it's coming from, matters escalate when they realize the true danger inside the mist: anyone who enters it is attacked and killed, but they can't determine by what.
The residents gather in what they deem safe areas like a church and the mall, but is that enough to keep the mist at bay?
11.22.63, Hulu (2016)
King's 2011 novel 11/22/63 is the inspiration for this adaptation starring James Franco in the role of Jake Epping, an English teacher from Lisbon, Maine.
11.22.63 is, of course, a reference to one of the most pivotal moments in American history: the assassination of President John F. Kennedy on November 22, 1963.
The series begins when Jake is given an opportunity by his best friend Al Templeton to go back in time and prevent the assassination.
What neither of them expects, however, is Jake to form an attachment to the life he's built in the past.
Haven, Syfy/Showcase (2010 – 2015)
The title Haven is a reference to the show's fictional setting, in the small town of Haven, Maine; the series is based on King's 2005 novel The Colorado Kid.
In this town of Haven, a series of supernatural phenomena has hit twice before and it seems like it's happening again.
FBI Special Agent Audrey Parker happens to be in the area on a routine case, but she soon gets drawn into these supernatural happenings that they call "The Troubles".
One thing leads to another, and Parker discovers that her arrival in Haven may have been more personal than she thought.
The Stand, CBS All Access (2020)
The Stand is a remake of the 1994 adaptation, both based on King's 1978 novel of the same name.
It's set in a post-apocalyptic world where half the population was wiped out by a pandemic from a lethal strain of influenza (sounds almost too familiar right now, if you ask me!).
Now, the survivors flock to two central figures: Mother Abigail, and the notorious Randall Flagg, the 'Dark Man'.
The Stand is a look into the timeless and Biblical struggle between good and evil.
The Dead Zone, USA Network (2002 – 2007)
King's novel of the same name is the basis for The Dead Zone, a science fiction thriller that aired over 6 seasons.
It primarily follows Johnny Smith, a teacher from a small town in Maine, who falls into a coma for six years due to a car accident.
When he wakes up, he discovers that he can tap into the "dead zone" of his brain, which gives him the ability to have visions of the past and future that are triggered by touching objects or people.
Over time, he tries to use this ability to help law enforcement solve crimes.
Kingdom Hospital, ABC (2004)
Now, although Kingdom Hospital was developed for television by Stephen King, it's actually based on the novel The Kingdom by Lars Von Trier.
The titular fictional hospital is located in Lewiston, Maine, and is the site for many disturbing and "turbulent" occurrences among its staff and patients.
One patient, a psychic named Mrs. Druse, recruits the help of the handsome Dr. Hook to get to the bottom of the mystery about the ghosts who haunt the building.
Chapelwaite, Epix (2021 – present)
Chapelwaite is one of the newer shows on the list, and also one of the few adaptations of King's work that isn't also named after the inspiration; as a matter of fact, the basis is King's short story Jerusalem's Lot.
The series, which is set in the 19th century and has been renewed for a second season, introduces the Boone family as they've recently relocated to Preacher's Corners, Maine.
Family patriarch Captain Charles Boone has brought himself and his three kids there after the tragic death of his wife at sea, but the town and their ancestral home begin to reveal dark family secrets to haunt them.
Castle Rock, Hulu (2018 – 2019)
Castle Rock, Maine may be just a few square miles of seemingly inconsequential land, but it hides many a secret.
Over two seasons, Hulu's Castle Rock tells two separate stories that tie together in the Maine woodlands, each weaving a tale of darkness and mystery.
The characters are part of a multiverse created by King within this small town; each character is built on to craft beautiful stories that, frankly, are hard to describe but are quintessentially Stephen King – it's a must-watch for true fans of his work.
Storm of the Century, ABC (1999)
Lastly, Storm of the Century is another work from King that wasn't originally a novel or story, but a screenplay written for television.
King himself has called it his favorite amongst all TV adaptations of his work! With just 3 episodes, it's a quick watch.
Storm of the Century begins when a powerful storm hits Little Tall Island off the coast of Maine, and its residents are trapped when access in or out is cut off.
That's when murders and supernatural occurrences dawn upon them at the hands of a menacing stranger.