This article contains affiliate links. We may earn a small commission from qualifying purchases.
First responders are the everyday heroes that just don't get enough credit for the lifesaving acts that they perform daily. Most of the time, if you do try to thank or repay them, they'll just tell you "it's all part of the job". And that is the kind of heroism that we all need in our lives, to be honest.
They all experience a different kind of danger depending on the nature of their work. But let's take a look at the brave men and women at the forefront of one of the scariest threats to nature in recent times: firefighters.
In the last year alone, we saw wildfires burning across California and forest fires scorching the Amazon rainforest. Most recently, the bushfires that are still burning through Australia have caught the attention of the entire world.
When California was burning, the Australian firefighters flew in to help and now, the Americans are returning the favor. There have already been casualties amongst the firefighters fighting on our behalf and it is truly heartbreaking.
We thought that one way to honor them is to attempt to understand the extent of their job and the dangers that come with it through a collection of the best firefighter TV shows from the past and present.
Chicago Fire
Currently on its ninth season, Chicago Fire was the pioneer series in Emmy Award-winning producer Dick Wolf's Chicago franchise.
In the show, we are treated to a look into both the personal and professional lives of the firefighters, rescue squad, and paramedics in Firehouse 51 of the Chicago Fire Department. This includes Engine Company 51, Truck Company 81, Rescue Squad Company 81, Battalion 25, and Ambulance 61.
If you're not familiar with what all of this means, don't worry! Chicago Fire is the perfect show to get yourself acquainted.
NBC describes their relationship as an "extended family". And just like any family, Firehouse 51 has its share of drama and disagreements amongst themselves. At the end of the day, however, they always come together to serve and protect the citizens of Chicago.
With a collection of talented actors like Jesse Spencer (House), Lauren German (Lucifer), Alberto Rosende (Shadowhunters), and Taylor Kinney (The Vampire Diaries) among many others, it's easy to truly appreciate the hardships that these heroes go through in real life.
Once you're done binging Chicago Fire, get to know other first responders with Chicago P.D., and Chicago Med, as well as Chicago Justice.
Where to watch Chicago Fire:
Station 19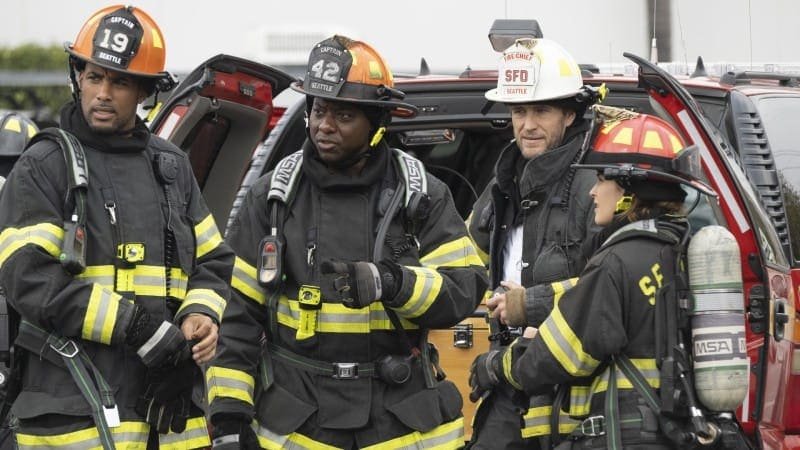 Station 19 is the spinoff we never knew we needed until it premiered in March 2018.
It has a lot to live up to though, spinning off from the 14th season of the hugely successful Grey's Anatomy. But it's doing a pretty good job so far. With Shonda Rhimes and Shondaland backing it, that comes as no surprise.
Based on the title, we know off the bat that this firefighter TV series follows the brave firefighters in Fire Station 19. And like its parent show, it's set in the heart of Seattle.
From the station's Captain down to the rookies on the team, Station 19 reflects the daily life – and loss – that the firefighters face in the busy city.
Naturally, we're treated to occasional guest appearances from Grey Sloan Memorial Hospital like Dr. Meredith Grey (Ellen Pompeo), Dr. Andrew DeLuca (Giacomo Gianniotti), and Dr. Maggie Pierce (Kelly McCreary).
Where to watch Station 19:
9-1-1
Fox's 9-1-1 doesn't just focus on firefighters in California, but also the police officers, dispatchers, and paramedics who work with them.
You may need to prepare yourself a little bit before each episode because these heroes find themselves in the most gut-wrenching, heart-stopping disasters. It is, after all, right on the coast of California.
To give you an idea, season 3, which premiered in September 2019, kicks off with a massive tsunami hitting Santa Monica. One can only imagine the horrific aftermath of something like this happening. But these first responders are called in to – hopefully – save the day.
Not only that, but 9-1-1 spins a narrative around the characters' personal lives and how this so often comes into play in their professional lives as well.
With the brilliant minds of Ryan Murphy, Brad Falchuk, and Tim Minear coupled with the acting chops of Angela Bassett (Black Panther), Peter Krause (Six Feet Under), and Jennifer Love Hewitt (Ghost Whisperer) 9-1-1 ticks all the boxes when it comes to action based on very real-life scenarios.
Where to watch 9-1-1:
9-1-1: Lone Star
9-1-1 is undoubtedly a hit on its own but its spin-off, 9-1-1: Lone Star proves to be an even match for the parent series. Because even though this new firefighter show premiered just last year, it's already and fan-favorite!
After the tragedy that struck Firehouse 126 in Austin, Texas, Captain Owen Strand (played by Rob Lowe) relocates with his son to help them rebuild their station from the ground up. After all, he's the only one in the country with that kind of experience. He had to do the same thing as the lone survivor of his station in Manhattan after the horrific events of 9/11.
Slowly, Strand manages to bring together a team of qualified professionals that include the chief paramedic, 9-1-1 call operator, and a whole new slew of new and experienced firefighters – including his son.
From the get-go, we already get a taste of the personal and professional demons that Strand has to deal with. One of which calls into question his mortality in a way completely different from the disasters he faces almost every day.
Where to watch 9-1-1: Lone Star
Rescue Me
In an unfortunate – and very real – similarity to 9-1-1: Lone Star, FX's Rescue Me tells the story of the central firefighter as he and those around him deal with the aftermath of the Twin Towers bombings on 9/11.
Premiering just three years after these events, Rescue Me received critical acclaim and accolades for how it tackled topics on depression, alcoholism, PTSD, homophobia, and grief and loss after the attacks.
Protagonist Tommy Gavin, played by Denis Leary (The Amazing Spider-Man), is a veteran firefighter in New York City and to say he has a troubled life is quite the understatement. Dealing with survivor's guilt and PTSD due to the loss of several dozen colleagues on 9/11, Gavin relapses into alcoholism.
While he is undoubtedly brave and has a passion for saving lives, his less-than-pleasant personality means he doesn't have the best relationship with his family or his colleagues. As we get to know him better throughout Rescue Me's seven seasons, however, we start to understand the reasons for his hardened outlook on life.
Though no longer on the air, having ended back in 2011, you should still watch Rescue Me if you love firefighter shows.
Where to watch Rescue Me
Third Watch
Taking it even further back, Third Watch first premiered more than 20 years ago back in September 1999 and ran for six seasons on NBC until May 2005.
Because this was still the era of roughly two dozen-episode seasons, that amounts to a whopping 132 episodes for you to binge (with the first three available on Amazon Prime Video as well).
Originally conceived as a show centered on cops and paramedics (born from the producers' works on ER and personal experience as a former cop), it eventually expanded to include a cast of firefighters as well. The show's title came from a very specific aspect of the show's setting: all the characters worked during the 3 pm to 11 pm shift, also known as the 'third watch'.
Because Third Watch's third season premiered shortly after 9/11, the season opener featured real-life interviews with NYPD and FDNY responders who were called in to risk their lives that day to help the victims and survivors.
Where to watch Third Watch
Tacoma FD
What differentiates truTV's Tacoma FD from the other firefighter series is the complete comedic spin it adopts in both narrative and delivery.
Created by and starring Kevin Heffernan and Steve Lemme from the Broken Lizard comedy group, the hilarity starts with their characters' names: Chief McConky and Captain Penisi!
Contrary to the drama and tear-jerking scenarios that unfold in the other shows on this list, these firefighters have a lot of free time on their hands – thanks in large part to their being in one of the wettest cities in America: Tacoma.
When the fires go out before they can even get to them, these men find other things to do with their time that often put them in mischievous and troublesome situations.
Despite the antics, the creators wanted to make sure that their characters were still highly capable professionals. Heffernan comes from a family of firefighters, after all, and many of the episodes are loosely based on real experiences from his cousin!
Thankfully, Tacoma FD has been renewed for a third season which will likely premiere later this year.
Where to watch Tacoma FD
Emergency!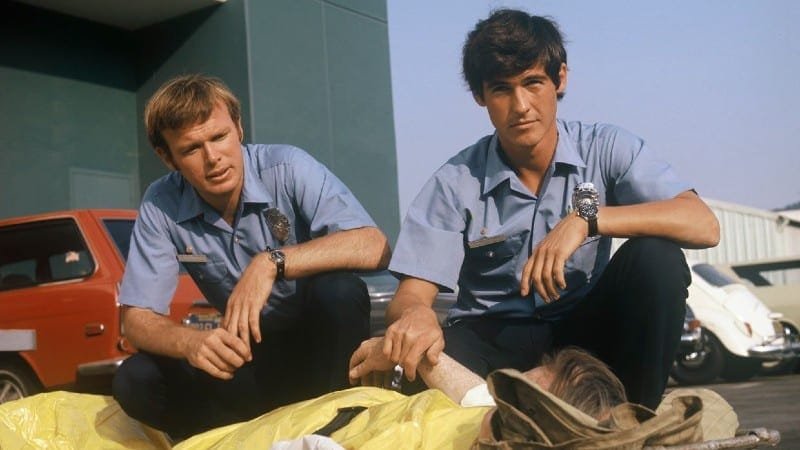 In NBC's Emergency!, we go back to Los Angeles and way back in time to the 70s.
Though the show was primarily centered around paramedics and the medical staff in the fictional LA hospital, the two main characters are both paramedics and firefighters from Squad 51 of the LA County Fire Department.
Despite being fictional, most of the rescues conducted on this firefighter TV series were based on real stories from a real fire station's logbook. To lend to the realistic portrayal, the actors even had to undergo basic paramedic training!
At the time the series aired from 1972 to 1977, becoming a paramedic was just starting to gain popularity as a profession. Emergency! was so iconic that it has been credited with influencing and expanding the EMS services in America. When it first aired, there were only 12 paramedic units in North Amerie. But after the finale, several states had already expanded their services.
The show's influence is so significant that after it ended, there were six additional TV movies based on the show. And some of the show's memorabilia have even made their way into the National Museum of American History and the Los Angeles County Fire Museum.
Where to watch Emergency!
London's Burning
The last two shows on our list move across the Atlantic.
The first, ITV's London's Burning, moves to the fictional Blackwall fire station and its members of the London Fire Brigade. It premiered in 1988 and ran for 14 seasons before concluding in 2002. And was based on the original two-hour TV movie of the same name.
Though the original movie used dark humor to make light of serious issues, the firemen series packed on more drama as the firefighters dealt with the job's difficulties, the psychological hardships they experience after particularly traumatic disasters, and the death of colleagues while on the job.
If you're interested in seeing how differently or similarly British firefighters respond to the disasters on their side of the world, London's Burning is the show for you!
Where to watch London's Burning
The Smoke
Lastly, Sky1's The Smoke is an honorable mention that we just couldn't leave out of this list of the best firefighter shows. It ran for just one season back in 2014 but was canceled due to low viewership numbers despite the show's warm reception.
Much like London's Burning, the show features a group of London firefighters called the White Watch and their "high-adrenaline adventures". Not only that, but the season featured an ongoing plotline that was packed with enough drama and revenge to have viewers craving for more!
Sadly, though there was a pretty satisfying conclusion to the revenge, the open plotlines will never be resolved.
Where to watch The Smoke
Another too-soon-canceled British firemen TV show that you may want to check out is Steel River Blues, which replaced London's Burning after its end. However, like The Smoke, it was canceled after one season.
Hopefully, these best firefighter TV shows will only grow your appreciation for firefighters, paramedics, police officers, and other first responders!