First responders are the everyday heroes that just don't get enough credit for the lifesaving acts that they perform daily.
Most of the time, if you do try to thank or repay them, they'll just tell you "it's all part of the job". And that is the kind of heroism that we all need in our lives.
They experience different kinds of danger daily. So, let's take a look at the brave men and women at the forefront of some of the scariest threats that there are: firefighters.
---
No time to read the full article? Then check out our video on the 10 best TV shows about firefighters:
---
Many people are under the assumption that firefighters are trained to put out fires, and that's it. What we don't know is that most of the time, firefighters are also trained as paramedics and EMTs.
That's why in some cases of medical emergencies, a fire truck will show up to the rescue instead of an ambulance. Clearly, there's more to them than meets the eye!
We thought what better way to honor firefighters as the heroes that they are and truly look at what goes into being a firefighter than to put together a collection of the best firefighter TV shows from the past and present.
These scripted, documentary, and reality shows about firefighters will hopefully shed some light on the reality of their jobs as heroes and lifesavers.
Best Scripted Firefighter TV Shows
Chicago Fire, NBC (2012 – present)
Chicago Fire was the pioneer series in Emmy Award-winning producer Dick Wolf's Chicago franchise.
In the show, we are treated to a look into both the personal and professional lives of the firefighters, rescue squad, and paramedics in Firehouse 51 of the Chicago Fire Department. This includes Engine Company 51, Truck Company 81, Rescue Squad Company 81, Battalion 25, and Ambulance 61.
If you're not familiar with what all of this means, don't worry! Chicago Fire is the perfect show to get yourself acquainted.
NBC describes their relationship as an "extended family". And just like any family, Firehouse 51 has its share of drama and disagreements amongst themselves. At the end of the day, however, they always come together to serve and protect the citizens of Chicago.
With a collection of talented actors like Jesse Spencer (House), Lauren German (Lucifer), Alberto Rosende (Shadowhunters), and Taylor Kinney (The Vampire Diaries) among many others, it's easy to truly appreciate the hardships that these heroes go through in real life.
Once you're done binging Chicago Fire, get to know other first responders with Chicago P.D., and Chicago Med, as well as Chicago Justice.
Where to watch Chicago Fire:
Station 19, ABC (2018 – present)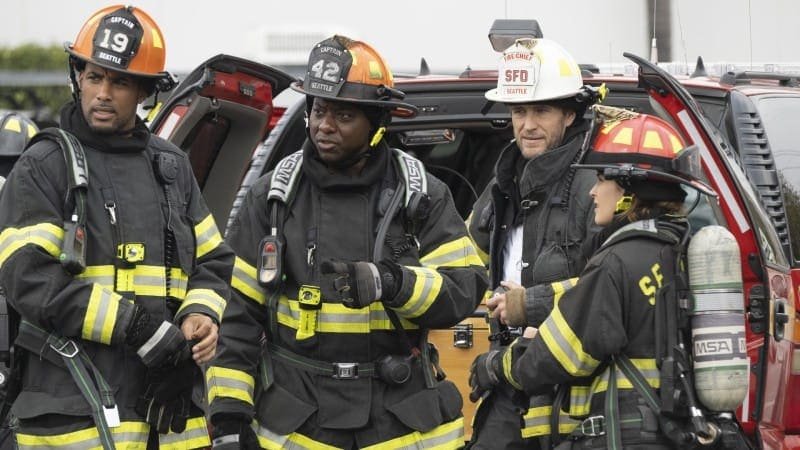 Station 19 is the spinoff we never knew we needed until it premiered in March 2018.
It has a lot to live up to though, spinning off from the 14th season of the hugely successful Grey's Anatomy. But it's doing a pretty good job so far. With Shonda Rhimes and Shondaland backing it, that comes as no surprise.
Based on the title, we know off the bat that this firefighter TV series follows the brave firefighters in Fire Station 19. And like its parent show, it's set in the heart of Seattle.
From the station's Captain down to the rookies on the team, Station 19 reflects the daily life – and loss – that the firefighters face in the busy city.
Naturally, we're treated to occasional guest appearances from Grey Sloan Memorial Hospital like Dr. Meredith Grey (Ellen Pompeo), Dr. Andrew DeLuca (Giacomo Gianniotti), and Dr. Maggie Pierce (Kelly McCreary).
Where to watch Station 19:
9-1-1, Fox (2018 – present)
Fox's 9-1-1 doesn't just focus on firefighters in California, but also the police officers, dispatchers, and paramedics who work with them.
You may need to prepare yourself a little bit before each episode because these heroes find themselves in the most gut-wrenching, heart-stopping disasters. It is, after all, right on the coast of California.
To give you an idea, season 3, which premiered in September 2019, kicked off with a massive tsunami hitting Santa Monica. One can only imagine the horrific aftermath of something like this happening. But these first responders are called in to save the day.
Not only that, but 9-1-1 spins a narrative around the characters' personal lives and how this so often comes into play in their professional lives as well.
With the brilliant minds of Ryan Murphy, Brad Falchuk, and Tim Minear coupled with the acting chops of Angela Bassett (Black Panther), Peter Krause (Six Feet Under), and Jennifer Love Hewitt (Ghost Whisperer) 9-1-1 ticks all the boxes when it comes to action based on very real-life scenarios.
Where to watch 9-1-1:
9-1-1: Lone Star, Fox (2020 – present)
9-1-1 is undoubtedly a hit on its own but its spin-off, 9-1-1: Lone Star proves to be an even match for the parent series.
After the tragedy that struck Firehouse 126 in Austin, Texas, Captain Owen Strand (played by Rob Lowe) relocates with his son to help them rebuild their station from the ground up. After all, he's the only one in the country with that kind of experience. He had to do the same thing as the lone survivor of his station in Manhattan after the horrific events of 9/11.
Slowly, Strand manages to bring together a team of qualified professionals that include the chief paramedic, 9-1-1 call center operator, and a whole new slew of new and experienced firefighters – including his son.
From the get-go, we already get a taste of the personal and professional demons that Strand has to deal with. One of which calls into question his mortality in a way completely different from the disasters he faces almost every day.
Where to watch 9-1-1: Lone Star:
Fire Country, CBS (2022 – present)
CBS's new series Fire Country brings us a different take on the firefighter drama.
Starring SEAL Team's Max Thieriot, Fire Country follows Bode Donavan, a young convict midway through his five-year prison sentence, who signs up for an unconventional prison-release firefighting program.
In exchange for a reduced sentence, Bode and his fellow convicts will help Northern California firefighters fight unpredictable and often devastating wildfires.
But little does Bode know that he will be paired up with elite firefighters from his hometown, including former friends and his father Vince, the same town where all his troubles began.
Where to watch Fire Country:
Rescue Me, FX (2004 – 2011)
In an unfortunate – and very real – similarity to 9-1-1: Lone Star, FX's Rescue Me tells the story of the central firefighter as he and those around him deal with the aftermath of the Twin Towers bombings on 9/11.
Premiering just three years after these events, Rescue Me received critical acclaim and accolades for how it tackled topics on depression, alcoholism, PTSD, homophobia, and grief and loss after the attacks.
Protagonist Tommy Gavin, played by Denis Leary (The Amazing Spider-Man), is a veteran firefighter in New York City and to say he has a troubled life is quite the understatement. Dealing with survivor's guilt and PTSD due to the loss of several dozen colleagues on 9/11, Gavin relapses into alcoholism.
While he is undoubtedly brave and has a passion for saving lives, his less-than-pleasant personality means he doesn't have the best relationship with his family or his colleagues. As we get to know him better throughout Rescue Me's seven seasons, however, we start to understand the reasons for his hardened outlook on life.
Though no longer on the air, having ended back in 2011, you should still watch Rescue Me if you love firefighter shows.
Where to watch Rescue Me:
Third Watch, NBC (1999 – 2005)
Taking it even further back, Third Watch first premiered more than 20 years ago back in September 1999, and ran for six seasons on NBC until May 2005.
Because this was still the era of roughly two-dozen episode seasons, that amounts to a whopping 132 episodes for you to binge (with the first three available on Amazon Prime Video as well).
Originally conceived as a show centered on cops and paramedics (born from the producers' works on ER and personal experience as a former cop), it eventually expanded to include a cast of firefighters as well. The show's title came from a very specific aspect of the show's setting: all the characters worked during the 3 pm to 11 pm shift, also known as the 'third watch'.
Because Third Watch's third season premiered shortly after 9/11, the season opener featured real-life interviews with NYPD and FDNY responders who were called in to risk their lives that day to help the victims and survivors.
Where to watch Third Watch:
Tacoma FD, truTV (2019 – present)
What differentiates truTV's Tacoma FD from the other firefighter series is the complete comedic spin it adopts in both narrative and delivery.
Created by and starring Kevin Heffernan and Steve Lemme from the Broken Lizard comedy group, the hilarity starts with their characters' names: Chief McConky and Captain Penisi!
Contrary to the drama and tear-jerking scenarios that unfold in the other shows on this list, these firefighters have a lot of free time on their hands – thanks in large part to their being in one of the wettest cities in America: Tacoma.
When the fires go out before they can even get to them, these men find other things to do with their time that often put them in mischievous and troublesome situations.
Despite the antics, the creators wanted to make sure that their characters were still highly capable professionals. Heffernan comes from a family of firefighters, after all, and many of the episodes are loosely based on real experiences from his cousin!
Where to watch Tacoma FD:
Emergency!, NBC (1972 – 1977)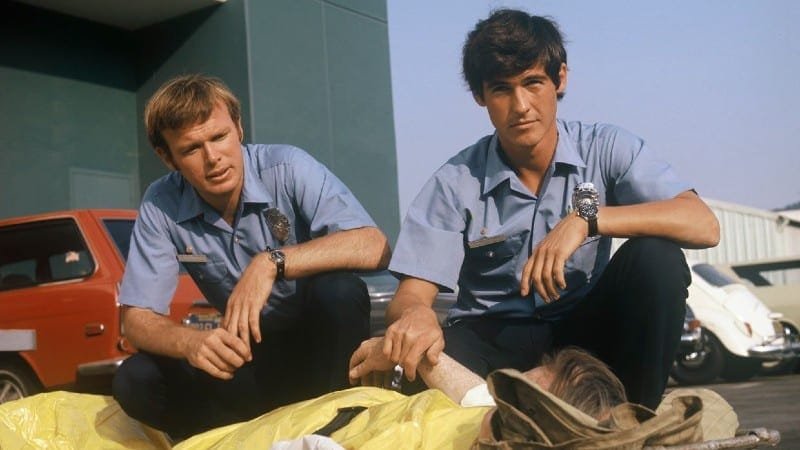 In NBC's Emergency!, we go back to Los Angeles and way back in time to the 70s.
Though the show was primarily centered around paramedics and the medical staff in the fictional LA hospital, the two main characters are both paramedics and firefighters from Squad 51 of the LA County Fire Department.
Despite being fictional, most of the rescues conducted on this firefighter TV series were based on real stories from a real fire station's logbook. To lend to the realistic portrayal, the actors even had to undergo basic paramedic training!
At the time the series aired from 1972 to 1977, becoming a paramedic was just starting to gain popularity as a profession. Emergency! was so iconic that it has been credited with influencing and expanding the EMS services in America. When it first aired, there were only 12 paramedic units in North Amerie. But after the finale, several states had already expanded their services.
The show's influence is so significant that after it ended, there were six additional TV movies based on the show. And some of the show's memorabilia have even made their way into the National Museum of American History and the Los Angeles County Fire Museum.
Where to watch Emergency!:
Code Red, ABC (1981–1982)
Code Red was a short-lived TV show that aired for one season on ABC.
Produced by the legendary American film and television producer and director Irwin Allen, Code Red again takes us to Los Angeles where we follow Los Angeles Fire Department Battalion Chief Joe Rorchek, his family as well as the firemen under his command.
Many shows on this list have proven that firehouses often are like big extended families. But in the case of Code Red and the show's main character Chief Rorchek, that is especially true since two of his elder sons Ted and Chris work as firefighters in the same house as their dad. While Rorchek's young son Danny already is a member of the Firefighter Explorers organization dreaming of becoming a firefighter one day just like his dad and brothers.
What's more, Code Red is also great because it features the story of Haley Green, the first female firefighter in the LAFD who serves under Chief Rorchek. As well as many interesting stories since Station 1, the firehouse that the show is set in, is also equipped with a fireboat and a helicopter piloted by Chief's son Chris.
So if you want a show to binge fairly quickly that features all the things that we love about firefighter dramas – daring rescues, suspenseful stories, and family – then Code Red is a definite must-watch.
Where to watch Code Red:
Firehouse, ABC (1974)
Speaking of short-lived ABC TV shows about firefighters, we also have Firehouse which aired for 13 episodes in 1974.
Firehouse follows the lives and adventures of a group of firefighters in Los Angeles as they responded to emergencies and tackled personal struggles.
The series starred James Drury as Captain Spike Ryerson and Richard Jaeckel as firefighter Hank Myers, among others.
The show was known for its realistic portrayal of firefighting and its emphasis on the human drama behind the action.
Despite receiving critical acclaim, Firehouse only lasted one season, however, it remains a cult favorite among fans of classic television dramas.
London's Burning, ITV (1988 – 2002)
The next three shows on our list move across the Atlantic.
The first, ITV's London's Burning, moves to the fictional Blackwall fire station and its members of the London Fire Brigade. It premiered in 1988 and ran for 14 seasons before concluding in 2002. And was based on the original two-hour TV movie of the same name.
Though the original movie used dark humor to make light of serious issues, the firemen series packed on more drama as the firefighters dealt with the job's difficulties, the psychological hardships they experience after particularly traumatic disasters, and the death of colleagues while on the job.
If you're interested in seeing how differently or similarly British firefighters respond to the disasters on their side of the world, London's Burning is the show for you!
Where to watch London's Burning:
The Smoke, Sky1 (2014)
Sky1's The Smoke is a show that we just couldn't leave out of this list of the best firefighter shows.
It ran for just one season back in 2014 but was canceled due to low viewership numbers despite the show's warm reception.
Much like London's Burning, the show features a group of London firefighters called the White Watch and their "high-adrenaline adventures".
Not only that, but the season featured an ongoing plotline that was packed with enough drama and revenge to have viewers craving for more!
Sadly, though there was a pretty satisfying conclusion to the revenge, the open plotlines will never be resolved.
Where to watch The Smoke:
Steel River Blues, ITV (2004)
And another too-soon-canceled British firemen TV show that you may want to check out is Steel River Blues, which replaced London's Burning after its end.
However, like The Smoke, it was canceled after one season and just 7 episodes.
Steel River Blues followed the Blue Watch, a group of firefighters based in Middlesbrough, North Yorkshire.
And gave us a look into both the firefighters' professional and private lives.
Where to watch Steel River Blues:
Fireflies, ABC (2004)
Finally, we move to the other side of the world with Fireflies, an Australian series about firefighters that aired for 1 season and 22 episodes in 2004 on Australia's national broadcaster – Australian Broadcasting Corporation (ABC).
Set in the rural town of Lost River, Fireflies centers on Lost River's volunteer fire service and its members.
In a town with a population of 487, everybody knows everyone else's business.
And since Lost River is experiencing the hottest and driest summer in decades, it's no wonder the town's firefighters have their work cut out for them. Especially, Perry and Lill, two city dwellers who just moved to town.
Where to watch Fireflies:
Fireworks of My Heart (2023)
The only foreign-language series we'll mention on this list is the Chinese romance drama Fireworks of My Heart.
Based on the web novel Waiting for You in a City by Jiu Yue Xi, Fireworks of My Heart (also known as My Fireworks on Earth) follows fire chief Song Yan as he reconnects with his childhood best friend Xu Qin, who has become an emergency doctor.
After their families began disapproving of their opposite-gender friendship, Song Yan and Xu Qin were forced apart. But ten years later, the two meet again on the job.
Will they be able to work through the obstacles in their newly reestablished relationship, or will their encounter be as short as the last?
Where to watch Fireworks of My Heart:
Best Documentary and Reality Firefighter TV Series
Cal Fire, Discovery Channel (2021)
The first show on our list takes us to one of the areas in the world most prone to wildfires: California.
2020 was one of the most devastating wildfire seasons for the state, truly giving the folks over at the California Department of Forestry and Fire Protection a hell of a year trying to keep the damage to a minimum. Cal Fire is at the forefront of enforcing fire and forest laws as well as responding to these wildfires when they break out.
The Discovery Channel series Cal Fire is a six-episode documentary miniseries that premiered just this January 2021.
The show follows various members of Cal Fire, described as "the largest emergency force in the country", and gives us a direct look at not only the destruction caused by the wildfires but also how the thousands of firefighters come together to contain them.
Where to watch Cal Fire:
Live Rescue, A&E (2019 – present)
The first spin-off of A&E's Live series franchise comes with Live Rescue, a reality series hosted by Matt Iseman (American Ninja Warrior).
Preceding Live Rescue was the original Live PD and its various spin-offs centering on police officers, but Live Rescue is the first to shift focus to a different branch of first responders: firefighters and emergency response teams.
Similar in format to the parent series, Live Rescue follows live-action crews who are doing ride-alongs with fire departments and rescue squads across the entire country.
Given that, it really provides a first-hand look into how frantic and intense these situations can be, not to mention how quick on their feet these heroes are when facing these emergencies.
Live Rescue is currently awaiting its fourth season but has its own spin-offs (Live Rescue: Rewind and Live Rescue: Emergency Response) that feature more behind-the-scenes footage and interviews!
Where to watch Live Rescue: Emergency Respons:
Firehouse USA: Boston, Discovery Channel (2005)
Next on our list is another gem from the Discovery Channel, though sadly a great one that only aired for one season of eleven episodes.
Firehouse USA: Boston focused on the Boston Fire Department; more specifically, the brave firefighters of Engine Company 37 and Ladder Company 26, both of which were headquartered on Huntington Avenue, Boston.
Regarded as one of the busiest fire stations in the city, the crew always had their hands full, and Firehouse USA: Boston does a stellar job in capturing the realism of their jobs while providing a refreshingly informative perspective for the viewers.
The show gives insight into various rescue techniques and the technicalities involved, information on common issues they encounter, as well as commentaries from the crew themselves as to how the job affects them and other aspects of their personal lives.
Where to watch Firehouse USA: Boston:
Fire Chasers, Netflix (2017)
We're heading back to California with this environmental documentary miniseries entitled Fire Chasers, a Netflix original produced by actor Leonardo DiCaprio.
Similar to Cal Fire, the series takes a look into the wildfires that raged during California's 2016 fire season.
Throughout the show's four episodes, viewers are taken deep within the fires themselves through on-helmet cameras that the firefighters wear as they respond to emergencies and keep the fires under control.
Not only do we see the blaze from afar, but we also see what the responders see whether they're under flame-retardant tarps in the flames or dousing the flames from their trucks.
Interspersed with this is on-the-ground footage of how Cal Fire implements their laws in order to show that their job to protect the forests and the people go beyond just the legwork of emergency response.
Where to watch Fire Chasers:
Lives on Fire, OWN (2012)
Firefighting is a male-dominated field, but Lives on Fire is a six-episode documentary miniseries that shows us just how much women can excel in the industry as well.
The series follows four very different powerhouse women who battle some of the most dangerous fires in Riverside County, California, all while balancing their personal lives against the struggles of being in a male-dominated workplace.
These four women are Rosanne Grier, a fifth-year firefighter pushing to become permanent; Nica Vasquez, a fire apparatus engineer with 15 years of service under her belt; Michele Dyck, a seven-year fire apparatus engineer veteran who has recently transferred to an area known for cliff and open water rescues; and Diley Greiser, also a seven-year firefighter and paramedic.
Nightwatch, A&E (2015 – present)
A&E Network brings another documentary series to our list with Nightwatch, this time taking us to the streets of New Orleans during the midnight to 4 am night shift throughout all of its six seasons so far.
We follow the brave men and women who keep the city safe, learning more about their work on the ground and behind the scenes – both the way they handle the emergency response as well as their professional relationships with new partners, colleagues, and captains.
What's great about Nightwatch is the broad range of jobs we get to witness throughout all the episodes, as there's equal exposure to the various aspects of being a firefighter: combating fires and natural disasters, medical emergencies, and street violence.
Where to watch Nightwatch:
LA Fire & Rescue, NBC (2023)
This next show on our list is one that premiered just recently.
Award-winning producer Dick Wolf is back with another spectacular show in the docuseries entitled LA Fire and Rescue.
Wolf and the production crew for the show have been granted access to the Los Angeles County Fire Department, allowing them to tell their viewers more about the heroes that make their ranks.
So, we get to see the inner workings of the Los Angeles County Fire Department and experience real calls that these heroes deal with on a daily basis.
Where to watch LA Fire & Rescue:
First In (2008)
First In is a ten-episode documentary series that follows in a similar vein to a few others on the list, particularly in format.
Of course, just because there are these similarities, that doesn't take away from the fascinating stories told in each episode. No one fire is the same in management and consequence, and no one firefighter experiences the same struggles with professional and personal life.
Fire In, narrated by the actor and singer Tyrese Gibson (best known for his role in the Fast and Furious franchise), follows the lives of the firefighters and paramedics based in Compton, where their job of responding to fire and medical emergencies is interspersed with the difficulties of crime violence and their personal aspirations to move up the ranks.
FireHouse TV (2004)
Most of the time when we see firefighters on the scene, we can't really see who they are. They have all their protective gear on and even on the news, we see them in action but rarely see them able to stop long enough to give any statements.
FireHouse TV changes that a little and uses a different perspective from what we've seen so far.
While others focus mostly on the firefighters while they're at work and battling flames, FireHouse TV shows us a little more than that.
Throughout the episodes, the masks are lifted and we meet various firefighters as the show spends a full 24-hour shift shadowing them whether they're taking a break at their station or off on an emergency call.
Ryan Sutter, one of the most well-known firefighters (known also for The Bachelorette and American Ninja Warrior), hosts the program.