Oh, the drama of being a teenager!
As hormones surge and our search for our identity begins, life becomes a rollercoaster of emotions, questionable fashion choices, and sometimes regrettable decisions.
The young adult genre has always been a very creative space where coming-of-age is explored in a myriad of metaphors, whether that is a supernatural awakening, a harsh encounter with social constructs, or even a heart feeling hurt for the first time.
This age presents so many nuanced emotions and themes that writers and readers are often drawn to this genre to make sense of the world around them.
Of course, it's not all serious – some YA books are a flight of imagination that allows their audience to live out dreams and fantasies on the page.
With young adults being such proliferate consumers of media, it goes without saying that these novels have found their way to our television screens.
So, we decided to channel our inner teen detective and find the best TV shows based on YA novels.
The Summer I Turned Pretty, Amazon Prime (2022 – present)
Few seasons inspire as much YA drama as the summer, the season of frivolity, where all care about school and real life is put on hold in search of adventure.
In The Summer I Turned Pretty, based on the trilogy of novels by Jenny Han, we meet Isabel "Belly" Conklin, as she settles into her annual vacation at a family friend's beach house at Cousins Beach.
Here she quickly discovers the pain of adolescence, as she finds herself in the middle of a love triangle between two brothers.
As Belly navigates the tricky waters of coming of age, she also dabbles in a little rebellion, sets out to take part in a debutante ball, and has a pretty rough sweet 16.
Will this be her summer of love or will the drama overtake her ability to enjoy the magic of being a teenager on the cusp of adulthood?
Shadow and Bone, Netflix (2021 – present)
The YA space loves to delve deep into fantasy and magic, and with Shadow and Bone, we follow young mapmaker Alina Starkov as she discovers powers within her that she could not imagine – powers that could alter the fate of her world forever.
Based on the hugely popular novels by Leigh Bardugo, the show takes place in a fantasy world known as the Grishaverse.
Alina uncovers her true lineage, as a Grisha or magic user, with the power to summon light as a Sun Summoner – something her world is in dire need of to change the tide of the war they are in.
This sets her on a dangerous path as she becomes the target of various groups who want to use her power for good and evil.
The show delves into the theme of identity and coming into your own, especially discovering our own values and morality.
Will Alina learn who she can trust, master her powers and possibly save the world?
One of Us is Lying, Peacock (2021 – 2022)
Hopping genres again, we step into the mystery arena with One of Us is Lying.
Based on the novel by Karen M. McManus, the show feels like The Breakfast Club painted with a murder mystery brush.
Five students at Bayview High, with differing personalities and social ranks, are sent to detention, when suddenly one of them dies of a fatal allergic reaction, casting suspicion on the remaining four.
The victim Simon had many enemies as he ran an online gossip group where they often snitched on their classmates' shenanigans and drama.
As the reports come in and his death is confirmed as not accidental, the four suspects become subject to an investigation that uncovers more than just a scheme to keep secrets safe.
So settle in to figure out which of the four, Bronwyn, Addy, Nate, and Cooper would kill to keep their deeds in the dark? Or was it someone else?
Tiny Pretty Things, Netflix (2020)
Based on the novel by Sona Charaipotra and Dhonielle Clayton, this YA drama is set in a prestigious ballet school in Chicago, where the pressure to perform is only a small part of the drama.
As the cast of the show stands on the precipice of greatness in the dance world, their personal struggles and interpersonal dramas often get in the way of their talent.
Being far from home, these dancers only have themselves and their friends to rely on for their pivotal moments.
However, things take a turn when the star student is attacked, unveiling the lies and betrayals that run beneath the cutthroat world of professional ballet.
The show is definitely a dark take on the classic ballet school drama and does not hold back from showing the toll that being in such a hyper-competitive environment takes on a young mind and body.
Vampire Academy, Peacock (2022)
Leaping back into the supernatural realm, we take a look at Vampire Academy, a horror-fantasy show from the novels by Richelle Mead.
There is also a previous film adaptation for those who really want to immerse themselves in this world.
Set in a world draped in excess, glamour, and extreme privilege, the show focuses on the friendship of two young women as they get ready to embrace their place in royal vampire society.
As the class differences between them become ever more evident, their loyalty to one another is tested by the societal structure of life as a vampire in the modern age.
What makes the bond between them unbelievably deep is the fact that they share a "shadow kiss", allowing them to share thoughts and feelings – a powerful tool as they navigate bullies, magically induced psychosis, and of course their fair share of forbidden romances.
As they attend St. Vladimir's Academy, one of them is trained to be a powerful Royal, and the other is relegated to the role of half-vampire Guardian – who are fodder for the battle against the Strigoi.
The show is a visual feast and caters to the teenage audience looking for adventure, terror, and escapism.
Shadowhunters, Freeform (2016 – 2019)
Based on the immensely successful book series The Mortal Instruments, written by Cassandra Clare, Shadowhunters is an expansive supernatural show with a celestial take on the "teenager discovers they have a paranormal lineage" trope.
On the day of her 18th birthday, our protagonist Clary Fray finds her world turned upside down.
Riding the high of just being accepted in her dream school, she goes out to celebrate with her best friend – when she witnesses something no one else can see.
With her suspicions on high, she follows the group she saw to a club and accidentally gets involved in their battle.
This one event sets in motion her journey to finding the truth about herself, as her mother unveils that she has markings similar to those of the group her daughter just met.
Suddenly Clary finds herself living in a world populated by demons, and demon hunters who call themselves Shadowhunters.
What is her lineage and which path will she choose as she enters the world of adulthood?
Dash and Lily, Netflix (2020)
Taking things in a more romantic direction we take a look at Dash and Lily, based on Dash & Lily's Book of Dares by Rachel Cohn and David Levithan.
Set in one of the most romantic times of the year, Christmas, we follow Dash and Lily as they develop feelings for one another in a beautifully unique way.
The two teenagers get to know one another by leaving notes and dares for one another in a notebook that they hide in a variety of locations around New York City.
Dash is devoted to his cynicism and Lily remains optimistic, and through their romance, they unlock new parts of one another.
The Vampire Diaries, The CW (2009 – 2017)
As one of the most popular supernatural teen dramas of all time, The Vampire Diaries has stood the test of time, still garnering loyal watchers to this day.
It even has a legacy of spin-off series based on the source work. Who knew that a teenage vampire romance written by L. J. Smith would set the tone for future YA novel adaptations?
In the small town of Mystic Falls, everything seems perfect on the surface, until brothers Stefan and Damon move to town, and things take a turn for the… mystical.
Young Elena Gilbert is still mourning the sudden and tragic loss of her parents, when she meets and falls for Stefan – who turns out to be a centuries-old vampire forever trapped in the body of a teenager.
When his brother Damon makes an appearance, Elena becomes trapped in a feud between the two and a mystical generational curse that makes her the doppelganger of both brothers' first love, Catherine.
Not to mention that witches, werewolves, and other preternatural beings that suddenly emerge in Mystic Falls.
What once was a sleepy town is now the battleground for vampiric blood debts, prophecies, and, of course, romance.
Wolf Pack, Paramount+ (2023 – present)
A newer entry into the supernatural young adult drama genre, Wolf Pack is based on the novel by Edo van Belkom.
When a terrifying wildfire unleashes an ancient evil in California, two teenagers are forever bound by the shared experience.
As they investigate what supernatural creature they encountered, they slowly begin to realize that they are now werewolves and begin to find more members of their rag-tag pack that have been through similar experiences.
We are also introduced to arson investigator Kristin Ramsey (played by YA TV icon Sarah Michelle Gellar), who finds herself drawn into the preternatural events during the course of her job.
The show does a wonderful job exploring the idea of finding yourself, your identity, and your friends during a pivotal time of development.
Lockwood & Co., Netflix (2023)
Set in an alternate version of modern-day Britain, we are introduced to a world where ghosts are a daily and deadly problem based on the series of novels by Jonathan Stroud'.
However, adults cannot see these ghosts, and only children are gifted enough to deal with them – enter a slew of ghost-hunting agencies that exclusively employ children to deal with this deadly scourge.
This is where we meet Lucy Carlyle, a very gifted runaway, who has not completed her training in full because of her circumstances at home.
She finally finds herself at Lockwood & Co., a small agency run by a renegade ghost-hunting duo.
Together the three of them hunt down threats, while also upsetting the status quo of a society dominated by a preternatural threat and child labor.
Pretty Little Liars, Freeform (2010 – 2017)
"Got a secret, can you keep it…"
Seven words that defined the intro to one of the most mind-bending adaptations of a YA novel ever.
Pretty Little Liars defined a generation with its ever-evolving plot, high-stakes drama, and earth-shattering reveals.
Based on the novels by Sara Shepard, we are introduced to four friends who come together one year after their best friend went missing.
When her body is discovered, suspicions are cast on all the girls, who are each receiving threatening texts from a mysterious "A" – the same initial as their missing friend Allison.
Is she torturing them from afar, is she actually dead, and who is controlling these girls by threatening to release their biggest secrets?
We cannot give away much more than that, as the show is best watched without any preconceived notions – expect the unexpected and you will still be surprised by the insanity of what these girls go through.
Pretty Little Liars: The Perfectionists, Freeform (2019)
Continuing the legacy of the legacy left behind by PLL, we have another adaptation of a Sera Shepard YA novel.
Two well-known alumni from the first show (we are not giving away any spoilers here) have taken jobs teaching at Beacon Heights University, set in a town where everything seems perfect on the surface.
That is until the town is rocked to the core by its first murder, leading to an investigation that reveals the dark truth beneath the perfectionist veneer of the town.
What exactly is the price of being perfect and what would someone do to keep up appearances?
Gossip Girl, The CW (2007 – 2012)
Speaking of teenagers who are harassed by text messages, in Gossip Girl we meet a group of obscenely wealthy teenagers living like celebs with their very own tabloid reporter on the scene.
Enter Gossip Girl – the anonymous gossip blogger that details the exploits of the inner circle of these Manhattan teens through text message blasts.
The show is based on the Cecily von Ziegesar novels and is narrated by the ever-omniscient Gossip Girl.
It opens with the return of Serena van der Woodsen, the "it girl" of the scene after a mysterious time away, and follows her attempts to rekindle broken friendships and be a better person while falling in love with a boy from a lower social class, Dan Humphrey, the "lonely boy" as GG calls him.
What follows is a soap-opera level of drama, intrigue, and problems that could only be caused and solved by extreme wealth and privilege.
And while the premise may be somewhat far-fetched, you know you love it, XOXO, Gossip Girl.
Gossip Girl, HBO Max (2021 – 2023)
Almost a decade after the original Gossip Girls series ended, HBO Max came out with a sequel to The CW show.
In this sequel series, we follow a new set of wealthy Manhattan private school students who are leading their Upper East Side lives under the watchful eye of the all-seeing Gossip Girl.
At the center of the series are a group of privileged teenagers growing up with Gossip Girl broadcasting their every misstep all over social media.
From fashion shows to private clubs and more, the 2021 sequel is a worthy series to check out if you want a much-updated version of the original Gossip Girl series.
Looking for Alaska, Hulu (2019)
Based on the novel by YA favorite John Green, this limited series tells the deeply moving story of Miles Halter and Alaska Young, two teenagers on the cusp of adulthood seeking Miles' "The Great Perhaps" – an idea based on the last words of a famous poet.
As he arrives at Culver Creek Academy in Alabama, Miles makes instant friends with his roommate, who plays a pivotal role in his introduction to Alaska, a free-spirited soul with her own set of problems and a unique outlook on life.
In his time at the academy, Miles learns about love, life, and the unbelievably painful art of letting go.
The show will most definitely pull at the heartstrings of not just younger viewers, but adults alike, as these loveable characters grow up, and face tragedy together.
Love, Victor, Hulu (2020 – 2022)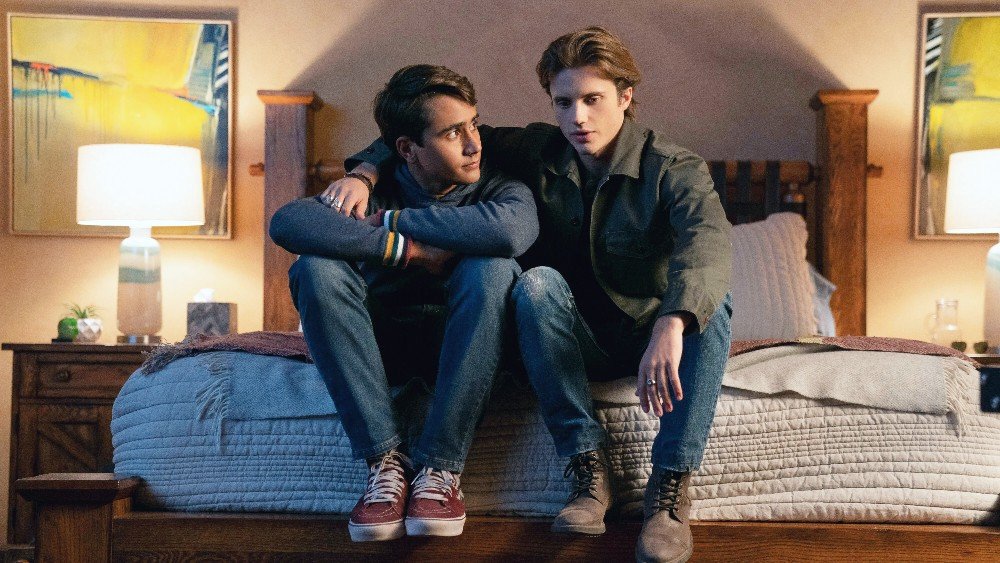 A show heavily inspired by Becky Albertalli's young adult novel Simon vs. the Homo Sapiens Agenda, Love, Victor is a romantic comedy series that follows Victor in his journey of self-discovery as he settles into life as a new student at Creekwood High School.
The show delves into his discovery of his sexual orientation and beautifully illustrates the journey to self-acceptance and self-confidence.
How does he balance his challenges at home, coming out to his friends, and his first relationship?
Panic, Amazon Prime (2021)
Taking things in a more surreal direction, we have Panic based on the 2014 novel by Lauren Oliver.
In the small forgotten town of Carp, deep in rural Texas there exists a very strange coming-of-age ritual known as Panic.
Every graduating class faces the game in the summer and is challenged to the brink of their abilities to win a life-changing sum of money – enough to leave Carp behind.
These teens believe that the only way to leave is to win the game, and there can be only one winner.
We pick up with the biggest amount of prize money ever made available, but with stakes that are set higher than ever too!
Will the players survive coming face to face with their deepest fears and darkest secrets? How much will they risk to be the winner of Panic? And what happens when two players die? Find out.
The Midnight Club, Netflix (2022)
Drawing heavy inspiration from the Christopher Pike novel of the same name, The Midnight Club is a horror series set in a hospice for terminally ill young adults.
The teens meet up each night, at midnight, of course, to tell each other a scary story that makes up the horror anthology component of the show.
In the background, we are also shown an overarching plot that delves into the lives of the patients and the mystery of the hospice and its existence.
As the group gets closer we learn that they have a pact; whoever dies first has to make an effort to contact the others from the grave, and that some of the members may be in search of more than a safe place to spend their last days.
13 Reasons Why, Netflix (2017 – 2020)
Darkly riveting and tragic, 13 Reasons Why is not for sensitive viewers, although its message is one that should be heard.
Based on the YA novel by Jay Asher, the show details the aftermath following Hannah Baker's suicide.
What makes the process harder is the fact that she left behind a set of 13 tapes, each one detailing a different reason that she took her life, and naming those she feels drove her to this act.
The tapes are delivered to Clay Jenkins, one of Hannah's first friends, and he begins to unravel the details of her life and death as each tape tells a story about the people in her life.
The shocking conclusion is a hard watch and does not shy away from incredibly troubling topics, however, the show itself is unbelievably deep and will leave an impact on its viewers.
Trinkets, Netflix (2019 – 2020)
An unlikely friendship forms between three divergent personalities when they meet at a Shoplifters Anonymous meeting.
In the series Trinkets based on the novel by Kirsten Smith, we explore the nature of friendship and the empowerment we find in connection.
Introverted Elodie, wealthy Tabitha, and punky Moe couldn't be more different but they quickly come to realize that they share similar problems when they connect over their habit of shoplifting.
Whether it is overcoming grief, dealing with the pressure to succeed, or overcoming a chaotic home life, the three girls support each other and get through it.
XO, Kitty, Netflix (2023)
XO, Kitty is based on the hugely successful To All The Boys film series, which in turn is based on Jenny Han's To All The Boys I've Loved Before trilogy of books.
Young Kitty Sing Covey, a self-proclaimed love expert, and matchmaker, decides to pursue her long-distance boyfriend halfway around the world all the way to Korea.
However, here she finds that knowledge and practice are two different things and that relationships are far harder when real feelings are on the line.
Everything is not as she thought it would be, and her boyfriend Dae lives a secret life with a fake girlfriend – a very complicated mess to save reputations.
How will Kitty salvage the situation and will she leave with her heart intact?
The Bastard Son & The Devil Himself, Netflix (2022)
Based on the novel Half Bad by Sally Green, this paranormal fantasy show is set in an alternate world where witches hide in the shadows, trying to maintain a delicate balance between good and evil.
Here we meet Nathan Byrne, born illegitimately from the union of a Fairborn Witch and his father, a Blood Witch known as "The World's Most Dangerous Witch".
Nathan has spent his life growing up under the monitorship of the Council of Fairborn Witches, who continuously check him for signs of evil.
However, as the conflict between the Fairborn and Blood Witches rises, Nathan realizes that he might be caught in something far bigger than himself and his dubious lineage.
This sets him on a journey to uncover the truth about his father, his own powers, and the real reason this war is being waged.
Nancy Drew, The CW (2019 – 2023)
Last but not least we have The CW's mystery series Nancy Drew.
While it might be based on the Nancy Drew book series (the first of which was published in the 1930s), one might argue that the Nancy Drew books are among the most well-known young adult novels. Hence, why we decided to include Nancy Drew on this list.
The show follows Nancy Drew, a brilliant teenage detective, who finds herself entangled in a murder investigation in her hometown of Horseshoe Bay.
The story begins with Nancy gearing up to leave her hometown for college, but her plans are put on hold when she becomes a prime suspect in the murder of a wealthy socialite.
Determined to clear her name and solve the mystery, Nancy teams up with a group of unlikely friends. And as they delve deeper into the investigation, the group uncovers a web of secrets and supernatural occurrences that have long haunted Horseshoe Bay.