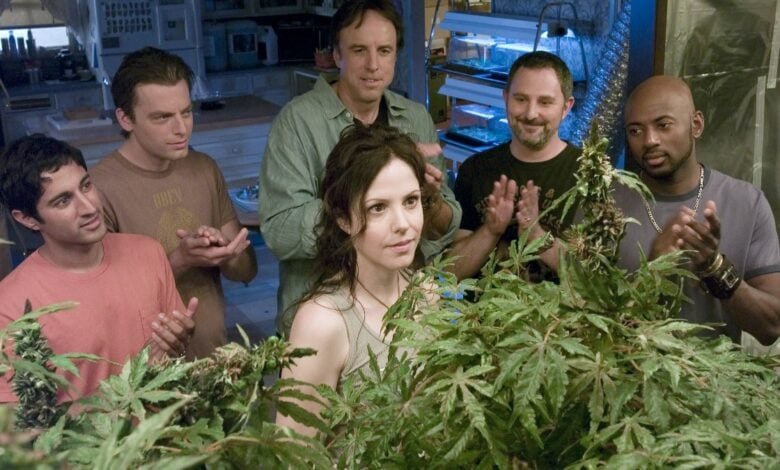 More and more countries around the world are starting to decriminalize and even legalize the consumption of marijuana, even beyond medical uses.
Where it used to be taboo to even talk about it let alone smoke it openly, the stigma has lifted (to an extent) around weed. Because of that, it's being talked about much more casually in all forms of media.
As such, we've got a list of the best weed TV shows below so light one up and let's get started!
Best scripted TV series about weed
Disjointed, Netflix (2017 – 2018)
The Netflix series Disjointed is a twenty-episode sitcom starring the iconic Kathy Bates as Ruth Whitefeather Feldman, who has been advocating for legalizing weed for decades.
Now that Los Angeles has indeed legalized it, Ruth is able to put up her own cannabis dispensary and hires a team of knowledgeable budtenders to help her run it.
Thanks to their expertise in medical and recreational marijuana use, both Ruth's customers and the series viewers are able to learn more about its history, benefits, and social issues surrounding it.
Weeds, Showtime (2005 – 2012)
In this dark comedy series from Showtime, viewers witness the personification of "desperate times, desperate measures" – before Breaking Bad and to a much less extreme degree than meth!
Weeds begins after the sudden death of Nancy Botwin's husband, leaving her as the single mother of two sons.
Out of her desire to maintain the comfortable upper-middle-class lifestyle they're used to, Nancy resorts to selling weed and over time, falls further and further into the drug trade.
Her business booms when she creates her own strain, but that comes with its own set of dangers to her and her family as well.
High Maintenance, Vimeo/HBO (2012 – 2020)
Not a lot of people know that Vimeo wasn't just for watching bootlegged uploads of our favorite shows, there were also a lot of original web series premiering on the platform!
One of those was High Maintenance, which eventually moved to HBO in 2016.
The anthology series centered on The Guy, a weed seller based in Brooklyn, New York, as he sold his products to various customers around the borough.
Each episode was more or less standalone and featured one of The Guy's customers.
Mary + Jane, MTV (2016)
The infamously pro-marijuana rapper Snoop Dogg is behind the MTV comedy series Mary + Jane, which ran for one season of 10 episodes.
The title is a reference to one of many colloquial terms for weed, but the show's main characters are named Jordan and Paige, and they're roommates living out their 20s in Los Angeles.
Instead of going into the entertainment industry to make ends meet as you'd expect of most LA locals, the pair are determined to get their weed delivery service off the ground!
Family Business, Netflix (2019 – 2021)
Family Business is a French comedy series that aired for three seasons on Netflix.
As the title states, the series does revolve around a family business and the entrepreneurial young man who has great ambitions for it: Joseph Hazan.
Joseph has been wanting to break away from his family's kosher butcher shop, and he spots the chance after overhearing at a party that cannabis is about to be legalized in France.
He finally manages to get the rest of his family on board, but things don't exactly go according to plan.
Workaholics, Comedy Central (2011 – 2017)
The seven-season-long sitcom Workaholics ran until 2017 and was supposed to continue with a film sequel, but sadly that sequel was canceled in early 2023.
It follows Adam and Blake, who were roommates in college, and their RA, Anders, who had a typical college experience: drinking, drugs, and partying.
After college, they brought this behavior with them as adults where they live together in California and often interact with their drug dealer, and even into the telemarketing company where they all work together.
Atlanta, FX (2016 – 2022)
Donald Glover (a.k.a. Childish Gambino) is behind the critically acclaimed and multi-award-winning dark comedy-drama Atlanta, where he also stars in the leading role of Earnest "Earn" Marks.
He was at Princeton when he dropped out and after struggling with the fallout of that, he instead became the manager of his cousin Alfred "Paper Boi" Miles, an up-and-coming rapper.
Through mostly bottle and standalone episodes, Atlanta follows Earn and Alfred's life as they navigate the Atlanta hip-hop scene and their rise to fame.
That 70's Show, Fox (1998 – 2006)
Like Atlanta, the classic teen sitcom That 70's Show is focused on the lives of the main characters as they go about their daily doings, and weed plays a supplementary role in it (because of course it does – it IS the 70s after all!).
In this case, viewers follow six teenagers living in Wisconsin during the 1970s as they go through the ups and downs of adolescence: navigating parents (or, in Hyde's case, the lack thereof), school, and finding oneself and finding love.
Grace and Frankie, Netflix (2015 – 2022)
Netflix's Grace and Frankie is a story about how unexpected circumstances can bloom into an unexpectedly beautiful friendship.
Grace Hanson is a retired cosmetics mogul while Frances "Frankie" Bergstein is a free-spirited artist.
The two women have vastly different personalities and thus, never really got along whenever their paths would cross.
That is, of course, until their husbands suddenly announce that they're in love with each other and plan to get married.
Now newly divorced, Grace and Frankie find solace and friendship in each other.
Broad City, Comedy Central (2014 – 2019)
Broad City is a five-season sitcom developed from their indie web series of the same name that aired a few years before.
Often touted as one of the best TV shows of the decade, Broad City is a critically-acclaimed series following the lives and friendship of two young women living in New York.
Abbi is an aspiring artist while Ilana is an NYU graduate and a "marijuana enthusiast", and viewers witness their weed-influenced adventures as they try to make it in NYC.
Best non-scripted weed TV series
Bong Appétit, VICE TV (2016 – 2019)
Bong Appétit aired over three seasons with Abdullah Saeed at the helm as the show's host.
He and his team would throw a cannabis cooking dinner party, inviting notable chefs in the weed cooking industry to prepare their very best dishes using the wide selection of high-end ingredients they have available.
Judges B-Real, Vanessa Lavorato, and Miguel Trinidad are also invited to test their palate and determine who has used cannabis the best.
Only high-class ingredients for the highest class of palates!
Cooked with Cannabis, Netflix (2020)
In a largely similar format comes Netflix's Cooked with Cannabis, a one-season reality show from the streaming platform.
Over each of its six episodes, notable cannabis chefs from all over the country, many of whom have their own established restaurants already, are invited to the competition to recreate their best dishes that use recreational marijuana of many varieties.
Special guest judges are brought in every episode as well, and it's actually a wonderful learning experience on the differences and benefits of both THC and CBD!
Cooking on High, Netflix (2018)
Before there was Cooked with Cannabis on Netflix, there was Cooking on High.
Though much is the same with this one-season reality cooking competition series when compared to others of the same genre, one thing that sets it apart is the presence and contributions of co-host Ngaio Bealum, a marijuana activist, as he provides information on the cooking processes involved with cannabis, as well as the particular strain at the center of the episode!
Competing chefs must make their dishes with the chosen 'strain of the day' and the episode's central theme.
Chopped 420, Discovery+ (2021)
If you're a fan of The Food Network's Chopped and like to partake in a little recreational marijuana on occasion, then Chopped 420 is probably the perfect show for you!
Like the parent series, Chopped 420 begins each episode with four chefs tasked to cook three courses using whatever ingredients are inside a "mystery basket" – with the addition of their choice of cannabis strain, of course!
They just need to make sure the strain compliments their dish and is present but subtle enough not to knock out the judges after one course!
The High Court, Comedy Central (2017)
The High Court is definitely a reality series unlike any you've ever seen before!
The setting is an actual small claims court where each case has parties that have already come to an understanding: to have their case dismissed and instead, settled on the series.
The kicker?
The cases are overseen by comedian Doug Benson – alongside other comedian guests as the court bailiff – while under the influence of weed!
It's fun, campy, and yes, entirely legal!
The Marijuana Show, Amazon Prime (2014 – 2018)
Think Shark Tank meets the cannabis industry and you've got The Marijuana Show!
There are many businesses-savvy marijuana advocates out there and they're given time to shine over the three seasons of this reality show!
They are invited onto the show for a chance to pitch their business ideas to investors in the hopes of getting their company off the ground.
The show's second season saw an investment of a whopping $13 million for one lucky marijuana entrepreneur!
Dope State, Apple TV (2019)
Whereas the historical Gold Rush centered on the gold deposits and the influx of miners to excavate and profit that led to the boom in the gold industry, Dope State chronicles the same phenomenon surrounding weed!
Viewers join Gabriel Sunday through six episodes of this docu-comedy "chronicling the rise of cannabis and potential fall of prohibition".
This is a modern take on the Gold Rush culture surrounding the ever-booming California weed market.
Weediquette, Viceland (2016 – 2017)
Vice is known to produce some really great, well-researched, and highly relevant media – and the documentary series Weediquette is no exception!
As we mentioned earlier, the recreational and medical use of marijuana continues to gain ground in the US and other more liberal parts of the world.
In Weediquette, we join Vice correspondent Krishna Andavolu as he tells of the "science, culture and economics of the legalization of cannabis".
This includes conversations with people whose lives have changed since its legalization, all in line with the episode's central theme.
American Weed, National Geographic (2012)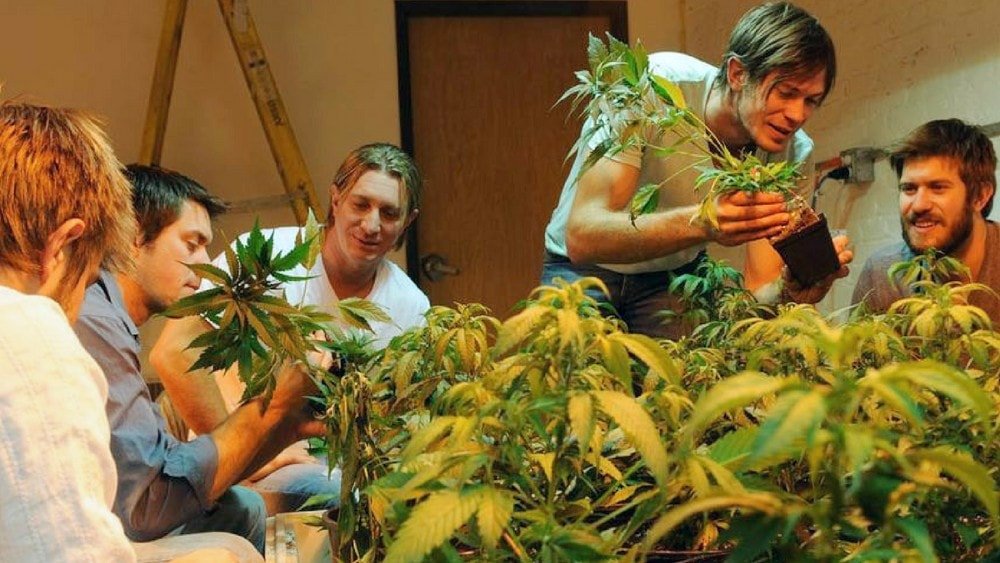 The National Geographic documentary series American Weed dives into the United States' response to the use of marijuana, particularly when it comes to distinguishing between its more 'legal' medical use and when it crosses that line.
The series focuses on the perspective of law enforcement and how they visit crop fields and grow houses while exploring all angles of the marijuana industry across the country especially when it comes to medical dispensaries.
Highland: Thailand's Marijuana Awakening, Netflix (2017)
Though the Netflix documentary Highland: Thailand's Marijuana Awakening was released a year before the legalization of medical marijuana in the country, it's a fascinating dive into their complicated history and journey into where it is today: with cannabis decriminalized in mid-2022 (under certain amounts).
The government's relationship with the plant is explored, particularly in how it affected the laws and policies, and how they slowly came to realize its economic benefits as well.
Murder Mountain, Fusion TV/Netflix (2018)
Murder Mountain is a little different from the other docu-series on this list.
It is set in Humboldt County in North California and explores the county's local marijuana scene – both legal and illegal, and what it takes to move from the latter into the former.
As a true crime documentary series, Murder Mountain also tells of the various disappearances occurring in the area, particularly that of Garret Rodriguez, a local marijuana farmer.
High Profits, CNN (2015)
High Profits is an eight-part documentary series from CNN that documents the legal local marijuana industry in Colorado, in particular when it comes to the Breckenridge Cannabis Club, which was the state's primary dispensary and marijuana hotspot.
Though the series ran over just eight episodes, the official website is still up and running on CNN and is a gold mine for all the information on weed that you could need!