There's always something to be said about a woman's intuition. I don't know what it is but when a woman becomes suspicious of something, then more often than not, her hunch is right.
That's not to say that men's hunches can't be trusted, but a woman's intuition is just… different.
This is likely something that comes in very handy when you're in the investigative field.
Law enforcement still seems to be a predominantly male-dominated field, so we all love to see a female detective in action. That's why we've put together a list of the best TV shows about female detectives!
Not only do we get a glimpse of what it's like to be a detective in general, but there may even be refreshing differences as the stories unfold from the female perspective.
So put your best detective thinking hats on, and let's get started!
Veronica Mars, UPN/The CW/Hulu (2004 – 2019)
You just can't talk about female detectives without talking about Veronica Mars, the token crime-solver for the millennial generation.
Set in the fictional town of Neptune, California, the series follows the eponymous Veronica Mars, a high school (and then college) student who works as a private investigator, mentored by her own detective father.
Each season followed one overarching case for her to solve, while also solving other cases on the side with each episode.
In the latest season, Veronica has graduated and now works full-time, still solving cases with her father. This time, she needs to find a bomber before he strikes again.
Vera, ITV (2011 – present)
Vera is a British crime drama that has premiered 11 seasons thus far, with talks of a possible American adaptation as well.
The series is based on crime writer Ann Cleeves' novels surrounding the titular character, Vera Stanhope.
As the almost retired Detective Chief Inspector of the fictional Northumberland & City Police, Vera is a dedicated member of the police force, albeit one who seems constantly out of sorts and short-tempered.
Despite this, however, her colleagues display deep respect for her as she has an uncanny ability to notice the smallest of errors in her colleagues' processes, often leading to their cases' resolutions.
A 12th season of Vera has already begun filming, too!
Agatha Raisin, Sky One/Acorn TV (2014 – present)
Beginning in 1992, romance and mystery novelist M.C. Beaton wrote many crime mystery novels surrounding one character: Agatha Raisin.
It was these novels that inspired the comedy-crime series, Agatha Raisin!
The titular character is a former public relations professional based out of London, but she seeks out a new life in the village of Carsley.
She believes that it'll be a new, and quiet, life, but she immediately finds herself embroiled in a murder mystery – where she is the suspect!
When she later proves her innocence, Agatha goes on to be the village's resident detective, solving the crimes that plague Carsley.
Agatha Christie's Marple, ITV (2004 – 2013)
Agatha Christie is known as a novelist in the detective mystery genre, most particularly for her work surrounding the fictional (male) detective, Hercule Poirot.
However, Christie also has a series of stories that introduce Miss Jane Marple, an "elderly spinster" whose analytical thinking and analogies to village life in England were what helped her to solve her cases.
Thus, ITV's adaptation titled Agatha Christie's Marple centers on the title character Miss Marple as she comes across – and helps to solve – the many crimes that occur in the small village of St. Mary Mead.
The police are usually reluctant to accept her help, but they know deep down that they simply cannot do without it.
Stumptown, ABC (2019 – 2020)
Oregonians will recognize the title of this crime drama from ABC as Stumptown is the nickname for the city of Portland, where the series is set.
Stumptown follows former marine Dex Parios, a "sharp-witted" veteran with experience in military intelligence while stationed in Afghanistan.
Now that she's back in civilian life, she struggles to hold down a job while having to not only overcome her own struggles with PTSD but also take care of her younger brother, Ansel, who has Down syndrome.
To make ends meet, Dex uses her experience to become a private investigator, working on cases that the police simply cannot – and will not – touch.
Marvel's Jessica Jones, Netflix (2015 – 2019)
The Marvel Cinematic Universe has always gone beyond just the films, and Netflix's Marvel's Jessica Jones is one of many series that further expands that universe.
The eponymous Jessica Jones was a former superhero whose powers included strength and, to a degree, flight.
Though she still has those powers, she has left the world of superheroes because of an incident that led her to kill someone.
Instead, she put up her own detective agency called Alias Investigations, and works as a private investigator.
Jessica deals with her pst and her demons in her own (often unhealthy) way, but deep down is a good person who just wants to help her neighborhood.
Nancy Drew, The CW (2019 – present)
Nancy Drew is yet another household name when it comes to female detectives – arguably even more so than Veronica Mars, because the Nancy Drew name spans generations.
The character first appeared in the titular series of novels in the 1930s, and The CW's Nancy Drew is the third book adaptation already.
Here, Nancy Drew is both the heroine and the narrator, telling us the story of one year when, while taking a break from school following the loss of her mother, she becomes embroiled in a murder mystery involving a local socialite.
Nancy is determined to prove not only her own innocence but also to unveil the secrets the town is hiding.
Murder, She Wrote, CBS (1984 – 1996)
We take things back in time a little with Murder, She Wrote, a detective fiction drama that ran during the 1980s and 90s.
The series follows Jessica Fletcher, a retired English teacher who has also gained fame as a mystery writer.
Despite this, she has remained in her small town of Cabot Cove, Maine, and assists the local law enforcement with solving the murders that occur in each episode – across all 12 seasons!
They're usually averse to accepting her help, except when it becomes too clear that they just can't do without it.
Eventually, Jessica's help on cases expands beyond Cabot Cove, to international locations across the world.
Frankie Drake Mysteries, CBC (2017 – 2021)
The Canadian crime mystery series Frankie Drake Mysteries may have aired just very recently, but it's actually a noir drama set in Toronto during the 1920s!
Additionally, not only is the lead character and detective female but her entire team is, too!
The titular Frankie Drake is the first female private detective in Toronto, and she runs an all-female investigative service alongside her crime-solving partner, Trudy Clarke.
Additionally, they get additional assistance from morality officer Mary Shaw and morgue attendant Flo Chakowitz.
Toronto is on the brink of change, and their team fights for justice where the police can't.
Miss Fisher's Murder Mysteries, ABC (2012 – 2015)
We're staying in the 1920s with this one, though we are heading Down Under; Miss Fisher's Murder Mysteries is an Australian crime and mystery drama set on the streets of Melbourne!
It follows Phryne Fisher, an independent and glamorous private detective who will stop at nothing to solve any crime – with the occasional albeit reluctant help of Detective Inspector Jack Robinson.
In the first season, she also battles with personal demons as she is still haunted by guilt at not being able to prevent the kidnapping and death of her younger sister when they were just children.
Now, she fights to make sure the perpetrator stays locked behind bars forever.
Miss Scarlet and The Duke, Alibi/PBS (2020 – present)
Miss Scarlet and The Duke is a crime and mystery period drama set in Victorian-era London, whose heroine is described as feisty, clever, and determined – perfect traits for a female detective!
Eliza Scarlet was born into the middle class but falls on hard times when her father dies unexpectedly.
While most others would expect her to find a suitable husband to alleviate her financial woes, Miss Scarlet decides to take over her late father's detective agency instead.
While solving cases, she is helped along by those close to her, particularly Scotland Yard Detective Inspector William "Duke" Wellington, with whom she also shares a longtime, close personal relationship.
Agent Carter, ABC (2015 – 2016)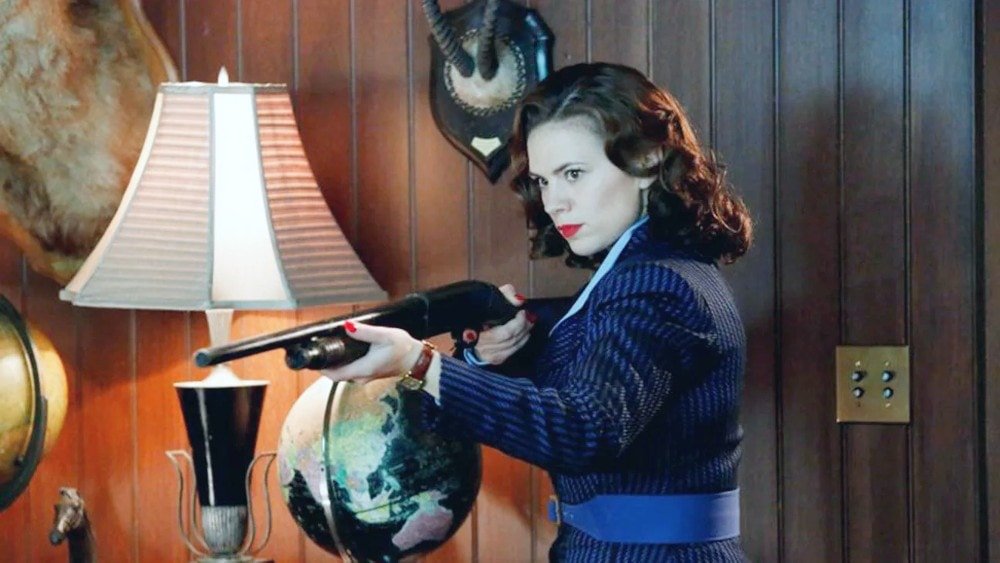 We've got another from the Marvel Cinematic Universe with ABC's Agent Carter, which features the titular character who was first introduced in the Captain America: The First Avenger film.
In the series, MCU fans meet Agent Carter again as she works at the Strategic Scientific Reserve in 1940s New York, helping Howard Stark to prove his innocence against the accusations of treason against the United States.
The show's second season sees Agent Carter deal with a much bigger threat following the Second World War: the Atomic Age as threatened by the MCU's villainous organization: the Secret Empire.
Whitstable Pearl, Acorn TV (2021 – present)
As one of the newer series on the list, Acorn TV's Whitstable Pearl has just one season of six episodes under its belt so far.
It's based on a series of novels by Julie Wassmer, and follows the life of Pearl Nolan from the coastal town of Whitstable.
Pearl, along with her widowed mother Dolly, runs the town's beloved seafood restaurant but now that Pearl's son Charlie is all grown up, she decides that it's high time to pursue another lifelong dream: to become a private detective.
Her first major case is the mysterious death of her friend, but her determination to solve the case puts her at odds with Whitstable's newest Detective Chief Inspector, Mike McGuire.
Harry Wild, Acorn TV (2022)
Acorn TV brings another new one to the table with Harry Wild, an eight-episode mystery series that was released just this past April 2022!
Harriet "Harry" Wild is the show's protagonist; she's a recently retired literature professor who's adjusting to retirement.
After a mugging leaves her rattled, her son Charlie – a police detective – insists that she stay with him but he soon needs to keep her away from interfering with a current murder case he's investigating.
Frustrated as well, Harry decides to take matters into her own hands to solve the case and oddly enough, finds help at the hands of the teen who mugged her.
My Life Is Murder, Network 10/TVNZ1 (2019 – present)
From Australia and New Zealand comes a fairly new crime drama comedy series titled My Life is Murder – a fitting title for the life of the female protagonist, Alexa Crowe.
Of course, Alexa is a "fearless" private investigator whose crime-solving adventures are detailed throughout the two seasons of the series (thus far).
Not only does Alexa have to battle with the difficulties of solving the most confusing crimes in their city, but she also fights tooth and nail against the frustrations of her daily life as well.
Queens of Mystery, Acorn TV (2019 – present)
Yet another series from Acorn TV is Queens of Mystery, which has aired just 12 episodes so far – with each storyline expanding over two episodes each.
Throughout the series, viewers follow Detective Sergeant Matilda "Mattie" Stone, a young female detective who has been assigned to the department back in her hometown: the fictional Wildemarsh, England.
Upon returning home, she's reunited with her three aunts Cat, Beth, and Jane, who are all crime writers and always more than eager to assist Mattie with investigating their village's deepest mysteries.
The Madame Blanc Mysteries, Channel 5/Acorn TV (2021 – present)
The last show on our list stars a protagonist who may not be a private detective by profession, but she certainly is a great one simply because of necessity.
The Madame Blanc Mysteries tells the story of Jean White, a successful antiques dealer whose husband suddenly dies in a car crash.
After being devastatingly widowed, she finds that she's also been left penniless – no money, no store, and no assets.
That's when she jets off to France to solve the mystery of her husband's murder and their missing valuables, while also solving a string of other puzzles along the way.