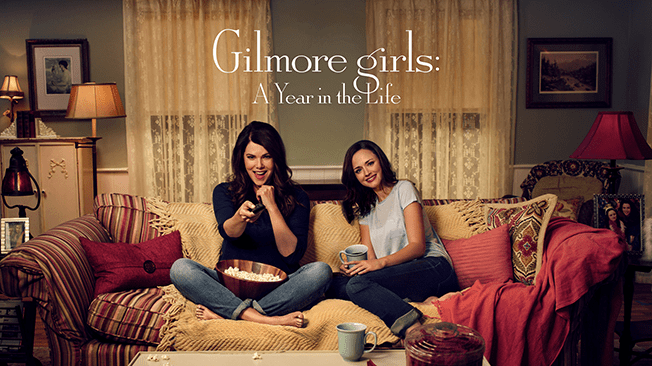 Nowadays, even if a TV series has ended, it doesn't mean that it is gone for good, because entertainment brands like Netflix and Showtime are bringing back iconic shows with cult followings. And one of these shows is Gilmore Girls, which originally aired from 2000 to 2007 first on The WB and then on The CW, after The WB Television Network was shut down and replaced by The CW Network.
First news about a possible Gilmore Girls reboot started circulating in 2013, with die-hard fans wishing for this to happen ever since the show went off air in 2007. And now, thanks to Netflix, everyone can enjoy Lorelai and Rory's company and visit Start Hallow once again, because as of today, November 25, all four episodes of the Gilmore Girls revival titled "Gilmore Girls: A Year In The Life" are available on the streaming service.
Each of the new Gilmore Girls episodes are named after one of four seasons, but that is not the most exciting part about this Netflix series. No! The best part is, that all four episodes are 90 minutes long. So this revival not only gives us another chance to see our favorite mother-daughter duo in action, but also lets us enjoy this reunion 6 whole hours. So this Black Friday, skip the shopping and head on over to Netflix to see "Winter", "Spring", "Summer" and "Fall".
Who of the Gilmore Girls alums will you be able to reunite with, while watching this revival?
Well, first and foremost, both Lorelai and Rory, played by Lauren Graham and Alexis Bledel, are back in Stars Hallow, along with Scott Patterson and Kelly Bishop returning as main cast, reprising their roles as Luke and Lorelai's mother Emily. But don't fret, we will be able to see almost all fan favorites interact with our main characters at some point during the four episodes of this TV mini-series. From Keiko Agena's Lane and Melissa McCarthy's Sookie,  who were Rory and Lorelai's best friends respectively, to the love interests for the Gilmore woman, such as David Sutcliffe's Christopher, Jared Padalecki's Dean, Milo Ventimiglia's Jess and Matt Czuchry's Logan, to other unforgettable characters like Sean Gunn's Kirk, Liza Weil's Paris, Danny Strong's Doyle and many more.
For those who don't know, Gilmore Girls was created by Amy Sherman-Palladino and follows Lorelai and Rory Gilmore, a single mother and her daughter, as they navigate their everyday lives in small American town called Stars Hollow and outside of it.