Easter means many different things for people all around the world.
For some, it's about the Easter bunny and Easter egg hunts, lots of chocolate, and bright pastel colors.
For students, that likely means spring break and going on holiday to get away from school.
For others still, Easter has a more religious connotation and could mean religious pilgrimages of various kinds.
In any case, Easter is a time for celebration no matter what the reason is behind it.
In this list, we're taking a dive into the best Easter-themed episodes across all of your favorite TV sitcoms.
If you've ever wondered how your Easter festivities compare to those in these hilarious (albeit mostly fictional) worlds, this list is for you to live through vicariously. Who knows, they might even serve as a bit of an inspiration for your Easter plans this year!
Without further ado, here are the best sitcom Easter episodes!
Superstore, "Easter" (Season 4 Episode 16)
"Easter" is the 16th episode of season 4 of ABC's Superstore, which follows the employees of a fictional big-box store in St. Louis, Missouri, called Cloud 9.
In this episode, viewers get a bit of the religious side of the holiday: Garrett is called in by Glenn to help him rehearse for his role in the local church's play about the events surrounding the death and rise of Jesus. After all, Glenn has been promoted to the role of Judas, and that's a pretty big one.
Meanwhile, the Easter bunny makes an appearance in the store and Dina is hellbent on finding out its identity – only to find the costume being used to hide a bigger secret than chocolate eggs.
Superstore, "California (Part 1)" (Season 5 Episode 21)
Superstore comes in with another episode on our Easter list. However, this season 5 finale episode is less about the actual themes of Easter and simply coincides with when they happened.
This year's Easter was a pivotal one for many of the show's main characters but particularly for Amy and Jonah, whose relationship provided the core of the comedy, as they're about to undergo a major life change.
Amy has been offered a job at Cloud 9's corporate office in California, and she enlists Dina's help to keep it from Jonah while she figures out how to break it to him gently.
Is Jonah willing to pack up his life to follow Amy and the kids all the way to the west coast?
Brooklyn Nine-Nine, "Valloweaster" (Season 7 Episode 11)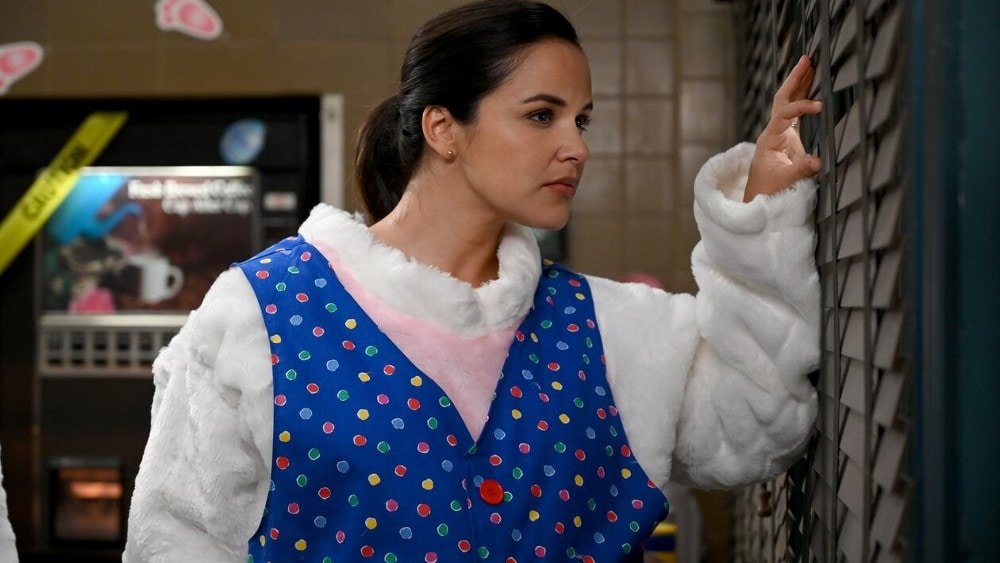 Fans of the brilliant sitcom Brooklyn Nine-Nine spend each season eagerly waiting for how the year's great Halloween Heist is going to turn out, mostly because you just never know what direction it's going to go in.
Every year it just keeps getting more and more chaotic, and season 7 is no exception.
After the Heist gets postponed on Halloween because of an unfortunate Chester incident, the gang attempts to pick it up on Valentine's Day.
However, it gets pushed back yet again when this time it's Scully who swallows the coveted gems.
Finally, the Heist culminates on Easter – complete with multiple Easter bunnies getting into a mad brawl and one final, three-time heist winner.
Parks and Recreation, "Canvassing" (Season 1 Episode 2)
This Easter episode from Parks and Recreation comes from very early on in the series with its second episode in season 1, back when fans were still getting to know Leslie Knope, Ron Swanson, Andy Dwyer, and all the other beloved Parks and Rec characters.
The episode primarily follows Leslie's attempts to gather the local community in Pawnee, Indiana, and get their support to turn a construction pit into a park.
Despite her convincing efforts, Leslie is met with obstacles from disinterested locals and a largely unsuccessful town hall meeting.
The Easter theme comes at the beginning where Leslie is talking to the documentary crew about their Annual Easter Egg Hunt, after which her colleague Tom reveals he'd forgotten to hide the eggs in the first place.
Black-ish, "North Star" (Season 4 Episode 17)
The holiday that many people dread because of the idea of bringing the entire family together is usually Thanksgiving, right?
When it comes to some married couples, this may be even more nerve-wracking because both sides of the family could converge.
In this season 4 episode of Black-ish, it's Easter instead of Thanksgiving that inadvertently brings two very different families together.
After miscommunication on whose turn it was this year, both Bow and Dre's families turn up at their house for Easter, leading to a mix of personalities and cuisines – which turns out for the better in the end.
Twins Jack and Diane, however, try to impress their "cool" cousins by feigning disinterest in Junior's Easter egg hunt.
Modern Family, "I'm Going to Miss This" (Season 11 Episode 16)
In one of the final episodes before ABC's Modern Family turned off their porch lights for good, the Dunphey and Pritchett families are up to their usual shenanigans amidst all the major, life-changing adjustments that set up the series finale.
Cam, Mitch, and Lily move into their new home to prepare for the arrival of their new baby, while the Dunphy kids scramble to clean up their house before their parents come home.
In the final family Easter party, Phil and Claire are struggling to come to terms with their roles as grandparents to Haley's twins but are relieved to discover that their parenting expertise will still be coming in handy.
Letterkenny, "Super Hard Easter" (Season 4 Holiday Special)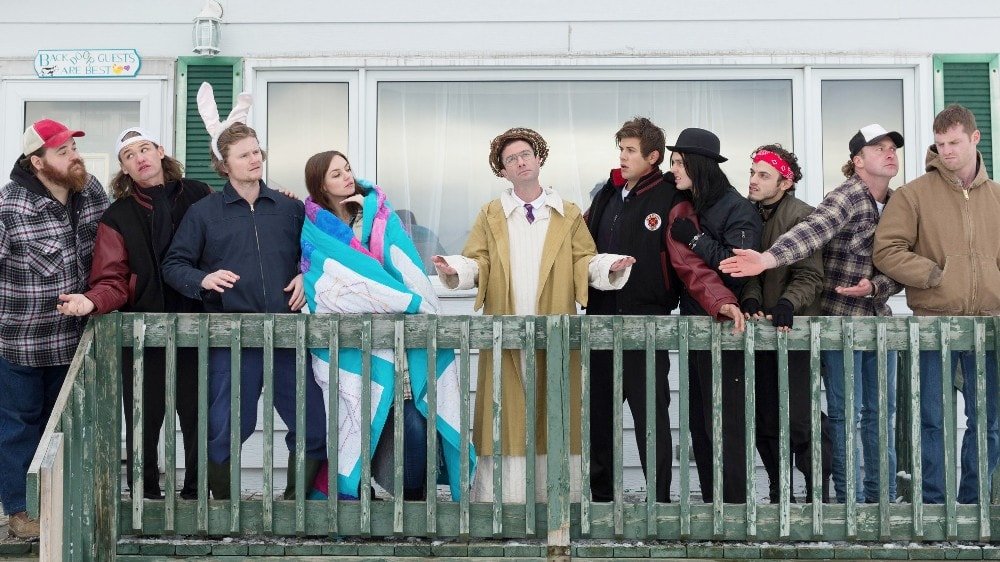 The Canadian sitcom Letterkenny always treated their holiday-themed episodes as one-off specials outside of regular programming, and their Easter episode premiered in between seasons 4 and 5.
Two storylines are running in tandem throughout.
First, Daryl opens up his "super hard Easter egg hunt" to the group and reminds them of the rules: solve his clues to find the eggs and take a drink for every egg found; falling for a boobytrap will take you out of the game completely.
Meanwhile, Glen once again seeks to inspire faith by proposing the idea of putting on a Passion Play, which takes a surprising turn when the procession turns into a zombie walk by the end of the episode.
Difficult People, "Passover Bump" (Season 3 Episode 1)
Hulu's Difficult People is a dark comedy sitcom that comes from an expert in the comedy field herself: Julie Klausner. She also stars in the series alongside fellow comedian Billy Eichner, and the two play best friends.
Their self-named characters Julie and Billy are aspiring comedians who have yet to make it big in New York City, and whose shared disdain for everyone except each other often lands them in awkward situations.
This Easter-themed episode starts season 3 off with Julie and Billy in community service for disrupting a public performance at the park.
Also, Julie is on the hunt for something to help her get through her family's Passover dinner and resorts to a meditation app when she's denied antidepressants.
Baskets, "Easter in Bakersfield" (Season 1 Episode 4)
Many will probably recognize Zach Galifianakis for his role in The Hangover movie trilogy (in which his role and portrayal, in my opinion, carried a lot of the movies' appeal).
However, Galifianakis is also one of the brilliant comedic minds behind FX's black comedy series Baskets.
The series follows Chip Baskets, a professional clown who fails to make it big in Paris and comes home to Bakersfield, California, to become a rodeo clown, as well as his identical twin brother Dale – both of whom are played by Galifianakis as well!
In the "Easter in Bakersfield" holiday episode, all is not fine and dandy in the Baskets household when brunch teeters on the edge of disaster because of family drama – though it also brings a wave of understanding.
The Real O'Neals, "The Real Lent" (Season 1 Episode 3)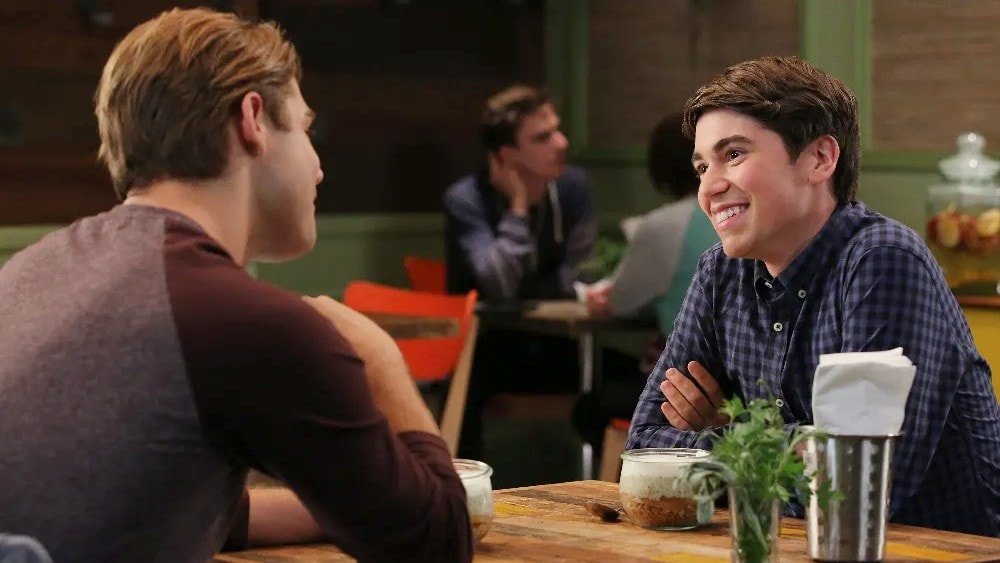 In case you're not sure what Lent is, essentially it's the period of about six weeks before Easter that's observed in the Catholic religion as a period of repentance – certain traditions are followed, most of which involve giving up certain things that one loves be it food or an activity.
This is one of the plotlines in the Easter episode of The Real O'Neals, a show that centers on a Catholic family whose dynamic and reputation are shattered when secrets are revealed that go against traditional Catholic beliefs.
In this episode, the O'Neal matriarch asks the family to give up things they love, which involved a sacrifice on her end as well as she watches her son navigate his first gay crush.
Everybody Hates Chris, "Everybody Hates Easter" (Season 3 Episode 14)
As we mentioned, Easter means a lot of things for a lot of different people and there are always unique ways to spend it depending on where you're from.
In The CW's sitcom Everybody Hates Chris, which is inspired by the teenage years of comedian Chris Rock, there are a couple of ways that the show's characters are celebrating the holiday.
Julius plays hooky from both work and family: pretending he has to work so he can avoid going to church, but not going to work so he can stay home and watch baseball.
Rochelle scrambles to up her game for the Easter Pageant Hat-Off to keep her crown.
Finally, Chris offers to step in as Tasha's escort to the Pageant.
Everybody Loves Raymond, "The Canister" (Season 5 Episode 19)
The Easter episode of CBS' Everybody Loves Raymond takes place towards the tail end of the fifth season.
The typical themes of Easter are missing from the central plotline, though frequent mentions of the holiday still make it apparent when it happens – especially when an Easter miracle is announced when the Barone family matriarch Marie actually apologizes to Debra.
Tensions were high between them when Marie asked Debra to return a canister she'd borrowed, which Debra insists on having already returned.
After the apology, of course, it's revealed that Debra does still have it and she concocts elaborate schemes to secretly put it back in Marie's house.
M*A*S*H, "Private Charles Lamb" (Season 3 Episode 14)
Even a comedy-drama series about life during a war has time to show Easter festivities!
The episode's title is, indeed, referring to an actual real-life lamb that becomes one of its main characters.
As a way of saying thanks to the 4077th for taking care of his wounded men, the Greek Colonel Andropolis makes arrangements for an entire feast to be delivered in time for the Easter Sunday dinner.
When it arrives, the animal-loving Radar is shocked to see that it includes a live lamb that is to be freshly served.
Radar tricks Lt. Col Henry Blake into signing an emergency leave for a Private Charles Lamb, saving the poor animal and sending it flying back "home" to Iowa.
Happy Days, "Three On A Porch" (Season 3 Episode 11)
Happy Days is one of the oldest shows on our list, with this particular season airing in 1975 – though the show itself is set in the 50s.
This third season is when the initially secondary character of Fonzie was highlighted more and brought to the forefront, though this Easter episode concerns the original trio of friends: Richie, Ralph, and Potsie.
The three friends have rented a cabin at Lake Whitefish but soon discover that they've actually only rented its porch.
Undeterred by this major setback, they pretend to be rich Tunisian businessmen to attract the attention of the attractive women next door.
Bewitched, "A Bunny for Tabitha" (Season 6 Episode 8)
Last but not least, though certainly the oldest, Bewitched joins the list with an episode that features a bunny – albeit not exactly the fun and fluffy Easter bunny that anyone expected.
On a show filled with magic and mischief, something is always bound to go wrong.
At Tabitha's birthday party, Uncle Arthur is performing magic tricks for the neighborhood children. However, his attempt to pull out a cottontail bunny from a hat goes awry when he accidentally pulls out a cocktail bunny instead and can't reverse the spell.
To make matters worse, Darrin's newest client falls in love with the accidental Playboy bunny and even proposes!