Montana, the Big Sky State, is renowned for its breathtaking landscapes, rugged wilderness, majestic mountains, and the untamed spirit of the West, which have all significantly shaped the narratives of numerous TV shows.
Montana's diverse and picturesque settings have provided a canvas for a wide range of storytelling. Whether it's the wild adventures of ranch life or the mysteries hidden within its vast forests, Montana offers a rich tapestry for storytellers to weave their tales.
So, let's settle in and explore the TV shows that call Montana home, from classics that have left an indelible mark on television history to modern gems that continue to captivate audiences.
Yellowstone, Paramount Network (2018 – present)
Undoubtedly one of the most iconic TV shows set in Montana, this modern Western drama has taken the television world by storm with its gripping storytelling and stunning cinematography.
Set against the backdrop of the expansive Dutton Ranch, Yellowstone delves into the lives of the Dutton family, led by patriarch John Dutton.
As they navigate the complex challenges of running a cattle ranch while facing threats from land developers, Native American reservation conflicts, and internal family strife, the show's intricate plotlines keep viewers on the edge of their seats.
With its memorable characters, intense drama, and breathtaking scenery, the show has become a must-watch.
1883, Paramount+ (2021 – 2023)
Staying in the Dutton family, we travel back to the late 19th century to explore the roots of this formidable dynasty.
In 1883, viewers are transported to a time when the West was wild and untamed.
Here, we meet the family's ancestors, the McCulloughs, who embark on a treacherous wagon train journey from Texas to Montana, where they encounter the harsh realities of the American frontier, from brutal weather conditions to encounters with Native American tribes and outlaws.
With its rich historical context, well-drawn characters, and breathtaking scenery, 1883 has quickly become a favorite among fans of Western dramas and those interested in the rugged history of Montana and the American frontier.
1923, Paramount + (2022 – present)
At this point, the TV landscape of Montana seems entirely populated by the Dutton family and their ancestors.
1923 introduces Jacob and Cara Dutton, who inherit the ranch following the deaths of James and Margaret Dutton.
Against a backdrop of pandemics, droughts, and economic hardship, the Duttons confront various threats, including sheepherder Banner Creighton's encroachment on their land.
The series also follows Teonna Rainwater's harrowing experiences at a Catholic boarding school, marked by abuse and her desperate escape.
Meanwhile, Spencer Dutton's adventures hunting leopards in Africa run parallel to the family's struggles.
Throughout the show, personal sacrifices, family dynamics, and external conflicts add depth to the storyline.
Big Sky, ABC (2020 – 2023)
Based on the Cassie Dewell novels by C.J. Box, Big Sky is set in Montana and revolves around two private detectives, Cassie Dewell and Cody Hoyt.
The story kicks off when two sisters, Danielle and Grace Sullivan, are kidnapped on a remote highway in Montana.
The two detectives, along with Cody's estranged wife and ex-cop, Jenny Hoyt, join forces to investigate the case.
As they delve deeper into the disappearance of the sisters, they uncover a string of disturbing secrets in a town where everyone seems to be harboring their own dark side.
The investigation leads to a web of criminal activity, human trafficking, and a serial killer operating in the region.
Strange Empire, CBC (2014)
Heading to the north, we come upon the Alberta-Montana border, where Canada and the U.S. meet.
This show follows the lives of three women who are left to fend for themselves in a remote and lawless frontier town called Janestown.
The women band together to survive in this harsh and unforgiving environment after a tragedy strikes their community.
Kat Loving has a mysterious past, Rebecca Blithely is a widow and skilled doctor, and Isabelle Slotte is the cunning and ruthless wife of the town's powerful mine owner.
As they navigate the challenges of the frontier, including hostile neighbors, harsh weather, and a lack of law and order, the women form an unconventional family and strive to maintain their independence and protect their community.
Dirk Gently's Holistic Detective Agency season 2, BBC America (2017)
Set in the fictional Bergsberg, Montana, season 2 of Dirk Gently's Holistic Detective Agency continues to follow the quirky and unpredictable adventures of the titular detective, Dirk Gently, as he investigates peculiar cases that often involve supernatural phenomena.
In this season, Dirk, along with his companions Todd, Amanda, and Farah, faces new challenges and mysteries that lead them to uncover even more bizarre and interconnected events.
The show maintains its signature blend of humor, science fiction, and detective work, offering viewers an offbeat and thrilling narrative filled with unexpected twists and turns.
As they delve deeper into the interconnectedness of the universe, the characters discover that their fates are entwined with larger cosmic forces.
Throughout the season, Dirk Gently's holistic approach to solving mysteries continues to perplex and astound as he navigates the strange and mysterious occurrences of the world around him.
Caitlin's Way, Nickelodeon (2000 – 2002)
Meet Caitlin Seeger, a troubled teenager from Philadelphia who, after a brush with the law, is sent to live on a ranch in Montana with her estranged relatives, Aunt Dori and Uncle Jim, and their two children, Griffen and Elsie.
As Caitlin navigates her new life in rural Montana, she faces the challenges of adapting to a completely different environment.
The series beautifully unfolds the story of Caitlin's personal growth and redemption as she endeavors to leave her troubled past behind.
Along the way, she forms deep connections with her family members and the people in her new community.
We are taken on a compelling journey as Caitlin strives to build a brighter future for herself while learning valuable life lessons in the picturesque and rugged landscapes of Montana.
Angel Falls, CBS (1993)
This short-lived but endearing TV show follows Rae Dawn Snow and her teenage son as they move back to her hometown in Montana after the death of her father.
Once there, she reconnects with an old boyfriend, Eli Harrison, while at the same time, her 16-year-old son and his daughter begin to grow closer.
However, things become complicated as Eli's wife, Genna, grows dissatisfied with their marriage and seeks solace in the company of one of the ranch hands.
The show explores the complex and increasingly tangled interrelations within this small community in Angel Falls, Montana.
Best of the West, ABC (1981 – 1982)
Follow the adventures of misadventures of Sam Best, a Civil War veteran who moves with his family to the wild frontier town of Copper Creek in the late 19th century.
Sam's new life is full of challenges and comical situations as he tries to adapt to the rugged Western lifestyle, deal with eccentric townspeople, and take on the role of Marshall in this quirky town.
The series was known for its humor and witty dialogue, offering a lighthearted take on the Western genre.
Each episode offers a mix of frontier humor, quirky characters, and Sam's attempts to maintain some semblance of his civilized life in the untamed West.
Lonesome Dove, CBS (1989)
This miniseries is a classic Western television adaptation based on Larry McMurtry's Pulitzer Prize-winning novel of the same name broadcast over four episodes that is widely considered one of the greatest adaptations in the Western genre.
In the show, we follow the adventures of two retired Texas Rangers, Woodrow F. Call and Agustsuc McCrae, as they embark on a cattle drive from Lonesome Dove, Texas, to Montana, in pursuit of a new life and the promise of unclaimed frontier land.
Along the way, they assemble a diverse group of companions and face numerous challenges, including hostile Native American tribes, outlaws, and the unforgiving natural elements.
Return to Lonesome Dove, CBS (1993)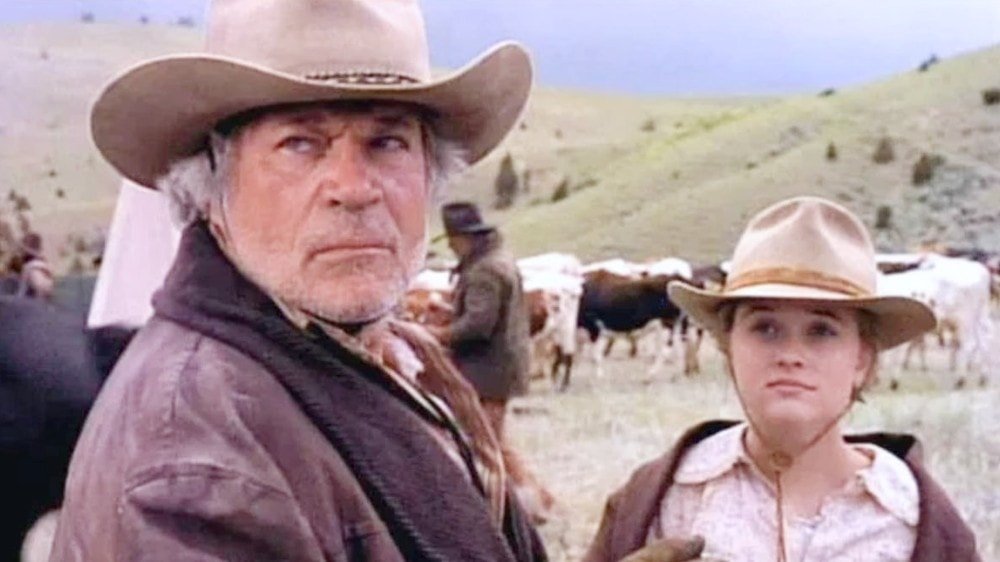 Set in the late 19th century, Return to Lonesome Dove is a sequel to the classic mentioned above, but this time, we follow Woodrow F. Call as he embarks on a cattle drive from Montana to Texas.
After years of ranching in Montana, Woodrow decides to return to Lonesome Dove, Texas, with the ashes of his old friend, Gus McCrae, to fulfill Gus's dying wish.
Along the way, he encounters new challenges and forms new bonds with various characters.
Buckskin, NBC (1958 – 1959)
Lastly, in Buckskin, we head to the American West during the 1880s to follow the adventures of Tom Buckskin Hamilton, a young frontiersman and scout.
The series explores Buckskin's experiences as he travels through the rugged landscapes of the Old West, encountering various challenges, outlaws, and Native American tribes.
Alongside his trusty horse, Smoky, Buckskin often finds himself in perilous situations but relies on his resourcefulness and courage to overcome them.
The show wonderfully captures the spirit of the American frontier, with each episode tackling stories of bravery and survival.
It shows a vast amount of the Old West, including a stop or two in Montana. However, the broad focus is on the battle that was frontier life for young Buckskin.