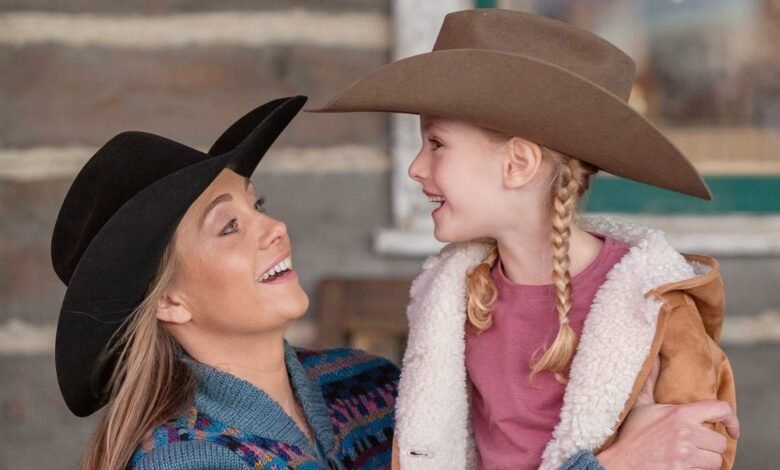 Many of us, myself included, have waited for this news since the start of February when the final episode of Heartland season 16 premiered.
But now it's here and I finally announce that Heartland has been renewed for season 17.
That's right, Heartland season 17 is officially happening!
The announcement
While usually, the renewal announcement comes in the form of a press release and a message from the show's star Amber Marshall, this year they did it a bit differently.
Instead of just announcing that the show will be back for a new season, they also announced the start of production for the upcoming season.
In a post on the official Heartland Instagram account, the show let its fans know that not only is Heartland coming back for season 17, but also that the first episode of the new season (which is already being shot) will be a big milestone for the longest-running one-hour drama in Canadian television history – Heartland's 250th episode.
And, as seen below, the post also included quick messages from Amber Marshall, Michelle Morgan, Shaun Johnston, and Chris Potter on the start of production for the new season.
View this post on Instagram
Michelle Morgan, who plays Lou on the show, also posted a fun video featuring two of her co-stars Amber Marshall and Shaun Johnston announcing the renewal and the start of filming for season 17.
View this post on Instagram
How many episodes will Heartland season 17 have?
The next question on everybody's minds is probably how many episodes will Heartland season 17 have.
And I'm here to tell you that Heartland season 17 will feature 10 one-hour episodes.
Sadly, that's five episodes less than the previous season had.
However, Heartland is no stranger to 10-episode seasons given that seasons 13, 14, and 15 all had just 10 episodes. And, at least in my opinion, these seasons went down in history as some of my favorite seasons of the show.
So, I'm confident that each and every episode will deliver us more of that Heartland magic that we all know and love.
When will Heartland season 17 air?
Although we don't have a specific date for when season 17 of Heartland will premiere, the press release on the season 17 renewal mentioned that the new season "will premiere exclusively in Canada on CBC and CBC Gem this fall".
Meaning that, if the previous years are any indication, we can expect season 17 to start airing on CBC sometime in late September or early October.
But, of course, once a specific date has been announced, I will share it with you all!
UPDATE: Heartland season 17 will premiere on CBC and CBC Gem on Sunday, October 1st!
What else do we know about Heartland season 17?
At this point, we don't know much about the new season of Heartland. However, along with the renewal announcement, CBC also released a quick synopsis for season 17 to let us know what we can expect from the new season.
It reads:
"In season 17, the Heartland family knows better than most that while dreams can sometimes come true, more often life takes us in unexpected directions. The new season is all about embracing the unexpected. It's about new experiences and taking the path less traveled.
In season 17 the Bartlett-Fleming family will find themselves excited for the future and ready to embrace new adventures, challenges, and relationships.
But no matter how much things may change, Amy (Amber Marshall), Lou (Michelle Morgan), Jack (Shaun Johnston), and Tim (Chris Potter) will continue to fight for what they believe in while staying rooted in the land that has been in the Bartlett-Fleming family for generations."
So, if the last season was about taking the blinders off and looking towards a brighter future, then it looks like this new season will be all about embracing the change, being open to new relationships and experiences, and daring to take the path less traveled.
And it will all be played out through the stories of the four core characters – Amy, Lou, Jack, and Tim – and, no doubt, their loved ones like Lisa, Jessica, Peter, Katie, and more, because who would they be without their significant others and the rest of their family.
Sounds like we're in for a really great season. And I couldn't be more excited to see it and then cover every new episode on this blog.
What do you want to see happen in Heartland season 17?
Let me know in the comments below because I'd love to hear your thoughts about what could happen in the upcoming season!