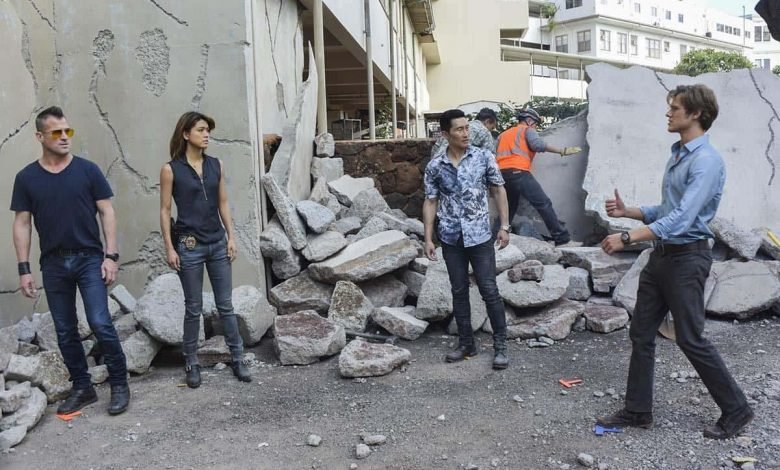 For quite some time there have been rumors of a possible MacGyver and Hawaii Five-0 crossover. The shows not only air one after another on Fridays but both shows are also set in the same universe. The same one in which other TV series like NCIS, both its spinoffs and Scorpion reside as well. On top of that, both shows have been developed by the same man – Peter M. Lenkov. So really this crossover was kind of inevitable. A few weeks back it was finally confirmed that the MacGyver Hawaii Five-0 crossover is really happening. And now we have the first official look at this event via a press release and few pictures picture.
The crossover of these two CBS shows will take place during MacGyver season 1 episode 18 titled "Flashlight". It airs on March 10. In this first official picture (the article cover photo), we can see the two leading men of MacGyver, Angus "Mac" MacGyver and Jack Dalton, played by Lucas Till and George Eads, standing with two Hawaii Five-0 characters, Chin Ho Kelly and Kono Kalakaua, played by Daniel Dae Kim and Grace Park.
Additionally, a few days ago we also were treated to a behind the scenes picture of the foursome by Daniel Dae Kim and Lucas Till. In it we see the four actors posing together by the ocean, looking happy and relaxed. I have to say, that these pics alone get me excited for this crossover event. Just as I was happy to see Till's photo with Taylor Wiley next to a MacGyver chair, which initially announced the MacGyver Hawaii Five-0 crossover.
So what can we expect from the MacGyver Hawaii Five-0 crossover?
In this crossover episode, Mac and Jack go to Hawaii after a huge earthquake strikes there to help with the relief efforts, and eventually join Chin and Kono in helping to rescue government scientists from a collapsed building. However, the tricky rescue isn't their only problem, because on top of trying to save the scientists they also have to stop thieves, who use the earthquake as a distraction to steal a dangerous weapon from the same building. The episode will star all the regular MacGyver characters as well as Five-0's Chin and Kono. And in addition to Daniel Dae Kim and Grace Park, we will also be seeing Taylor Wily as Kamekona on this MacGyver Hawaii Five-0 crossover.
But did you know, that the seeds for the crossover were planted log before we even started hearing rumors about the possibility of this crossover? It's true because in an interview with TV Insider Peter M. Lenkov admitted that from the very start he wrote MacGyver so that Jack Dalton from MacGyver and Steve McGarrett from Five-0 are old army buddies. Thus letting this crossover be a possibility. And it was even visualized in the very first episode of MacGyver, wherein Mac and Jack's flashback to Afganistan we could see Jack firing a gun with "Aloha" written on it.
Back in July 2016 when @PLenkov planted the seed for a potential crossover with #HawaiiFive0 in the #MacGyver pilot: https://t.co/6Yj0NKSAzl pic.twitter.com/wZoEUlA8vg

— DashboardOnFire (@wassernixlein) February 15, 2017
So are you excited for the MacGyver Hawaii Five-0 crossover? And will you be tuning in on March 10? I know I will, because if these photo's and the subtle hints of this crossover on both MacGyver and Hawaii Five-0 episodes are any indications then this episode should be all kinds of fun and interesting.