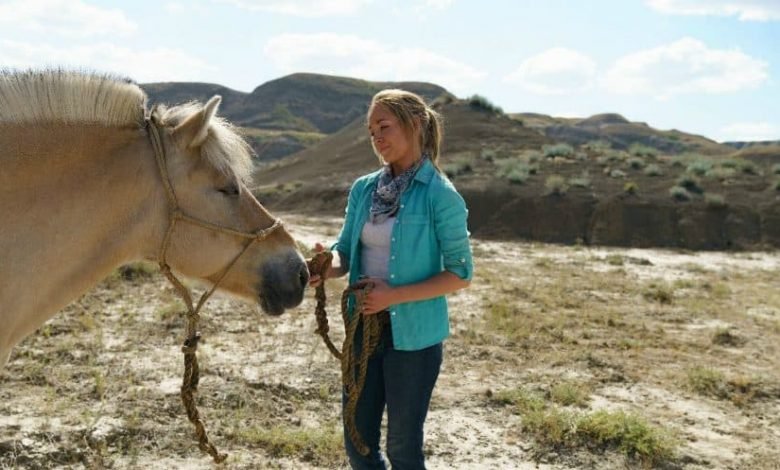 After a long winter hiatus, Heartland was finally back with a new episode. But more than that, it was a follow-up to the winter finale that left us on a bit of a cliffhanger. And the episode didn't disappoint, delivering us an interesting and emotional second act to the mid-season finale. Here is my recap of Heartland season 11 episode 10.
Warning, spoilers ahead!
Mongolia adventures
The last Heartland episode left off with Amy and Tim heading off to Mongolia, despite Ty's warning not to come, which Amy didn't get. And Heartland season 11 episode 10 started with Tim and Amy arriving in Mongolia and realizing that Ty isn't where he should be. And what's even more alarming, nobody can reach him or the vets without borders camp that he went to. So Amy and Tim were left with a decision, stay with Atilla in the camp where it's safe. Or go find Ty.
And, of course, Amy (and therefore also Tim) decided to join Altan (their Mongolian guide) and go to the vet camp. But after arriving there they discovered destruction and still no Ty. Yet, they did learn that Ty went to help out in the next village that was even more damaged. So Altan, Amy, and Tim saddled up some horses and headed to the neighboring village. However, just as it seemed that Ty and Amy will be reunited sooner than they thought, what with Ty and Bata (his Mongolian guide) driving back to the vet camp, the two were grabbed by poachers.
But the surprises didn't end there. As Amy, Altan, and Tim were about to get on horseback and ride to the next village, Atilla showed up. So they started their trek with Atilla in tow. And along the way, they discovered Ty's abandoned jeep. That alone sent Amy into panic mode, but after Altan deducted that Ty and Bata have been taken based on the tire tracks, the whole situation because even more intense. Thus, there was no time to waste, and the three of them decided to continue on and search for Ty, allowing Atilla and Bata's horse to lead them to the two kidnapped men.
All's well that ends well
Meanwhile, the poachers were leading Ty and Bata to what seemed like an execution. But since Heartland is a family show, they ended up just scaring the two and leaving them in the middle of nowhere. On top of that, Bata got injured when the poachers were racing away, so Ty and Bata didn't have any choice but to spend the night right where they were left by the poachers.
Amy, Tim, and Altan also ended up spending the night under the night sky resuming their search in the morning. And once again, just like before with Ty's jeep, Atilla ended up saving the day by leading the trio to Ty and Bata. Amy and Ty were reunited. And everything was okay again. Even Atilla got his mojo back and was declared fully healed, body and spirit. Ain't this a beautiful way to kick off the second half of Heartland season 11.
I wouldn't say that this was my favorite storyline that Heartland has ever done, but none the less it was still sweet, interesting and very Heartland. Despite the fact that it was set in Mongolia. On top of that this whole Mongolian adventure of Heartland season 11 episode 10 also not only made Amy look at horses and her connection to them in a whole different way. But it also seemed to change the way Tim thinks about some aspects of his life. Which could have a very positive impact on the rest of Heartland season 11.


Tim's revelations
That's right, this whole trek though Mongolian desert and Tim's conversations with Altan seemed to change something in Tim. He's still Tim, of course. However, going forward we might see a change in him in regards to his attitude towards his illness and life in general.
While they were looking for Ty, Altan, who is a shaman, told Tim that he is in an imbalance. That darkness, a shadow surrounds him and is slowly breaking Tim down. And although at first, Tim didn't believe a word Altan was saying. By the end of Heartland season 11 episode 10, he seemed to somewhat come around to the idea of him having to find balance again. Having to let his shadows go and let light in. And just as they were saying goodbye to Altan and Mongolia, Tim asked Altan how to find balance again.
Altan answered that he has to be brave enough to let the light in. So I think that we might see Tim doing just that in the rest of season 11. Maybe getting back together with Casey. Letting his family know about his cancer. Or maybe in a whole different way. Time will only tell. But I have to say, I like the idea of seeing a lighter, more positive Tim. Don't you?
Jumping and succeeding
On the home front, Heartland season 11 episode 10 revolved around Georgie and her getting ready for the big jumping competition. But it wasn't going well. Especially with Val in her ear doubting her home-made course and Amy's skills as a trainer. And Georgie realizing that the jump she was training for was bigger on the actual course than the one Mitch built for her.
And even after Mitch adjusted the jump on Heartland's course, Georgie still couldn't get the jump right. Which was making her doubt her skills even more than she already was. Luckily, Dylan stepped in and helped Georgie to nail the jump. But the blows just kept on coming. Because it turned out that someone photographed Georgie and Dylan while he was helping her, and was spreading rumors about she being Dylan's new mystery girl.
Good thing that Peter and Jack were there to lend Georgie some moral support as she was about to leave for the competition. And then Peter, Mitch, and Lyndy made it for Georgie's run in time, which gave her just enough confidence to ace the course and place third.
Although the jumping storyline is growing on me, I don't quite know how to feel about this whole paparazzi thing. Of course, I have no idea of how the real show jumping community is, but it seems a little far-fetched. So what I would love to see moving forward is for Georgie to have a bit more grounded storylines.
Last thoughts on Heartland season 11 episode 10
One of my absolute favorite moments of the episode was the Peter – Mitch babysitting team up. Calming down a crying baby is a hard task on its own. But being forced to do it with someone you don't really like that much and not agreeing with that person on how to best calm down crying Lyndy is basically impossible.
Yet, somehow, the two men managed to work together, stop Lyndy's crying and make it to Georgie's competition in time. I'd say that was not only a miracle, but it also looked like a start of a beautiful bromance, don't you agree? I would totally be down for a friendship between Mitch and Peter. As awkward as it would make things for Lou, it would be interesting to watch, and an unexpected thing to come out of their babysitting adventure.
Episode highlights:
• Amy reuniting with Atilla
• Mitch helping Georgie prepare for competition
• Altan telling Amy that she can find horses' spirits
• Dylan helping Georgie nail that jump
• Peter and Jack going into overprotective mode over the pictures of Georgie and Dylan
• Amy and Ty reuniting
• Mitch and Peter trying to calm down Lyndy
• Georgie going great in the jumping competition
• Tim and Altan's talk at the end of Heartland season 11 episode 10
• Ty, Tim, and Amy returning home
Episode low points:
• Val criticizing Heartland's jumps and Amy's competence as Georgie's trainer
• Tim's rude comments towards Altan
• Lou not making it home for Georgie's competition
• Ty getting kidnapped and almost killed
Quote of the episode:
Altan: "Ty said you have a gift with horses. But it's more than a gift. You can find their spirit."
Amy: "Their spirit? I don't know about that."
Altan: "I've seen you with Atilla. That horse had no spirit when you got here. It's like it had been lost. But you understand him. That's why he followed you. You're giving him back his spirit. That's why he will lead you back to your husband."
Promo for Heartland season 11 episode 11: