This week we got treated to another eventful Heartland episode that ended on a massive cliffhanger.
During the episode (which was directed by Lou herself Michelle Morgan!), we saw Amy and Lou go to Glidden, Saskatchewan to put an end to a Miracle Girl imposter. And Tim and Caleb prep for a big rodeo showcase to promote their rodeo school. However, in both cases, things did not go to plan and we ended the episode with an accident (or was it?) that shocked the whole family.
Want to know exactly what I mean? Then keep on reading this recap of Heartland season 16 episode 10!
An imposter
We started the episode with Amy putting on a little clinic and helping Lexi, a horse that has a problem with turning when her rider is about to mount her.
After the clinic was done, Amy got to talking with Lexi's owner Erin who told her that there is another horse trainer out there who's claiming to be the Miracle Girl.
Erin went to this other Miracle Girl first to try and fix Lexi's spinning problem thinking that it's Amy only to get hurt because she took the other trainer's bad advice.
Hearing this Amy rushed to her office to look up this other Miracle Girl and what she found was disturbing.
A woman who looks very much like Amy is posing as the Miracle Girl online.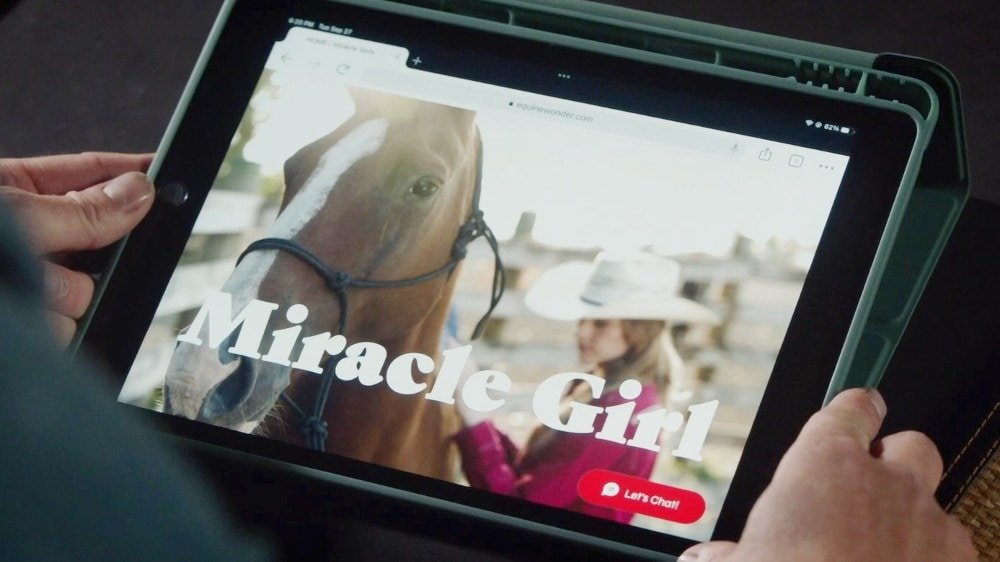 The woman's website is full of vague pictures of her with horses and it even contains the video of Lyndy stopping the frightened horse from episode 1601.
Hearing about this imposter, Lou decided that something had to be done right away. And since Lou had a free day, she figured that a road trip to visit this Miracle Girl imposter was in order.
So, Katie and Parker messaged the fake Miracle Girl pretending to have a horse problem involving a Gypsy Vanner that they knew the imposter couldn't resist. And it worked.
The imposter replied that she has always wanted to work with a Gypsy Vanner and gave them her address.
Lou figured that there is no time like the present and Amy and her packed up and headed to Glidden, Saskatchewan.
Confrontations
The two arrived at Glidden that afternoon and headed straight to the fake Miracle Girl's address.
Despite the fact that Amy's the one that the other horse trainer is pretending to be, Lou figured that she should be the one to do all the talking. Which means that their first meeting with Jolene, the woman posing as the Miracle Girl online, didn't go so well.
Jolene recognized Amy and Lou right away and seemed excited to meet the sisters. However, as soon as Lou started accusing Jolene of posing as Amy online, her demeanor changed and the conversation ended with Lou threatening to take legal action and Jolene threatening to press charges for trespassing.
So, suffice it to say, their first meeting with Jolene didn't go well.
But Amy, always seeing the best in people, thought that maybe she can make Jolene see that even though she wants to be Amy that she's acting very much not like Amy. So, Amy went back to Jolene's property to try and talk to her one-on-one.
At first, it went well, the two started bonding over Blaze, a client horse Jolene was trying to turn into a jumper. Yet things went south quickly when Amy started talking to Jolene about Lexi, the horse with the spinning issue from the start of the episode.
Jolene seemed defensive when Amy started sharing her thoughts about both Lexi and Blaze. And then Jolene tried proving herself to Amy by getting Blaze to jump only to get thrown off.
So, when Amy followed her hunch and quickly figured out that Blaze was an ex-racehorse and therefore needed a different approach, Jolene got angry and walked away. And it didn't help that Amy told Jolene that it's okay not to know to check if Blaze was a racehorse because Jolene is new at this, only for Jolene to tell Amy that she's been working with horses her whole life.
Amy's second visit to Jolene's place ended with Amy discovering a board full of pictures of her which creeped Amy out so she ended up handing Jolene the cease and desist letter that Lou's lawyer had prepared and got out of there.
Resolutions
But Amy felt bad after leaving Jolene's for the second time because she saw that Jolene really didn't want to hurt the horses she was working with. Or their riders for that matter. Jolene was just trying to be like Amy.
Therefore, the next morning before heading home, Amy decided to try one last time.
Amy asked Jolene to try something with Blaze that might help with the process of turning Blaze into a jumping horse and Jolene reluctantly agreed. So, Amy took it back to the basics and rode Blaze around the pen, alternating between asking the horse to trot and walk.
Then Amy asked Jolene to try and finally, the other trainer was in complete control of Blaze.
Amy advised Jolene to take it slow with Blaze, work on his patience and discipline to build up the horse's confidence, and only then try the jumps. And told Jolene that she should take it slow and find her voice as a horse trainer as well.
While Jolene apologized for using the Miracle Girl title.
Jolene: "You must think I'm nuts. All the pictures in the barn and the website and everything. But I love horses, and I've always felt like working with them is my purpose. So, when I saw that video of you, I'm serious, Amy, the way you are with horses, you're everything I want to be."
Amy: "I'm flattered, I really am. But just like Blaze, you have to take this one step at a time. You have to build yourself as a trainer and create your own identity, otherwise, horses and people are gonna continue to get hurt and I can tell that's not what you want."
Jolene: "Of course not. I'm sorry for using the name Miracle Girl. Already taken the website down and all the pictures in the barn."

The two ended their third meeting on a much better note and Amy could go home feeling confident that she not only helped Blaze and any other horse Jolene might work with in the future but also helped Jolene find her feet as a horse trainer as well.
Despite the rocky start I really liked Jolene, so it would be great to see her back on the show in the future, maybe asking for Amy's help or something. Or both of them even working together to fix a difficult horse problem.
Unexpected visits
Before Lou and Amy returned to Hudson they made one last stop. And it was to visit Finn in Kindersley.
When Amy and Lou first headed out on their road trip at the start of Heartland season 16 episode 10, Lou noticed that something was up with Amy.
Lou not only felt the chill in the usually warm relationship between Amy and Jack, but she also saw Amy texting with someone nonstop. So, Lou asked Amy what's up and Amy reluctantly told Lou about Finn Cotter and how Jack has a problem with him.
But Amy didn't expand on it until the two were settled in their crappy motel room and getting ready for bed.
Lou pressed Amy on the Finn issue and Amy finally spilled the beans.
Amy told Lou how Jack has a problem with Finn because he thinks that Finn is just like his grandfather Al and that Jack has said that you can't trust a Cotter.
And Amy also told her sister about how she and Finn had a moment before Finn had to go back to his family in Kindersley and how she misses him. Yet that she also feels guilty about having these feelings toward Finn because she feels like she's letting down Ty.
Luckily, Lou was there for her sister and told Amy that it's okay to feel guilty because Amy probably hasn't had these types of romantic feelings towards anyone since Ty.
And then, when Lou found out that Kindersley is where Finn lives, which is only a few towns from where they stayed the night, Lou suggested that Amy should visit Finn and tell him how she feels.
So, the next morning, after visiting Jolene one last time and before heading home, the two went to visit Finn in Kindersley.
But when Amy finally got the courage to get out of the car and go knock on Finn's door, Finn wasn't the one who answered.
A woman came to the door. And although Finn wasn't even home, the woman called Finn "hon" when she was yelling for him before she realized that Finn's out on a client call.
That shocked Amy and she quickly left. And when Lou tried talking to Amy when they got back to Hudson about calling Finn and asking him who the woman was, Amy quickly shut Lou down and seemed to shut down herself.
So, after all this back and forth, will Jack turn out to be right that Finn isn't a good guy after all? It's hard to say, really.
I mean they had to resolve the Finn storyline somehow after the actor who played Finn, Robert Cormier, suddenly and tragically passed away in the middle of them filming season 16. I just hoped that they would figure out a better way to end the Finn storyline, one which didn't leave Amy with a broken heart.
And I know that there is still time to redeem Finn because there are still 5 episodes left in this season, it's just hard to imagine how they could make that happen.
A lot riding on this
Now that we know what Amy and Lou were up to in this episode, we also have to talk about the rest of the family. And let's start with Tim and Jessica.
As I mentioned in the intro of this recap, Tim and Caleb were getting ready to put on a big showcase for their rodeo school to bring in new sponsors and students.
Now that they had acquired Sherri Wild's barrel racing school (which we saw in episode 1608), Tim had a lot riding on (and a lot invested in) this rodeo school expansion, so he was doing everything he could to make this showcase a success.
Which included him doing interviews and promising to unretire and ride a bronc himself during the showcase. But things weren't going great because crazy stuff kept happening at the rodeo grounds.
First, their tractor broke down while Sam was grooming the field for the showcase only to discover that someone put gas in the diesel tractor. Then all the toilets and washrooms were overflowing and somehow all their horses, including Hagler, the bronc that Tim was planning on riding during the showcase, got out of their pen while Sam was with the plumber.
So, Tim as well as Caleb, who had his own stuff going on at home (more on that in the next section), were very stressed.
But the day of the showcase came whether they liked it or not and things were working out for once. The fans were there enjoying the show and the showcase seemed to be a success.
However, then it came time for Tim to ride Hagler, and that's when everything went wrong.
Earlier in Heartland season 16 episode 10, Tim asked Jack to help him set up Tim's saddle and turn out the bronc before Tim's big comeback seeing that Jack is a rodeo legend in his own right. So Jack was there next to Hagler when Tim got on.
Yet, as soon as Tim got on the bronc, it went wild.
Hagler started bucking in the pen and Tim barely got off it before he was bucked off and crushed under the horse's hoofs. But, unfortunately, while Jack was helping Tim get clear of the horse, he himself fell into the chute and got seriously hurt.
And when they finally managed to open the chute and let the horse out, Jack was on the ground of the pen not moving.
When the dust settled Sam found a bag of rocks in the chute meaning that somebody had put the bag under Hagler's saddle to get him to go crazy.
And then when Jessica looked though her pictures she found the culprit – Tim's old buddy Mike McLusky who we met in episode 1604 and who promised to make Tim pay after Mike unsuccessfully tried to blackmail Tim for something Tim did years ago.
The episode ended with Jack being loaded into the ambulance and taken to the hospital.
---
---
And based on the preview of the next episode (see it at the end of this article) it looks like Tim will be seeking revenge for what Mike did when Heartland comes back from its winter hiatus and episode 11 airs on January 8th.
I just hope it's revenge for getting Jack hurt not worse because I couldn't imagine Heartland without Jack.
Dropping a bomb
So, what's going on with Caleb, you ask?
Well, right from the start of Heartland season 16 episode 10, it seemed that something was off with Caleb. Which was confirmed when Caleb asked Sam to tend to the horses and groom the rodeo field before the showcase because he had a lot going on at home.
And then we saw Caleb show up at the Dude Ranch with Carson where Peter (who tried and failed to surprise Lou with a romantic date night) was staying as well, claiming that their apartment was being painted so Lou let them stay there for the night. And when Peter asked why Cassandra isn't with Caleb and Carson, Caleb threw out that she's with her parents which seemed odd.
Then everything that could go wrong went wrong at the rodeo grounds, and when Caleb got back to the Dude Ranch where Peter was looking after Carson and Jack was setting up the tent for Carson, Lyndy, Katie, and Parker to camp in that night, Caleb finally told Jack and Peter what's wrong.
It turns out that Caleb's apartment isn't getting repainted. Instead, Cass is leaving Caleb and using this time to pack up and move out.
Caleb: "So, sorry about dropping that bomb on you guys earlier."
Jack: "You okay?"
Caleb: "No. No, I'm not. Our marriage has been on the rocks for a while but… we just been so busy in our own worlds and everything at home obviously revolves around Carson and… I guess we just grew apart. We're like roommates."
Jack: "Well, maybe it's just, you know, a rough patch."
Caleb: "No. She's done. I tried and we're here 'cause she's actually packing up and moving out tomorrow."
Jack: "Well, I'm sorry, Caleb."
Peter: "Yeah, me too. Ending a marriage is tough under any circumstances, so…"
Caleb: "You know, the hardest part about this is just what it's gonna do to Carson. I really don't understand how Cass can just rip our family apart like this. I want to make sure that Carson does understand that I had absolutely nothing to do with this decision."
Peter: "You know, Caleb, you've given me some pretty good advice in the past. I mean, you were the one who told me to put my heart back out there with Lou. Don't blame Cass, not in front of Carson. She's his mom and she will always be his mom. And if you run her down in front of him, it's only gonna hurt your son. And even if you're not a couple anymore, you can still be a nice, tight parenting unit."

It's definitely a shock to hear that Caleb and Cass are splitting up. Especially, since Cassandra's the one who wants the divorce, leaving Caleb upset and alone with Carson.
However, since we haven't seen Kaitlyn Leeb as Cassandra on the show for seasons now I did kind of expect something like this to happen eventually.
And it was great to see Caleb having a support system and confiding in Peter and Jack about the shock of it all.
Ever since episode 1406 where Peter and Caleb bonded over being dads I've been thinking that the two would make great friends. Therefore I love any moment that gives us their friendship and/or shenanigans.
And now that Amy and Caleb both are single parents, could their close friendship turn into more? I mean, there once were sparks between the two of them, so, who knows, maybe those will come back. Or maybe they will just stay two good friends helping each other single-parent.
Are there any Amy and Caleb shippers out there who would love for those two to eventually get together? Let me know in the comments!
Scary stories
Lastly, I can't forget to mention what Katie and Parker were up to in this episode.
Since Parker's parents were out of town, Parker was staying the night at the ranch. So, the two girls had lots of quality time to spend together.
And after they helped contact the Miracle Girl imposter for Amy and Lou, Katie found their next activity.
While browsing online Katie saw an article that advertised a Spooky Short Story Contest for teens and got really excited.
So, Katie spent the rest of the episode coming up with a story to submit. While Parker was there to support her friend and help Katie gauge how scary the story is since Parker hates scary stories.
The theme was hauntings and the story had to be set in the writer's hometown. Easy enough, right?
Not really, because at first, Katie did have trouble coming up with a good premise for the story. But then she overheard Caleb telling her dad about all the crazy things happening at the rodeo grounds and Peter joking about a ghost causing them.
And that's when inspiration struck.
So, Katie came up with a scary story about ghosts at the rodeo and told it to Parker, Lyndy, and Carson during their camping night at the Dude Ranch.
And it was really good since it ended up frightening her three listeners so much that the uncorking of a champagne bottle sent them running to their respective guardians.
Does this mean that Katie might finally be figuring out her place in the world? I hope so because it would be interesting to see her differentiate herself from her family by pursuing writing.
Last thoughts on Heartland season 16 episode 10
How romantic was it for Peter to try to arrange a romantic date night for Lou?
Sadly, it didn't work because Lou used her sudden free day to go to Glidden with Amy, but it's the thought that counts right?
I mean he got Rick to cancel all of Lou's appointments and even booked a Dude Ranch cabin for them under a fake name. That's dedication!
Promo for Heartland season 16 episode 11
And here's the promo for the next episode of Heartland which will air on January 8th:
The episode will be called "Head Over Heels" and it will see Amy letting Logan take the lead when it comes to working with a client horse. While Tim will go after Mike for causing Jack's accident and Lou will struggle to reconnect with her younger daughter.