Being a teacher is no easy feat, and there are so many different facets to the journey to become one.
It's not just about knowing the subject matter inside and out, either. After all, it's a pretty common sentiment that just because you're an expert in a certain subject, that doesn't necessarily mean you can teach that subject.
Depending on the age group of students, teachers go through extensive study to learn the proper techniques to handle them. It's all different for young learners, the rowdy middle school kids, the rebellious high schoolers, and the hodgepodge of college kids who either don't care about class or try to prove they know more than you at every turn.
Teachers are also so underappreciated! Seriously, think about it. So much of what we know, we owe to our teachers but how often have we actually stopped to thank them for it? Probably not as often as we should, let's be honest.
So, in honor of these everyday heroes, we've put together a list of the best TV shows about teachers!
They may be fictionalized stories, but this small glimpse into a teacher's day-to-day life might just help us appreciate our teachers more.
Maybe you'll be inspired to pen a quick "thank you" email to that one professor who cut you some slack in your junior year of college, or you'll bring in an extra cupcake or two for your child's kindergarten teacher!
Remember – teachers are humans, too!
A.P. Bio, NBC/Peacock (2018 – 2021)
We're starting with the comedy series A.P. Bio.
The show tells the story of the attempted redemption of a disgraced Harvard philosophy professor named Jack Griffin.
After losing out on his dream job to rival scholar Miles Leonard, Jack heads back to his hometown of Toledo, Ohio, taking a job at the fictional Whitlock High School as – you guessed it – an A.P. Bio teacher.
He's determined not to actually teach them anything, however, instead, he uses his arsenal of honor roll students to plot revenge against Miles.
Later on in the series, he uses their brains again to help him gather intel for what he hopes to be a best-selling novel.
Mr. Corman, Apple TV+ (2021)
Sometimes, there are those of us who have to give up on our dreams for whatever reason, though we can still find happiness in the life we've chosen to live instead.
In the comedy-drama series Mr. Corman, that's kind of what the protagonist is trying to do, too.
Josh Corman is a fifth-grade teacher at a public school in San Fernando Valley, but he once had dreams of becoming a famous musician.
Now, he's put those ambitions behind him and loves his students, but struggles to find the same kind of love for the life that he's living.
Mr. Corman takes us on a journey through his days and nights as he searches for both happiness and meaning.
Abbott Elementary, ABC (2021 – present)
Created and written by comedian and actress Quinta Bronson, Abbott Elementary is one of the newest series on this list.
Bronson also stars as Janine Teagues, one of the teachers at the forefront of the show that's set in the eponymous public school in Philadelphia.
Following Teagues and her colleagues, Abbott Elementary tells the story of these passionate and dedicated teachers who power through the barriers in the public school system and a school district whose priority isn't the best education for the youth.
However, despite all of this, these teachers will do whatever they can to provide their students with the tools and knowledge they need to succeed in their future.
Head of the Class, ABC (1986 – 1991)
Then there is the sitcom Head of the Class that originally aired on ABC from 1986 to 1991.
Set in the fictional Fillmore High School in New York City, Head of the Class follows a diverse group of academically gifted high school students known as the "Individualized Honors Program" (IHP) and their unconventional teacher, Charlie Moore.
Moore, a former successful businessman, takes on the role of teaching these gifted students and brings humor and heart to his interactions with his class.
Head of the Class, HBO Max (2021)
Much like the original 1986 sitcom, HBO Max's Head of the Class reboot tells the story of a group of academically gifted high school students whose life at Meadows Creek High School is turned upside down when a new teacher, Alicia Gomez (played by One Day at a Time standout Isabella Gomez), arrives at the school.
The overachieving geniuses of the honors debate class now have to learn to live with a teacher whose approach is to focus on experiencing life rather than just getting straight A's.
Teachers, TV Land (2016 – 2019)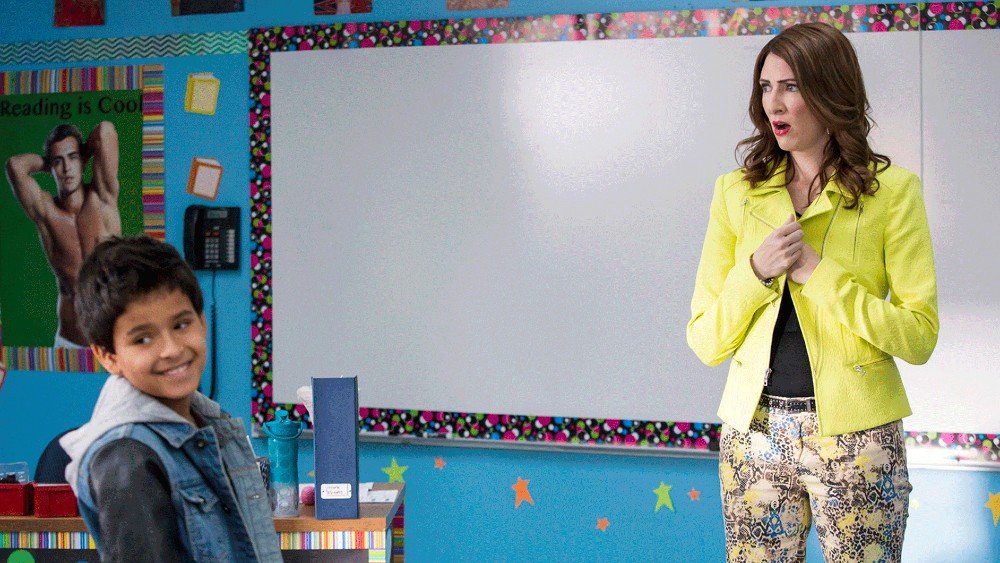 Teachers is an American sitcom from TV Land based on the webseries of the same name.
Both the parent series and the TV adaptation were created by the improv group called The Katydids, a group of six women whose names are all different iterations of the root name "Kate"!
In Teachers, they all play elementary school teachers at the fictional Millard Fillmore Elementary School in Chicago.
Most of us expect, or at the very least hope, that the youth's teachers serve as great role models for them, and essentially, that's the goal for these women, too.
However, that task becomes a challenge when they hardly have their own lives put together – as we'll see in their constant mishaps throughout the show.
Teachers, Channel 4 (2001 – 2004)
With the same title but from across the sea, Channel 4's Teachers is a British irreverent comedy series that follows the daily lives of the teachers at a secondary school called Summerdown Comprehensive (later Wattkins School).
While they seem put together and qualified as teachers when at school and in their classrooms, their personal lives are much more chaotic beneath the surface, proving that even teachers have a thing or two left to learn.
Described as both "hapless" and "perpetually juvenile", the teachers are often seen at the local pub when each episode begins, having a smoke and some drinks over immature conversations, unhealthy eating habits, and cringe-worthy interactions with the opposite sex.
A Teacher, FX on Hulu (2020)
The drama miniseries A Teacher, created by Hannah Fidell, was based on her film of the same name and, though retells the same story, provides more context and character development to the original.
Sometimes, though (thankfully) rarely, the lines in the relationship between the teacher and their student begin to blur, until one of them crosses it completely.
A Teacher tells of one such case between Claire Wilson, an English teacher at Westerbrook High School who has become increasingly dissatisfied with her marriage, and her 17-year-old student Eric Walker, the charming popular kid.
They begin an illicit sexual relationship that soon has dire consequences and causes irreparable damage to them and those they love.
Boston Public, Fox (2000 – 2004)
Created by the legendary writer and producer David E. Kelley, Boston Public is a drama series primarily set against the background of a fictional public school in the Boston Public Schools district, Winslow High School.
Featuring a large and diverse ensemble cast, the show is a mix of comedy and drama as it highlights the personal and professional lives (which often overlap anyway) of the school's teachers, management, and students.
Not only do the school's staff fight to maintain the respect of both the students and their pushy parents, they do all of this while contending with issues in their own private lives.
Boston Public unfolds within the same universe as Kelley's other series', The Practice and Boston Legal.
Bad Teacher, CBS (2014)
You may have seen the 2011 movie Bad Teacher which starred Cameron Diaz; the CBS series of the same name aired for one season 1 few years after the film's release.
Bad Teacher follows Meredith Davis, a recently divorced woman whose separation from her rich husband left her with nothing.
Inspired by a friend's young daughter Lily, Meredith concocts a plan to use a fake resumé to get hired at Richard Nixon Middle School, find a rich single dad to marry, and return to her formerly extravagant lifestyle.
She executes the first part successfully, becoming a teacher to Lily and her friends.
Though clearly unqualified to teach school subjects, Meredith does impart the occasional life lesson along the way.
Chalk, BBC One (1997)
The British school system is quite different from the systems we see in most other parts of the world.
In England and Wales, for example, there's what's called a comprehensive school, which doesn't select students based on academic aptitude and thus provides a much wider – comprehensive, as in the name – curriculum.
In Chalk, we witness a bit of how a comprehensive school works, under the leadership of Deputy Headteacher Eric Slatt at the fictional Galfast High.
Much of the series follows Eric and his attempts to quell the chaos caused by his students at staff, with the help of his wife Janet and the new English teacher, Suzy Travis.
The Steve Harvey Show, The WB (1996 – 2002)
Steve Harvey is a familiar name and face to us all, even to this day.
The self-titled series The Steve Harvey Show was a sitcom that aired more than two decades ago and had Harvey starring as Steve Hightower.
His character was a musical legend back in the 70s, but his peak in the industry has long since passed and now he's just struggling to find decent employment.
He takes on a job as a music teacher at Booker T. Washington High School in Chicago, where he tries to adjust to a mundane, nine-to-five lifestyle.
Eventually, he finds his footing and forges strong connections not only with his colleagues but some of his students as well.
Man Down, Channel 4 (2013 – 2017)
Man Down is a British sitcom that spanned four seasons and two Christmas specials and tells the story of a man who is seemingly perpetually down on his luck – much like the title implies.
Despite being in his forties, secondary school drama teacher Dan Davies might as well be a child stuck in a grown man's body.
That's on any regular day, too, but even more so now that he's in the middle of a midlife crisis and living with his parents.
At the onset of the series, Dan has been recently dumped and tries desperately to get her back. In between his awkward romantic pursuits, he's also juggling family interactions, rivalries with colleagues, and becoming a father.
Schooled, ABC (2019 – 2020)
Set in the 1990s, ABC's Schooled is a direct spin-off from another network series titled The Goldbergs.
The series follows Lainey Lewis, a young woman whose dreams of a music career in rock n' roll have fizzled out, forcing her to return to her hometown of Jenkintown, Pennsylvania from the west coast.
Luckily, her high school alma mater William Penn Academy has an opening for a music teacher and though reluctant, Lainey takes on the job and eventually learns to love being on the other side of the desk.
Schooled also tells the stories of the William Penn Academy's other teachers and Lainey's colleagues, under the supervision of Principal Glascott.
Mr. Iglesias, Netflix (2019 – 2020)
Gabriel Iglesias is a truly gifted standup comedian, but even his work in a scripted series like Netflix's Mr. Iglesias is just pure *chef's kiss*.
Here he plays a "good-natured and fun-loving" history teacher at his alma mater, the Woodrow Wilson High School in Long Beach, California.
He's also a recovering alcoholic, as we find out at the onset of the series, and regularly attends Alcoholics Anonymous meetings in between his responsibilities at school.
However, this doesn't prevent him from doing the best thing about his job: guiding the gifted misfits at Woodrow Wilson so that despite the odds being stacked against them, they too can unlock their full potential.
This Way Up, Channel 4 (2019 – present)
The dark comedy genre is often a hit or miss in the way shows handle sensitive topics, but Channel 4's comedy-drama series This Way Up tackles mental health in a poignant yet still light manner.
In the series, we follow the story of Aine, who is described as a "young, single, Irish-Catholic woman" and a whip-smart teacher.
When we meet her, she's come to live in London with her bisexual older sister Shona in an attempt to pull her life together after experiencing a "teeny little nervous breakdown".
Part of her recovery process is teaching to a group of English-language learners, living lifeless cautiously, and eventually, even having a romance with a student's single father.
Welcome Back, Kotter, ABC (1975 – 1979)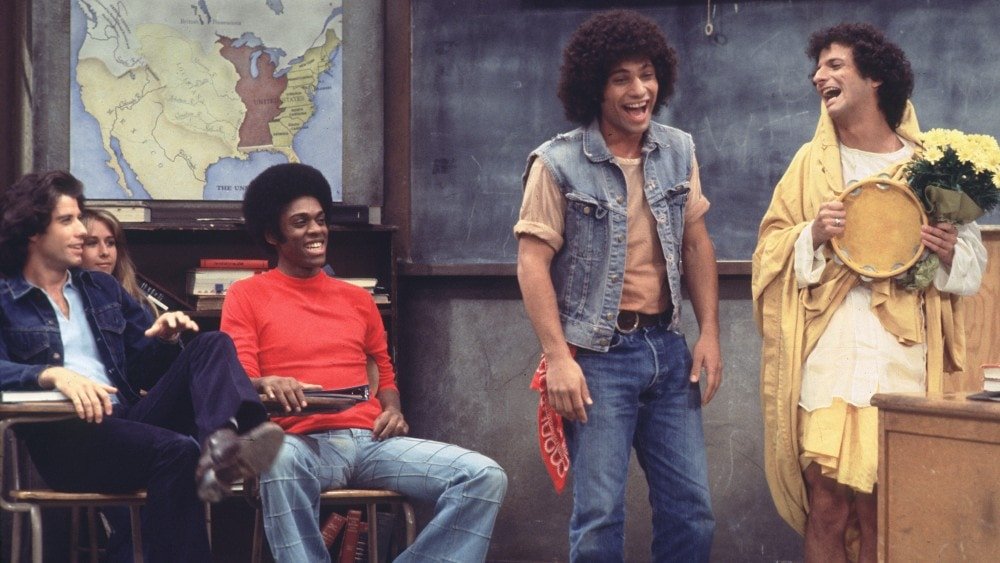 ABC's Welcome Back, Kotter is a lighthearted comedy series that was an inspirational story and, thanks to its racially and ethnically diverse cast, was way ahead of its time (and also faced obstacles precisely because of this).
The show's title is a reference to the main character Gabe Kaplan, who returns to his alma mater James Buchanan High to teach a group of remedial students known as the "Sweathogs", who have been branded by the school's management as simply hoodlums.
Having been one of these students himself back in his student days, Kotter knows of their struggles and exactly how he can help them reach their true potential.
Because of this, he's able to build a strong rapport with them and actually influence them to do better.
Rita, TV 2/Netflix (2012 – 2020)
For the first non-English series on our list of best TV shows about teachers we have Rita, a Danish comedy-drama that's now a Netflix original.
The titular character is Rita Madsen, a secondary school teacher who is known for being headstrong and unconventional.
She's not in the teaching game simply to educate her students but also, according to her, to protect them from their parents.
She will do anything to help and defend her students but as a single mother, she also fights to provide the same advice and guidance to her three children – the youngest who is coming to terms with his sexuality, and the two older who are struggling to deal with adulthood.
Rita's personal life mingles with the professional when her former flame, previously the school headmaster, comes back into her life.
Der Lehrer, RTL Television (2009 – 2021)
Next up is the German-language production Der Lehrer, which translates to The Teacher.
The premise of Der Lehrer is similar to some that we have seen on this list, particularly concerning the teacher himself and the type of students he's in charge of.
To be more specific, the series follows Stefan Vollmer, who has returned to the Willy Brandt Comprehensive School after ten years to become a teacher again – now of German, Science, and PE.
His return to the academe proves to be troublesome as the students themselves are trouble personified.
However, when he is assigned to the most chaotic class in the school, Stefan uses his unconventional teaching methods to get through to them.
Profu', Pro TV (2019 – present)
Romanian comedy-drama series Profu' is very loosely based on the previous series Der Lehrer and is currently waiting on the premiere of its second season.
The teacher at the forefront of the series is Mihai "Mișu" Iacob, who the students sometimes refer to by the titular name Profu', a popular teacher of Physics, Chemistry, and PE at the Emil Gârleanu Industrial High School.
Having returned to the occupation after a period of prolonged absence, Mișu experiences many hilarious mishaps as he tries to regain his footing in the classroom.
Things only continue to get more complicated when Ana Casian comes to teach at the school as well and a relationship begins to blossom between them.
HIT, La 1 (2020 – present)
Last but not least, HIT is a Spanish drama series set at a fictional high school in Madrid, Spain named Instituto Anna Frank.
Tensions continue to rise at the school, with the students caught in a seemingly constant battle with each other.
This needs to stop if the school is to remain open; in a desperate bid, the head of the school Ester hires Hugo Ibarra Toledo (whose initials form the acronym title of the series), a controversial man whose methods are definitely out of the ordinary.
He picks a group of particularly problematic students and each episode of HIT targets common issues in high school such as bullying, isolation, violence, addiction, and the lack of support for teachers.