The 70s brought us a lot of new things. It was the decade that the original Star Wars movie made its first appearance. We met the adorable, albeit very lazy cat, Garfield. We were able to walk around listening to our music on our portable Walkman, thanks to Sony. Women wanted the Farrah Fawcett feathered hairstyle from Charlie's Angels. And two computer geeks started their own little company, which today is known as Microsoft. While on the TV scene, some great memorable shows were broadcasted. Some of them raised eyebrows and some were just good clean fun. Others jerked the tears right out of your eyes and others had you rolling on the floor, clutching your tummy. Let's take a nostalgic walk down memory lane to see what had us glued to our TVs back then. So, without further ado, here is our list of the best 70s TV shows.
M*A*S*H
This Korean War comedy-drama series titled Mobile Army Surgical Hospital, or better known as M*A*S*H, was adapted from the feature film of the same name. The filming and photography make you feel like you are there. The clinging of the surgical equipment and quick-witted banter of the doctors and nurses gives a feeling of the camaraderie in the unit. Making this series relevant and enjoyable to watch even today.
This 70s TV series revolves around a few key MASH personnel. Benjamin Franklin "Hawkeye" Pierce (Alan Alda) is the chief surgeon with a tongue as sharp as his scalpel. Margaret "Hot Lips" Houlihan Penopscott (Loretta Swit) is the strong, sexy head nurse and temporary adjutant. Father John Patrick Francis Mulcahy (William Christopher) is the Chaplain. He also shows us that clergymen are human and that it's okay for them to have a quirky sense of humor. While Maxwell Q. Klinger (Jamie Farr) is the hilarious corpsman with a taste for dressing up in woman's clothes which often leads to rib-tickling consequences.
Saturday Night Live
Anyone who's seen at least one episode of this show will agree that Saturday Night Live or SNL has produced, and still creates, a lot of laugh-out-loud moments. The show uses comedy sketches to mock contemporary American culture and politics. They have a large number of cast members to choose from and like a trampoline, the show has launched many of its performers into stardom.
Some of the actors that starred on the show in the 1970s include Chevy Chase, Jane Curtin, John Belushi, Gilda Redner, Dan Aykroyd, and Bill Murray. So if you are a fan of slapstick, mixed with American wit, then this is the show for you. Don't believe me? Just watch this hilarious SNL season 4 sketch, which aired in 1979, titled Superhero Party!
All In The Family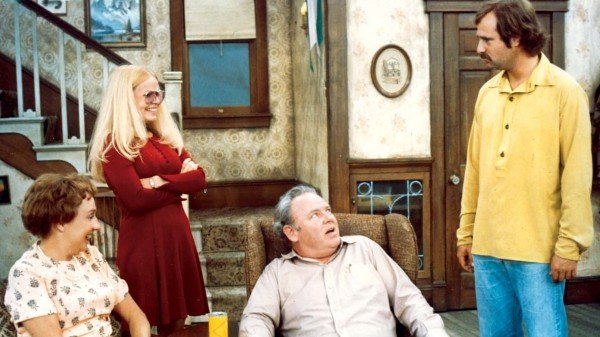 This comedy-drama raised some eyebrows when it was airing because it pulled television away from its G-rated family-friendly world. It was not PG at all, and yet it stayed at number 1 on CBS for five straight seasons. Mainly because it depicted real issues that were rarely shown on TV at the time like racism, abortion, religion, and impotence to name just a few. These subjects, that were taboo in those days, were injected in a sitcom format. Which allowed this 70s TV show to really examine these issues yet also to find the levity in them.
The story of this series revolves around a family living in Queens. There are two couples living under the same roof. Archie Bunker (Carroll O'Connor) is the narrow-minded, brusque, patriarchal father figure. Edith Bunker (Jean Stapleton) is Archie's sweet, submissive and understanding wife. Their daughter Gloria (Sally Struthers) is a good mix between her dad and mom, understanding and kind but with a strong feminist backbone. And then there is Gloria's husband, Michael Stivic (Rob Reiner) who has no qualms standing up to the father-in-law as best he can while taking care of his wife.
Sanford and Son
Then there was the 70s sitcom Sanford and Son, which is toted as one of the first African-American sitcoms. And which paved the way for many to come after it finished its six-season run in 1977.
This truly groundbreaking comedy series, that at the time many called the NBC's answer to the all-white All in the Family, centers on a father and son duo, Fred G. Sanford (Redd Foxx) and Lamont Sanford (Demond Wilson), living in South Central Los Angeles and operating a junk business. Albeit streetsmart Fred is always looking for new ways to get rich quickly which leads to many mishaps. Luckily for Fred, his son Lamont is there to help his father get out of his latest scheme.
WKRP In Cincinnati
This 70s sitcom, that plays out at a radio station struggling to make ends meet, was the brainchild of Hugh Wilson and his own experiences working at WQXI radio station.
The cast consists of eight lovable personas. Andy Travis (Gary Sandy) did not realize what mammoth task he was undertaking when he became VP and Program Director of the station. So he brought in Venus Flytrap (Tim Reid) to sass up the image of the station, with some hilarious consequences. Soulful Venus brings the cool to the party. The cynical, coffee loving Johnny Fever (Howard Hesseman), sleeps in many strange and unique places all over the station. Indecisive and incompetent Arthur Carlson (Gordon Jump) has his job because his mom owns the radio station.
Jennifer Marlowe (Loni Anderson) is the sassy and intelligent receptionist. She's also the highest-paid employee at the station, using her wisdom and common sense to get the staff out of some sticky situations. Herb Tarlek (Frank Bonner) is the personified version of a greasy car salesman, except he heads up the sales department of the station. Bailey Quarters (Jan Smithers) is in charge of billing and station traffic. But during the series run her character grows into a confident on-air news reporter. And that leaves bow wearing Les Nessman (Richard Sanders). Imagine the most oblivious, theory filled, incompetent person, you know. Times that image by a thousand and you'll understand this character to a tee.
Three's Company
If you love comedy, where the whole episode revolves around improbable misunderstandings and the hijinks that ensue because of the said misunderstanding, then this series, which is truly one of the top 1970s TV shows, is for you.
The three most notable characters, Janet, Chrissy, and Jack, live as platonic roommates in a Santa Monica flat. However, their lives are made more interesting by their landlords Stanley and Helen Roper (Norman Fell and Audra Lindley). Janet Wood (Joyce DeWitt) has the most common sense between the three of them. Chrissy Snow (Suzanne Somers) is the giddy and scatterbrained secretary. While Jack Tripper (John Ritter) is the ungainly and cloddish chef-in-the-making.
Happy Days, Laverne & Shirley and Mork & Mindy
Also among the best and most popular TV shows of the 1970s is Happy Days and the series' spin-offs Laverne & Shirley and Mork & Mindy. Which only shows how popular the Happy Days franchise was at the time it was airing.
The mother series, Happy Days, revolves around Richie Cunningham (Ron Howard), a teenager living in Milwaukee, and his family and friends. Which includes Ritchie's dad Howard (Tom Bosley), who owns a hardware store. Mom Marion (Marion Ross), who's a housewife and takes care of the whole family. Ritchie's sister Joanie (Erin Moran). And Ritchie's friends Potsie Weber (Anson Williams), Arthur "Fonzie" Fonzarelli (Henry Winkler) and Ralph Malph (Don Most). With Mork & Mindy, that originated from a popular Happy Days episode, depicting the lives of alien Mork (Robin Williams) and his human friend (and later wife) Mindy (Pam Dawber). And Laverne & Shirley following the lives of roommates Shirley Feeney (Cindy Williams) and Laverne DeFazio (Penny Marshall) who work at Shotz Brewery. They were Fonzie's friends on Happy Days.
Hawaii Five-O
And finally, although you might be more familiar with the current version of the show that airs on Friday nights on the CBS, the glory days of the original series were during the 1970s. With the series even earning an Emmy nomination for best drama in 1973. Which is why we decided to also include Hawaii Five-O on this best 70s TV shows list.
Similar to the remake, the original Hawaii Five-O revolves around the fictional state police force operating all through the Hawaiian Islands. The leader of the group is former Navy man Steve McGarrett (Jack Lord). Who is joined by Danny Williams (James MacArthur), Chin Ho Kelly (Kam Fong), and Kono Kalakaua (Gilbert Lani Kauhi aka Zulu) among others.