I've enjoyed my fair share of soccer games – both in real life and on the screen. I've watched friends play in school and company tournaments, and at this point, who doesn't enjoy watching the World Cup?
However, I'm not even going to sugarcoat it: soccer is a very, very difficult sport to learn the rules of. Even after watching countless soccer matches, I don't know much outside of "pass the ball, kick it into the goal, and don't use your hands".
For most of us casual fans, we know to avoid getting yellow and red cards but do we know what exactly triggers getting them? What counts as a foul? What are the rules for penalty kicks? And sometimes matches are extended for a certain amount of time – what decides how long the time extension will be?
---
Want the quick version of this article? Then check out our YouTube video on the top 7 TV shows about soccer:
---
Still, even without knowing all the rules, there's something about soccer that makes it so much fun to watch.
It could be the gripping anticipation of a goal being scored after so long, or the joy of seeing how the players celebrate each goal (if there are any at all, of course). Not even considering that all we see as spectators is what happens on the field, who knows what happens behind the scenes?
Well, we're hoping to cover all bases (not the right sports reference, I know, but is there really a soccer equivalent?) with this list of the best TV shows about soccer!
You'll get your share of scripted shows as well as reality shows and documentaries for some behind-the-scenes action!
Will any of us emerge from this compilation with a broader knowledge of soccer and its rules? Who knows, but these soccer TV shows are guaranteed to be worth a watch, anyway!
SCRIPTED SOCCER SHOWS
The English Game, Netflix (2020)
The Netflix original Victorian-era miniseries The English Game is a good place to start if we're looking to understand where soccer came from.
Though the concept of soccer has been around since way, way back in history, soccer found its footing in the 19th century. By the 1870s, when The English Game is set, soccer in Great Britain was a sport exclusively for society's elite.
Throughout its six episodes, we meet aristocrat Arthur Kinnaird (one of the first soccer – or football, as they call it in the UK – stars and a pivotal member of the Football Association) and Fergus Suter (a stonemason and recognized footballer).
Together, Kinnaird and Suter changed the game completely by working together to overcome the class divide plaguing it.
Ted Lasso, Apple TV+ (2020 – 2023)
We're jumping to a modern-day fictional soccer series with Ted Lasso from Apple TV+!
The titular character Ted Lasso had his origins with Jason Sudeikis (Saturday Night Live) in the role in a series of promotional videos for NBC Sports' coverage of the Premier League, before he was further developed into the main character for this show!
Ted Lasso is a college-level American football coach but when a wealthy divorcee hires him to coach association soccer instead, Ted packs his bags and ships himself to England.
Given that he has absolutely no experience with football, he's met with waves of skepticism from the community and players themselves that he must try to overcome.
21 Thunder, CBC Television (2017)
We're shifting gears a little yet again with 21 Thunder, a Canadian sports drama that follows the personal and interconnected lives of the players in an under-21 team from Montreal, the fictional Montreal Thunder.
Though the show's creators originally considered another sport, they settled on the Canadian youth soccer scene, as executive producer Kenneth Hirsch explains, in order to best showcase the sport's "huge diversity, of cultural background, of different segments of society."
21 Thunder takes us both on and off the soccer field as it shows how these young players interact as teammates and friends, all while navigating complicated romances and life-changing decisions as they stand on the brink of deciding their career paths.
The Kicks, Amazon Video (2015 – 2016)
Alex Morgan has become a household name when talking about soccer in America. She is, after all, a member of the US national women's team and an Olympic gold medalist. With The Kicks, she adds teen sitcom TV show creator to her list of achievements!
Aimed toward a younger audience, The Kicks follows 12-year-old Devin Burke. Just as she's about to be named captain of her soccer team in Connecticut, her family moves across the country to California.
Her new school has a girls' soccer team too, the Kentville Kicks, but Devin discovers that they've been on a losing streak the whole season and thus, needing her as a leader just as much as she needs them.
Dream Team, Sky One (1997 – 2007)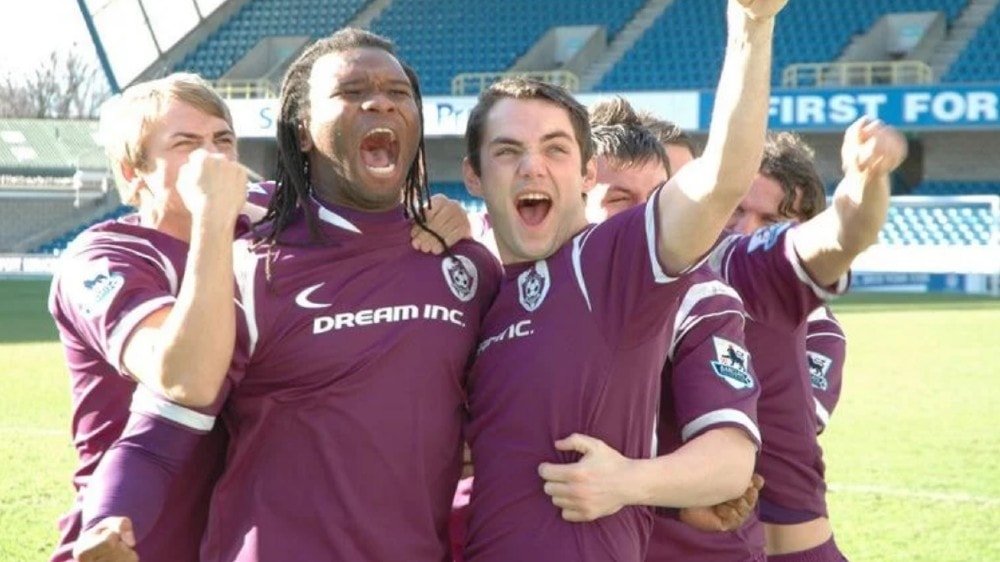 Dream Team will be the longest-running series on this list of best soccer TV shows so far, with ten seasons of 419 episodes under its belt.
Set in the fictional town of Harchester in the West Midlands region of England, the show chronicles the on and off-field relationships of the town's local football team: the Harchester United Football Club.
Dream Team started out focusing on the team's players (including the youth team), coaching staff, and management and provided some context on how teams are relegated to certain professional leagues.
However, it was still a drama series through and through, and later seasons evolved to include more dramatic events that involved the community as a whole, too.
Club de Cuervos, Netflix (2015 – 2019)
Club de Cuervos is a Spanish-language Netflix original series that takes us to the fictional Nuevo Toledo, Mexico. The city's local soccer team, Cuervos FC, is at the center of the show.
While the players' personal relationships do also form parts of the storyline, the focus is really on the power struggle over the management of the team.
Siblings Chava and Isabel Iglesias are left to contend with each other when their father, the team's owner, dies. Though ownership is originally handed to Chava, he proves to be inexperienced and his management decisions cause tensions within the team dynamic.
Amidst this, Isabel sets out to do whatever she can to seize control as president.
Apache: The Life of Carlos Tevez, Netflix (2019)
Staying in the vein of Spanish-language shows, Apache: The Life of Carlos Tevez is an Argentine Netflix original that is a scripted biographical account of the titular Carlos Tevez.
In case you're unaware, Tevez is a former professional footballer and Argentine native. He has played for such teams as Boca Juniors, Manchester United, Juventus, and, of course, the Argentine national team to name a few.
The eight-episode miniseries gives an account of his life from his youth in the harrowing conditions of the Fuerte Apache neighborhood, where he earned his nickname El Apache, to his rise in the professional leagues.
REALITY AND DOCUMENTARY SHOWS ABOUT SOCCER
Sunderland 'Til I Die, Netflix (2018 – 2020)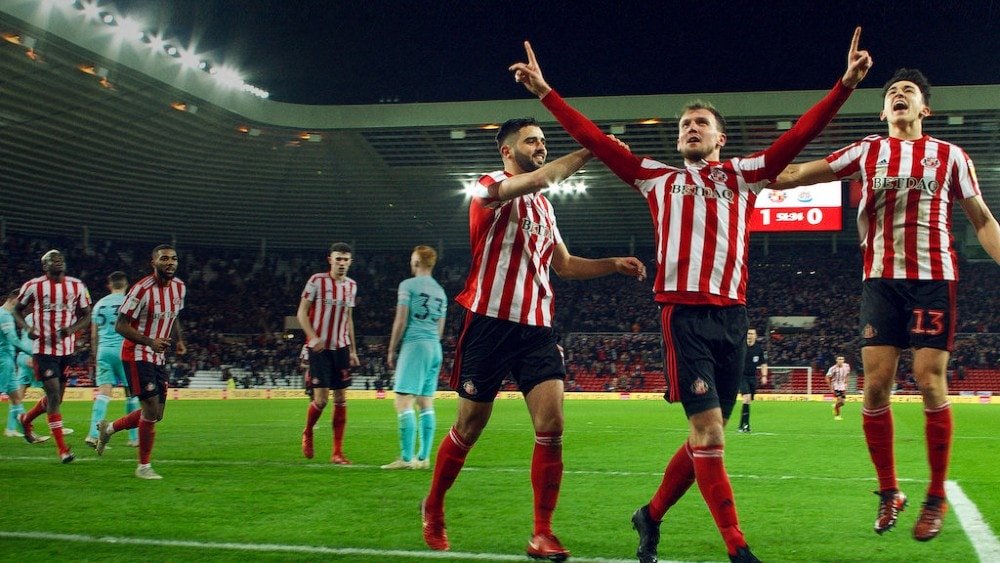 Sunderland 'Til I Die is a documentary series that follows Sunderland AFC, a professional English football team based out of, well, Sunderland of course.
The series is titled after one of several of the team's fan chants: "I'm Sunderland till I die!".
When it first aired in 2018, the series documented the team's journey throughout the 2017-2018 season playing in the English Football League Championship after their disappointing relegation from the Premier League in the prior season.
In the second season, the club is under new ownership and faces a new breed of challenges. With fans as passionate as theirs, however, will the team be able to overcome the obstacles?
This Is Football, Amazon Prime Video (2019)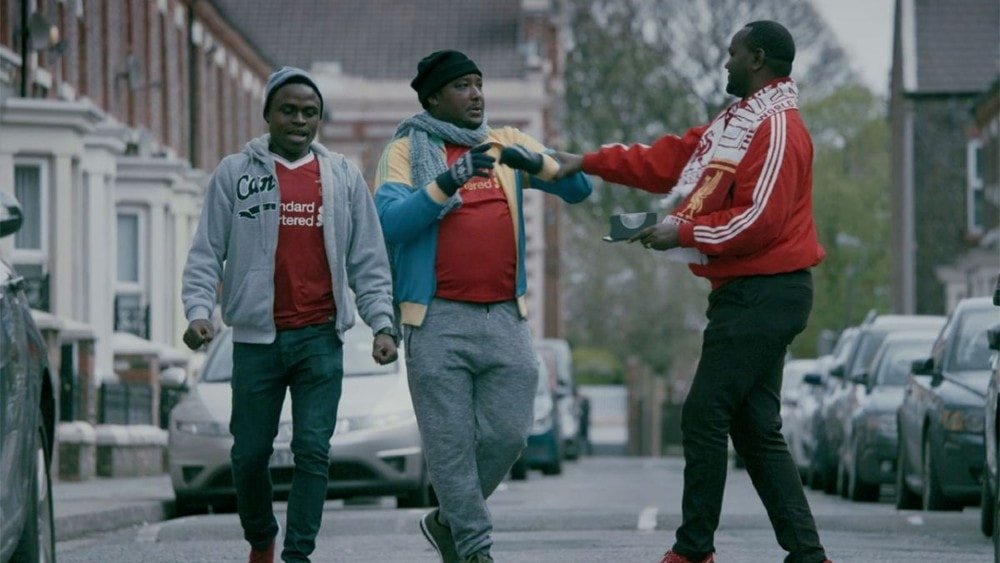 The Amazon Original This is Football is a six-part documentary miniseries that all fans of the sport must put on their watchlist.
In this review from John Serba on Decider, he calls it "a soccer documentary series aiming to transcend sports-doc cliches" as it focuses instead on how the sport has made an international impact.
Each episode takes its viewers to a different corner of the globe and explores just how much soccer has ingrained itself as part of the community.
In Rwanda, it helped Liverpool fans heal after a national tragedy, in Japan, the women's team's triumph at the World Cup did the same.
The last episode, titled Wonder, delves into one of the world's biggest soccer stars: Lionel Messi.
All or Nothing series franchise, Amazon Prime Video (2015 – present)
The All or Nothing series franchise hails from Amazon Prime and is pretty much your go-to for all sports documentaries – not just soccer but also American football, rugby, and ice hockey!
The show documents the ins and outs of the teams' operations and for the most part, their journey throughout the current league season.
The first soccer-centric offshoot was All or Nothing: Manchester City as they dominated that Premier League season, followed by the All or Nothing: Tottenham Hotspur as they navigated the COVID-19 pandemic and one season for the Brazil national football team.
Upcoming seasons include FC Bayern Munich and Juventus F.C.!
Take Us Home: Leeds United, Amazon Prime Video (2019 – 2020)
Like the previously mentioned Sunderland 'Til I Die, Amazon Prime Video gives us an in-depth look at a team struggling to recover after relegation from the Premier League.
Leeds United, or better known as simply Leeds, became known as the 'fallen giant' but were determined to make their way back. Take Us Home: Leeds United gives us a closer look at that journey, starting from when their new owner Andrea Radrizzani hires a top-class coach to put them back on track.
In the second season, even more changes are brought about to the team's dynamics and they prepare for a pre-season match against Manchester United, one of their known rivals.
Becoming Champions, Netflix (2018)
Ah, the World Cup – arguably one of the biggest international events in sports, perhaps even more so than the entire Olympics.
Since its founding in 1930, 21 tournaments have been held (with the 22nd scheduled for 2022 in Qatar) and of those, only 8 countries have ever won!
The Netflix original series Becoming Champions looks into what has made these national teams into champions: their players, superstars, training and match highlights, and even the history of the teams themselves.
Every episode features one of the eight winning countries: Uruguay, Italy, Germany, Brazil, England, Argentina, France, and Spain. Will future seasons give us the same insight into the Women's World Cup winners, too?
Six Dreams, Amazon Prime Video (2018)
What the Premier League is to British association football, La Liga is to the Spanish football league.
Six Dreams is an Amazon original that takes us deep within the La Liga football scene, transcending the broader perspectives of the teams and local communities, and instead focusing on the experiences of six individuals – albeit spread out across the entire league – throughout the 2017-2018 season.
These people include three players (Andrés, Saúl, and Iñaki), Sevilla manager Berizzo, Girona sports director Quique, and Eibar FC's first female owner and president, Amaia. With such a comprehensive view, fans are able to better understand what goes on both on the field and in the offices behind it.
First Team: Juventus, Netflix (2018)
With the UK's Premier League and the Spanish La Liga (not to mention the German Bundesliga), we also have the top Italian football league: Serie A.
First Team: Juventus follows the trials and tribulations that Juventus FC experienced throughout the 2017 – 2018 league season. As the top team in the league with the most number of championships and runner-up trophies, the pressure never stops.
With only six episodes in this miniseries, the first half goes into their season in Serie A while the second half shifts focus to that season's performance in the UEFA Champions League.
Boca Juniors Confidential, Netflix (2018)
We briefly mentioned Boca Juniors when talking about Apache: The Life of Carlos Tevez. Now, the last show on this list further explores the team and its dynamics.
Boca Juniors Confidential is an Argentinian Netflix original miniseries (just four episodes, so a quick binge for Boca Juniors fans) that's a mix of footage of the team in action on the field, and brief interviews with both the players and management.
Right from the get-go, fans will get to see their intense training regime and follow their journey up until the last day of the season, where they are attempting to win yet another championship at Superliga, the Argentinian major football league.