The world has definitely come a long way since the inception of the Space Race between the then-Soviet Union and the United States back in the mid-1950s. While it has certainly ceased to become a competition between Cold War rivals and has moved into more cooperative efforts between many different countries, the Space Race led to a continuing legacy of technological advancements in space exploration.
These developments have also paved the way for enhanced imagination and creativity. Creators now have a foundation on which to expand science fiction – the sky is the limit, literally! When there are still so many unanswered questions about space and all the things that are out there, your imagination could take you anywhere.
I mean, how much do we really know about the existence of other planets, other worlds, other species? A lot, sure, but these TV shows take it all just one step further!
So, here's a collection of sci-fi TV shows that you can binge-watch on all things space!
Killjoys (2015 – 2019)
Canadian network CTV Sci-Fi Channel first ordered Killjoys to series in late 2013 before having the Syfy network jump on board as co-producers, releasing the first season two years later in 2015. It wrapped up neatly five seasons later just this past September 2019.
Syfy's Killjoys focuses on Dutch, Johnny Jaqobis, and Johnny's troubled older brother D'avin, three interplanetary bounty hunters working for the Reclamation Apprehension Coalition (RAC). As agents of the organization, they're duty-bound to execute warrants to search for and apprehend people across what's called the "Quad", a four-planet system "on the brink of a bloody, multi-planetary class war". Despite this war, however, they must remain neutral in the conflicts despite their personal experiences and beliefs.
Vagrant Queen (2020)
Unsurprisingly, the Syfy network has yet another show to add to the list and one that premiered in March 2020 and is ten episodes since it was canceled after just 1 season by its network. Vagrant Queen is based on the comic book series of the same name published in 2018 and created by talented comic book writer Magdalene Visaggio.
In Vagrant Queen, Elida Al-Feyr is a former child queen who's on the run following the death of her mother and the downfall of their empire at the hands of Commander Lazaro. She has since survived as an outlaw and scavenger, staying under the radar so her enemies can't find her. However, she's eventually tracked down by acquaintances and told that her mother is still alive. With their help, she sneaks her way back into her former kingdom to rescue her mother and hopefully, resume her mantle as a child queen.
Lost in Space (2018 – present)
Here we're talking about the recent 2018 reboot, though we can't do that without mentioning the 1965 original series – which itself was a sci-fi reimagining of the novel The Swiss Family Robinson. This reboot was released on Netflix and has recently been renewed for a third and final season.
If you're familiar with the original adventure novel then you'll know that any adaptation of it is highly likely to focus on a family that is shipwrecked in some way or other. Lost in Space features the Robinson family, among other families, on the way to colonize a new star system to ensure the safety and survival of the human race. However, they're attacked by alien robots and instead crash on a nearby planet. As they struggle to survive within a strange, new environment, they must also find their way back to their mothership.
The Expanse (2015 – present)
Since its premiere in 2015, The Expanse has received critical acclaim and has continued to gain both high ratings and an expanded viewership. Despite this, Syfy canceled the series after three seasons but luckily, it was subsequently picked up by Amazon Prime Video for its fourth and succeeding seasons.
The show is based on the series of science fiction novels of the same name written by James S. A. Corey where we're catapulted some hundreds of years into the future. In this future, the solar system has been colonized by humanity is divided into three major factions centered on Earth, Mars, and the Belt: the United Nations, the Martian Congressional Republic, and the Outer Planets Alliance, respectively. These places are approaching a state of war, and it's up to an alliance from all factions to unravel a conspiracy and stop the war.
Star Trek: Discovery (2017 – present)
The entire Star Trek franchise undoubtedly fits right into the bill of the space and sci-fi genre and has been around since the 1960s, so far spawning nine series', thirteen movies, books, comics, games, and many others that have helped cement it into pop culture. However, we want to home in on Star Trek: Discovery, the seventh series in the franchise with the third season set to premiere this 2020.
Star Trek: Discovery takes place around a decade before the events in the original series, which is of course the first series in the franchise. Here, we become more acquainted with the USS Discovery as they are caught up in a war between the Klingon houses and the United Federation of Planets. As their adventures continue, they even end up traveling way beyond their – and even our current – future.
The Mandalorian (2019 – present)
Chances are that by now, you've already seen multiple variations of the Baby Yoda meme circulating on social media. In case you didn't know, that's from Disney+'s The Mandalorian, which is the first live-action series for the Star Wars franchise. It quickly rose to popularity and has since received positive reviews, with a second season set to release in October 2020 and a third season already in production.
Sharing continuity with the Star Wars movies, The Mandalorian is set five years after Return of the Jedi and 25 years before The Force Awakens. The titular character is, in fact, the Mandalorian bounty hunter Din Djarin who operates outside of the confines of the New Republic.
The Orville (2017 – present)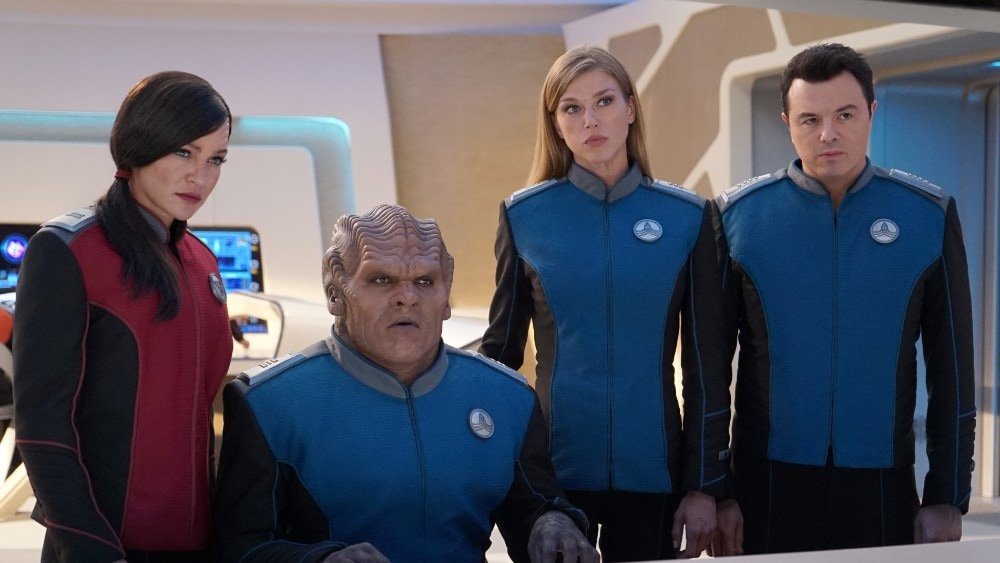 When Seth MacFarlane's name is attached to a project, you can be sure that there'll be the comedic element thrown into the mix. Fox's The Orville, which is created, produced, and starred in by MacFarlane, doesn't disappoint as it racks up ratings from the network and positive reviews from both critics and viewers alike.
The Orville gets its title from the fictional USS Orville, a starship led by MacFarlane's character, Captain Ed Mercer, that patrols the Planetary Union (an alliance between Earth and other planets) some 400 years in our future. He commands the Orville alongside his first commander and ex-wife, who he caught in bed with an alien, and thus their space exploration begins. The Orville pays heavy tribute to the Star Trek franchise in both parodical elements and homages.
Dark Matter (2015 – 2017)
Dark Matter is another creation born from a partnership between Canadian network Space and American network Syfy. The show is based on the comics of the same name created by Joseph Mallozzi and Paul Mullie, published under Dark Horse Comics. It ran for three seasons before eventually being canceled by Syfy.
Six centuries into the future, where space exploration and artificial intelligence seems to be pretty normal, six people wake up from stasis onboard the Raza, a run-down starship that's basically in ruins. They have no memories of what they're doing there or even who they were before coming out of their deep sleep. Left with no choice but to work together, they team up to find answers and survive on their own – all with the help of a female AI also on board with them.
Another Life (2019 – present)
Streaming giant Netflix drops another sci-fi drama with Another Life, which has recently been renewed for a second season though with no definite release date as of writing. This space sci-fi series features a stunning ensemble cast including Selma Blair, Justin Chatwin, Katee Sackhoff, and Jake Abel, and incorporates various elements typical of the science fiction genre.
Scientists in the US Interstellar Command scramble to find answers about the alien artifact that has mysteriously landed on Earth. As these answers remain out of reach, however, it's up to Captain Niko Breckenridge to command a crew of capable astronauts aboard the Salvare spaceship and figure out the artifact's origins. As their interstellar investigation continues to become more and more dangerous, they must also fight to ensure that their mission will ultimately allow them to return home.
Nightflyers (2018)
From the brilliant mind of George R. R. Martin (author of the Game of Thrones series of novels) comes a sci-fi horror and psychological thriller series that's likely to drum up some unsettling nightmare fuel. Sadly, the Syfy network canceled the series after just one season as it failed to garner enough interest or good ratings.
Nightflyers takes place on the advanced spaceship that the series is named for, where a team of scientists has taken it upon themselves to explore the outer reaches of space to search for alien life forms. The further into outer space they go, however, the farther they stray from the brinks of sanity as well. Soon, a series of unexplainable and horrifying events start to ravage the ship and the team realizes that what they have to fear isn't the unknown outside – it's the unknown running loose on their ship.
Battlestar Galactica (2004 – 2009)
The Battlestar Galactica franchise can trace its roots back to the late 1970s, where it had its beginning with the original series (albeit having run for only one season). Though arguably less renowned than the two previous sci-fi franchises mentioned here, the world of Battlestar Galactica only continued to grow into further TV show adaptations, books, comics, board games, and video games.
A reboot miniseries was aired in 2003, which eventually led to this Battlestar Galactica series the year after and aired for four seasons. During its run, we join the titular spaceship Battlestar Galactica, its captain Bill Adama, and its crew as they lead the remaining survivors of the Twelve Colonies after it was attacked and their population was decimated by an alien race.
Firefly (2002)
Fans of the genre will be deeply familiar with Fox's Firefly thanks in large part to its status as a cult classic despite it having run for only one season before being canceled by the network. Even now, it has been mentioned or referenced in various other TV shows such as Castle, The Big Bang Theory, Community, and even the Battlestar Galactica miniseries – not to mention having its own film, comic series, and RPG.
In the far future where Firefly takes place, the United States and China are the only remaining superpowers, having formed an alliance and a fusion of both cultures. In this world, many of the planets are under the Alliance's control, but those on the outer edges live with limited authority – but limited resources as well. The captain and crew of the Serenity starship, who are central to the series, is one of these groups and make a living on cargo runs and smuggling goods and people.
Stargate SG-1 (1997 – 2007)
The last series on our list of the best sci-fi space shows comes from yet another sci-fi franchise. What started as a movie, Stargate in 1994, has since spread to include two direct-to-video films, three TV shows, a web series, an animated series, numerous books, comics, and video games. Today though, we honor the first TV series in the franchise: Stargate SG-1.
The series picks up after the events in the original movie, so viewers should be aware that the US government has discovered the presence of the Stargate, one cog in the network of portals across various planets in space. The eponymous SG-1 is formed by the US Air Force, comprised of special operatives now tasked with exploring the other galaxies and defending the Earth against extraterrestrial threats.