Whenever the year starts nearing its end, people tend to get nostalgic over their experiences during the past 11 or so months – new jobs, places traveled to, finding their (hopefully) true love…
Well, we've recently been reminiscing over the best that the TV industry gave us in 2019 and I've gotta say, it's overwhelming!
We were blessed with so many amazing shows over the year that it was almost impossible to narrow it down to the list we've got for you in this article. Given that, the shows we've included in this article of the biggest TV shows of 2019 were definitely some of the most talked-about this year.
With the multitude of shows out there this year, let us know what other shows you think should be included in the comments below! And let's jump right into the list!
Stranger Things
Stranger Things just keeps getting better and better. Season 3 was released this year and unfolded a brand-new chapter of the story that, to be honest, just left us with even more questions. Also, it was so refreshing to watch the gang's character development this season – they're definitely not kids anymore.
The teaser trailer for season 4 takes us out of the fiction town of Hawkins, and there's just no telling what otherworldly situation Eleven, Mike, Will, Max, Lucas, Dustin, Steve, and everyone else's favorite characters are going to be dealing with next.
Game of Thrones
Speaking of character development, Game of Thrones had an interesting take on that in their final season this year. With millions of fans waiting to find out who would take the Iron Throne, suffice to say there were a lot of mixed reactions after the series finale.
After years of building up Daenerys Targaryen as a badass breaker of chains and mother of dragons, people just weren't expecting her to go mad like her father and then be killed by the man she loves. Sigh.
Still, there's no denying that this show has been one of the most iconic ones of the decade and will definitely live on as a classic.
The Mandalorian
Despite only being released roughly a month ago with the launch of Disney+, The Mandalorian has become a huge internet sensation. It's not just the die-hard fans of Star Wars that are talking about it either – it's become a pop-culture meme, thanks to the appearance of "Baby Yoda", as he's been dubbed by social media.
Of course, The Mandalorian is only made even greater with the stellar cast of Pedro Pascal, Carl Weathers, Taika Waititi, and many other stars.
Watchmen
Nobody can resist a great superhero show, and Watchmen is just one of the few currently on the air (special shout-out to the amazing shows in the Arrowverse, from the DC Universe!). Thanks to HBO, this sequel to the original Marvel comic of the same name has graced our screens with the first season, and it was a pretty darn awesome one.
It builds on the foundations set in the comic but introduces us to a whole new slew of characters (mostly outside of those already introduced in the 2009 movie) that ultimately gives the series life of its own. Review site Rotten Tomatoes rates it at 96%, which is pretty impressive!
Money Heist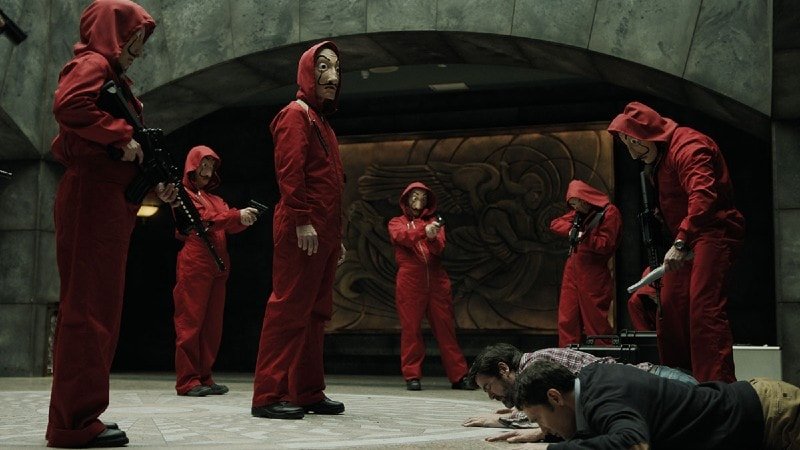 It's rare for a non-English show to make tidal waves internationally, and that's just a testament to how good Money Heist is. Particularly after it was released on Netflix. It follows the story of a group of robbers as they prepare for one of the biggest, multi-day heists on the Royal Mint of Spain and then, in the latest season that premiered this year, the Bank of Spain.
It has remained one of the most-watched series' on Netflix, and the iconic red robbers' costumes and Salvador Dali masks were a regular at costume parties, carnivals, and even media advertising. Talk about pop culture impact!
Part 4 is slated to premiere in April 2020.
Russian Doll
According to a review by Alicia Lutes of IGN, Russian Doll "will easily stand as one of the best shows of the year", and we are more than inclined to agree. We may have seen various iterations of the time loop trope in TV shows and movies, but none have done it so seamlessly – and outright hilariously – as Russian Doll.
With layers upon layers of an expanding storyline every time Nadia Vulvokov, the main character, dies at the end of the 36th birthday party, viewers will never get tired of watching her relive the same day over and over again as she tries to find her way out of the loop.
Created by Natasha Lyonne (who plays the lead role as well), Leslye Headland, and Amy Poehler, Russian Doll was nominated for four Emmy Awards and won the Television Critics Association Award for Outstanding New Program.
Mindhunter
When Netflix released the first season of Mindhunter in 2017, the true crime genre had already started to gain traction. In fact, the genre was already getting pretty crowded. Yet, it still managed to make a name for itself with critical acclaim from a variety of review sites, even landing in Metacritic's list of best shows of 2017.
Season 2 premiered this August, and we wouldn't be surprised if it makes that list yet again. Building on the dark atmosphere that made its first season so captivating, it was once again a spine-tingling experience to watch such realistic portrayals of the world's most notorious serial killers. And yet, we just couldn't look away.
Unbelievable
In the wake of the Me Too and Time's Up movements against sexual abuse and harassment, it comes as no surprise that Unbelievable gained such a large audience viewership at 32 million viewers, despite it being just an 8-episode miniseries.
Unbelievable is a true-crime drama that focuses less on the perpetrator and instead, zeroes in on the experiences of the victim. Particularly one who was accused of lying about being raped. It evokes feelings of anger and sadness and is the jolt of reality we all need to realize that this is something that happens too often.