The Fourth of July is right around the corner and for Americans, we all know what that means! Independence Day celebrations always mean family gatherings, picnics at the local park or down by the lake, backyard barbecues with friends and neighbors, and lots of beautiful fireworks lighting up the night skies.
Of course, celebrations both last year and this year are a little more muted than we're used to. I'm sure everyone's a little bummed out that they can't enjoy great holidays like the 4th of July in full swing for the second year running, but we're hoping this list will alleviate a bit of that for everyone.
So if you're staying at home, keeping the party to a small number of people, and watching the fireworks from your roof instead of a park full of people, we've got a great list of 4th of July TV episodes to keep you company!
Take your pick from your favorite shows or binge all of them – whatever will make your Independence Day celebrations more fun.
Parks and Recreation, Season 5 Episode 1: "Ms. Knope Goes to Washington"
For a show so political in nature, it's a bit of a head-scratcher as to why Parks and Recreation doesn't have any special episodes specifically dedicated to the 4th of July.
But that may also be the exact reason why there isn't – every episode has got a touch of patriotism in it already.
This episode in particular is one for the books because it's rich with facts about US history and governance (care of Leslie Knope), and what better time to look back than Independence Day?
On top of that, there's a barbecue party subplot that'll have you reminiscing about your own holiday parties with the gang.
Modern Family, Season 10 Episode 1: "I Love A Parade"
Modern Family has more than a few 4th of July episodes, but the premiere of its tenth season is one that stands out the most because there's just so many things happening at once!
The Pritchett-Dunphy-Tucker family always celebrates their holidays together and this time, they're marching off to the parade where patriarch Jay Pritchett has been asked to take over as the Grand Marshal – something he can now cross off of his bucket list.
Luke and Phil have their own festival shenanigans as they practice for a hotdog eating contest with the help of Lily. Meanwhile, Claire and Alex are stuck cocooning while the rest of the family attempts to deal with personal obstacles.
Fuller House, Season 3 Episode 3: "Declarations of Independence"
Part of the charm of any holiday celebration is spending time with family, but this very thing could also be the perfect recipe for disaster. That was certainly the case with the Fuller House 4th of July episode in its third season.
At the "Danny Tanner Annual Fourth of July Barbecue", all Danny wants is for everyone to have a good time. However, when the family all gets together, it turns out that every pair is having a little trouble in paradise.
From arguments about social media snafus and a misunderstanding about help with an injury to full-blown breakups and confessions about divorce, this is one Independence Day celebration that turns out messier than expected.
Portlandia, Season 5 Episode 5: "4th of July"
Despite not actually airing on or near the 4th of July itself, Portlandia comes in with a holiday-themed episode anyway and makes up for the way-off premiere date with a spectacular episode anyway.
Though primarily Independence Day focused, the episode revolves around the hubbub involved in planning, executing, and hosting a big barbecue party!
There's no doubt we can all relate to the social obligations and stresses of being both a guest and a host, trying to ensure that everything runs smoothly. That's on top of the Mayor's mishap trying to find the best fireworks for his constituents to enjoy… only he searches in the worst possible place: the dark web.
Seinfeld, Season 9 Episode 3: "The Serenity Now"
Similar to the Parks and Recreation episode previously mentioned, this particular Seinfeld episode isn't strictly dedicated to the holiday in question but more so in an adjacent, patriotic kind of way.
The central theme of the episode concerns an anger management technique that instructs the characters to repeat the phrase "serenity now" every time their temper is on the verge of exploding.
This connects to Kramer's patriotism subplot: he's inspired to decorate the hallway outside his apartment with all things Americana that's reminiscent of a July 4th celebration including the flag, lawn chairs, and a grill.
He even takes to sitting there with a little sparkler in hand!
The Office, Season 3 Episode 23: "Beach Games"
In the same vein, The Office is an absolute classic of a sitcom that had quite a few holiday specials, though mostly focused on Halloween and Christmas.
While the show didn't have a specific 4th of July episode, this season 3 episode is at least very reminiscent of what a chaotic, neighborhood festival-slash-barbecue might be like.
In the search for a successor as Regional Manager, Michael Scott ships the entire office to Lake Scranton for the day so he can hold a beachside "Survivor"-esque competition.
Some of the games he organized include an egg and spoon race, sumo wrestling (complete with the costumes), a hotdog eating contest, and the cherry on top: walking across a pit of burning coals.
Saved by the Bell, Season 3 Episode 6: "Fourth of July"
In contrast, this episode of Saved by the Bell screams Independence Day. The title alone lets you know that this holiday is what it's all about!
You won't see much historical information, but it definitely shows holiday festivities in the form of the annual Miss Liberty beauty pageant held at Malibu Sands, where our main characters are working for the summer.
Zack Morris has been tapped to judge, but this fun task turns out to be harder than expected when the contestants are made up of his own friends and he faces pressures from his love interest's dad to choose her as the winner.
There's also a healthy dose of beach games like an obstacle course and wheelbarrow race!
The West Wing, Season 5 Episode 3: "Jefferson Lives"
The West Wing is yet another show like Parks and Recreation that's entirely political in nature and therefore any episode really would be a great watch to get that patriotism kick for Independence Day.
However, it does have an episode in season 5 that nods to the holiday in particular though in a slightly subtle way.
The main events in the episode focus on President Jed Bartlet as he struggles to make the difficult decision of nominating a candidate for Vice President, while the First Lady is dealing with political and personal turmoils of her own.
All of this unfolds against the backdrop of an upcoming 4th of July ceremony and ends with a beautiful fireworks display.
Stranger Things, Season 3 Episode 7: "The Bite"
Along with some good old-fashioned 80s nostalgia, Stranger Things is shaping up to be the very definition of *chef's kiss* in the sci-fi horror genre.
Towards the end of the third season, Eleven and the gang – now expanded to include Steve and Maya, and Jonathan and Nancy – are racing against time to stop the opening of a portal to the Upside Down and destroy the Mind Flayer once and for all.
Their battle is set to go down at the Starcourt Mall while the rest of Hawkins, Indiana live as normal and enjoy the festivities at the Independence Day Fair.
Chesapeake Shores, Season 1 Episode 1: "Pilot"
The Hallmark Channel's drama series Chesapeake Shores starts with a bang – literally, as the pilot episode ends with 4th of July fireworks.
Abby O'Brien is a successful career woman raising two beautiful daughters in New York. 15 years after leaving her hometown of the titular Chesapeake Shores and never looking back, her younger sister Jess asks her to come visit – and help out with alleviating financial struggles with her bed and breakfast.
The episode unfolds with one reunion after another, with the entire O'Brien family returning to their roots and Abby rekindling a romance with an old flame while the fireworks explode behind them.
Riverdale, Season 4 Episode 1: "In Memoriam"
Riverdale's 4th of July themes are a tricky one but the season 4 opener deserves to be here not just for its relation to the holiday but also to pay tribute to Luke Perry, the actor who played Archie's dad, Fred Andrews.
Perry had passed away earlier in the year and this episode, where his character dies as well, was created as a standalone and tribute to him.
A few days before Riverdale's Independence Day parade, Archie gets news that his father was involved in a hit and run and that he needs to claim and transport his body. When they return, the parade is made in honor of Fred, and the gang lights fireworks in his memory.
Apart from this episode, however, let's not forget that the entire first season revolves around events that happened on the dawn of the 4th of July between siblings Cheryl and Jason Blossom.
Mad Men, Season 3 Episode 6: "Guy Walks Into An Advertising Agency"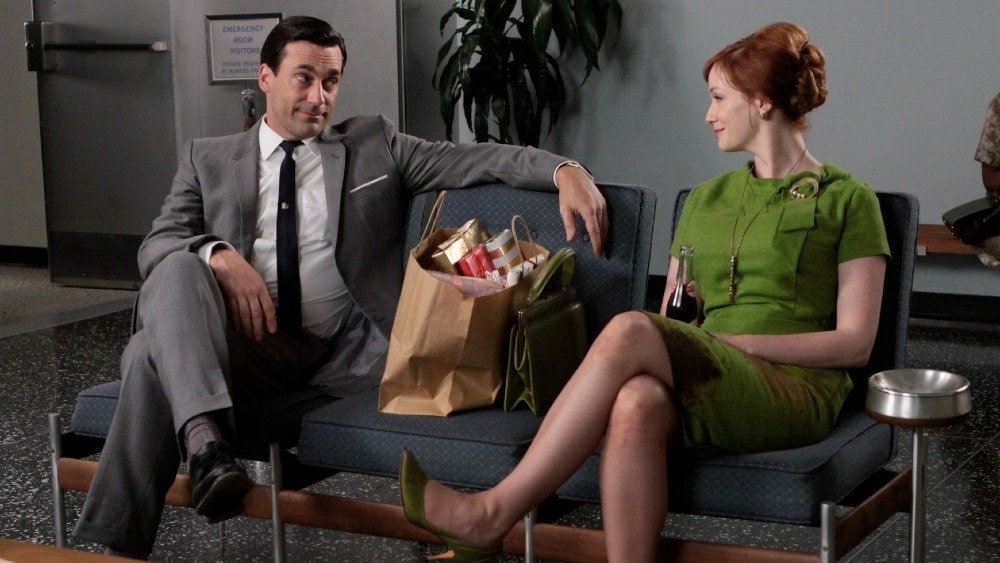 This episode of Mad Men received critical acclaim and bears one of the most memorable scenes in the entire series.
While the employees of Sterling Cooper are fully expecting to have their 4th of July holiday off, their hopes are crushed when their new British owners announce a surprise visit and "inspection". With some employees leaving and some being relocated, it's a pretty timely visit.
One of the visiting executives is a young man named Guy MacKendrick – who sadly, ends up being on the receiving end of a pretty unfortunate freak accident involving a John Deere lawnmower.
The Wonder Years, Season 6 Episode 22: "Independence Day"
Not only is this a holiday special for the classic coming-of-age drama The Wonder Years, but it's also the series finale.
Given that, you can expect there to be a touch of melancholy amidst the holiday celebrations as an era comes to a close and the show reaches the resolution viewers have been waiting for.
After years of watching Kevin Arnold grow up, he seems to have hit rock bottom in love and life, having gambled away his money and car. He decides to go home, where he reunites with the woman he loves and begin their future together in their town's 4th of July parade.
The Simpsons, Season 25 Episode 22: "The Yellow Badge of Cowardge"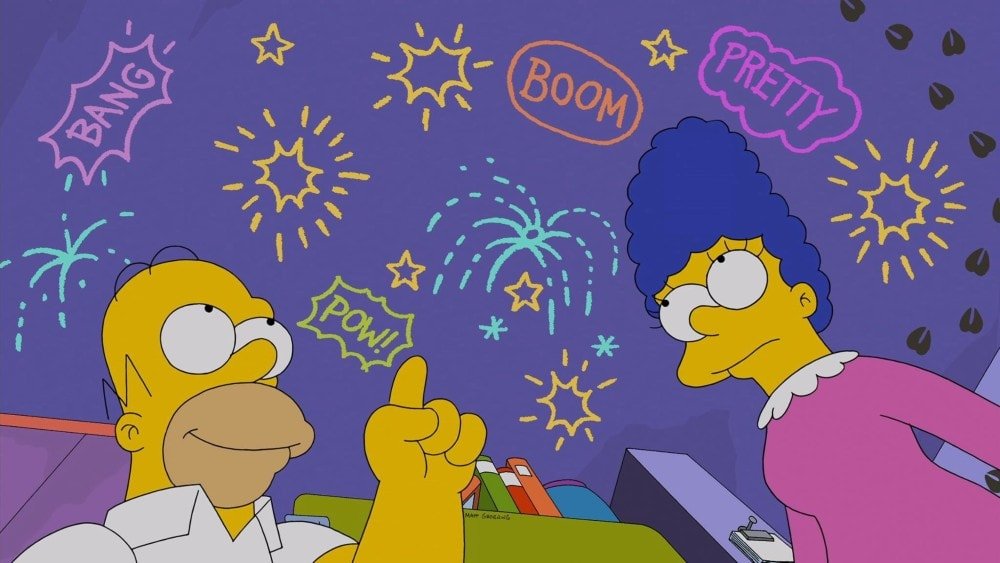 For a series with dozens of seasons and countless holiday episodes under its belt, it's a surprise that Independence Day is one holiday that's mentioned very scarcely.
This particular episode has 4th of July written all over it, however – what with Homer up to his usual antics when he finds out that the fireworks display in Springfield has been canceled due to budget cuts and the city being broke.
He tries to find Giuseppe, the man who made spectacular firework displays when he was a kid. When he finds him, though, things take a turn for the worse, and the fireworks head straight towards the parade crowd!
King of the Hill, Season 13 Episode 14: "Born Again on the Fourth of July"
Finally, our last show on the list has fireworks at the center of it as well. King of the Hill's 4th of July episode shows us just how messy a misunderstanding can get.
Bobby Hill discovers religion in a Born Again Christian sect; in true Bobby fashion, he takes it a scootch too far and trashes his father's Uncle Sam decoration as he believes it's the reason why his father missed out on going to church.
Hank then believes it's the doing of their rival neighbors over on Milton Street, and he initiates a fireworks display competition that (unsurprisingly) escalates real quick.