As another month in the TV season blows past us, fellow fans everywhere are flexing their binge-watching muscles in preparation for all of the new shows set to premiere this month. While waiting for those, however, there were so many binge-worthy TV shows for us to catch up on.
In line with that, we're here to bring you yet another list of the most-watched TV shows in October courtesy of Reelgood aka the most extensive streaming service TV show and movie guide in the US! You know, in case you feel like you haven't watched enough TV just yet. Or if you're looking for something to binge while waiting for the next episode of your favorite show!
Let's kick off the list!
1. Unbelievable
Unbelievable is based on a Pulitzer Prize-winning news article, a 2015 piece titled "An Unbelievable Story of Rape" written by T. Christian Miller and Ken Armstrong. Their article was an investigation into the serial rape cases happening in both Washington and Colorado between 2008 and 2011, where it first brought to light the divisive opinions on rape cases.
Unbelievable is a dramatization of Marie's story, who's admission and report to the police at being a victim of rape in her own home was doubted incessantly and ultimately, dismissed.
The show shifts focus from the attacker to the victim and the two detectives who are determined to unveil the truth.
Catch the eight-episode miniseries on Netflix.
2. Watchmen
Brought to the small screen by Damon Lindelof for HBO, Watchmen takes place in Tulsa, Oklahoma, 34 years after the events in the limited series comic and Zack Snyder's movie.
Commonly described as a "remix" of the original work, Watchmen the series promises new characters and storylines within the larger Watchmen continuity arc.
In the series, a group of white supremacists called the 7th Kavalry have adopted the infamous Rorschach mask while waging war against minorities and perpetuating racial injustice. Members of the Tulsa Police force – now forced to hide their identities – work alongside masked vigilantes to stop them.
3. The Good Place
The Good Place is, apparently, where all the earth's good souls go when they die. That's where Eleanor Shellstrop went but mistakenly and completely by accident.
The Good Place has received critical acclaim for its lighthearted and humorous exploration of ethics and philosophy. Now on its fourth and final season, the show continues the narrative on self-improvement in the afterlife.
Prior to the final season's release, NBC also premiered The Selection, a six-episode web series that serves a prequel leading up to the parent show's first episode. So, if you love The Good Place, you might want to take a look at the miniseries as well!
4. Big Mouth
Did we all really need another animated series dealing with mature, adult topics like South Park, The Simpsons, or BoJack Horseman? Absolutely!
Big Mouth is a raunchy animated series about teens who are completely obsessed with sex. Each episode covers a different sex-related topic, complete with frequent cartoon nudity and crass language.
The recent seasons, however, have also touched upon more complex topics that come with being an adult. Like dealing with the stress of everyday life, for example.
So, parents, don't be fooled by the animated cover on Netflix! This is definitely a cartoon you don't want your kids to get a hold of.
5. Peaky Blinders
Born in the aftermath of World War 1, a criminal family takes over the streets of Birmingham, England. Led by their fiercely ambitious and cunning boss, Tommy Shelby, the Shelby family stars in Peaky Blinders, a fictional spin based on the true-to-life gang of the 1920s of the same name.
Peaky Blinders not only tells the story of the crime family's activities and the Chief Inspector's bid to stop them but also how they are slowly able to expand their organization both locally and internationally.
The fifth season just wrapped up in September. But they have confirmed production on a sixth – and possibly seventh – season as well.
6. Breaking Bad
Breaking Bad is definitely a bit of a surprise entry, considering its last season premiered in late 2013. However, fans may have been in the mood to rewatch the show in preparation for El Camino: A Breaking Bad Movie release on Netflix this month.
Breaking Bad follows Walter White and Jesse Pinkman, a quiet high school science teacher and his former student, as they build an underground rolling meth lab to support Walter's family after he's diagnosed with terminal lung cancer.
What starts as a small business slowly grows into a huge business that brings them at odds with their personal lives, the DEA, and other local gangs and drug cartels.
7. Stranger Things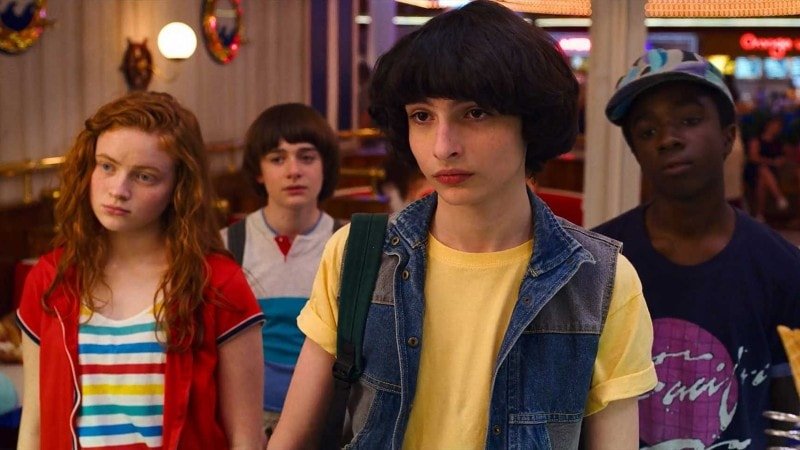 Despite the third season premiering in early July, Stranger Things still makes the list of one of the most-watched TV shows on Reelgood in October as well.
Set in the fictional town of Hawkins, Indianan in the early to mid-1980s, Stranger Things is a mix of the supernatural and science fiction. And the occasional dark humor.
It follows a group of pre-teens who constantly find themselves in the middle of scientific phenomena including alternate dimensions, three-dimensional portals, and a psychokinetic girl whose story is yet to be unraveled.
With season four getting the green light at the end of September, you might want to start catching up on the first three amazing seasons on Netflix!
8. American Horror Story
The best thing about the American Horror Story franchise is that each season explores a different aspect of what makes up our nightmares.
From the regular ghost story in season 1 to clowns, freak shows, haunted hotels, witches, and cults in the later seasons, American Horror Story is a true anthology series for every horror fan.
Its latest season, which debuted in September, is entitled "1984" and is set at a summer camp – as many horror movies usually are.
It slowly unveils the stories and secrets of its counselors' and regular camp residents as a deranged murderer escapes from a local asylum and heads for Camp Redwood.
9. Fleabag
Based on a one-woman play of the same name, Fleabag was written by Phoebe Waller-Bridge and won the Fringe First Award at the 2013 Edinburgh Festival Fringe. Waller-Bridge created and wrote the TV adaptation, and also stars in the title role, Fleabag.
Waller-Bridge plays an awkward 20-something trying to navigate her life as a "sexually-liberated, young woman" in the modern London setting.
This hilarious show, which was originally meant for a stand-up storytelling sketch, is available for streaming on Amazon Prime.
10. The Boys
What happens when the good guys end up being not so good after all? *gasp* blasphemy, I know!
Superheroes are called that for a reason, right? Apparently not in The Boys, which adopts an irreverent take on the superhero trope. And reveals that outside of the heroic persona, they can be just as superficial and corrupt as your average politician.
The real superheroes in the show are the titular Boys, a group of vigilantes determined to expose the corrupted heroes for who they really are.
Watch the first season on Amazon Video. And then get ready for season 2 which will be released in mid-2020.