When the Netflix romance period drama Bridgerton hit our screens on Christmas Day in 2020, it became a success pretty much overnight.
Personally, I remember my social media feeds overflowing with conversations about the new show for a few days after its premiere, and it looks like Bridgerton was the series that clutch-saved the year for a lot of people.
Now at roughly 82 million viewing households, it's become the most-watched series on the platform and hence, it's no surprise either that we can already expect a second season.
Bridgerton is a period drama, sure, but it has a twist of modernization that brings a refreshing take on the genre that's often absent from other series of the kind.
If you're reading this, you may have had your curiosity piqued by all the positive chatter about the show and you just want to know more. Well, here we've got all the essential Bridgerton questions answered!
Be warned, though: the latter part does answer questions about the story that will contain spoilers.
Let's get started!
General questions about Netflix's Bridgerton
Are Bridgerton costumes historically accurate?
Although Grit Daily points out many similarities between the Bridgerton costumes and fashion plates of the early Regency period, it's safe to say that they're not entirely historically accurate.
The show's costume designer Ellen Mirojnick explained to Harper's BAZAAR that she wanted to "overlay the look of the Regency era with a bit of a modern sensibility, make it aspirational, intriguing, and with a layer that would actually be very imaginative."
Can I watch Bridgerton with my parents? How racy is it?
It doesn't look like it, but Bridgerton gets extremely raunchy with the sex scenes! Five minutes into the first episode and already you'll see what we mean – and that's mild compared to what happens in later episodes.
No matter how old you are, watching sex scenes with your parents can get incredibly awkward, so maybe don't watch with them.
How does Bridgerton differ from the books?
As with all small-screen adaptations, there are bound to be differences from the book. With Bridgerton, these details include how our two main characters met, certain details from sex scenes, and new characters, among others.
However, what's important is that the author knows and approves of these changes, noting that the essence of the story and characters still remain the same.
What is Bridgerton about?
Oft described as a Regency-era-esque Gossip Girl, the narrator is the anonymous Lady Whistledown who spills all the tea on the eponymous Bridgerton family as they navigate high society London during the 19th century.
In particular, it follows the eight Bridgerton children's attempts to find love during the social season, where everyone's on their "best behavior" across the various balls and parties.
However, being prim and proper goes quite out the window when the eldest daughter Daphne Bridgerton crosses paths with Simon Basset, the Duke of Hastings.
Who plays who on Bridgerton?
The narrator is voiced by Dame Julie Andrews – a voice recognizable anywhere.
Daphne Bridgerton is played by Phoebe Dynevor while her love interest Duke Simon Basset is played by the dashing Regé-Jean Page.
Other members of the Bridgerton family are played by Ruth Gemmell as the widowed family matriarch, and Jonathan Bailey, Luke Thompson, Luke Newton, Claudia Jessie, Ruby Stokes, Will Tilston, and Florence Hunt as the Bridgerton children.
Duke Basset's mentor, Lady Danbury, is played by Adjoa Andoh.
What is the age rating for Netflix's Bridgerton?
TV-MA has it rated for ages 16 and up, but Netflix itself tags it as 18+ for sex, nudity, substances, and sexual violence.
How many seasons of Bridgerton are there?
So far, there's only one season of Bridgerton – based on the first novel in Julia Quinn's Bridgerton series, The Duke and I.
How many episodes are in Bridgerton season 1?
Season 1 of Bridgerton has just eight episodes.
Does Bridgerton have a theme song?
The main theme song during the opening credits of Bridgerton is a beautiful instrumental you can listen to below, composed by Kris Bowers.
Throughout the show, however, you'll hear several modern songs classically reimagined (including Taylor Swift's "Wildest Dreams" and Ariana Grande's "Thank U, Next")!
Location-related questions
Where is Bridgerton filmed?
Bridgerton was filmed across various locations in England, particularly in London and Bath. Often, a combination of two or more locations was used to film the exteriors and interiors of notable locations in the show.
For example, the Bridgerton House exterior is actually the Ranger's House in Greenwich while its interior is Halton House in RAF Halston. Simon Basset's London house was filmed from Wilton House at Salisbury, Badminton House in Gloucestershire, and Syon House in London! While other filming locations, like for their balls, were recreated by the production crew.
As a bonus, here's a list of filming locations you can visit yourself!
Where does Bridgerton take place? Where is it set?
Bridgerton takes place primarily in high society London.
How to watch the show?
Where can I watch Bridgerton season 1?
The full season 1 is available to stream internationally on Netflix!
Can I watch Bridgerton without a Netflix subscription?
Unfortunately, no. Netflix used to offer a generous 30-day free trial, but this promotion was dropped back in October 2020. However, with the most basic plan at just $8.99 a month, it really is worth it!
Will Bridgerton be released on DVD?
While it's not available on DVD at the moment, Bridgerton may be made available for purchase through regional outlets in the future.
Questions about the story of the series
Is Bridgerton based on a true story?
No, Bridgerton is a fictional account of the eponymous aristocratic family, headed by the widowed Dowager Viscountess Bridgerton. There are other noble families involved such as the Featheringtons, the Cowpers, the Bassets, and even the Royal Family!
Granted, there may be some historical similarities relevant to the Regency period such as the characters of King George III and Queen Charlotte, as well as the prevalence of social events for young, eligible debutantes to make their entrance into high society. However, events in the series are entirely fictional.
When does Bridgerton take place? What year is it set in?
The series takes place in the Regency era, which was during the early 19th century.
What are the names of the Bridgerton siblings?
Here's a brief introduction to the eight Bridgerton siblings:
Viscount Anthony Bridgerton is the eldest and since the passing of their father, now holds the title and the family estate.
Benedict is the second child and son, followed by Colin.
Daphne Bridgerton is the fourth child and the eldest daughter – and it's her budding love story that's central to the first season.
Following Daphne is Eloise, an independent woman with a mind of her own who would rather pursue higher studies than being pursued by a man.
Francesca is the sixth child and third daughter, who is was off with relatives in France for most of season 1.
Finally, the youngest of the bunch are Gregory and Hyacinth, respectively.
How does Bridgerton season 1 end?
One of the biggest events of season 1 was the Duke and Duchess of Hastings welcoming a son – so it looks like the line of Hastings will continue! Leaving room for the development of her siblings' love stories in subsequent seasons (which is consistent with the theme of the Bridgerton novels, too!).
Other major reveals in the finale include:
Marina Thompson accepts a proposal, though not quite as happy as Daphne and Simon's.
The Featherington household also experiences a sudden upheaval, which hints at the arrival of a new character in season two.
Anthony Bridgerton seems to be gearing up to find a wife (despite not exactly for love, like his sister before him). Does that mean season two will focus on his love story? Maybe!
And lastly… do we ever find out who Lady Whistledown really is?! Yes, yes we do. But we're not telling – so head to Netflix and watch for yourself!
Who does Daphne end up marrying in season 1?
While their relationship started as a ruse and after a constant back and forth for most of the season, Daphne does finally get her happy ending with Simon. Granted, it still took a while for her to achieve it even when they had their wedding ceremony.
The pair tied the knot halfway through the season, but there was no happily ever after for a while! They were, after all, only forced to marry because they were spotted kissing in the garden.
When does Simon propose to Daphne?
The proposal happens in episode 4, however unceremonious it is.
Going on what we mentioned earlier about getting caught kissing in the garden, the proposal happened halfway through the duel between Simon and Anthony, as it turns out that Cressida Cowper had seen them as well. Daphne pleads with the Duke to marry her in order to protect her reputation – something that was held in very high regard during that time in noble society.
Can Simon have kids?
Technically, he can have kids. He tells Daphne he can't, leading her to assume that he's medically incapable when in fact, it's actually a personal preference. He swore to his father while the latter was on his deathbed that their bloodline would not continue, and that's what's driving his insistence that he can't have children.
When does Daphne get pregnant?
After *that* controversial scene in which Daphne tries to get pregnant, we share in her disappointment when she discovers that it failed.
We don't ever get to see her actually get pregnant or go through the pregnancy but given that major finale spoiler we dropped earlier, we do know that she does eventually bear a child.
Where is Francesca in Bridgerton season 1?
As mentioned in the introduction earlier, Francesca is only occasionally shown in the first season because she is spending this debutante season in France with some relatives.
Where is King George in Bridgerton season 1?
King George is perhaps just as mysterious as Lady Whistledown in Bridgerton! He's rarely seen on-screen and during that dinner scene with his Queen, his behavior is less than comfortable.
When he is talked about, it's vague and simply makes references to an illness (which was based on his real-life condition).
What happened to the necklace that the Prince gave to Daphne?
Prince Friedrich of Prussia gives Daphne a beautiful diamond necklace presumably as a sign of his intent to propose. She continues to wear it for a while, but it begins to cause her anxiety when her feelings are confused by Simon. At the ball in episode 4, Daphne eventually rips it off and tosses it aside – and it's never seen again. Fans are speculating that perhaps Cressida has stolen it!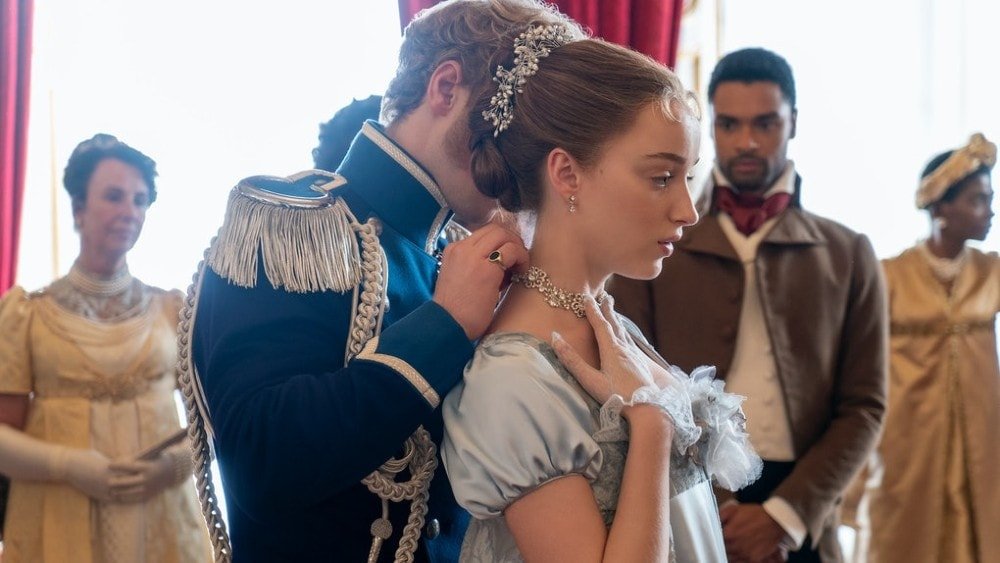 Who is Lady Whistledown?
Lady Whistledown, in the simplest terms, was the Gossip Girl of Regency era-high society London. Her real identity remains unknown (to everyone except the viewers, of course), but she's the written voice behind the elite's scandalous gossip newsletter. She knows everything about everyone – and she's not afraid to spill all of the tea. Even Queen Charlotte herself hangs onto Lady Whistledown's every word!
MAJOR SPOILER ALERT!
And at the end of season 1, we find out that Penelope Featherington is Lady Whistledown.
Who inherits the Featherington estate at the end of season 1?
Because Baron Featherington didn't have a male heir, his estate falls into the ownership of a mysterious newcomer. In the finale, Lady Featherington and their housekeeper Mrs. Varley are clued into the name of the mysterious heir, but viewers will have to wait until next season!
Who is the opera singer in Bridgerton?
The wonderfully talented soprano opera singer is Siena Rosso. She's Anthony's lover-turned-ex-lover who he attempts to get back in his life towards the end of the season – albeit unsuccessfully.
Who does Anthony marry in Bridgerton?
Anthony doesn't marry anyone – at least not in the first season!
Of course, the novel tells us otherwise, and since Deadline reported that Simone Ashley has been cast as Kate for Bridgerton season 2, the subsequent season will introduce us to Anthony's future wife, the "meddlesome" Kate Sheffield.
Is Benedict Bridgerton gay on Netflix's Bridgerton?
Benedict Bridgerton marries a woman named Sophie in the novels, but at first, it looked like his character may go a different direction in this adaptation.
His sexuality is explored when he attends an "alternative" party with the art scene and shares some palpable sexual tension with the party's male host. However, in season 2 of Bridgerton, we see Benedict return to romancing only female partners.
Nothing is 100% clear at this point, of course, but this LGBTQ+ inclusivity with Benedict's character, despite not being central to the season's plotline (yet), bears some expectations for the upcoming seasons to showcase more of Benedict's queer side.
About the future of the series
Has Bridgerton been renewed for season 2?
Yes! Bridgerton was renewed for season 2 just this January. And on April 13, 2021, Bridgeton was renewed for seasons 3 and 4. So, it looks like we will get to see at least 4 of the Bridgerton siblings find their other halves.
When does Bridgerton season 2 come out?
Bridgerton season 2 will premiere on Netflix on Friday, March 25th.