The criminal justice system works differently across every country but we can all probably come to an agreement about one thing: being a judge is no easy feat.
As a judge, the decisions you make in a courtroom have profound effects on the lives of those in it – whether it's those sitting on either side of the case or those who may be friends and loved ones in the audience.
That's a lot of responsibility to be held by just one person (though in some countries, that burden may also be eased by the role of the jury).
Many years – decades, even – of studying and experience may prepare a person for the everyday technicalities of the job, but I'm sure that the courtroom throws a lot of curveballs every single time.
In this list of the best TV shows (scripted and unscripted) about judges, we might get to witness a few of those unexpected cases and how these judges handled them.
When it comes to the unscripted shows especially, binge-watching these will give you a clearer idea of what exactly a judge has to deal with every day. On the other hand, the scripted shows pile on the drama that we all want and need!
So take your seats, everyone. The court is officially in session!
Best Scripted Judge TV Shows
All Rise, CBS/OWN (2019 – present)
In the city of Los Angeles, the justice process is deeply flawed. CBS' legal drama All Rise focuses on the personal and professional lives of those who work within the system: bailiffs, clerks, cops, attorneys, and the judges.
At the center of it is Judge Lola Carmichael, a deputy district attorney who has just been appointed to the bench.
Instead of sitting back and taking the easy route within the flawed processes, Judge Carmichael is set on "pushing the boundaries and challenging the expectations of what a judge can be".
The third season of All Rise premiered on OWN on June 7th.
Your Honor, Showtime (2020 – 2023)
Being a judge also puts you in a great position of power, which is a dangerous line to be treading, especially when your personal relationships get tangled with your job.
In the Showtime drama Your Honor, Bryan Cranston plays Michael Desiato, a well-respected and prominent judge in New Orleans.
His convictions are tested when his teenage son is involved in a hit-and-run; he discovers that the victim was the son of a powerful organized crime family and instead of facing the law, he covers up the crime.
He is forced to make difficult choices at every turn, sacrificing the values he upholds in society in order to protect his son.
Night Court, NBC (1984 – 1992)
To bring the mood up a little bit, let's talk about NBC's sitcom Night Court, which aired in the late 80s to early 90s.
Taking from the title, the series took place during the night shift of a municipal court in Manhattan, where the cases were presided over by Judge Harold T. Stone.
Harry is a young judge who prefers to handle things in more unorthodox ways, given his good-natured personality and skills as an amateur magician.
Court proceedings are never boring when under his guidance, but at least he has a reliable team to help him manage the chaos: the bailiff, his court clerk, the public defenders, and the prosecutor.
Night Court, NBC (2023 – present)
Speaking of Night Court, we also have to mention the sequel to the NBC hit courtroom sitcom that's premiering on the same network on January 17th.
Also titled Night Court, this hilarious new comedy series centers on Judge Stone's daughter Abby Stone (played by The Big Bang Theory's Melissa Rauch) as she follows in her father's footsteps and becomes a judge at the Manhattan arraignment courts.
Abby's optimistic nature helps her survive the night shift of the court and bring together all who pass through the night court's doors – clerks, bailiffs, lawyers, and defendants alike. Which includes Dan Fielding (John Larroquette reprising his role from the original series), a narcissistic prosecutor from Abby's father's courtroom days.
Bad Judge, NBC (2014 – 2015)
Just because you're tough as nails in your professional life, doesn't mean you can't be the complete opposite when it comes to your personal life.
Rebecca Wright embodies this idea in the NBC sitcom Bad Judge, which follows her life both inside and outside the courtroom.
Professionally, Rebecca is known as one of the "toughest and most respected" judges in Los Angeles; she has no tolerance for apologies or excuses and rules the court with an iron gavel.
Her personal life, however, is an entirely different ballgame, where the less-than-innocent and reckless side of her personality often rises to the surface.
Judging Amy, CBS (1999 – 2005)
Judging Amy is a legal drama based on the experiences of Amy Brenneman's (who plays the lead character Amy Gray) mother.
In the series, Amy is a newly-divorced single mother who moves back to her hometown of Hartford, Connecticut after separating from her husband and NYC lifestyle.
With her young daughter in tow, she moves back in with her widowed mother and becomes a judge in the district's family court.
Amidst the challenging cases that she presides over, she relies on her instinct – and occasional stubbornness – to deliver justice in the courtroom.
At the same time, we get a glimpse into her personal life as she adjusts to being back home and as a single mother.
Raising the Bar, TNT (2008 – 2009)
Raising the Bar follows the lives not only of the judge in this courtroom but also of the many young, ambitious lawyers who pass through its doors.
In particular, the series follows the idealistic public defender Jerry Kellerman, whose methods often cause him to butt heads with his colleagues, assistant district attorneys, and even law enforcement.
He is sometimes at odds with Judge Trudy Kessler, who is on her own professional journey to become the next district attorney.
However, in both Jerry and Trudy's cases, their professional lives blur with their personal lives as relationships bloom within the walls of the courtroom.
Cedar Cove, Hallmark Channel (2013 – 2015)
The last among the scripted TV shows about judges is Hallmark's romantic drama Cedar Cove.
Cedar Cove follows the personal and professional life of Olivia Lockhart, a Municipal Court Judge in her hometown of Cedar Cove. As well as the many colorful characters of the small community that's located on an island in the Puget Sound.
Olivia is the moral compass of the town, so she often is the center of attention for a lot of the things happening in Cedar Cove. And that includes Olivia's search for love which she just might find in Jack Griffith, the editor of the local newspaper.
Best Reality TV Shows About Judges
Judge Judy, syndication (1996 – 2021)
When it comes to reality TV legal dramas, Judge Judy is undoubtedly the most well-known – and well-loved.
Viewers who watched it until its end just this past July 2021 may have even literally grown up watching the show – after all, it ended on its 25th season!
Judge Judy was televised from within a simulated courtroom set and was formatted as an arbitration-based reality court show with the titular Judge Judith Sheindlin at the helm of all the small-claims disputes that passed through her docket.
Though this series has since wrapped up, a new spin-off titled Judy Justice premiered this November, still starring Judge Judy herself and in much of the same format but with brand new episodes.
Judge Mills Lane, syndication (1998 – 2001)
Judge Mills Lane follows in a similar vein to Judge Judy in that it's also an arbitration-based reality show.
This time, however, the judge in question is former Nevada district court judge Mills Lane and in a unique twist, he's actually well-known as a former professional boxer-turned-boxing referee!
His catchphrase "Let's get it on!", which he had used to start boxing matches, was adapted for Judge Mills Lane as a way for him to open each case.
His no-nonsense personality as a referee suited his role as a judge as well, particularly when he would tell misbehaving litigants that their case "is gone" if they stepped out of line.
Judge Faith, syndication (2014 – 2018)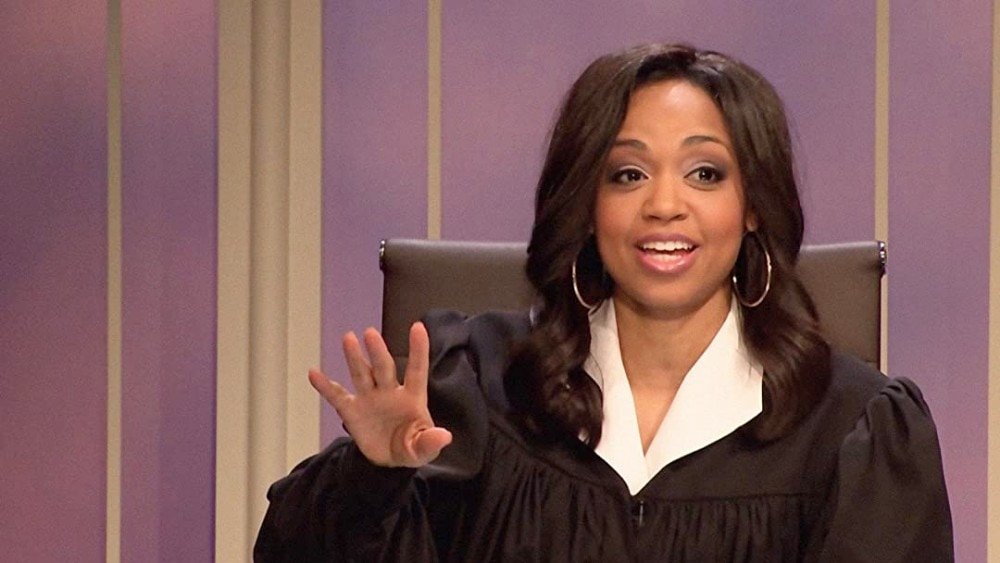 Yet another arbitration-based show that aired through national syndication, Judge Faith follows the court cases presided over by the eponymous Judge Faith Jenkins over a total of four seasons.
Judge Faith has had a successful career, one that began as soon as she graduated at the top of her law class from Louisiana's Southern University Law Center.
From there, she worked as a prosecutor for the Manhattan District Attorney's office until becoming a judge for her own court show.
While some of the cases she handles are pretty straightforward, others require her to apply her diverse professional experience to come to a just agreement.
Judge Mathis, syndication (1999 – present)
Judge Mathis is the first reality show on our list that is still airing to this day, with its 23rd season premiering just this past September!
The show's longevity hardly comes as a surprise, however, as Judge Greg Mathis has a way of handling his cases that reels you in and keeps you hooked.
Given his own life experience on both sides of the law, Judge Mathis is able to find solutions that are fair for everyone involved; his humorous personality mixed with social commentary has also contributed to bringing real social issues to the forefront of the discourse.
Because of this, the show sets itself apart from its similar predecessors.
Couples Court With the Cutlers, MGM (2017 – 2020)
As a departure from the previous unscripted shows, Couples Court With the Cutlers features the first couple to preside over a reality courtroom program: Dana and Keith Cutler.
Not only do they have decades of experience themselves in the art of being a married couple, but they have been practicing law together all those years as well!
Their clients are of the couple's variety, and they use their combined expertise (in education law and, in Keith's case, as a civil defense trial attorney) to uncover the truth and guide them through their various crises and disputes.
Divorce Court, syndication (1957 – present)
Although Divorce Court did first premiere over 60 years ago, there were many pauses between seasons – including a 15-year hiatus at one point as well!
However, the show has been consistently airing since 1999 to the present.
From this revival onwards, Divorce Court followed the same arbitration-based format as the previous shows on the list and focused on, as is clear from the title, settling disputes between couples going through a divorce.
Previous versions of Divorce Court before 1999 were formatted differently – real-life cases were presented as reenactments, instead.