Sweeping gowns, stunning jewels, aristocratic affairs, and intimate intrigues – it's no wonder viewers often flock to shows set in historic periods.
The Regency Era (which is the period between the years 1795 and 1837) is a particular favorite for writers and TV show creators, as this pivotal time in British history marked a cultural and political shift under the rule of George, Prince of Wales, who governed the country as 'Regent' due his father's inability to do so.
Just as the rule of law was upturned, so were societal norms as the Napoleonic war raged in the background.
All in all, it was a very exciting time in history, and with all these upheavals in the air, it is the perfect place to inject a love story, murder, or even just a scheme or two.
After a few too many binge-watches of Bridgerton, we decided to dive in and find more stories set in the Regency Era, if only to marvel at the style choices, societal conventions, and snobbery afoot.
Bridgerton, Netflix (2020 – present)
The show that revived the love for period dramas, Bridgerton is the scandalous hit that set the blogs on fire after its debut in 2020.
Based on the series of books by Julia Quinn, the show is a dive into the world of the prestigious Bridgerton family as they try and find their feet in London High Society while surrounded by schemers, rivals, and the occasional friend and lover.
The show focuses on Daphne Bridgerton in the first season, and sees her making her debut on the marriage market – although Daphne hopes to find true love instead of a convenient arrangement.
Sadly her prospects are limited until the emergence of the Duke of Hastings, at first undesirable to her, but perhaps better suited than either could imagine.
As she navigates the Regency Era dating pool, a mysterious "Lady Whistledown" begins to publish a "scandal sheet", intent on casting doubts on Daphne's pristine reputation. Oh, the drama!
Sanditon, ITV/ PBS (2019 – 2023)
The legacy of Jane Austen is a treasure trove of stories and inspiration, and her novels live on to this day as required reading for anyone who has an interest in literature.
Sanditon is based on one of her rarer works, an unfinished manuscript that was lovingly brought to life by Andrew Davies.
At the time of her passing, Austen had only completed 24 000 words, and this serves as the basis for the first season of the show.
Charlotte Heywood is a newcomer to Sanditon, and she brings with her a wild and headstrong spirit – something not very suited to the rapidly evolving seaside town.
Keen to experience everything the luxury resort has to offer, Charlotte starts her journey in Sanditon with wide-eyed enthusiasm. But it's quickly shattered by the secrets and schemes of the resort's wealthy inhabitants.
Will Charlotte be able to find love despite everything? You will have to watch to find out!
Emma, BBC (2009)
As we noted, Jane Austen is the fountain from which most Regency Era romances spill, and here we meet Emma Woodhouse, a wealthy young woman with an addiction to matchmaking that often lands her in trouble.
As the head of her household, she has no reason to marry, and she only wishes the same security for her friends, who can only secure that position through marriage.
Her prime objective is to find a match for her new friend Harriet Smith, but what is a wealthy heiress to do when all the suitors fall for her instead of the target?
Pride and Prejudice, BBC (1995)
Another classic from the literary treasures of Jane Austen, Pride and Prejudice is perhaps the most famous Regency Era love story on our list.
This six-episode adaptation is considered a definitive retelling of the story among purists and has won several awards including an Emmy Award.
When Mr. Charles Bingley comes to the Netherfield Estate in Hertfordshire, Mrs. Bennet is beset with the spirit of marriage and hopes that he will set his eyes on one of her five daughters.
Poor Mr. Bennet, after being hounded about it by his wife and daughters, finally relents and goes to meet Mr. Bingley, and soon young Jane and Mr. Bingley meet and take a liking to each other at a local dance.
However, intrigue enters the chat when Mr. Fitzwilliam Darcy, his best friend, refuses to dance with anyone and clashes with the outspoken Elizabeth Bennet, the epitome of a Regency Era heroine.
Rumored to be twice as rich as his friend, Mr. Darcy is cold and standoffish, but soon he and Elizabeth go on a journey that exposes both their pride and prejudices for judging a book by its cover.
Death Comes to Pemberley, BBC (2013)
Based on the novel by P. D. James, Death Comes to Pemberly is a murder mystery set within the walls of Jane Austen's Pride and Prejudice world.
Serving as a follow-up to the original, and a spoiler warning for anyone who has not watched it yet, the show is set six years after Mr. Darcy and Elizabeth Bennet's wedding.
On the way to Pemberley to attend a ball, George Wickham, his wife Lydia, and Captain Denny are embroiled in a murder mystery.
After the two men get into an argument, they leave Lydia behind in the carriage. A while later, she hears two gunshots and Mr. Darcy sends out a search party for the men.
However, everyone is shocked when they come upon Mr. Wickham with the body of Captain Denny cradled in his arms, declaring himself the murderer.
However, all is not as it seems and facts and clues lead to the unveiling of the real mystery beneath it all.
Sense and Sensibility, BBC (2008)
Yet another tale from the queen of Regency Era romances, Sense and Sensibility is based on the famous Jane Austen novel by the same name.
When the Widow Dashwood and her three daughters inherit less than they anticipated, as their father left the fortune to his only son, the life they know is quickly swapped out of a rather modest cottage in Devonshire.
As a product of the time, the only prospect the ladies have to get back on their social and economic feet is to marry a wealthy suitor.
So begins the tale of Eleanor and Marianne Dashwood and their distinct personalities – Eleanor is calm and proper, whereas Marriane is a risk-taking passionate rebel who often gets herself in trouble.
When romance finally enters the scene in the form of John Willoughby, the sisters must learn how to act not only with sense but sensibility too.
Mansfield Park, BBC (1983)
At this point, we ought to acknowledge that Jane Austen is the voice of the Regency Era, as her novels have stood the test of time and continuously provide inspiration to TV show creators.
At the age of 10, young Fanny Price is sent to live with her wealthy aunt and uncle at their lavish country estate.
Here she grows up as a second-class member of the household, continuously enduring their snobbery and treatment of her.
Only her cousin Edmund sees beyond the veil of classism and they become best friends.
However, when wealthy new neighbors move in, the family is soon enthralled by the handsome Henry Crawford and his affections for each member of the family – including Fanny, who sees through his veneer, much to the disappointment of her relatives.
Can she win their respect after all, or will they continue to hold on to their archaic beliefs that money is equal to the worth of a person?
Persuasion, BBC (1971)
Once again inspired by the words of Jane Austen, Persuasion is a story of loss and gain and the pressures of the aristocracy.
When Annie Elliot's family runs into financial problems, she makes the sacrifice of breaking off her engagement to the not-so-wealthy young sailor Frederick Wentworth in favor of finding her a wealthier and more royally aligned suitor.
However, the ghosts of the past never stay silent and 8 years later, Annie's father rents out the estate to Admiral Croft – whose brother-in-law happens to be none other than her former fiance!
Will the two reunite or will pride and time get in the way?
Lost in Austen, ITV (2008)
With so many incredible stories and worlds to escape to, the Regency Era as seen through the eyes of Jane Austen is a dream destination for many day-dreaming fans.
But what if you find yourself in that world? What if those daydreams come true?
Meet Amanda, a Jane Austen fan trapped in modern London with a very boring life compared to her favorite literary heroines.
However, one day she finds herself immersed in the world of Pride and Prejudice when she and Elizabeth Bennet swap places through a secret door in her apartment.
It sounds absurd but it is a wonderful study in wish fulfillment.
Will Amanda be able to keep the plot moving in the right direction or will she divert the course of her favorite book and change the lives of the Bennet family? And will Amanda find her own Mr. Darcy?
Vanity Fair, ITV (2018)
Based on the renowned novel of the same name by William Makepeace Thackeray, Vanity Fair follows our heroine (or not, since the novel is famously known as "A Novel Without a Hero"), Miss Rebecca Sharp as she sets her sights on climbing the ladder of English Society.
However, she is no meek lady of the court, Rebecca Sharp is exactly that: sharp, witty, and conniving – a product of her upbringing in poverty while the Napoleonic Wars exacerbated the situation.
This is no story with a happy ending wrapped up in a bow, instead, it is a character study of tenacity, treachery, and the consequences of our actions – but with gorgeous gowns, royal affairs, scandals and all the pomp of the Regency Era included.
Little Dorrit, BBC (2008)
When looking for ways to interpret life in the Regency Era, we often turn to classic authors who presented tales of the time.
Charles Dickens often turned to this time for his stories and in Little Dorrit we take a less regal and more realistic look at things.
Young Amy Dorrit has spent her life in the Marshalsea Prison for Debt taking care of her father who serves as the Father of the Marshalsea and working as a seamstress for a very cranky boss, Mrs. Clennam.
However, when her boss's son makes his return from his travels, he brings with him a litany of mysteries that Amy unwittingly gets tangled in due to her kind nature.
Beecham House, ITV (2019)
It's 1795 and John Beecham arrives at his new estate in Delhi, along with a group of Indian servants and his mixed-race child.
Here he hopes to start a trading company in his own name by working with the Emperor, however, this proves harder than he thought it would be.
As he works on his diplomatic relationships, his home is often beset by visitors – both invited and uninvited who bring with them their own machinations and political schemes.
However, everyone who encounters John wonders about his mysterious past and the maternity of his young baby; as the show unfurls we are slowly given answers and even more questions.
Set far from the ballrooms and marriage proposals of Regency Era London, the show transplants a British man to a new environment and lets the drama flow.
War and Peace, BBC (2016)
Based on the novel by Leo Tolstoy, War and Peace is the definitive look at life in the Russian Empire from 1805, as the Napoleonic War draws ever closer.
Meet Pierre, Natasha, and Andrei – wealthy siblings who learn deep lessons on love, life, and purpose.
Each of them is trapped in their wealth for different reasons and seeks to elevate their life's purpose beyond that of the frivolity of wealth.
Using the rise and fall of Napoleon's campaign to conquer Russia with his French army, the story beautifully contrasts the concept of war and peace, showing the growth that each character goes through in the 7-year timespan of the show.
Whether it is the maturity that comes from surviving the frontline of war, the internal struggle as life as an aristocrat is threatened or simply the quest for love, War and Peace is an epic story with favorite characters for every type of viewer.
Sharpe, ITV (1993 – 2008)
Meet Sergeant Richard Sharpe, a principled British soldier caught in the war against Napoleon's forces in the Peninsular Wars.
As he rises in the ranks, he is continuously given more responsibility and earns a reputation for being the man you need for dangerous missions.
However, it is not an easy rise to the top as he often finds his morals clashing with the prejudices of the aristocracy.
This long-running show is based on a series of novels by Bernard Cornwell and is both serious and a fun frolic into the frontlines with Sean Bean, who plays Richard Sharpe.
Of course, what would a show of this scale be without a romance or two – and there are plenty, even including a marriage or two!
Napoleon and Josephine: A Love Story, ABC (1987)
With so many mentions of the war he started during the Regency Era, it is time to cast our attention on the man himself.
In Napoleon and Josephine: A Love Story, we investigate the romantic relationship between Napoleon and Josephine from 1794 to 1814.
At a time when he very nearly had the entire world at his fingertips and confidently commanded a nearly unstoppable army, Napoleon Bonaparte falls in love with the last woman anyone thought he would: Josephine de Beauharnais.
Not only is she older than him, but she has two children, and she is the only key to keeping the greatest general on the right track.
History tells us that his campaign fell apart after her death, so how great was this love that it could bring down an empire?
Napoléon, France 2 (2002)
Stepping away from the romance, this TV show explores the life of Napoleon Bonaparte as a masterful tactician and military leader.
Follow the man as his engineers a masterful rise to becoming the most powerful man in Europe, as well as what drove him to failure and his eventual exile.
The show starts in 1816, where Napoleon is imprisoned on St Helena. Here he meets a young girl named Betsy and begins the epic retelling of his life story.
From his early days defeating the Royalists to his final days in the defeat at the infamous Battle of Waterloo.
Interestingly the show was shot in English and French and there are actually two versions available, what a masterclass in acting and production to achieve that!
Note: there is also a fascinating documentary by the same name, and it is worth a watch to compare the historical accuracy of the show.
To The Ends of the Earth, BBC (2005)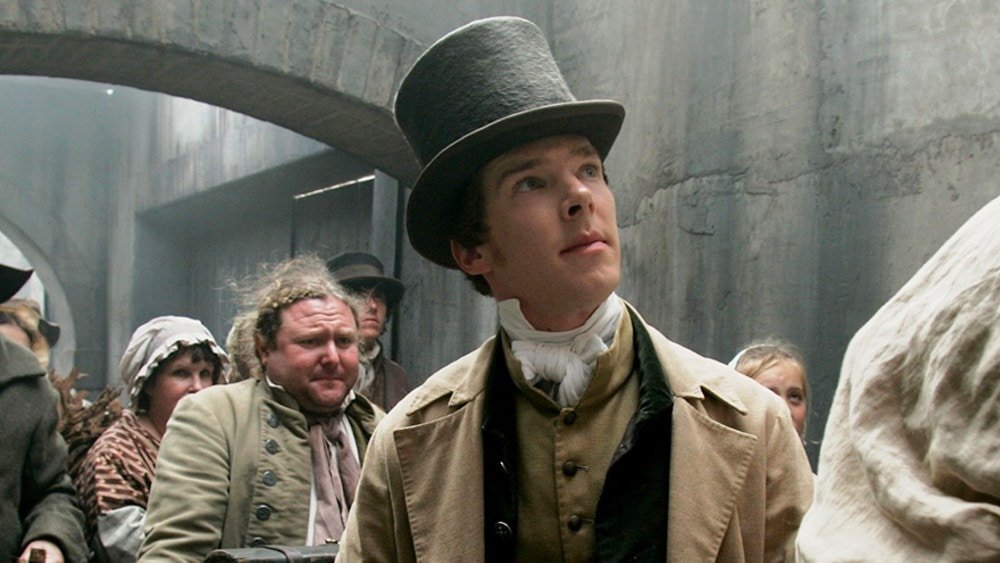 Based on a trilogy of novels by William Golding, To the Ends of The Earth follows Edmund Talbot, a British aristocrat who sets out to travel to Australia in 1812 – a journey that will ultimately change his life and offer him more than he thought he could handle.
It is often described as the story of a gap year for the youth of that period and features a lot of hedonism akin to a rock and roll adventure set in the early 19th century.
The show is complex and features incredibly well-rounded and thought-out characters who challenge our protagonist to question himself, his views of the world, and his level of maturity.
Gentlemen Jack, BBC One (2019 – 2022)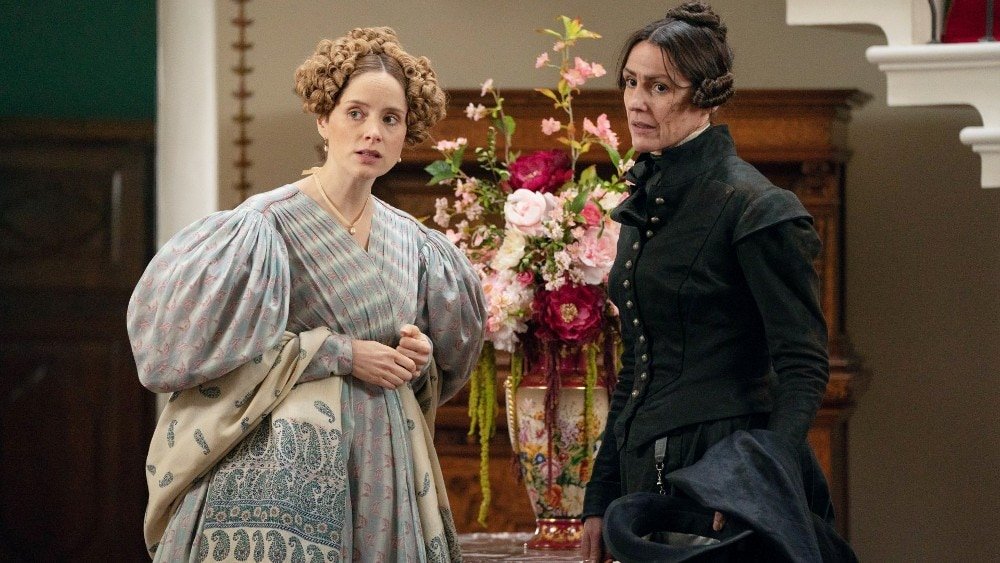 In the year 1832, young Anne Hastings relocates to Halifax in West Yorkshire to restore the lush estate she has inherited from her late uncle.
Once there, she uncovers a plot to steal her family's coal mine and also finds love in the form of Ann Walker – an affair that she keeps hidden in her personal and very cryptic diary.
The show is based on the real Anne Lister who is one of the first trailblazing lesbians of her time and did have the moniker "Gentlemen Jack" bestowed on her in a very unkind fashion.