There are plenty of crime dramas and detective TV shows currently out on the market today. It's a genre that's jam-packed and yet, writers never seem to run out of jaw-dropping storylines to keep us on the edge of our seats with every episode.
With these crime shows, the detectives on the case are part of an organization like the local police department (Brooklyn Nine-Nine, True Detective), forensic crime units (the entire CSI franchise), or federal agencies like the CIA or FBI (Homeland, Quantico, Criminal Minds). The detectives and agents, in this case, have an array of tools and resources at their disposal – on top of their skills both physically and mentally. More often than not, these guys are tasked with solving large-scale crimes that strike high on the radar.
Sadly, we can't just get the FBI to help out on smaller crimes, right? That's usually a job for the local police department.
However, some people prefer to employ the services of a private investigator instead. Whether it's to gather information for attorneys in civil and criminal cases, to conduct surveillance measures on personal cases, or solve the smaller cases that the cops just can't expend manpower or resources on.
As a show of appreciation for PIs, both in our favorite series' and in real life, we've put together a list of the best private investigator TV shows that feature the life and work of private detectives!
Let's kick it off, shall we?
Veronica Mars, UPN/The CW/Hulu (2004 – 2007, 2019)
Though the first season of Veronica Mars premiered way back in 2004, it has just four seasons under its belt at present. That's because, after its initial three seasons ended in 2007, we all thought that was the end of the show despite a feature film follow-up and a digital spin-off web series in 2014 as well as two novels in 2014 and 2015.
However, Hulu announced it would be backing the revival of Veronica Mars with a fourth season consisting of eight episodes that were released in July 2019.
The titular character, Veronica Mars, is a skilled private detective who helps out her father with his own private eye business. Throughout the four seasons, we see Veronica progress from high school to college and finally, her return to her fictional hometown of Neptune where she investigates and solves a beachside motel bombing.
Fans were happy to see the return of many original characters as well as the introduction of a few new ones. Sadly, Hulu announced that there are no plans yet for a fifth season. Despite the open-ended way the fourth season closed out.
Where to watch Veronica Mars:
Magnum P.I., CBS/NBC (2018 – present)
Magnum P.I. is another show on the list that is currently on its reboot though unlike Veronica Mars. The original Magnum P.I. aired almost 40 years ago in December 1980! The main character, Thomas Magnum, was played by Tom Selleck (Friends, Blue Bloods) in the original and by Jay Hernandez (Crazy/Beautiful, Hostel) in the reboot.
CBS reboot's premise actually closely follows the 80s original, especially in terms of setting and background story.
Magnum is a former Navy SEAL turned private investigator who works out of the Hawaiian estate owned by the mysterious and famous author, Robin Masters – presumably as payment for a favor on a previous case. With him is a former MI6 agent who's tasked to protect the estate and two former US Marines.
Magnum takes on cases when he wants to and basically is his own boss, though he does tend to come into conflict with the local detective. While living on the estate, he is able to use its facilities and luxuries. But under the watchful eye of Juliet Higgins, the MI6 agent-turned-estate curator, who eventually becomes his crime-solving partner during the second season.
Where to watch Magnum P.I.:
Stumptown, ABC (2019 – 2020)
In case you were unaware, Stumptown is actually a nickname for Portland, Oregon because of the excessive number of tree stumps left in the city after its rapid development in the mid-1800s. Unsurprisingly, this is the setting of Stumptown, ABC's newest crime drama, which is based on the Oni Press comic limited series of the same name.
The protagonist, Dex Parios, is a Marine veteran and now a private investigator. On top of dealing with criminal cases that apparently couldn't be handled the good ol' way (i.e. with the cops), she also has to learn to deal with her own personal demons.
She has a gambling problem and heavy debts, a younger brother with Down syndrome who she's solely responsible for, and PTSD from her time serving in Afghanistan after a bombing injured her and killed her former lover.
While her experience in the military makes her a great PI, the toughness that comes with it doesn't necessarily make her a favorite ally for the police.
Where to watch Stumptown:
Private Eyes, Global (2016 – 2021)
The crime genre doesn't always have to have life-or-death stakes. And Private Eyes is a great example of that fact.
Based on G.B. Joyce's novel of the same name, Global's Private Eyes features two private investigators (Jason Priestly from BH90210, and Cindy Sampson from Supernatural) on their adventures based out of Toronto.
Their team actually started out as a one-woman investigative party, with PI Angie Everett at the helm. She teams up with former professional hockey player Matt Shade, who brings a more laid-back and positive perspective on the world.
However, because of their naturally strong yet opposing personalities, they seem to always be in competition as they continue to challenge each other at every turn of their cases. Perhaps the adage "opposites attract" couldn't be truer in their partnership, though, as they seem to make the ideal crime-solving team despite their differences.
Where to watch Private Eyes:
Perry Mason, HBO (2020 – present)
Among the newer shows on this list is HBO's Perry Mason which premiered on June 21, 2020, and already has been renewed for season 2!
Set in 1930s Los Angeles, Perry Mason follows the titular character as he takes on a child kidnapping case that ends up being one of the biggest cases of his carrier and in the cities history. All while struggling with a divorce and trauma from World War I.
The story is positioned as an origin story for the famed defense lawyer from the Erle Stanley Gardner stories. In them, Perry Mason is already a well-established criminal defense lawyer who usually proves his client's innocence by implicating someone else. However, in the HBO series, Perry is still just a private investigator.
With Matthew Rhys playing the lead role, Shea Whigham and Tatiana Maslany also being among the cast, and Robert Downey Jr. being one of the executive producers for the show, this detective series is definitely a must-watch whether you're a fan of the Perry Mason book series or not.
Where to watch Perry Mason:
Big Sky, ABC (2020 – present)
Another newer entry in this list of the best PI shows is the crime drama Big Sky.
Based on a book series by C. J. Box, Big Sky follows two private detectives, Cassie Dewell and Cody Hoyt (played by Pitch's Kylie Bunbury and Shooter's Ryan Phillippe), as they investigate the kidnapping of two sisters in the Big Sky Country of Montana.
As they discover that more girls have gone missing in the area, the two join forces with Jenny Hoyt (played by Vikings' Katheryn Winnick), Cody's estranged wife who's an ex-cop, to stop the killer before he has a chance to harm any more women.
Where to watch Big Sky:
Marvel's Jessica Jones, Netflix (2015 – 2019)
Marvel has a whole host of beloved characters from Captain America to Iron Man. And one of them is also Jessica Jones who is the titular hero of Netflix's superhero series Marvel's Jessica Jones (and was one of four heroes in the superhero team-up miniseries Marvel's The Defenders).
Just as in the comics, in Marvel's Jessica Jones Jessica has superhuman strength, speed, stamina, healing, and limited flight. After a brief stint as a superhero, Jessica now owns Alias Investigations and works as a private investigator in New York City.
But after her past tormentor Kilgrave, who left Jessica with severe PTSD, resurfaces, Jessica must do everything she can to stop him.
Where to watch Jessica Jones:
Shakespeare & Hathaway: Private Investigators, BBC One (2018 – present)
We've got a comedy on our list as well, one that's injected with that subtle British humor.
Mark Benton (Early Doors, Waterloo Road) stars as Frank Hathaway, a former Detective Inspector who spends his days in retirement as a tough private investigator. Cast alongside him are Jo Joyner (EastEnders, Ackley Bridge) as his partner Luella "Lu" Shakespeare. And Patrick Walshe McBride (Dracula) as Sebastian Brudenell, their assistant, and undercover specialist.
Set in Stratford-upon-Avon in Warwickshire, Frank and Lu first crossed paths when the latter hired the former to investigate her fiancé because of suspicions of an affair. As events unfold and her husband turns up murdered, Frank and Sebastian are back to solve the mystery.
In the end, Lu ends up buying into Frank's investigative business and the rest, as they say, is history!
Where to watch Shakespeare & Hathaway: Private Investigators:
Jack Taylor, TV3 (2010 – 2016)
Staying within the region, Jack Taylor is based on Ken Bruen's crime novels and is set in Galway, Ireland. This PI show stars Iain Glen (who played the loyal Ser Jorah Mormont in Game of Thrones) in the titular role of Jack Taylor.
Taylor used to work for the Garda Síochána aka the Gardaí, or the Irish national police. However, due to an altercation with a powerful politician, Taylor is removed from the police force and instead, decides to put his skills to use as a private investigator who takes on cases that the police are either unable to do or simply refuse to take.
During his investigations, Taylor relies on the information given to him by his contacts both within the police force and outside.
The first season of Jack Taylor was released back in 2011. And the most recent third season in 2016.
According to a teaser released by Acorn TV, it looks like we'll be getting a fourth season soon! Though originally slated for a 2019 release, we've got our fingers crossed that 2021 is the year for Jack Taylor.
Where to watch Jack Taylor:
C.B. Strike, BBC One (2017 – 2020)
Renowned author J.K. Rowling (Harry Potter novels) takes a stab at the mystery genre with Cormoran Strike, which she writes under the Robert Galbraith pseudonym. These novels form the basis for C.B. Strike, a British crime drama that features none other than Cormoran Strike himself from the book series.
In the series, Strike uses his experience working with the Special Investigation Branch of the British military as a private detective after he leaves the SIB. Based out of Denmark Street in London, C.B. Strike takes the cases that the police do not.
The first three novels in the series have been adapted into the first three seasons. While the fourth, "Lethal White", aired in 2020.
Rowling has stated that she has plans to publish at least ten more novels within the series, so we could be seeing more C.B. Strike in the future as well!
Where to watch C.B. Strike:
Father Brown, BBC One (2013 – present)
Father Brown is yet another British detective comedy-drama based on literature. Though this time a series of short stories by G. K. Chesterton.
Since premiering in 2013, eight seasons have been released and a ninth has been commission for release in 2021.
Set during the 1950s where Britain is still dealing with the aftermath of World War 2, Father Brown hones in on a fictional village called Kembleford, where we meet the eponymous Father Brown. He is, of course, a priest from St. Mary's Catholic Church. But he's also a solver of murder cases.
Not only does he rely on his own skills as well as his unique position as both a World War I veteran and a priest to solve these crimes but also on the skills of his close friends. These include the St. Mary's parish secretary (fact-checker and gossip extraordinaire), and the church handyman (and former crook with existing ties to the criminal underworld).
Oftentimes, his ability to solve these cases is affected – whether in a good or bad way – by his strict moral code, innocence, and understanding of the good in people.
Where to watch Father Brown:
The Alienist: Angel of Darkness, TNT (2020)
Although prior to Angel of Darkness the hit TNT period drama had another season that focused more on Daniel Brühl's character Laszlo Kreizler who's a 19th-century psychiatrist (or alienist as they were called then) and the investigation of a serial killer, for this list of best PI dramas, we will focus on the show's second season – The Alienist: Angel of Darkness.
In season 1 of The Alienist, we met Sara Howard (played by Dakota Fanning), the first woman employed by the NYPD who helped Laszlo and his friend John Moore (Luke Evans) catch the serial killer of young boys in mid-1890s New York City. While in season 2 we find Sara running her own all-female private detective agency. A feat unheard of for a woman.
Throughout season 2 we see Sara as a capable private investigator getting hired to find a kidnapped baby. However, the case quickly turns out to be bigger than just one missing kid, so Sara once again teams up with John Moore and Laszlo Kreizler to find out who's to blame for the gruesome infant murders.
Where to watch The Alienist:
Miss Scarlet & The Duke, Alibi (2020 – present)
Another 19th-century period drama about private investigators is Alibi's Miss Scarlet and The Duke.
Set in 1880s London, Miss Scarlet & The Duke follows Eliza Scarlet, a young woman who must work as a private detective after her father passes away and leaves her struggling to survive.
Since crime-solving is very much a male-dominated field, Eliza works under her father's name and often steals case files from the Detective Inspector of Scotland Yard William "The Duke" Wellington, who's a family friend and was her father's protégé growing up. But she quickly learns the ropes and by the end of season 1, we see Eliza coming into her own as a skilled private investigator.
Where to watch Miss Scarlet & The Duke:
Agatha Raisin, Sky One (2016 – present)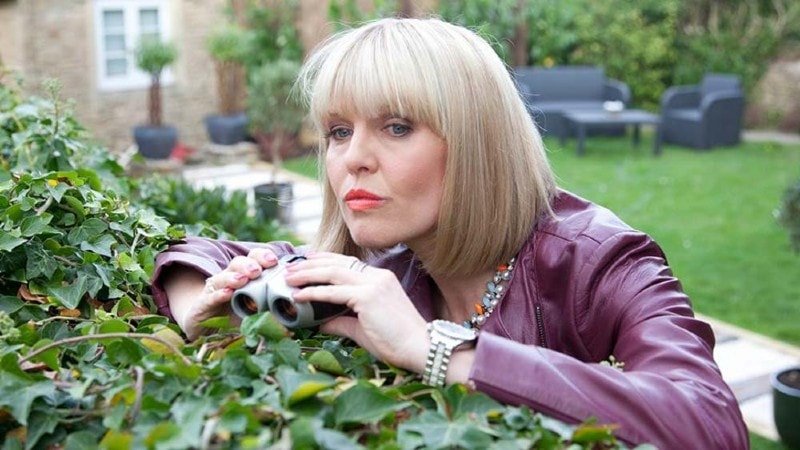 Boy, the British sure do have a penchant for private investigator shows. And they're pretty good at putting the comedic twist into them, too! Agatha Raisin is just another one on the list.
What started as a one-part pilot in 2014 eventually blossomed into an eight-episode first season two years later, a second season composed of three 90-minute films in 2018, and then the third season with four 90-minute episodes that dropped in October 2019.
Agatha Raisin is the eponymous main character – a public relations whizz who has decided to move to Carsley for early retirement. She thought she had left the busy city life behind in London, but she soon finds herself a suspect in a murder case. She's determined to establish her innocence and in the process, becomes a sort of amateur detective.
Where to watch Agatha Raisin:
Nancy Drew, The CW (2019 – present)
Nancy Drew has become somewhat of a household name when it comes to the detective/mystery genre, albeit within the young adult audiences. That's probably because Nancy Drew, along with the Hardy Boys, had its beginnings all the way back in the 1930s.
The CW Nancy Drew series is the third TV adaptation and has recently been renewed for a second season.
Nancy is now on her gap year before going to college, working as a waitress at a local diner. As opposed to solving different mysteries in every episode, Nancy sets out to solve a murder that she and her friends accidentally witness, and are now suspects to.
Where to watch Nancy Drew:
Moonlighting, ABC (1985 – 1989)

Before he was John McClane, Bruce Willis starred as David Addison in ABC's Moonlighting with Cybill Shepherd.
The 80s series follows David Addison, owner of City of Angels Detective Agency, and former model Maddie Hayes, who also owns an agency that she previously used as a tax write-off.
Maddie is forced to work as a PI after her money-embezzling accountant leaves her bankrupt. David, facing his own bankruptcy due to a lack of clients, convinces Maddie to go into business with him. So now the two run Blue Moon Detective Agency and investigate cases of clients that are mostly brought in by Maddie's celebrity status.
Where to watch Moonlighting:
Take Two, ABC (2018)
In a similar vein with Private Eyes and Moonlighting where a private investigator teams up with a celebrity to form a crime-solving team, there also is ABC's short-lived summer series Take Two.
Take Two follows Eddie Valetik (Eddie Cibrian) an LAPD detective turned PI who's approached by Sam Swift (Rachel Bilson), a former star of Hot Suspect, a popular cop show, to allow her to shadow him for a potential comeback role.
But, after successfully joining forces and solving a case, Sam asks to become Eddie's partner, seeing that solving crimes is a much more fulfilling way to use her acting talents. And Eddie reluctantly agrees.
Where to watch Take Two:
Sherlock, BBC One (2010 – 2017)
Before we wrap up this list of the best private investigator TV shows, Sherlock needs an honorable mention, too.
Sherlock Holmes is also another household name as a private detective. There have been plenty of movies and TV shows based on the famous literary character, but 2010's Sherlock is one for the records. There are four seasons, each with three episodes. That's practically a feature film-length!
There have been recent rumors of a possible fifth season, with the creators having mentioned it in passing in interviews. However, there has been no official confirmation due to the conflicting filming schedules of Benedict Cumberbatch and Martin Freeman (Holmes and Dr. Watson, respectively). While waiting for any updates on that, you can watch the first four seasons on Netflix!
Where to watch Sherlock: