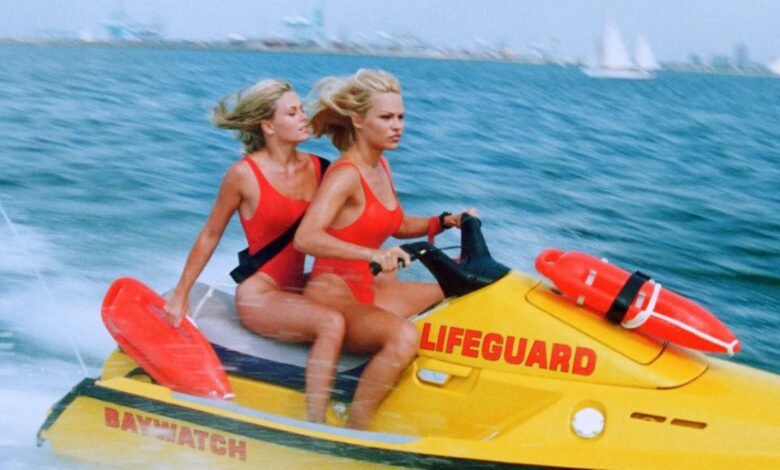 Being a lifeguard probably isn't as glamorous as we all think it is.
It's more than just being perpetually tanned and chiseled, and it definitely entails more than running up and down pristine, white-sand beaches with the wind blowing through your hair. We'll always be grateful to Baywatch for that image, but being a lifeguard definitely goes beyond that.
As a lifeguard, you are literally in charge of other people's lives. Whether you're looking over a swimming pool or a beach, the weight of the responsibility is the same: keep everyone safe.
So yes, lifeguards work on being extremely fit and go through rigorous training, but it's not so they can look like David Hasselhoff and Pamela Anderson – it's so that they can save your life in case of an emergency.
Movies like the 2017 Baywatch give us a small idea of what lifeguards have to go through (albeit highly fictionalized, because how many real-life lifeguard teams have you heard of that have stopped an entire criminal organization?) at least in terms of training and scope of work.
You might be thinking that it's pretty rare for us to see lifeguards in the front and center of films or TV shows, but there are a fair few of the latter!
We've got this list of series about lifeguards, both scripted and unscripted, so we get a healthy mix of reality and fiction.
So put your swimming gear on and read all the safety rules before diving into the best TV shows about lifeguards!
Best Scripted Lifeguard TV Shows
Baywatch, NBC/syndication (1989 – 1999)
Well of course we had to kick it off with Baywatch! After all, it is the pioneer show that opened the public's attention to the jobs and lives of lifeguards.
We all know that opening scene: red bathing suits, running through the water, wet hair, music in the background – it's an absolute classic (that, coincidentally, was recently remastered into a high definition so fans can rewatch it on Prime Video in the best quality possible).
Baywatch was originally set in California and featured an ensemble cast as the beach's team of lifeguards.
Much of the plot focused on the characters' personal lives and relationships with each other, though the backdrop was always different.
From natural disasters to shark attacks, illegal beachside operations and constantly saving people from drowning, Baywatch covered it all.
Baywatch: Hawaii, NBC/syndication (1999 – 2001)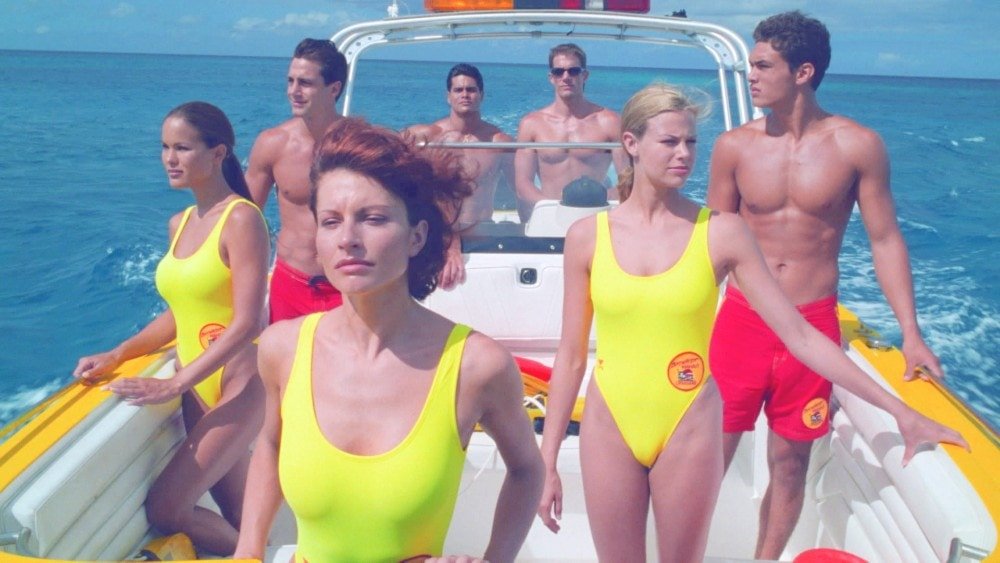 So technically, Baywatch: Hawaii isn't a separate series from Baywatch itself. In fact, it's really just the tenth and eleventh season of the original. So why distinguish it?
Well, the show went through a huge change because of rising production costs in LA. When the move to Australia didn't work out, Hawaii became the best option and the subtitle Baywatch: Hawaii was part of the move.
As a result, the entire series changed setting to the islands and underwent a major casting overhaul as well, with just a few original cast members remaining and even the original David Hasselhoff departing after the tenth season.
One thing that didn't change, however, is the way the storyline unfolds. You've still got plenty of drama, plenty of beachside antics, and even more life-saving operations.
Baywatch Nights, syndication (1995 – 1997)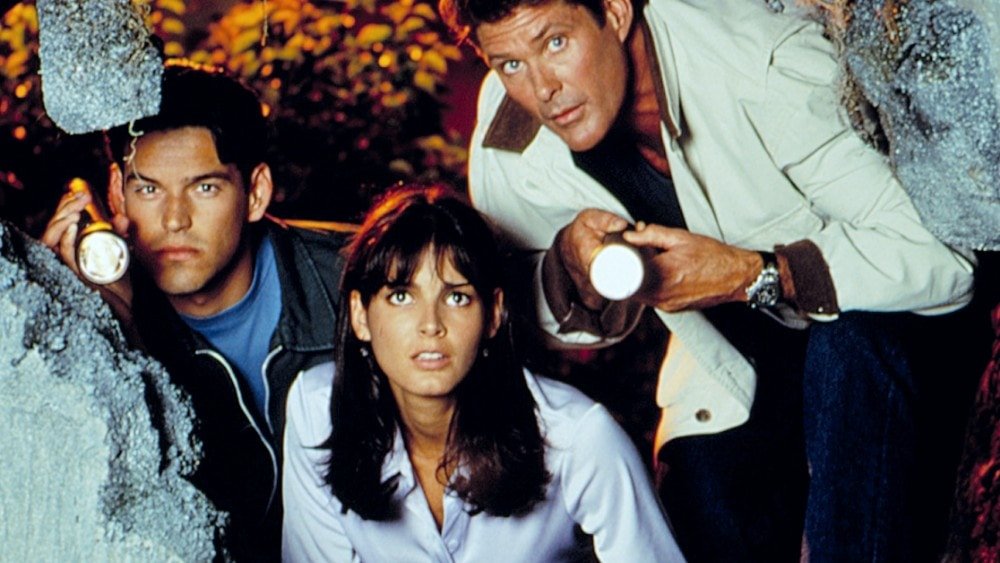 Baywatch Nights was the first – and only – spinoff series of the franchise (though there were many films!), which aired for two seasons while Baywatch was still airing as well.
In Baywatch Nights, LAPD Sergeant Garner Ellerbee from the parent series leaves the police force and establishes his own detective agency. Mitch Buchannon (Hasselhoff in the original) joins to help him along with Detective Ryan McBride, and together they investigate crimes in their jurisdiction.
In the second season, however, the series pivoted into the science fiction genre.
Ellerbee's police officer character was replaced by Diamont Teague, a paranormal expert, and investigator.
Sadly, Baywatch Nights didn't quite make the ratings that its predecessor did and was canceled after season two, though this is a great quick watch for fans of the police procedural and science fiction genres!
Son of the Beach, FX (2000 – 2002)
We're continuing the Baywatch-themed shows with this next one!
We mentioned how much of a pop-culture classic Baywatch has become, which has made it prime pickings for cultural references, spoofs, and parodies.
FX's sitcom Son of the Beach is just one of those spoofs born from the classic.
The plot still involves protecting the beach and the people but from the title itself, which is a play on words, you can probably guess what the running comedic theme is.
Yup, pretty much everything is based on double entendres, puns, innuendos, and plays on words (most of which are sexual in nature). From the character names (Notch Johnson and B.J. Cummings, to name a few) to the name of the lifeguard team (Shore Patrol Force 30 – yep, that's SPF 30), the jokes are ever-present.
North Shore, Fox (2004 – 2005)
Fox's North Shore is a soap opera set in the fictional Grand Waimea Hotel and Resort in Oahu, Hawaii – on the eponymous North Shore coast of the island.
The series focuses more on the entire group of characters – primarily the staff and guests at the resort – as opposed to a team of lifeguards like the other shows on the list.
However, one of the main characters is Gabriel McKay, a lifeguard at the Grand Waimea who seems to alternate between looking over the resort's pool and the beach area.
Despite his love for and skill in the job, Gabriel has ambitions to become a professional surfer, and he's able to achieve that dream by the end of the season.
Malibu Rescue: The Series, Netflix (2019 – 2020)
Shifting audiences, next on the list is Malibu Rescue: The Series, which is catered towards a notably younger audience.
It first premiered as a feature-length film before the first season was released a few months after. Though the series itself only aired for one season, it was succeeded by another feature film as a continuation.
Malibu Rescue: The Series revolves around Tyler Gossard, a teenage boy who has gotten into trouble one too many times. As punishment, his stepfather forces him to join the Malibu Junior Rescue Program – a kind of lifeguard-in-training program for teens.
While there, Tyler discovers that the program director has all but set him and the other Valley kids up to fail the program. That's when he puts his competitive nature to good use by rallying the others to prove that they deserve to be there just as much as the other Malibu kids.
Best Unscripted TV Shows about Lifeguards
Bondi Rescue, Network 10 (2006 – present)
Bondi Beach is one of the most popular spots in Australia and is regularly flocked to by tourists both domestic and international.
Stretching about 1km in length, its beautiful sandy beaches, and surf-worthy waters are also a prime spot for a lot of trouble, giving its lifeguards plenty to work with.
In fact, statistics show that Bondi Beach lifeguards have performed up to five thousand rescues a year – some of which we get to witness in the reality show, Bondi Rescue.
Each of its 16 seasons is full to the brim of drowning incidents, shark scars, lost children, and thwarting thieves, and drunken (sometimes illegal) activities. Later seasons even began featuring their training exercises!
In its latest season, Bondi Rescue showcases how things have changed as it opens back up after the pandemic lockdown – the first time the beach was closed since World War II. The team continues their hard work despite having to work around restrictions with masks and social distancing.
Beach Patrol, Court TV/truTV (2006 – 2008)
Airing for four seasons, Beach Patrol is an unscripted series wherein each season changes location; settings included San Diego, Honolulu, Miami, and Huntington Beach in Southern California.
Though episodes were only half an hour-long, Beach Patrol brought a little something new to the table, too: a partnership between the lifeguards and the police force, making the focus of the series less about saving victims in the water and more about their operations to apprehend criminals and save lives in that process – including finding missing persons.
The show's footage was also a mix of real-life and dramatic reenactments!
Lifeguard! Southern California, The Weather Channel (2012 – 2013)
Like the reality shows listed before it, our last series on the list, The Weather Channel's Lifeguard! Southern California, uses real-life footage taken while the various lifeguard teams live their day-to-day lives.
The cameras are trailed on lifeguards and harbor patrol officers spread out across the 150 miles of Southern California beaches from LA County down to San Diego County.
Not only are the daring rescues shown in real-time, but they're also accompanied by interviews with the lifeguards, first aid, and law enforcement involved, as well as with the victim and their families!
That allows viewers to have a real up close and personal view of what their job is like, where rescues range from missing swimmers and small accidents to almost-drownings due to riptides, and law enforcement includes both minor boating violations up to violent crimes on the beach.