If you're an avid TV show watcher like me, you know how hard it can be at times to stay on track with all the latest episodes of your favorite shows. And even if you're a hobby TV watcher, it can still be difficult to find information about episodes of shows you love or to discover brand new shows to watch. Therefore, in this article, I decided to share all of the tools, sites, and apps I use to keep up to date with my shows and with what's happening in the TV world in general. So, without further ado, here are my top TV tool recommendations for tracking and finding TV shows including but not limited to TV show trackers, calendars, show search engines and much more.
TV Time
Who doesn't love a good app these days? And if you're like me and are following several TV shows at once then you need to get TV Time! Dubbed the world's largest TV tracking tool, TV Time is one of the easiest ways to be in the know of when the next episode of your current TV obsession comes out. Additionally, it also allows you to easily discover new shows based on the series that you already like. Share your opinion on episodes that you like or dislike. And even interact with other fans of the series you're watching. And it's packaged in a beautiful and easy-to-use interface that makes the experience of using TV Time that much more exciting. What's not to love about it?
You can download it in the App Store or on Google Play. As well as find out more about TV Time on their website tvtime.com.
Next Episode
Looking for something similar but different? Then check out Next Episode. It's a website and an app that allows you to organize and track both TV shows and movies. As well as makes it easy to discover new series and films to watch once you're done with the current ones. And they even have lists of the most popular shows that you can sort using multiple different filters so you can find your next TV addiction without any hassle. On top of that Next Episode has been around since 2005 which makes it a veteran in all things TV show tracking. So why not give them a chance?
You can download Next Episode in the App Store or on Google Play. Or use the website version by visiting next-episode.net.
TV Calendar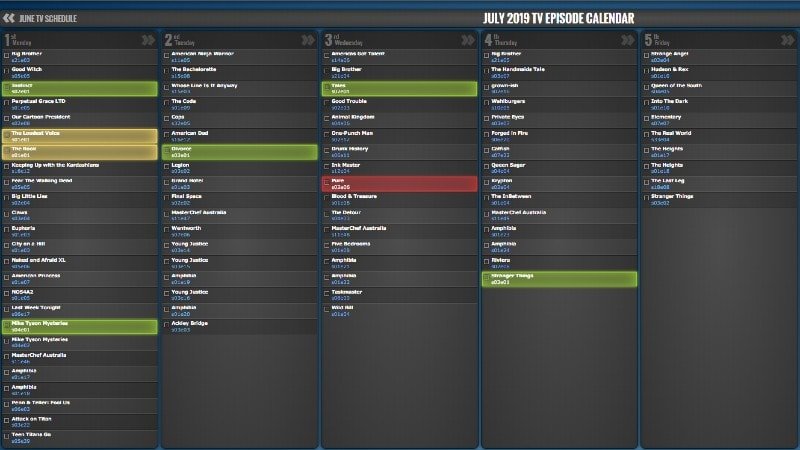 Want an easy way to see what TV show episodes are airing when? And follow all the shows that are either premiering or concluding their seasons this month? Then TV Calendar will be one of the best TV tools for you. It's super easy to use. And has a color-coding system when it comes to premieres of new seasons, new shows and series' finale episodes making it easy to know which episodes are more special than others and when to look out for them. And TV Calendar even tracks stats like which shows are popular at any given moment, which series' have been canceled and which renewed as well as when does the next episode of each particular series airs.
So, if this sounds like something you would find helpful, make sure to check out TV Calendar by going to pogdesign.co.uk/cat.
ShowSkimmer
Have you ever wanted to rewatch only the best episodes of your favorite long-running show but failed to find a way to determine which episodes have been deemed the most watch-worthy? Then you're in luck because now there is ShowSkimmer. A tool that's designed to do just that. To find which of the episodes of any given TV series (with at least 35 episodes under its belt) are the most highly-rated. Just type in the title of the TV show in the search box and ShowSkimmer will produce top episode lists that have been created by taking into account episode ratings from various different TV series rating websites. It's as simple and easy as that.
Want to try it for yourself? Then check out showskimmer.com.
Flixable
Those who are only subscribed to Netflix might find Flixable helpful. This website is essentially a Netflix search engine that allows you to filter TV shows and movies found on Netflix by their genre, audio language, rating and release year. Which makes it that much easier to find things to watch on Netflix. Additionally, Flixable also provides easy-to-view lists on what's currently trending on Netflix. As well as what's coming soon to the streaming service and which shows and films are leaving it in the near future. And you can even choose the country you're in so the Flixable shows only the properties available in your country's Netflix.
No more scrolling through Netflix and desperately trying to find something to watch. Use flixable.com for that instead.
Reelgood
Have a particular streaming service you're subscribed to (or three)? And are curious about which shows and movies you can watch on which service? Well, wonder no more because there is Reelgood for that. On Reelgood you can choose the subscription services you are or would like to be subscribed to from the over 50 services it covers. And then the site will give you a list of all the properties that are available on those particular services. Moreover, it ranks them by popularity, year, rating and Rotten Tomatoes and IMDB scores. Which means that you can also use these rankings as filters to find shows or movies that fit your specific criteria. And the tool even offers lists of properties that are new to the streaming services it tracks, coming or leaving them soon.
So, let Reelgood help you find what you want to watch quicker by checking out the website on reelgood.com!
JustWatch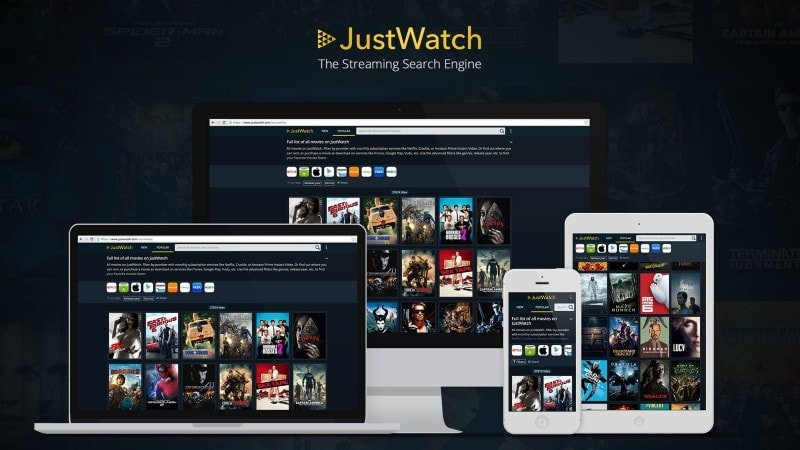 Heard about a great new show but don't know where or how you can watch it? Enter JustWatch!  A website that lets you search any TV show you'd like to watch and see which streaming services offer it or where you can purchase said show online. It even lets you see which options are best priced or choose one that fits your particular quality requirements. And in case you're looking for a new TV or movie show obsession, it even displays a list of what's hot right now so you can get on the bandwagon of stanning these movies or shows as well. With offering over 40 different ways to watch the series or movie you like. And a handy app that lets you figure out your next binge on the go. What's not to love about JustWatch?
Discover it yourself by going to justwatch.com and picking your country of choice.
TVLine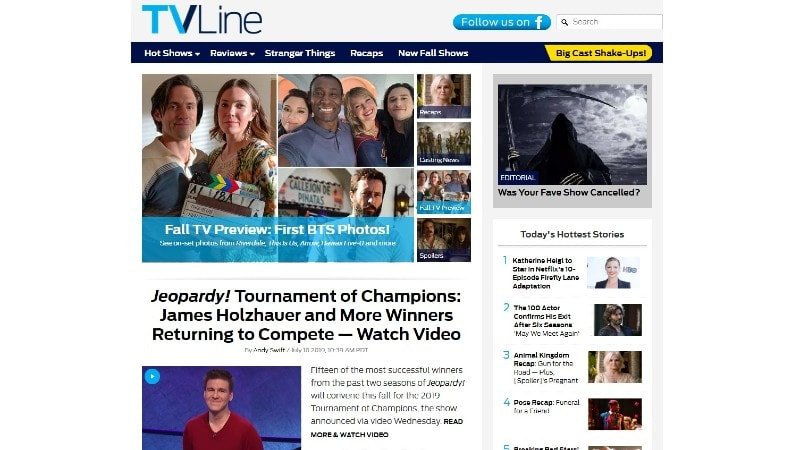 Finally, for those who want breaking news, interviews and exclusive spoilers on all of your favorite TV shows, you might want to check out TVLine. Aka biggest source of TV news on the web. It's the place I get all my TV show news from, and you should too. And the best part? TVLine is dedicated to producing TV show-related content only. Which means no more skimming through tons of entertainment news just to find articles on the latest and greatest shows. And now they even have an app that makes it even easier to be up-to-date with all things TV shows.
You can find TVLine by visiting tvline.com or searching for TVLine in the App Store or on Google Play.