Dogs are known to be highly intelligent and some can be trained to help us humans with our jobs and everyday tasks – sheepdogs, guide dogs, and police dogs are examples, to name a few! I'm sure we can all admit that watching dogs in action, whether on our screens or in real life, instantly puts us into a great mood.
In this article, we've put together a list of TV shows about dogs, putting them front and center.
So grab your pet of choice and let these adorable doggies flood your TV screens!
Hudson & Rex, Citytv (2019 – present)
Since its premiere in March 2019, Citytv's comedic police procedural series Hudson & Rex has become a fan favorite.
The show's eponymous characters are Charlie Hudson, a detective with Major Crimes, and his K9 partner Rex, a German Shepherd with extra-sharp ears and trained to identify multiple scents.
The two partnered up after Hudson moved back to his hometown of St. John's and Rex's previous human partner died. Now an unstoppable dynamic duo, Rex is instrumental in helping Hudson investigate – and solve – each case!
Inspector Rex, ORF/RAI (1994 – 2004/2008 – 2015)
The previously mentioned Canadian show Hudson & Rex is actually one of a few international remakes of the Austrian-Italian original: Inspector Rex.
Set in Vienna, Austria, Inspector Rex focuses on the three-man team of the Homicide division in the Austrian police force. Apart from the three policemen, aided by a forensic expert and former policeman, the team also relies heavily on, of course, Rex. Rex, the real star of their team, is a specially-trained cadaver dog and sniffer dog for narcotics and other illegal substances.
Inspector Rex originally aired as an Austrian series for ten seasons, ending in 2004. In 2008, it was revived under an Italian production team and thus, the setting was moved to Rome. Rex joined another team with (fellow) Inspector Lorenzo Fabbri taking the lead.
Turner & Hooch, Disney+ (2021)
Who doesn't love a good buddy-cop comedy? Disney+'s newest series Turner & Hooch, which premiered on the streamer on July 21st, is just that. And being that it is a continuation of the 1989 film of the same name, you might be familiar with some of the names and events mentioned in the series.
It follows U.S. Marshal Scott Turner, son of the original Detective Turner portrayed by Tom Hanks, who inherits a loveable yet unruly French Mastiff after his father's sudden death.
Despite the two not getting along at the beginning, Hooch, who's a spitting image of the original pup, helps Scott solve a complicated case so he decides to keep his slobbery, new friend. And when new evidence comes to light about the accident that killed the family's patriarch, Hooch might just be able to help Scott find out what actually happened to his father.
Lassie, CBS/syndication (1954 – 1971)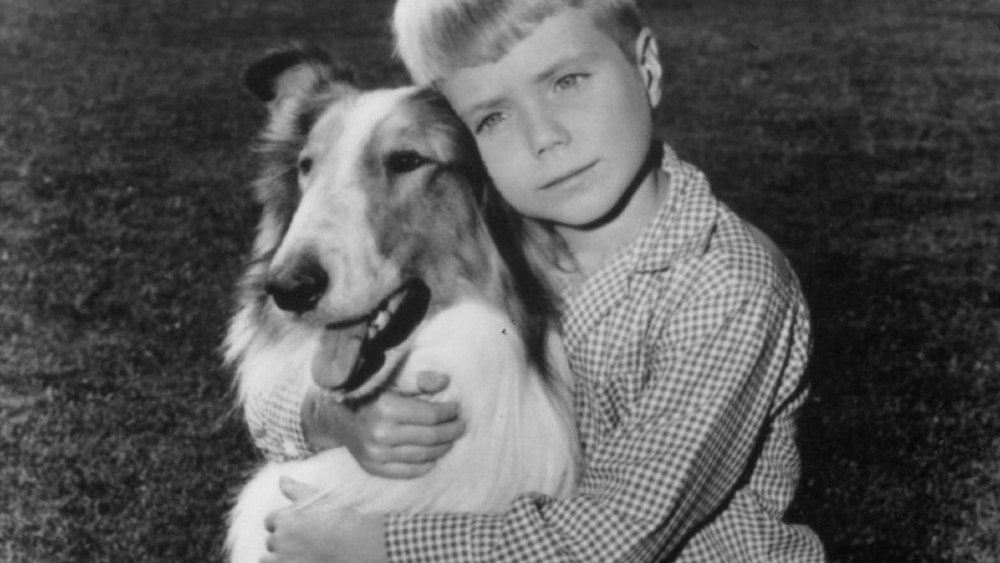 If there was ever a doggie Hall of Fame, Lassie would be the very first one inducted. I doubt there's ever been a dog on our screens more famous than her. A beautiful Rough Collie, she rose to fame through the CBS series Lassie which aired for 19 seasons.
The show followed Lassie's adventures in a small farming community, joined by her friends both human and animal. After 11 years (i.e. seasons) at the farm, her adventures move onto the wilderness as she accompanies US Forest Service Rangers. After these escapades, she even ventures out on her own for a while before finally ending her adventures at a children's home.
After the original series concluded there was also a sequel series The New Lassie which aired for two seasons starting 1989. As well as a newer series also called Lassie which debuted in 1997 and aired for three seasons on Animal Planet.
Downward Dog, ABC (2017)
No, the downward dog isn't just a popular yoga pose. It's also the title of ABC's 2017 comedy series, a show that aired for just one eight-episode season. Downward Dog follows the life of Nan, a young millennial working at a retail store who's struggling to make ends meet (because aren't we all, amirite?) and figure out her complicated romance with her ex-boyfriend, Jason.
However, be prepared for the show to unfold within a unique perspective: from the view of Martin, Nan's loving and philosophical dog. It's a uniquely beautiful view into the relationship between a pet and the human he loves, making us all wonder how our own pets think about us!
Wishbone, PBS (1995 – 1997)
PBS' Wishbone aired for two seasons in the mid-90s. Its target audience then was children but let's be honest – we would still enjoy it again now as adults! The titular character of Wishbone was actually a beautiful Jack Russell Terrier and he had a reputation of being "the little dog with a big imagination".
Each episode of the show is inspired by tales in classic literature – like Don Quixote, Sleepy Hollow, Great Expectations, to name a few – where Wishbone imagines himself as the lead character in the story! Of course in his mind, nobody ever notices that he's just a dog, and Wishbone spends 50 episodes creating all sorts of fun adventures for himself!
Dog with a Blog, Disney Channel (2012 – 2015)
Yet another TV show catered towards a younger audience, Dog with a Blog is a hilarious take on a dog's role within a less than ordinary family setting.
When two separate families come together under one roof, it's unsurprising if the children don't necessarily get along right away. This was definitely the case with Avery Jennings and her new step siblings Chloe and Tyler James – that is, until they discover that their new dog, Stan, can talk. In fact, he's even got a secret blog where he writes about his encounters with his new family! The step-siblings must come together to keep their secret and protect Stan from those who might take him from them.
Wilfred, FX (2011 – 2014)
If you think about it, Wilfred's less about an actual dog and more about a man seen in a giant doggy suit. It sounds hilarious and ridiculous, Wilfred does it so smoothly!
The show primarily follows Ryan, a man suffering from depression who, after a failed suicide attempt, is asked by his beautiful neighbor to look after her dog, Wilfred. This would be all well and good except while everyone sees an actual shepherd dog, Ryan is now the only person who sees Wilfred as an Australian man in a dog suit. Wilfred is cynical, foul-mouthed, and harbors an unhealthy obsession between two stuffed animals: a giant bear and a giraffe. Ryan ends up fostering an almost harmful dependency on Wilfred, who's always convincing him to get up to no good.