In the current technological climate, when's the last time any of us listened to the radio? I know I haven't in at least a few years. But recently, the radio has been a part of my life when I'm riding in the car with my dad, who has one specific station he listens to for jams from what he calls "the golden days".
Sure, I remember a few good radio talk shows I'd listen to on my way to school some 15 years ago. Heck, I even remember the FM Radio feature that my first few cell phones had!
But with apps like Spotify for both music and podcasts, we can curate what we listen to at any time – and that's probably why radio shows just aren't as popular to the younger generations anymore. Why wait around for your favorite songs to come on, or listen to the DJs talk about things you don't find interesting when you can pick and choose your sounds at any time, right?
Well, for fans of the classic radio, there are still ways to harken to those good ol' days and catch a glimpse at the behind-the-scenes action that happens at radio stations in the process.
That's why we've put together a list of the best TV shows about radio shows and stations!
Love (2016 – 2018)
If you ever get tired of the cheesy rom-com movies and shows out there and feel like taking a hiatus from all that, Netflix's Love is a more down to earth, darker, and definitely more realistic view into a beautiful love story.
Gus Cruikshank is an insecure and needy people-pleaser while Mickey Dobbs is an alcoholic and sex addict – and both have just gotten out of extremely problematic relationships. Mickey works at a radio station and hates every minute of it – but it's still a pretty interesting look into the radio as a workplace in recent times! Despite the differences in personality between Gus and Mickey, and the heaps of emotional baggage between them, the two attempt to build a functional, trustworthy relationship.
Life Unexpected (2010 – 2011)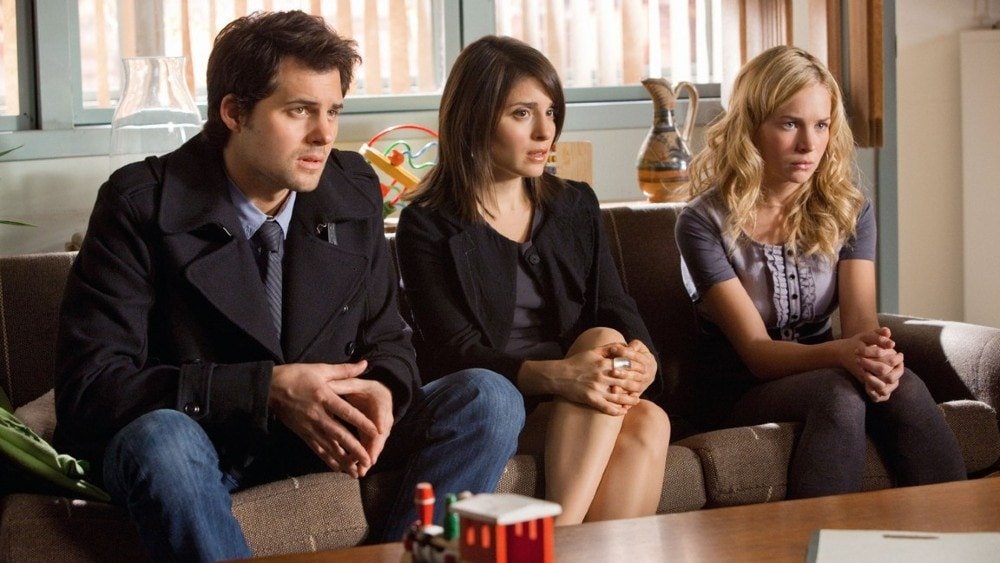 Like Love, The CW's Life Unexpected is less about the environment at a radio station and more about an employee who works at one. Cate Cassidy is the co-host of a drive time radio show called "Morning Madness", from the Portland radio station K-100 – and she's also the birth mother of Lux Cassidy.
As the main character in Life Unexpected, Lux is a 15-year-old on a quest to find her birth parents so she can petition to become an emancipated minor after living her whole life between foster homes. She eventually finds her mother Cate and her father Nate "Baze" Bazile, but instead of gaining emancipation, she is granted into their joint custody. Together, this awkward and unexpected family must navigate their personal relationships while building up one of their own.
NewsRadio (1995 – 1999)
NBC's radio sitcom NewsRadio followed the professional lives of the employees at a fictional AM news radio station based out of New York City, WNYX, including its owner, anchors, reporters, and even the secretary and handyman.
Right at the onset of the series, a new news director joins their team. Although he's supposed to be the one to take everyone's antics down a notch, he has some pretty quirky personality traits of his own – not to mention a slew of seemingly useless performance talents.
NewsRadio unfolds in absurd situations and satirical takes on real-life historical events and pop culture, even taking it so far as to shift the settings in the latter seasons to outer space and the infamous Titanic!
Frasier (1993 – 2004)
Yet another sitcom from NBC is Frasier, which started as a spin-off of Cheers before going on to become a bit of a cult classic on its own. The eponymous character, Dr. Frasier Crane, is a Harvard-trained psychiatrist who has moved back to his hometown of Seattle after his marriage comes to an end, where he takes in his retired father to live with him and spends more time with his fellow-psychiatrist younger brother.
Frasier has his own radio show at the KACL station called The Dr. Frasier Crane Show, where he takes in calls from "patients" and offers advice on psychiatric issues. Despite their careers helping others solve their problems, the Crane brothers often have difficulty dealing with their own familial issues and that – along with their personal relationships – are what the show's all about.
WKRP in Cincinnati (1978 – 1982)
WKRP in Cincinnati is the oldest show on this list and despite being canceled after 4 seasons, it achieved greater success during its second run under syndication.
The show follows the staff of the titular fictional radio station in Cincinnati, Ohio, which is struggling to stay operational. In an effort to turn business around, the news program director Andy changes their format from easy listening to rock n' roll jams and hires a new evening DJ who adopts the persona of "Venus Flytrap". Joining them on the team at WKRP are the station manager Arthur, sales manager Herb, news director Les, a revamped persona for the morning DJ, Dr. Johnny Fever (real name John Caravella), the station receptionist Jennifer, and junior employee Bailey.
Midnight Caller (1988 – 1991)
Midnight Caller primarily follows Jack Killian, a retired and disgraced police detective who left the force after an altercation with their targets ended with him accidentally shooting his partner and killing him. His saving grace from alcoholism comes in the form of Devon King, the owner of the KJCM-FM radio station. She asks him to become the host of a midnight talk show with the persona of "the Nighthawk", taking calls from the audience to listen to their problems at night and use his skills and experience as a detective to help them solve it during the day.
Midnight Caller was known for its realistic storylines and relatable characters, as well as its tackling of pretty controversial topics for the time such as AIDS, child abuse, gender and sexuality, and mental health issues.