Over the past two decades, cheerleading has gained increasing interest both in entertainment and as a sport.
Now, let's clarify a couple of things right at the onset. Firstly, when we say cheerleading is popular in entertainment, we mean the entertainment industry. That is, as a topic for TV and movies. And secondly, yes, cheerleading is absolutely a sport.
If you've found yourself reading this article, then chances are you've seen a handful of cheerleading movies or series' already. As a fan of the sport, you have to have already watched the entire Bring It On franchise, no matter how cringe-worthy 2017 Worldwide #Cheersmack movie was. I mean let's face it, we're watching mostly for the cheer routines and not so much for the acting skills, right?
In this article, we've compiled a list of the best cheerleading shows out there – in both the scripted and reality format!
Best Scripted TV Shows About Cheerleading
When it comes to the fictional world of cheerleading movies and TV shows, cheerleaders are often portrayed as the queen bees who rule the school. They're preppy, popular – everyone wants to be one, or at least be friends with one.
Sometimes they're nice (like Torrance in Bring It On) and sometimes they're the mean girls who think they can get away with anything (watch the made-for-television movie Fab Five: The Texas Cheerleader Scandal that's based on true events if you want to see the perfect example of that).
Either way, watching scripted TV shows with cheerleaders as the focal point is nothing short of entertaining, so let's kick it off!
Hellcats, The CW (2010 – 2011)
Do y'all remember Eliza Dushku's character in Bring It On, Missy Pantone? She was the angsty brunette who joined the Rancho Carne HS cheer squad because the "school has no gymnastics team; this is a last resort". Well, the protagonist of The CW's Hellcats, Marti Perkins, has kind of the same problems.
Marti is a pre-law student at Lancer University. Her mother works at the university's pub and as a result, Marti is on a special employee scholarship. After the administration cuts said scholarship program, however, Marti is forced to find another school program she can participate in to fund her studies. Of course, she chooses the cheerleading squad.
Once a part of the team, she makes both friends and enemies alike as she and her new teammates struggle to win Nationals.
Hellcats was sadly cut from The CW's programming after low viewership numbers at the end of its first season. However, fans can watch it on CW Seed and Amazon Prime Video.
Dare Me, USA Network (2019 – 2020)
Nobody ever thought that cheerleading could get so dark.
Far from the light and comedic tones that Hellcats took, Dare Me delves into the "physical and psychological extremes" that are all part of the power play in competitive high school cheerleading. If you've ever wondered what lengths people would go to to get ahead, this cheerleading show just might answer that for you.
Dare Me is primarily focused on the relationship between Addy and Beth, two best friends whose friendship slowly starts to fall apart when a new coach introduces unexpected changes to their cheerleading team. On top of that, a shocking murder interrupts the peace of their small Midwestern town and the girls' lives are changed forever.
The show's first season just wrapped up on USA Network. There's no news yet of a second season, but Netflix has first-run rights to distribute the series outside of the US. So hopefully, it will gain a big enough viewership to warrant a season two.
Hit the Floor, VH1/BET (2013 – 2018)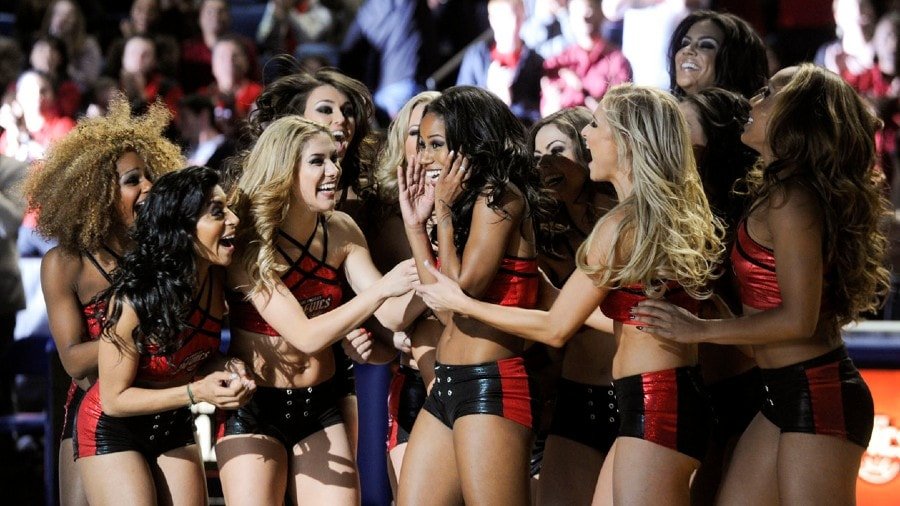 What sets Hit the Floor apart from the other scripted cheerleading series is that this cheer show goes beyond high school and collegiate cheerleading. Now, we're talking about cheerleading in the world of professional sports. More specifically, the cheerleaders for the fictional basketball team the Los Angeles Devils: The Devil Girls.
Where the personal drama in high school and college tend to stay there, it's a whole other story when you're outside in the professional world.
In Hit the Floor, relationships are much more complex and (unknowingly) intertwined. Jealousy is much more potent when your whole career is in question. And politics within the teams are much more brutal.
After four seasons, Hit the Floor was canceled in 2018. Thankfully, creator James LaRose closed out any hanging storylines through his Instagram.
Best Cheerleading Reality TV Shows
We all know without a doubt that cheerleading requires an extraordinary amount of skill, discipline, and fearlessness.
Cheerleaders need to be skilled in various forms of dance, floor gymnastics, and tumbling. They also need to make sure they stay healthy and fit. And they can't be afraid of falling while being lifted or thrown into the air. The risk of injuries in cheerleading is no joke, either!
While most of us just see the resulting routines at games and competitions, not a lot of us know the amount of hard work that goes into them.
Thankfully, there is now a plethora of TV series' that showcase the behind-the-scenes of different teams and competitions. After watching these cheerleading reality shows, we're sure that you'll gain an even deeper respect and appreciation for both the sport and those brave enough to do it!
Cheer, Netflix (2020 – present)
Netflix has a penchant for creating original docuseries', and Cheer happens to be one of the most recent to hail from the major streaming platform.
It closely mirrors the format of their four-season football series Last Chance U that's focused on collegiate-level football players only this time, Cheer follows the cheerleading team from Navarro College, a community college in Corsicana, Texas.
Before starring in the documentary, the NC Bulldogs had already won fourteen NCA National Championships in the JUCO (junior college) division as well as five Grand Nationals. Throughout the six-episode first season we get to witness how one of the best and most decorated cheerleading teams in the country prepares for the annual National Cheerleading Championship held in Daytona, Florida.
We get to know some of the squad members as they vie for one of the 20 spots in the routine for the NCC (what they call "making the mat") and form opinions on early favorites. We also see the intensity of their training as they practice for hours every day, doing the same routine and stunts day-in, day-out – not to mention the heart-stopping accidents and resulting injuries that really make us flinch in our seats.
Cheer season 2 premieres on Netflix on January 12th, 2022, and will not only showthe Navarro tea preparing to defend their championship crown but also follow the cheerleading ream of Trinity Valley Community College – Navarro's main rival.
Cheerleader Nation, Lifetime (2006)
Cheerleader Nation brings us all the way back to 2006!
Filmed in a documentary format similar to Cheer, the show also followed a multi-award-winning team as they prepared for the national championship competition.
However, where this Lifetime cheerleading show differs from Cheer (apart from being set in Lexington, Kentucky instead of Texas) is that the squad in Cheerleader Nation is at the high school level. More specifically, it features the team from Paul Laurence Dunbar High School.
In Cheerleader Nation, we get an early glimpse of how physically demanding the sport is regardless of how young these athletes are. And viewers have a chance to get to know some of the team members a little bit better as well.
Because the girls are still pretty young, the show also zooms in on the girls' relationships with their parents (the mothers, specifically) and how they being involved impacts the girls' performance on the squad.
Throughout its eight-episode season (of which, sadly, there was really only one), the squad flies through tryouts, Regionals, and then Nationals – where they are vying for their third straight championship!
Cheerleader Generation, Lifetime (2019)
13 years after the premiere of Cheerleader Nation, Paul Laurence Dunbar HS cheerleading coach Donna Martin stars in yet another reality TV show featuring her prized high school cheerleading squad.
If you watched the original, you'll know that Donna's daughter, Ryan, was on the winning squad back in 2006. Ryan herself returns in Cheerleader Generation as well but this time, as the cheerleading coach for Ole' Miss (University of Mississippi)!
While Donna rules her team as a surrogate mother, Ryan employs a more detached – but not any less caring, by any means – approach to her college team. Both tactics are equally effective, and the mother-daughter pair strive to bring their teams to the winning spot at national championships in their respective divisions.
In between training sessions, both coaches also have to deal with their team members' personal drama, and viewers are lucky enough to witness it all firsthand.
Dallas Cowboys Cheerleaders: Making the Team, CMT (2006 – present)
The Dallas Cowboys cheerleaders (DCC) aren't called "America's Sweethearts" for nothing. For starters, the DCC was the first squad in the NFL to use the teensy uniforms while performing. And secondly, every single one of them is jaw-droppingly gorgeous – though of course, the latter could be said for all cheerleading squads in the NFL.
However, there's also a reason why the DCC have been regarded as the best squad in the Eastern NFC of the NFL, and the CMT's Making the Team docuseries shows us exactly why.
After its premiere in 2006, the show saw so much success that it has since continued to its 16th season, which premiered in 2021.
Each episode highlights a stage in the audition process for hundreds of beautiful hopefuls to achieve their dream of dancing for the Dallas Cowboys including bootcamp, dance training, mock media interviews, physical fitness tests, and even a written exam on various topics inside and outside the NFL. At the end of each season, only 36 young women remain.
Cheer Squad, ABC Spark (2016)
Moving outside of the continental United States, Cheer Squad shows how much of an international sensation cheerleading is and continues to be.
The team in focus is the Great White Sharks, the national cheer team of Canada.
In Cheer Squad, it's no longer about pitting schools against schools, whether at the high school or collegiate level. It's not even about who's the best squad in the region. Now, it's about finding out who's the best in the world.
The Great White Sharks already have multiple world championship medals to their name, but that hasn't stopped them from going for a third. From veterans to rookies, open tryouts to a brand-new roster, professional football games to in-between competitions, bickering amongst themselves and facing off against old rivals, Cheer Squad dives deep into the preparations for a worldwide competition – and the personal drama that comes with it.
Cheerleaders, AwesomnessTV (2013 – 2019)
We've got the first web series on our list with Cheerleaders, from AwesomenessTV!
Because AwesomenessTV has made a separate YouTube channel dedicated solely to their cheerleading series, that means all past and present seasons are free to stream – any time you want, as many times as you want.
The series first aired in 2013, right after the California All-Stars SMOED (small coed team) won the division World Championship title the year before. Because of their success, Cheerleaders began as a way for fans to gain an inside look at how the All-Star team prepares to become – and remain – the best of the best.
2012 wasn't the first year the California SMOED team won, but it was the beginning of a multiple-year winning streak until 2015. Because of that, the Cheerleaders series covers both wins and losses, but the hard work never stops.
As a bonus, AwesomenessTV also has a show called Cheerhab, where the Cali All-Stars coaches "rehabilitate" a struggling All-Star team. Check it out on the Cheerleaders YouTube channel!
Cheerleader U (2007)
Cheerleader U brings us back to cheerleading on a collegiate level as it follows the University of Kentucky cheer team back in 2007 as they chronicle their journey to the Nationals.
The process is rigorous and starts with the tryouts. Throughout its six episodes, we witness the team's fierce athleticism and determination.
What sets it apart is that despite is documentary nature, the show doesn't showcase too much of the members' personal issues. Sure, there's a mention of a date here and there, but it's pushed into the background to bring the competitiveness of cheer more to the limelight.
Cheerleader U only aired for one season, which can now be streamed on Amazon Prime Video.