Ah, baseball – the great American pastime.
Tracing its origins back to the mid-19th century, it slowly gained popularity across the country, and by 1856, it had cemented its reputation as the country's national game.
The sport isn't favored solely in the United States, though; it's also a pretty popular sport in Japan, South Korea, and some countries in Central and South America. Heck, even my grandfather in the Philippines was extremely proud of his decades-old baseball and catcher's mitt!
In recent times, baseball has somehow been overtaken by basketball and football in terms of fan base both locally and internationally. However, many will say that there's still no other sport that deserves to be called the national pastime because of its history and the memories it evokes of almost everyone's childhoods – playing catch in their backyard or at the nearby park, chowing down on hotdogs, popcorn, and soda while watching a game, or even collecting trading cards of historical baseball players.
In honor of the sport at the heart of America's culture, we've put together a list of the best scripted TV shows about baseball.
These baseball shows are here to help us better understand the game, know what goes on behind the scenes, and appreciate its contribution to American culture!
Pitch, Fox (2016)
Baseball has always been a male-dominated sport, at least in America. The Major League Baseball organization lifted the ban on signing women into the league in 1992 but to this day, there have still been no female players. Fox's drama series Pitch, which aired for one season in 2016, tells the (fictional) story of a change in this landscape.
Ginny Baker has been preparing for a professional baseball career her whole life, and her dreams are finally coming true when she is called up by the San Diego Padres for her MLB debut.
As the first woman in the league, she is propelled into the spotlight and faces more difficult obstacles than she ever imagined – all because of her gender. Though she has the support of family, her agent, and some of her new teammates, Ginny must prove herself as a female rookie in an age-old men's club.
A League of Their Own, Prime Video (2022)
For a more historical look at baseball and more specifically women's professional baseball, there is Amazon's upcoming series A League of Their Own which premieres on Prime Video on August 12th.
Set in the 1940s and based on the 1992 film of the same name, A League of Their Own documents the formation of the All-American Girls Professional Baseball League, an actual women's professional baseball league that was formed during World War II to keep baseball going while the men were fighting overseas.
The series follows the league's players as they try to keep the league afloat through many challenges including difficult games, injuries, and a rapidly-changing global situation.
All American: Homecoming, The CW (2022 – present)
Among the newest shows on this list of best baseball dramas is The CW's All American: Homecoming.
A spin-off of the network's hit football series All American, All American: Homecoming focuses on sports of the college level following the athletes of the prestigious Bringston University.
At the forefront of the series is not only a tennis pro hopeful Simone Hicks but also Damon Sims, a nationally ranked high school baseball prodigy who becomes the star of Bringston University's baseball team with all the highs and lows that come with it.
The Bronx Is Burning, ESPN (2007)
ESPN is the perfect home for The Bronx Is Burning, an eight-episode drama miniseries.
Adapted from the 2005 book Ladies and Gentleman, The Bronx Is Burning by Jonathan Mahler, the show is also believed to be titled after a comment made by the broadcasters during Game Two of the 1977 World Series (though factually, that exact statement was never actually uttered) when there was actually a fire raging in the Bronx.
The Bronx Is Burning zooms in on the New York Yankees as they work their way towards winning their first World Series under their owner despite the tumultuous relationship between right fielder Reggie Jackson and team manager Billy Martin. The Yankees became a symbol of hope throughout New York City as they navigated a trying time with a mayoral election, economic difficulties, the Son of Sam murders, and the electricity blackout unfolding all in the same year.
Brockmire, IFC (2017 – 2020)
What started as a one-shot episode in 2010 on the Funny or Die web series Gamechangers ultimately became its own show thanks to IFC and thus, Brockmire was born.
Hank Azaria (The Simpsons, Huff) plays the title character Jim Brockmire, who is introduced as a professional play-by-play baseball announcer. However, his career had come to a screeching halt three years prior in 2007 when he found out about his wife's serial infidelity and a very public, very profanity-riddled meltdown on the air led to him being fired.
However, IFC's Brockmire picks up a decade after his original fall from grace, and Jim Brockmire is determined to reclaim the famed career he once had and return behind the microphone. He starts in a small town, calling for the minor league team the Morristown Frackers, but small-town life isn't all that he had expected it to be.
Eastbound & Down, HBO (2009 – 2013)
The Funny or Die website was founded by Will Ferrell and Adam McKay (with Mark Kvamme and Chris Henchy), and the Ferrell-McKay creative duo were also executive producers on HBO's sports comedy series, Eastbound & Down.
Created by fellow comedian Danny McBride, the series also stars McBride as Kenny Powers, a once-famous major league baseball pitcher who was essentially the cause of his own career demise. This time, it was Powers' bad attitude, poor work ethic, inflated ego, and short temper that forced him to go into retirement.
With nowhere else to go and no other options, Powers returns to the hometown he had turned his back on in order to become a substitute Physical Education teacher at his former middle school. Set on making a career comeback, he tries to make amends but as is the story of his life, he often finds himself standing in his own way.
Hot Stove League, SBS TV (2019 – 2020)
At the beginning of this article, we mentioned that baseball is also a pretty popular sport in South Korea, so we would be remiss if we didn't include this show on our list of scripted TV shows about baseball.
Hot Stove League was produced and set in South Korea, receiving critical acclaim and bagging the Best Drama award at the 2020 Baeksang Arts Awards (one of the biggest awards shows in the country).
It follows the Dreams, a professional baseball team that's in their fourth year of placing last in the league. When they get a new general manager with a golden track record of managing championship-winning sports teams, the team starts to find must come together through financial difficulties, internal staffing conflicts, and their own negative mindsets in order to become the championship team they've always aspired to be.
Back in the Game, ABC (2013)
Don't confuse this ABC sitcom with pro-MLB star Alex Rodriguez' four-episode reality series of the same name!
ABC's Back in the Game aired for one season back in 2013 and stars Maggie Lawson (Psych) and James Caan (The Godfather movies, Las Vegas) as the daughter-father duo at the center of the show.
Lawson, playing Terry Gannon, is a newly divorced single mother who had long since left the world of professional sports that she grew up in. Her father, Terry Gannon Sr., was a minor league baseball manager, after all. However, she finds herself back home post-divorce to take care of her alcoholic father and ends up coaching her son Danny's underdog baseball team, finding herself once again back in the game.
Hardball, Fox (1994)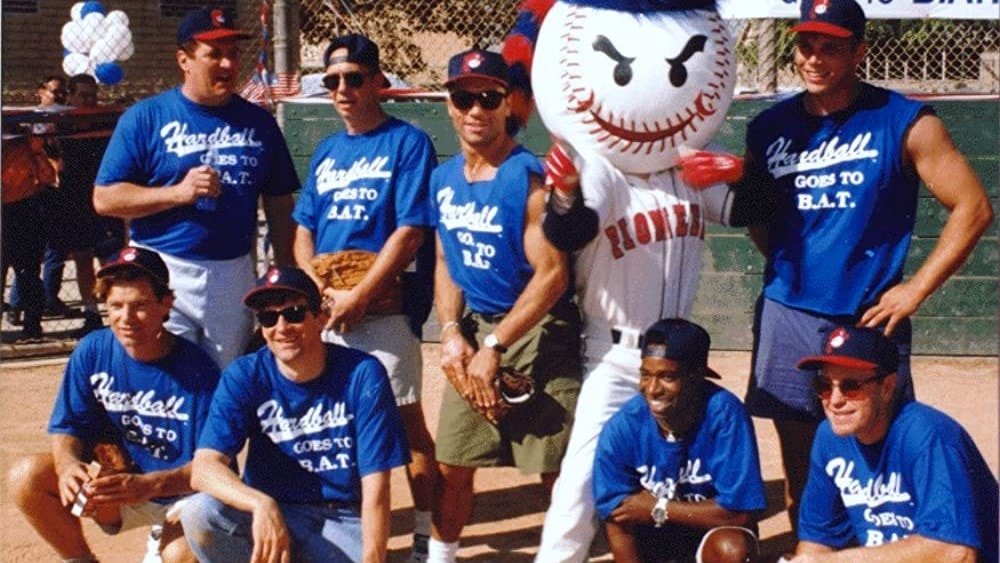 Yet another series that has a name twin, this time we're talking about the 1994 sitcom from Fox – not to be confused with the 2019 Australian show about handball or the 1989 NBC crime drama!
Fox's Hardball premiered in the middle of the 1994 MLB strike, providing a much-needed solace during a time when the baseball season was cut too short.
The series followed the team dynamic and development of a fictional American League baseball team called the Pioneers, who are uncomfortably situated in the last place.
Not only does Hardball showcase the strenuous relationships between conflicting personalities of the players themselves, but also of the struggles of the team staff – manager, owner, and PR team, to name a few – to push their team up the rankings.
The Bad News Bears, CBS (1979 – 1980)
We're going way back with CBS' sitcom The Bad News Bears, which aired for two seasons between March 1979 and July 1980 and was based on the 1976 film of the same name (of which there were also two sequels before the series aired).
The series centered on Morris Buttermaker, a former minor league baseball player who is now the coach of a junior high baseball team: the Hoover Junior High Bears. The "bad news" in the show's title may be an allusion to the fact that, well, the Bears are composed of young kids with uncoordinated skills in playing baseball – with the possible exception of their talented pitcher, Amanda Wurlitzer.
Coach Morris Buttermaker is determined to make a difference in the team and these kids' lives, however, especially against their rival team: the Lions.